Let Facebook, Google
and LinkedIn communicate with your CRM
We offer you over 370 integrations and custom tailor-made solutions, depending on your needs. Our experts are ready to make it happen.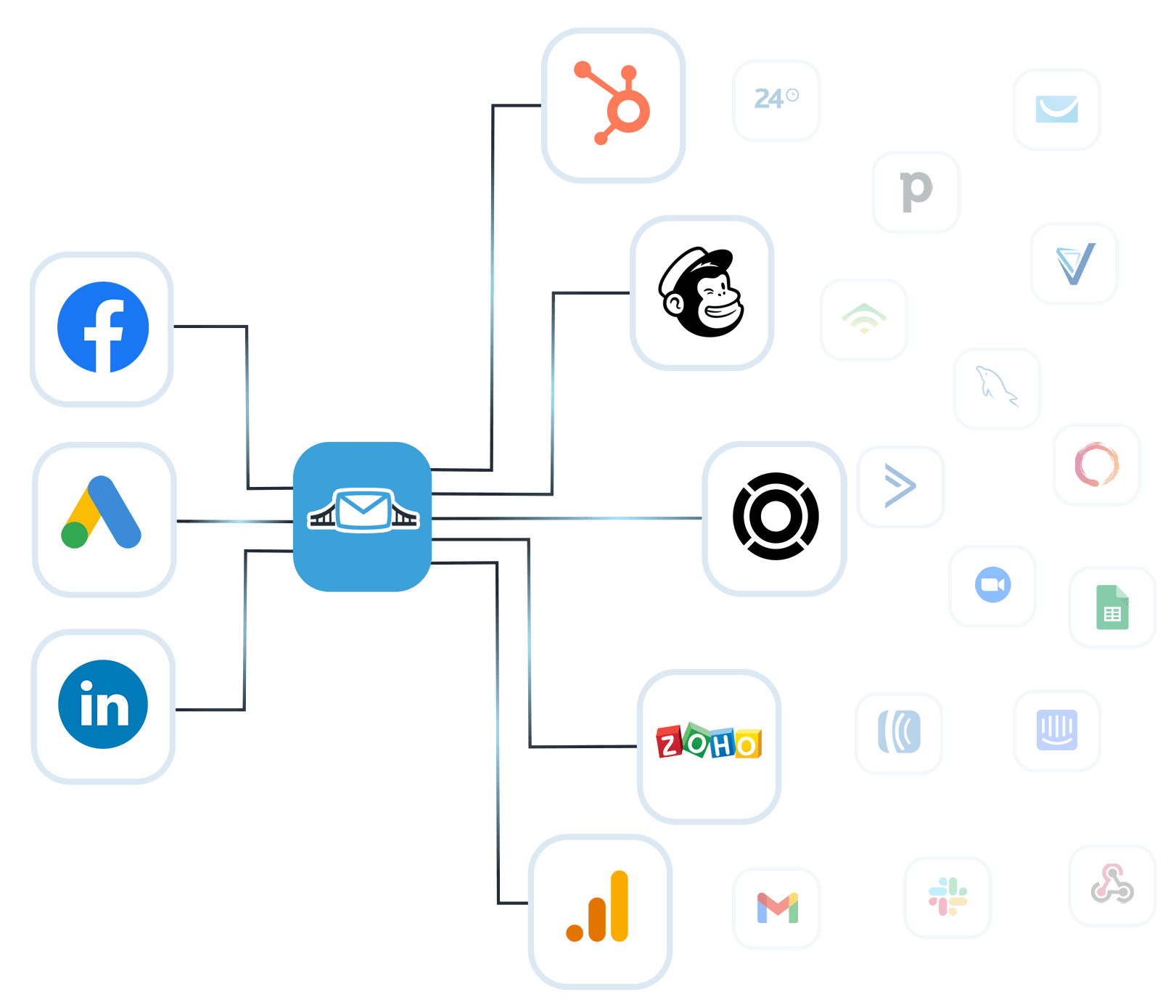 LEADSBRIDGE IS THE OFFICIAL VENDOR OF THESE AMAZING COMPANIES





Featured customers
"
"LeadsBridge Is Awesome! I'm a huge fan of LeadsBridge, It has improved my agency's business! It is simple to integrate with just about any CRM and the connection into Facebook is so easy. It turned Lead Ads from a hassle to super effective. 5 stars!!"
Kevin Manning
Disruptive Advertising.
"
"I'm an independent business consultant and I like about LeadsBridge the possibility to automate our Facebook Lead Ads to Autoresponder. Furthermore, thanks to LeadsBridge we were able to automate our leads and follow-up emails."
Brian Hurlburt
Brian Hurlburt.
"
"I'm a big proponent of LeadsBridge because of how simple and easy it makes a complex process like sending ADF / XML leads to a CRM. If you're having issues with connecting a CRM to your Lead Generations Ads on Facebook than this is a perfect tool. Getting your sales team leads in a timely manner is extremely important to close the deal. This tool has not only streamlined our leads process but has consequently improved our closing rate. Our automotive CRM's do not natively connect with Facebook Leads Ads. This tool solves..."
Clay Tucker
Boiling Point Media.
"
"I simply love LeadsBridge and I use it for my Retail. Customers want their e-mails immediately when they sign up...not hours or days later. LeadsBridges reduces all that hassles. Couldn't be happier with the company and support. Thanks to LeadsBridge I was also able to connect Facebook to my CRM."

What's the next step?
If you are looking for growing your R.O.A.S. give LeadsBridge a go and you'll learn what's the difference between a software and an ally!