Let Facebook, Google
and LinkedIn communicate with your CRM
We offer you over 380 integrations and tailor-made solutions, depending on your needs. Our experts are ready to make it happen.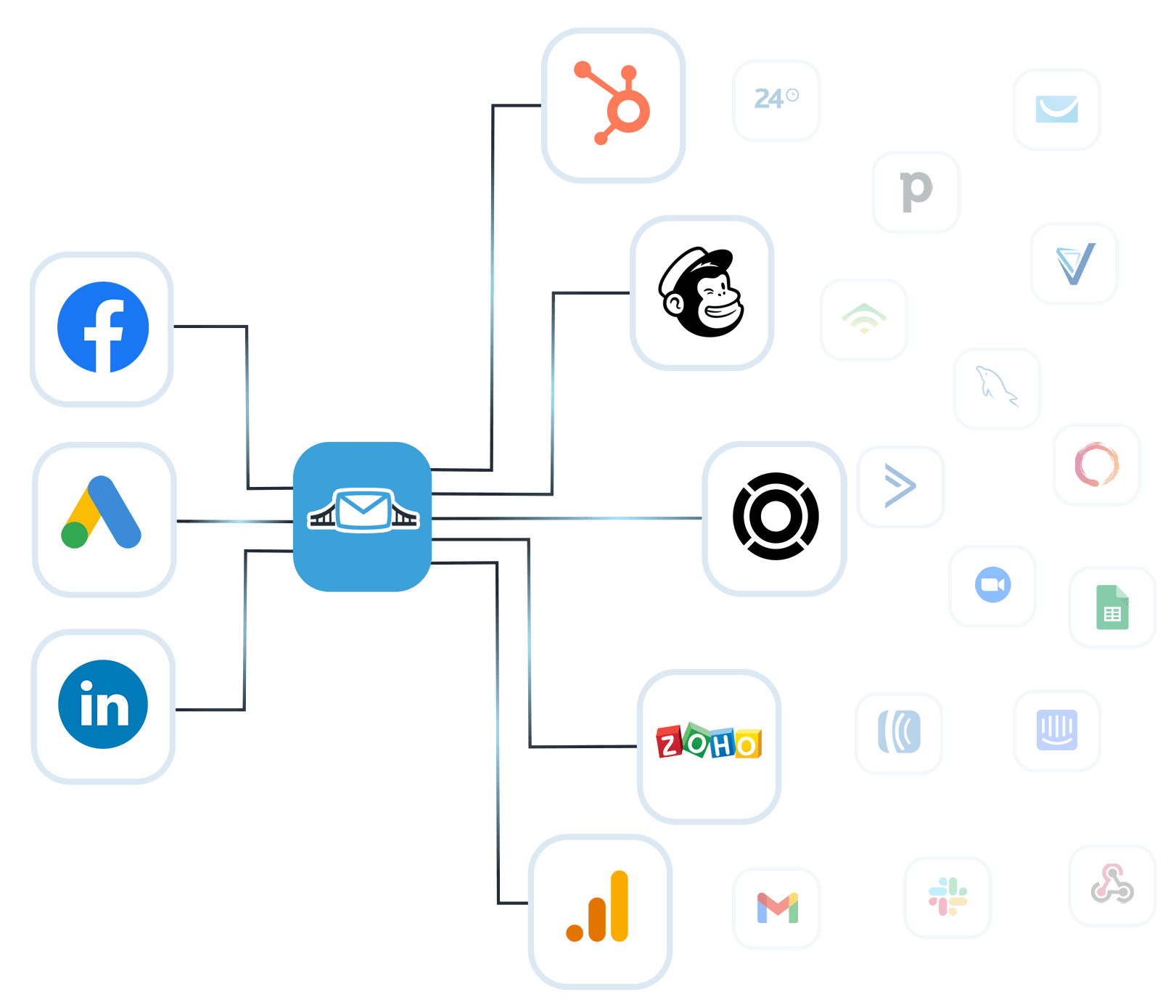 LEADSBRIDGE IS THE OFFICIAL VENDOR OF THESE AMAZING COMPANIES





Featured customers
"
"I have an Online Media business and thanks to LeadsBridge I have found great support and great bridge for automating our lead generation email! LeadsBridge really makes it easy to connect Facebook and MailChimp for automatic integration. Great support when needed."
Jesper Jørgense
Fashion Shopping.
"
"LeadsBridge Is Awesome! I'm a huge fan of LeadsBridge, It has improved my agency's business! It is simple to integrate with just about any CRM and the connection into Facebook is so easy. It turned Lead Ads from a hassle to super effective. 5 stars!!"
Kevin Manning
Disruptive Advertising.
"
"We love that you can connect Facebook Lead Form ads to pretty much any destination our clients need - Mail Chimp, Infusionsoft, a direct email notification to their inbox and even a Google Sheet with just a few clicks. We like it so much that we teach it as part of our curriculum inside our marketing education platform, Impakt Marketing Academy. If you're running lead generation campaigns using Facebook Lead Forms you need LeadsBridge in your toolkit."
"
"I have an automotive business and LeadsBridge has been fantastic for us. We have several clients who run multiple lead ads and I must say, it is such a tedious task going in and manually sending each lead to a client. With LeadsBridge, all you do is set it up and you're done. It has saved us so much time and clients are extremely happy with getting their leads in real time, as they come in from Facebook. The level of communication with the team and the ability to quickly answer questions has..."
Nick Romas
AdTorque Edge.

What's the next step?
If you are looking for growing your R.O.A.S. give LeadsBridge a go and you'll learn what's the difference between a software and an ally!