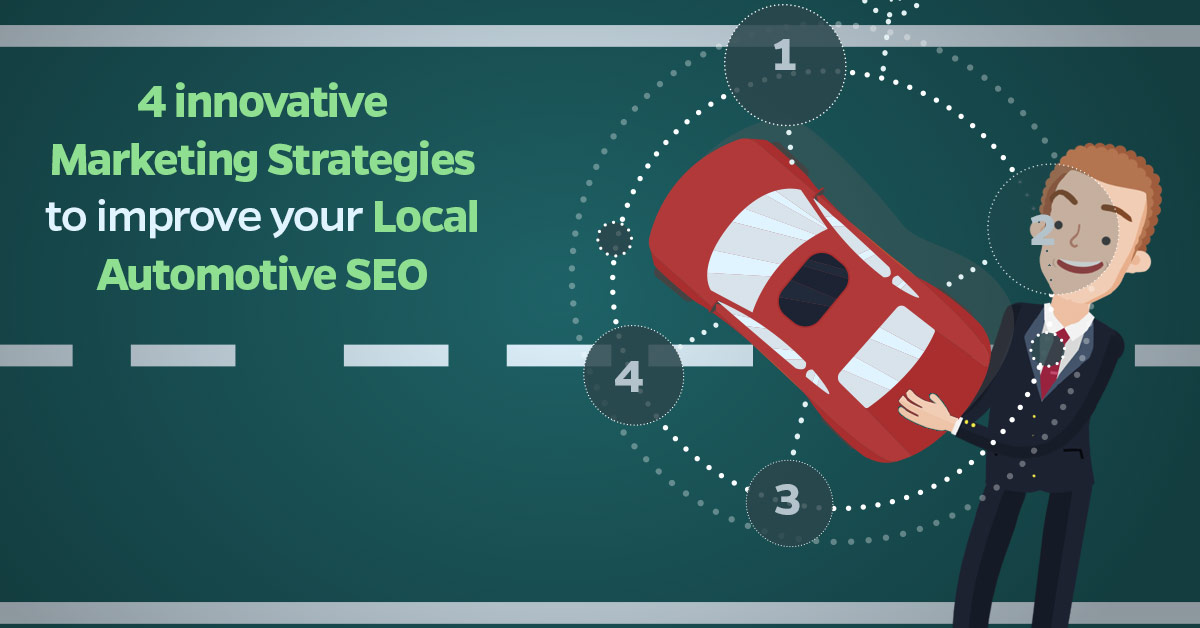 Automotive businesses need to have a good online presence in the modern age. While people still want to come and look at vehicles in person and take them for test drives, they now do much of their research online first. Your customers are spending time finding the right dealership, looking up the cars they want and educating themselves on how to get the best deal. So you need to be there for them when they're looking for what they need to encourage them to come to your dealership. If you help them online, they will be more likely to choose you for their purchase too. In order to achieve this goal you need to have a strong SEO marketing strategy?in place, specifically you need to build a well constructed local automotive SEO?presence.
What Is local SEO?
Local SEO is the practice of optimising for search engines while also taking location into account. An automotive dealership not only wants to find customers online, but it also needs local customers who are within reach of the dealership. Just how far away their typical customers could be can depend on a few factors, but using local automotive SEO will likely mean optimising for keywords containing the names of cities, towns and neighbourhoods or perhaps wider regions.?Local automotive SEO can involve a range of on-page techniques on your website, as well as off-page techniques on social media, in directories and more.
Why local?SEO for the Automotive Industry?
It is now more important than ever for automotive businesses to have a strong online presence and therefore a planned SEO marketing strategy. Car buyers spend 59% of their time online researching, but when it comes to initial contact with the dealership, more than half of people still walk in first, instead of using phone, email or any other method. So you need to use your online presence?through?local automotive SEO?to encourage people to choose your dealership when they take that first step. Another thing to note is that online dealerships are competing with third-party sites, so they need to make sure they stand out.
Strategies to Improve Local Automotive SEO
If you want to improve the local automotive SEO for your dealership, you can use several strategies to guarantee results. Follow these tips to improve your SEO marketing strategy:
1.Get Recognised By Google
Google has some excellent tools to help you get your dealership showing up in results. First, you should make sure you have a Google My Business page. Not only does it provide lots of useful information about your business, but it literally puts you on the map. When you create a Google My Business page, you improve your chances of showing up in local search results. Local searches will bring up a map at the top of the page, and you want your dealership to be in the top few results. To create a good page, you need to make sure it's optimised. Start by providing as much information as possible about your business, including contact details and a good description. It's essential to have photos too, and using video is also a good idea.
Another way to boost up your?local automotive SEO?is to try and get your site to display in the featured snippets of search results. These are the highlighted pages at the top of the search results, which might include a list, a table or a short answer to a question. There are various factors that can help you to appear for these, including domain authority, security and social engagement. These snippets can often appear in response to a question, so it's a good idea to think about what questions people are asking. The types of content that might show up include questions and answers, lists, tables and images. Choose locally focused questions to answer, from where to find certain services to the best places to go for various things.
2.Optimise Your Site and Create Local Content
You need to work on your on-page SEO if you want to perform well for your?local automotive SEO. Your website is an important marketing tool, and it can help you to find local business if you use it in the right away. To make sure your website is optimised for local keywords, start by ensuring you have a contact page that lists your location and contact details. You might place a map or directions on your home page or contact page, and you can mention your location in your main website content too.
Making sure that you have regularly published content is also a good idea. A blog can help with this, although you can also simply add pages to your website. There are various ways that you might put locally targeted content on your site, from static location pages to blog posts about locally relevant topics. You might publish blog posts that are related to the automotive industry in the area or perhaps news about local automotive events. You could recommend mechanics and other car services, as well as the best places to drive in the area.

For static pages, you could create relevant content for different local keywords. However, you need to be careful to public unique content for your keywords, instead of simply publishing the same thing for different locations. Duplicate content doesn't make your site look good to search engines. You can make your content unique by writing about the location and relevant details, such as which cars are most popular among the residents or what the roads are like to drive.
3.Increase Links and Citations
Another way to improve your local?automotive SEO?are links and citations. Links are important for your dealership's online presence too. There are a couple of ways to increase links and references to your website and company. Start by exploring the different ways to improve citations for your company. Citations are listings and mentions of your brand in online directories and listings sites. For automotive dealerships, this might include Yelp, your local chamber of commerce, other local business sites, business directories and more. To start getting your business listed in more places, you can manually look for the right sites and add your own citations. It's also a good idea to check any existing citations and ensure all the information is still correct.
You might also want to look into using an aggregator tool to get more citations. This includes tools like Moz Local, which pushes your dealerships details to a variety of listing sites. This is a good way to get all of your contact and business details listed consistently, which helps to improve your SEO performance. It's also a lot quicker than doing thing manually.
You can also take steps to get local businesses and organizations to link to your website. For example, you might have local bloggers who recommend your services. You could also get involved with community events and organizations, so that they might link to your website. You can sponsor events or make donations or time, money or products. Get involved with groups like sports team, nonprofits or community social groups, who might list your business on their website or mention you in their online content. If they have mentioned you without linking to your site, ask if they wouldn't mind adding a link (and you could link to them in return).
4.Focus on Boosting Your Reputation
A good way to improve your local?automotive SEO and overall your SEO marketing strategy?is focus on your online reputation. Reputation is everything online, so improving your ratings and reviews is important. When your dealership shows up in local search results on Google, people will be able to see how you have been rated by previous customers. Encouraging positive reviews can help you look good, and there are various ways to get people to do it. It can sometimes be tricky to get people to leave an online review after dealing with them in person, but you can benefit from some useful methods. For example, by collecting their email address at the dealership, you can later email them to ask them to leave a review.
Offering incentives to leave a review can be helpful too. Leaving a review could benefit your customers in some way, whether it's being entered into a competition or giveaway, or receiving a discount on follow up services. Referrals are also desirable and having incentives for these is a good idea, including discounts and cashback. They can lead to more good reviews later, as well as more customers. Make it easy for people to leave online reviews so that they can do it quickly and without any hassle.
Remember that how you respond to reviews is as important as the reviews themselves. People will also be able to see these when they're searching for local dealerships and your business appears in their search results. As well as responding to positive reviews, you need to know how respond to negative reviews effectively. While negative reviews can annoy you, especially if you feel the customer is wrong, it's important to show that you're willing to try to work out any grievances. Give understanding responses to negative reviews and perhaps offer to talk to the reviewer too.
These are all ingredients for a good SEO marketing strategy for your business. Improve your dealership's local automotive SEO by working on your online presence and reputation. The more visible you are and the better you look, the easier it is to bring in new customers.