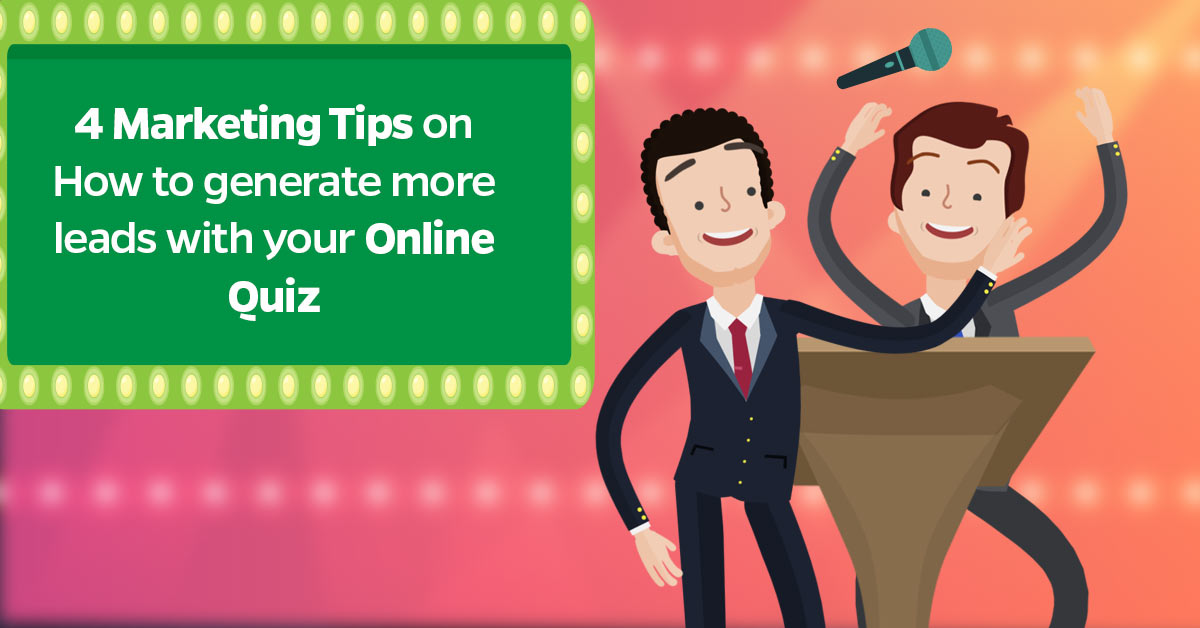 The desire of every business owner is to generate more leads. This is revealed in HubSpot's 2018 Ultimate Marketing Statistics. Hubspots' State of Inbound survey reveals that 63% of respondents say generating traffic and leads is their company's top marketing challenge.
This is why you need a solid lead generation strategy to jump the huddle. If you ever wonder how to generate more leads, a straight answer will be – use online marketing quiz!
In recent years, marketing quizzes are dominating the digital marketing world and established their place in the day-to-day lives of social media users. Facebook, Pinterest, Twitter, and Instagram are all agog with marketing quizzes.
According to BuzzSumo a content analysis website, 82% of users will take part in a marketing quiz if they see it on their social news feed. Online marketing quiz is considered a gold mine for lead generation. Marketing quiz popularity has seen a meteoric rise on social media. Marketing quizzes sure promise to be the next big thing for marketers' prospect of capturing leads and increasing revenue.
Why you should use Marketing Quiz Strategy to generate more leads.
Here is some reason why Marketing quiz is important.
1.Marketing Quizzes inspire Strong Engagement- Interactive
According to statistics, 81% of interactive content grabs attention more effectively than static content, while 70% of marketers say interactive content is effective at converting site visitors.  This may not be unconnected with the fact that marketing quizzes deliver personalized interactive content in real-time. In addition, people are never tired of learning about themselves. Any quiz about personality discovery will be a hit any day.
2.Marketing Quizzes can Influence Purchasing Decisions
Today's consumers are bombarded with choices – Smart watch or a Polo shirt? You are highly appreciated if you can narrow down the choices.
Afar Magazine used a travel quiz – "Where should you go in 2015" – to gain 5,000 new email subscribers and a 25% conversion rate.
3.Marketing quizzes generate shares
A BuzzSumo study revealed that quizzes are shared on an average of 1900 times. PlayBuzz – a content platform that specializes in quizzes is among the sites that get the highest shares on Facebook. They were only second to The Huffington Post. Now, for you to generate shares with your quiz, you'll need a working strategy and a bit of luck. The statistics are however in your favor because 84% of all social media share of quizzes are on Facebook.
4.Marketing quizzes are set up for email list growth.
You can create marketing quizzes specifically to get more subscribers and capture new leads. To do that, you have to capture the email of the quiz participants with the aid of a lead capture form. It is recommended that the lead capture form should be in place before releasing the result of the quiz.
How to generate leads through Effective Marketing Quiz
Creating a marketing quiz that will generate leads is not easy to pull off. Designing a quiz that appeals to your audience requires a great deal of planning and ingenuity. In this article, I will simplify the tips for creating a marketing quiz that will generate leads.
Let get started!
Tip 1: Define your Marketing Quiz Concepts and Goals
The first step in putting your marketing quiz together is to generate ideas and brainstorm titles. Topic Ideation is critical to the success of the process. 80% of people will choose to click on your quiz based on the title. You need to choose your topic carefully around your quiz concept. What is your quiz goal? Are you creating a quiz to get ideas about a client's problems and then propose a solution? Or is your quiz strictly for brand awareness? Once you've established the concept and purpose of the marketing quiz, you can then create a coherent quiz in a logical manner.
Using a quiz title template could be of help. The truth is that most 'winning' quizzes have some things in common. Quiz Title templates are designed to integrate some of these similarities. For Instance, the trend among titles formats goes like this: "Which (blank) are you?"
Food52 had a great success with their quiz titled "Which Cake are you?" It got 20,000 views in two days. Similarly, "Which Yoga Pose are you?" by StyleCraze amazed 40,000 views.
Another good example is this quiz on DoFasting. You will find it at the end of the blog post. The goal of this quiz is to generate leads, so it creates a report based on the answers. It acts as a lead magnet to convince people to sign up.
Tip2: Create questions that engage and opt-in forms that converts
The question part of marketing quiz is an interesting part. It affords you the opportunity to have a conversation with quiz takers in a scripted manner that is close to real life.
Bearing in mind that quizzes are a one-to-one medium, your questions must be designed to 'speak' like a human. As such, you will establish a stronger connection.
You should keep lead capture in mind when designing your marketing quiz. You will position opt-in form at the end of the questions but before the result is released. The form is ideal in this position because the quiz taker must have spent an average of 2 minutes taking the quiz, therefore an opt-in form will not be considered a barrier. Moreover, the quiz taker is eager to get their result and willingly will do all that is required.
In addition to the quiz result, you should provide an additional valuable lead magnet. Though the appeal to get the result is high, it will usually not convert every quiz taker.
Be transparent about when and how often your lead receives emails from you. If it all works well, an average of 50% opt-in is achieved with a good opt-in form.
Tip 3: Write a Compelling, Engaging and Sharable Quiz Result.
The result is an important element of your marketing quiz. It is the part that your quiz audience is anticipating. After a quiz taker opts-in or skip the opt-in phase, they are directed to the results page. On the page, quiz taker has the opportunity to share the quiz with friends.
Zenni Optical, an eyewear brand uses its quiz – "You've been framed" to increase brand awareness and drive more traffic. Within 6 months, Zenni generated 29,410 lead conversions and a 9,655% ROI. Thanks for a sharable quiz result.
There are a few tricks to writing a compelling result that your audience will be willing to share.
-Write Catchy titles that can be shared
Your result title must mesh well the marketing quiz title. It should contain a sentence or two describing the result.
-A feature – people image that depicts the result
Since you want the quiz taker to share the result, a unique featured image that represents the result is compelling and easily sharable than a generic image.
-Strong Call -to Action (CTA)
Embed personalized links i.e. asking someone to click in relation to their personality. E.g. Share to let your friends know that 'Irene is a Vanilla Cake'. The CTA could also offer more resources relevant to the quiz taker.
Tip 4: Personalize your email marketing using the results.
This is a follow-up strategy for all the new subscribers from your quiz. Through the email provided, you will send a mail and make reference to the particular quiz and the lead's specific result. Such personalized email referencing customers input gets open twice more that non-personalized campaign base emails.
In your first email after a person takes your marketing quiz, reiterate the person's result-outcome and also introduce your brand. As a rule of thumb, the first three emails you send to a quiz taker should always reference the outcome of the quiz
Conclusion
Marketing quiz could be a veritable tool in your lead generation drive. For you to achieve a great outcome, you must pay attention to each stage of the process – quiz concept and goals; title ideation; Quiz Questions; Quiz Results and Personalized email marketing.
If you haven't used a marketing quiz in your quest to generate more leads, the time to start is now!