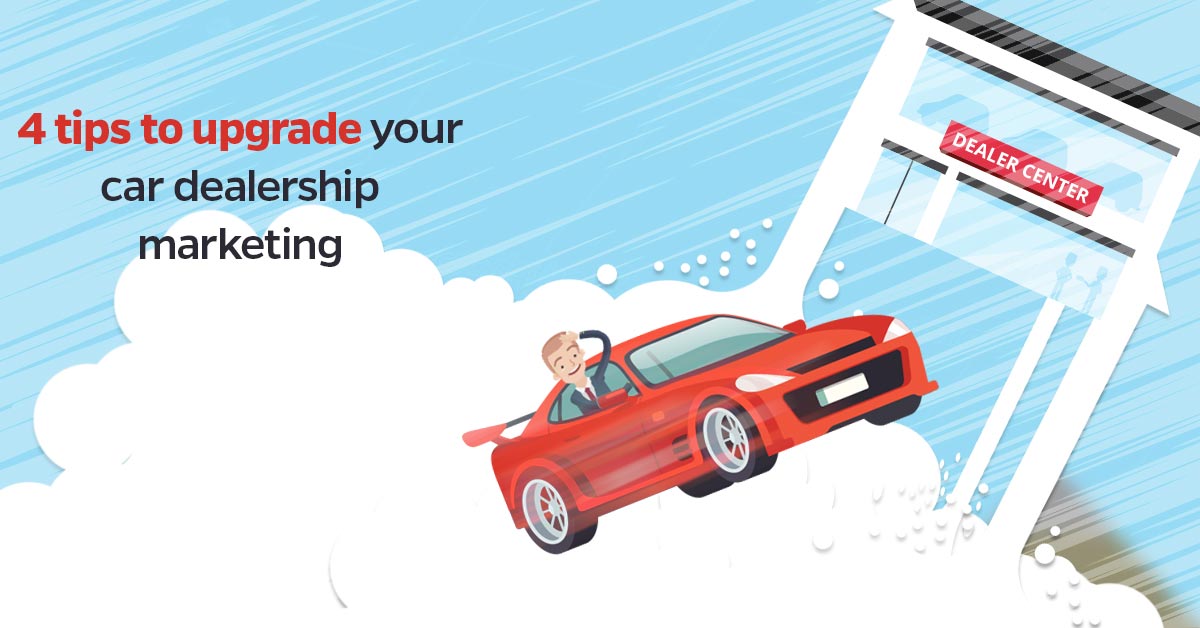 If you look at the automotive sector over the last decade, they haven't made much of a move when it comes to the buying experience and new innovations. However, there are a few websites that turned up and began changing the game; We Buy Any Car is one, providing a smooth online experience that allows consumers to sell their cars easily.
Now, things are finally changing. Peugeot are one of the first OEM's to begin offering their cars online, even allowing customers to choose their own delivery slots. The opportunity is definitely there online for car companies to increase their market share. The danger here is that other car manufacturers have this opportunity too, which can actually reduce the reliance people have on dealerships in the long run. If you don't start upgrading your car dealership online marketing sooner, rather than later, you may find that people no longer need or want your services.
To stop this from happening, here are 4 tips to create an optimized online site that retains traffic and maintains branding. Successful car dealership marketing depends on these 4 things!
One more thing before starting! If you are struggling with your website or you  looking for some in depths tips on this topic, don't miss our video:
1. Ask Yourself The Right Questions
Before you begin marketing online or come up with a new strategy, you need to ensure you've asked all of the right questions so you can get the results that you want with your online car dealership marketing campaign. Here's an idea of things you should be asking:
Why does your organisation exist?

What value do you offer to your customers?

How can you make customers want to come back to you by rewarding loyalty?

Why are you different from your competitors?

What services can you offer that will make the online process smooth and enjoyable?

Is your website easy to navigate? Can customers find what they are looking for in just a few clicks?

How can you create content that helps your customers to make a decision, or helps them in other ways?

How can you establish yourself as a guru in the automotive industry?

How can you make your brand memorable and strengthen it?

Are we paying attention to our analytics to figure out what people want more of and what isn't working so well?

Can we utilize split testing to get even better results?

Could we start email campaigns or social media campaigns to get better results?
The above is just a short idea of the questions you should be asking when you're trying to optimize your site, maintain branding, and gain and retain traffic with your car dealership marketing. These answers will help lay out the framework behind your chosen auto dealer marketing strategy. This also will help you to build authentic and relevant content for your audience to engage with, whether that's a blog post that you share on social, a picture of what you have to offer with a great caption, or even a video on YouTube explaining how a customer can choose their next vehicle.
This is where you should start if you're looking to get more people to your website, so don't delay!
2. Where Do You Want To End Up?
If you don't have clear goals for your dealership, you're not going to able to come up with a plan to hit them. It's as simple as that when it comes to your car dealership marketing. You can't be wishy washy about what you want to achieve, especially when you're coming up with an online strategy that could make all the difference.
What does success look like to your organisation? Where would you like to be in a year, three years, five years from now? More questions, yes, but these questions will help you to come up with goals for your future and a solid plan for your auto dealer marketing. Here are some examples of what you might like to achieve:
Increase the visibility of your brand online by creating quality content that people want to engage with

Gain 10,000 social media followers in two years.

Consistently increase traffic by 50% in a year.
Bear in mind that the above are just examples, and what you want to achieve will be entirely unique to your dealership and car dealership marketing strategy. If you want to achieve more then make sure you put it out there. Write it down and write down how you will achieve it. What do you believe is possible for your business? Look at competitors if you can to figure out what your goals should be if you need help. Here are a few ways you could ensure you meet your goals:
Create quality content by adding value to your audience – make an effort to share your expertise and ensure you put out quality content, rather than simply quantity when focusing on auto dealer marketing.

Create social media campaigns and perhaps even competitions that will help you to gain followers across platforms. Posting consistently and at the right times is key.

Pay more attention to your SEO and PPC when it comes to your website, ensuring you're targeting the right keywords to gain more targeted traffic.

Keep people coming back to your website by giving them quality content and a stress free experience.
3. Build An Accurate Buying Persona
So, if one thing has been made perfectly clear so far, it's that your audience is extremely important. You want them to choose to visit your site when it pops up for them in a search engine, you want them to remember it, and you want them to come back again. Eventually, you want them to take action on one of your offers. That's when you know you're getting your car dealership marketing right. However, if you're not targeting the right audience in the first place, you're not going to achieve any of that. People will simply visit your site and then leave right away if they have been mislead to believe that it's a site they needed to visit.
A way to stop this from happening is to build accurate buying personas. This means doing market research, asking lots of questions, and carrying out extensive research on your current customers and ideal customers so you know as much about them as possible. This way, you'll get a better idea of their interests, behaviours, and their demographics. The information that you gather will help you to tailor content that will be far more successful at generating relevant traffic and keeping people coming back for more. In any industry, knowing exactly who your audience are is key – auto dealer marketing is no different.
You can go as far as to make your own versions of your customers, and writing them down as if you're doing a character study. For example:
Are they male, female, or both?

How old are they?

What sort of cars do they like?

What do they want to read about cars/driving/the road?

How do they make purchasing decisions?

What times do they browse the web?

Do they have a family, or are they in a relationship?

What do they consider important in a vehicle?

What do they consider important in a dealership?
Again, it's all about asking yourself the right questions so you can mould your dealership and brand into exactly what they want to see.
4. Content Is King
We already spoke about content to a degree, but it seriously needs to be emphasized just how important content is to your business and your auto dealer marketing strategy. Car dealership marketing strategies that haven't thought of a content plan may as well say goodbye to any results that they hoped to get. Yes, 'content is king' is a little cliche and you may have even read it numerous times by now if you've been figuring out what to do for a while, but it's so true.
You need to make sure you're creating the type of content that your audience want to see (which is why the previous step is so important). When you know who your audience are, you can get to work on creating content they are going to want to click on, read through, engage with, and perhaps even share with people that they know, or on their social media profiles. Here are a few things you should be considering when creating content for your auto dealer marketing strategy:
What sort of questions do your audience want to know the answer to?

How can you add value to the content you create by sharing your expertise?

How can you make sure your audience engages with your content?

How can you make sure your content is shared across social media platforms?

Where will you post content?

What sort of content will you create?

How often will you post content?

What times will you post content?

Are there apps you can use to keep track of the content you post and ensure it is posted on time?
Creating high quality content is a must. You can create articles, videos, and even take pictures. Whatever you do, you must know the best times to post for each platform, and ensure you are consistent. Focus more on quality than quantity, though. Try to stay up to date with algorithms, as they change and can affect who sees your content. Don't forget to regularly check your analytics so you can work out what type of content your audience want to see more of. When you pay close attention to your analytics, you'll be able to tailor your auto dealer marketing perfectly.
Conclusion:
With the above 4 tips, you can improve your car dealership marketing, increase traffic, get more conversions, and strengthen your brand. Come up with your new auto dealer marketing plan now!
Psss…If you struggle to engage with your customers, check our online form builder.
This brand-new technology uses data enrichment to collect more information about your audience, so that you can segment your leads and customers in order to send them the best content and offers they really want!
Have a look to our video explainer to better understand how Disruptive Forms work.