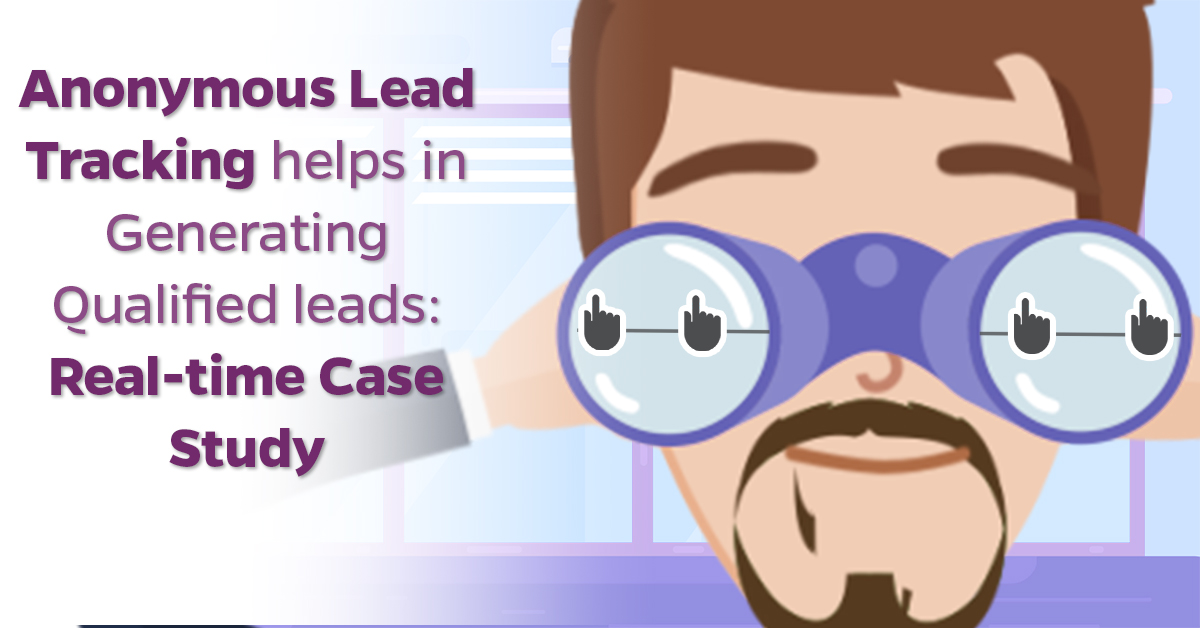 Your inbound marketing strategy attracts a lot of leads. That's good news, right? But the bad news is, not all leads are qualified. Add to this, about 97% of your leads are anonymous.
You want your target prospects to find you through search engines or social profiles. They do and arrive at your website or landing page. What next? They may either convert into your lead immediately or leave after spending some time. Those that readily signed up or subscribed are now in your CRM. What about those that left? Do you leave them too?
No. These are your anonymous visitors who arrived at your website or landing page while searching for a solution or information. You managed to get their attention with your content. If they've left, it may not always mean that they are not interested. Probably they did not want to wait to fill up a form or sign up immediately. Let me tell you through two different examples of lead capturing.
I was looking for eBooks on mobile marketing automation. I happened to find one from Phunware. Honestly, I have never been to this brand's website, and I have not much idea about what they do. I liked their introduction placed on their landing page. To download the eBook, I had to fill up a short form. If you look at the image below, Phunware manages to take up all the crucial information like my name, email address, company name, and job title. I fill up the form, get the eBook on my email, and I make an exit. My job is done here.
Now, let's take a look from the brand's perspective. Phunware has my basic information like name, email, and my company details. But I am still a visitor with incomplete information. To send me targeted emails or marketing messages, Phunware needs to know more about me. Using a lead prospecting tool, Phunware can now track my IP address, get my location, prospect my social information, my company dynamics, and stitch them all together to create a buyer persona that almost resembles me. Through minute source tracking, Phunware knows I was looking for mobile automation related information. Through my company details and social profile, Phunware can quickly understand I am in the marketing automation industry, and information or resources based on this can interest me.
With all this information in hand, Phunware can now start reaching out to me with relevant content, show me targeted ads, and engage me enough so that I end up taking a tour of their website at some point of time.
However, in this case, Phunware did have the advantage of having some details about me. But this may not always happen. While looking for eBooks for mobile automation, I used the keywords 'mobile automation ebooks'. Along with various eBook options, I also happened to see a listing of Braze, a company that aids Postmates to send real-time updates during deliveries. The meta description made me look up their website. I spent time reading about their products, the 'About' page and looked up their resources. At that moment I did not even want to opt for their web push notifications that popped up while reading the blogs. Then I was back to what I was looking for.
Technically that should be the end of my communication with Braze. But honestly, it was just the start. Incidentally, I started seeing this ad on my Facebook feed from Braze. The brand was familiar to me because I had very recently looked up through its website. I liked their ad, but still, I did not click on that ad. Instead, I visited their social media page and clicked on 'Like.' I was looking forward to seeing more of such updates.
Anonymous Website Visitor to anonymous lead
For Braze, I was still an anonymous lead. Yes, I became a lead now. What followed next were targeted ads and relevant emails.
The marketing secret: Behind-the-scenes
Both the above instances are examples of how brands are using anonymous lead tracking and monitoring to capture qualified leads. When a visitor browses through your website and related web pages, you monitor their pathway. Add to this, the amount of time they are spending on each webpage. Let's say you have two anonymous leads A and B, both arriving through Google search. Lead A visits your homepage first, then your product details, and your pricing page. It spends considerable time browsing through all the pricing options and going back to the features before exiting. Lead B, on the other hand, starts at your homepage, reads your blogs, checks all your features, and makes an exit. Since you are tracking both these leads' activities, you know immediately that Lead A is more interested in 'buying' or rather is in the 'decision' phase of marketing while Lead B is still in the 'awareness' stage, scouting for more information.
Source: Aritic PinPoint
You track the IP address, location, registered email, and browser fingerprints. This makes online data more accurate. You understand the interests of the leads, club it with their online behaviour, and prospect these leads to create an ideal buyers' persona. Based on this information, now you can start showing targeted ads. For instance, in case of Braze, my IP address, browser information, and demographics were readily available. Using lead prospecting tools, Braze can easily dig up my registered email ID and social profiles. Showing me related ads on Facebook is a result of this prospecting. When I liked their page, I handed out my social details with more accuracy aligning to my interests, the kind of updates I share or browse through, my registered email, and any other social profile that is linked to this email.
Of course, Braze did not start emailing me right away, but with time, the feeds and ads started becoming more and more relevant. I was engaging with this brand regularly. It was only when I saw an update on an upcoming event that I registered for it. This was my direct consent to receive emails related to the event updates. Being a marketer, I can say this was just the continuation of the relationship this brand built with me on social platforms.
This entire walkthrough indicates that tracking anonymous leads and retargeting them with relevant content can help you generate quality leads. These leads (Anonymous) arrive at your website or landing page while looking for some solution or information. Your precise tracking of these leads helps you know the exact query that brought them here. You use this information to engage them with such related content and resources that can keep them coming back to you more frequently. Eventually, your content will make them sign up or subscribe for regular updates. TechnologyAdvice summed up this entire lead flow nicely in this image below:
Source: Why Lead Tracking is Critical to Your Campaigns
Anonymous visitors leave behind enough impressions for a brand to track and monitor. Their behavioural pattern indicates the current marketing phase they are in. Not all anonymous leads are ready to learn about your pricing models or competitive edge. Neither are all interested in knowing the industry know-how in details. So, when you club anonymous lead tracking with dynamic segmentation, your retargeting activities are sorted.
Extend your marketing outreach with targeted and personalized content, marketing messages and CTAs aligned with your anonymous visitors' organization, industry, location, or online behaviour. Continue engaging them with personalized conversations through multiple channels and stages of the buyer's journey- starting right from the first ad they see to the onsite engagement and finally through acquisition. Here's a quick summary of how anonymous lead tracking can generate qualified leads:
Anonymous leads are segmented according to their behavioural data.
Showcase relevant landing pages and CTAs to trigger more engagement.
Monitor and analyze how your content is performing; optimize them for better results.
Catalyze your conversion processes to generate more qualified leads.