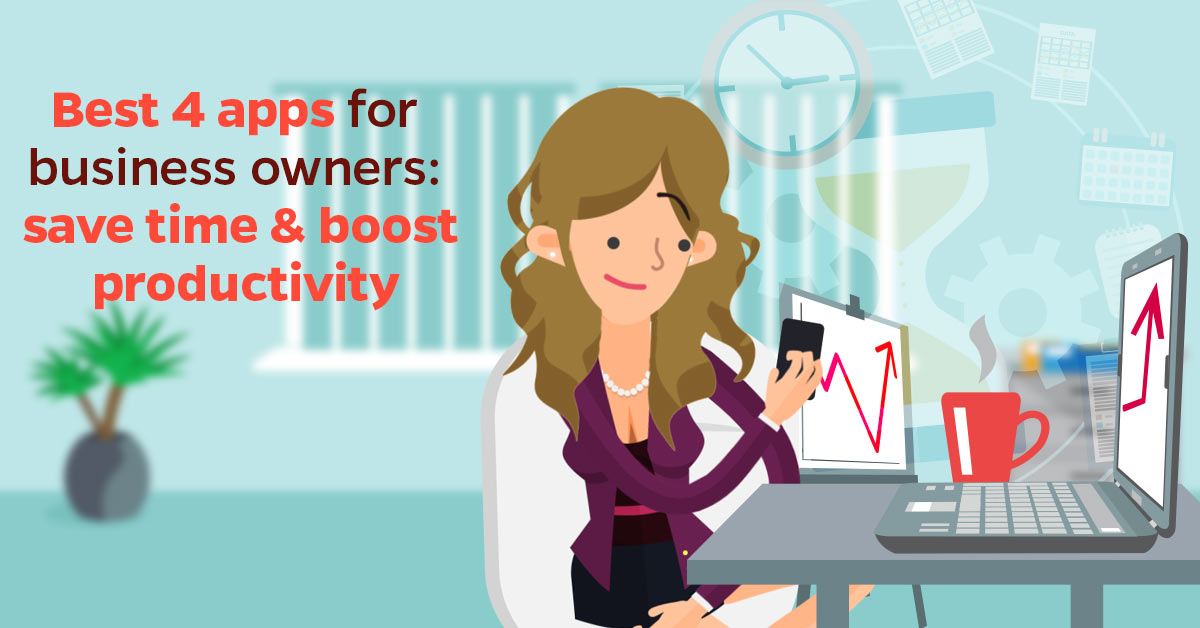 Being a business owner is no monkey business so why not use the best apps for business owners to save time and boost productivity?
Long hours and hard work are part of your routine most of the time, and you probably handle all sorts of different situations and areas of expertise. Being able to do all of your work, keep your business moving forward while having a good work-life balance requires some serious skills, time management is one hard skill.
Fortunately for all of us, technology has found a way to make our lives easier so we may save time and boost productivity, whatever your needs are there's probably a good business app to help you out.
Check out my personal choice on the best 4 apps for business owners:
#1 best app for business owners: Google Drive
Google Drive is actually a set of apps that are great for business owners. They allow you to write and edit different file types, from text to slides, directly on the cloud, and it is accessible from virtually any device. The web app is available from any browser, and it also has dedicated apps for smartphones, tablets, and computers.
The app range goes from Google Drive as a whole to Docs, Slides, Sheets, and My Maps that are available for both Android and iOS, giving the possibility to collaborate on the go for quick changes without having to rely on a computer.
Google Drive has become a must for my daily work, the many possibilities and facilitation it offers make it one of the best apps for business owners available out there.
Using the Google Drive app as a business owner allows you to be on the same page with your team and collaborate in real-time on marketing materials, documents, projects, client proposals, administrative files, and many more. You may even comment, suggest modifications, discuss changes, and tag people, all within a document.
I'm sure that once you try it you'll never want to go back to a world without it. The mundane and time-consuming tasks, such as email exchanges, file sending, multiple file edits and such, will be a thing of the past and you'll definitely give a significant boost to your team's productivity.
Some of the best Google Drive app tricks are:
Save any file you need on your account and easily send them to anyone on your email list by using the Google Drive button on your Gmail account. This allows you to send files up to 15 GB.
Voice typing is a great feature that not many people know of and it can surely come on handy for specific tasks.
Convert any file to a Google Doc, Sheet, or Slide for easy editing inside Google Drive. The feature is also available when opening documents from your Gmail account.
Apps for Google Drive: Besides the default ones, you may add Google or third-party apps for all different kinds of activities to your Google Drive and get the most out of the tool according to your needs.
#2 best app for business owners: Asana
Asana is a web-based and mobile app for work tracking, and task and project management that helps teams create actionable tasks, workflows, projects and guide systems that allows collaborators to keep calm, save time and be productive, which makes it indeed one of the best apps for business owners available.
This app will let you keep your team informed about what's going on with each project, in a comfortable and distraction-free way. If anyone has a doubt about a project or a task they may go into Asana and check all the steps of a project or the timeline and make sure they're on track, avoiding the annoyance of following up.
Within the app, you'll be able to map out and organize the details, steps and different tasks of each one of your company's projects allowing your team to save time and stay productive. You'll also have the option of turning common processes into useful templates for your business needs that will save everyone more time.
Image by Asana
Another great feature in Asana that makes it one of the best apps for a business owner productivity is the ability to create reports and share the results you've achieved with the rest of your team, this way they'll know where to take action and what has already been accomplished.
Feeling like you have decisions power with the work you make and the different tasks you do everyday have an impact in your company surely makes everyone feel empowered and motivated so keeping track of company goals and milestones will help your team get this feeling and stay on top of their game. To understand better the pros and cons of Asana, both the paid and free versions, check out this thorough Asana review. It will help you decide if it's the right tool for your business.
#3 best app for business owners: Slack
Slack is real-time messaging and simplified communication app that allows people to collaborate and work together, share valuable information, organize everything into teams and channels, with a chat-like interface function and easiness of use make it an ideal app to save time on team communication.
Before getting started with the app, it is essential, as the business owner, to decide a path to take, regarding team and channel organization, as well as some basic ground rules. This way you and your team may work together flawlessly.
The app allows you to create, public and private, themed channels where you may share, inform people, and exchange ideas with your collaborators. It's all very easy, meaning that on boarding of new collaborators takes almost no time and zero technical savviness.
Another thing that I love and makes this app so good for business owners is how easy and straightforward it is, especially when compared to email.
Messages are shown cleanly and are searchable using different filters such as post author, date, channel, and keywords. Slack's search feature works great and using the tool constantly translate into having a lot of crucial information available at all times.
That reminds me of reminders! This is one of the best feature the Slack app has for business owners and their team, it helps you focus on your work by allowing you to get rid of a notification and asking Slackbot to remind you to tackle it later on. This way you're able to reply to the thread once you finish the current task.
Another similar reminder feature is channel reminders, which you may set up using a command and including all the necessary information, where you may remind your teammates about deadlines, meetings or good news.
Another great thing about Slack that definitely makes it one of the best apps for business owners is the ability to integrate with many other apps, such as Google Drive, Asana, and, of course, LeadsBridge that allows you to automate your lead generation workflows.
With the Google Drive integration you can have activity updates and notifications, save and index files (its name and contents will be searchable from within Slack), and approve file access.
With Asana you may receive notifications directly in Slack regarding your tasks, you'll also e able to take action without leaving the app to complete or change details about them, assign projects to specific channels so everyone's on the loop and create tasks right from Slack messages.
Image by Asana
The Slack app is terrific for business owners and remote teams, at LeadsBridge we use it every day, as the interface is kind of our office and we communicate for our daily work through it while building meaningful relationships with our teammates too.
#4 best app for business owners: RescueTime
As a business owner working on time-saving and productivity, you should be able to analyze and learn from what you're currently doing; that's precisely what RescueTime may help you with.
The app has a desktop version, a browser extension and an android app that will help you track and categorize your activity on different devices while giving you a productivity rate based on the time you dedicate to productive or non-productive activities. The premium version also offers further insights and the ability to block distracting websites when you need it to.
After the initial set up you just need to have the app activated, and you'll receive detailed reports with activity data, making you have a clear picture of how you spend your time behind the computer and mobile devices.
Image by GetApp.com
The RescueTime app has definitely earned its place as one of the best for business owners to save time and boost productivity. It's one of my favorite apps because it allows me to understand how I manage the time spent online, on the computer, or my mobile devices so I can learn and improve how I behave and do my work.
Conclusion
These 4 apps are the ones I consider to be the best, and I'm sure they'll help you, as a business owner, and your team save time and boost your productivity.
But keep in mind that becoming more productive and saving time comes from learning about your habits, knowing when you need to step back and get a break and when to dive in on the most essential tasks. Only then you'll be able to start taking actions that go way beyond using an app and actually make life changes that will definitely help you do better online and offline.
Which are the best apps you've used to become a time saving high productivity business owner? Share it with us so we may check them out too!
Watch our latest video and save time while boosting productivity!