For most marketers and entrepreneurs, Facebook Ads revolutionized the advertising industry, by bringing thousands of potential customers to their website every day. Facebook enabled them to generate low-cost and qualified leads effortlessly while working on their business.
Then, suddenly, something changed.
Many marketers noticed that Facebook Ads campaigns are increasing their cost almost daily. While entrepreneurs are struggling to generate sales through the Social Network, Business owners' ROI on Facebook Ads is now dramatically dropping.
Why does it happen?
According to internetlivestats.com, 100 smartphones are being purchased worldwide, against only 10 personal computers sold within a day.
That's why social media experts say that we are at the beginning of a new advertising age.
Many facts are supporting these theses.
For example, many advertisers did not consider that Facebook's revenue prospects for 2016 will be around $25 billion, and almost 80% of Facebook Advertising's total income already come from mobile advertising.
Old-fashioned Facebook Ads campaigns, which drive to website landing pages, are probably among the most important reasons why your marketing efforts are getting harder.
However, Facebook rolled out new products that allow you to optimize any marketing campaign on mobile devices. One of the most efficient tools is called Facebook Canvas.
What is Facebook Canvas?
Facebook Canvas is a type of ad that allows you to create beautiful and responsive landing pages for mobile devices. This tool provides an in-depth advertising experience by combining videos, still images and call-to-action buttons.
Facebook Canvas is characterized by a fast-loading technology that mobile users appreciate. It will bring your landing pages to a superior level in terms of engagement and conversions.
Why replicate your landing page?
Replicate your landing page is a good test to start using this new, superior Facebook technology.
The idea is simple: If you already have good conversions through your website landing page, maybe driving traffic in different channels, you cannot miss the mobile reach of the today's World.
By using a classic landing page, you can compromise the "real" number of people seeing your website due to the slow loading time on mobile devices. With Facebook Canvas you can replicate the same landing page for mobile users, taking advantage of its fast loading system.
Cool, right?
Then, you can obviously test multiple Canvas and see if you can reach more conversions, but it can be time-consuming and replicate your landing page is a productive way to start using it right now optimizing your time.
In this article, I'm going to replicate the landing page you see below…
…into this Facebook Canvas Ad.
If you are browsing this post via mobile, you can have a look here.
If you follow these steps, creating a Canvas Ad on Facebook is very simple. Are you ready? Let's go!
Step #1
Log into your Personal Account, select your Facebook page and go to "Publishing Tools." In the column on the left side, click on "Canvas"  and push the "Create" blue button. It will drive you to the Canvas Builder tool.
Step #2
The first thing you should do when you are in Canvas Builder is to create components. Click on the button "component". In the next step, you will be able to create the structure of your Canvas ad.
Step #3
Start shaping your Canvas by selecting the components that you need to replicate your landing page. For this tutorial, we are going to create a Canvas, by combining all the available components: header, buttons, carousels, photos, text blocks and videos.
Step #5
You are now inside the Canvas Builder. Name to your Canvas and go ahead. You can choose a white theme, a black one or a custom color.
Step #6
Go to the "Photo" section, choose a layout (I like to use the "fit to height" option) and upload a photo.
If Photo section is not below the Header yet, remember that you can change position to any section by clicking on the arrows.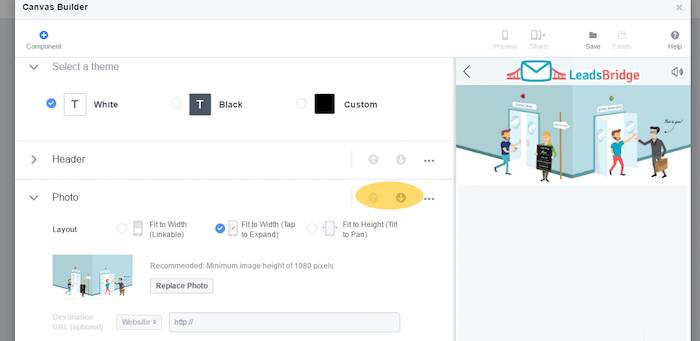 Step #7
Into the "Text" section, write down some benefits of your products or service. For this Canvas, I use two "text" components to replicate the landing page's Headline and subheadline.
Step #8
Feel free to add other images, videos and text sections, to replicate the original elements of your website landing page. At this point, for example, I need to add an image to the Canvas. Click on "Add Component" and choose the desired elements to complete the job.
Step #9
Create a Button: insert a website destination URL, define the color, style, and position. When you're finished, click on "Save."
Step #10
Click on the "preview" button if you want to check out the Canvas you just created, before finishing the project. Facebook will send a notification to your mobile phone, so you can check how people will see your Canvas.
Step #11
Before running your new ad, you should click on the "Finish" button. Remember that you will not be able to make any further change.
Step #12
Confirm that you want to finish your Canvas, and we are almost done.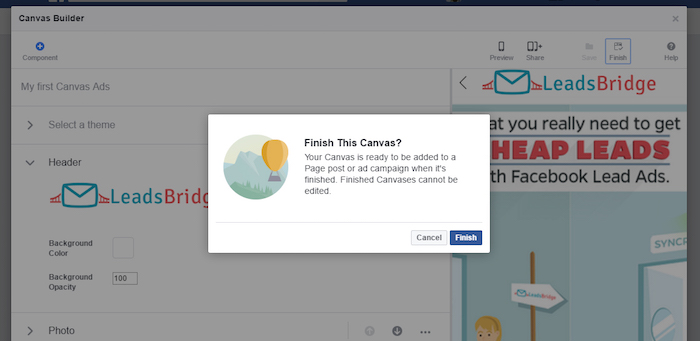 Step #13
Create a new campaign (or use an existing one). Go to the "Destination" section of your Ad and click on "Canvas," selecting the one you just designed.
Conclusion
In this article, I've given you an example of how to replicate your Landing Page with Facebook Canvas. What I just showed you, in fact, is the 13-steps-guide to achieve your first Canvas Ad, starting from an existing landing page which allows you to test this new Facebook ad type and lets you load a landing page in a fraction of the time needed when hosted on your website.
Let us know if you test this tactic and how performed for your business!
If you liked this post, feel free to ask questions or share your experience with Facebook Canvas by writing a comment below. I will be happy to read it… and respond!