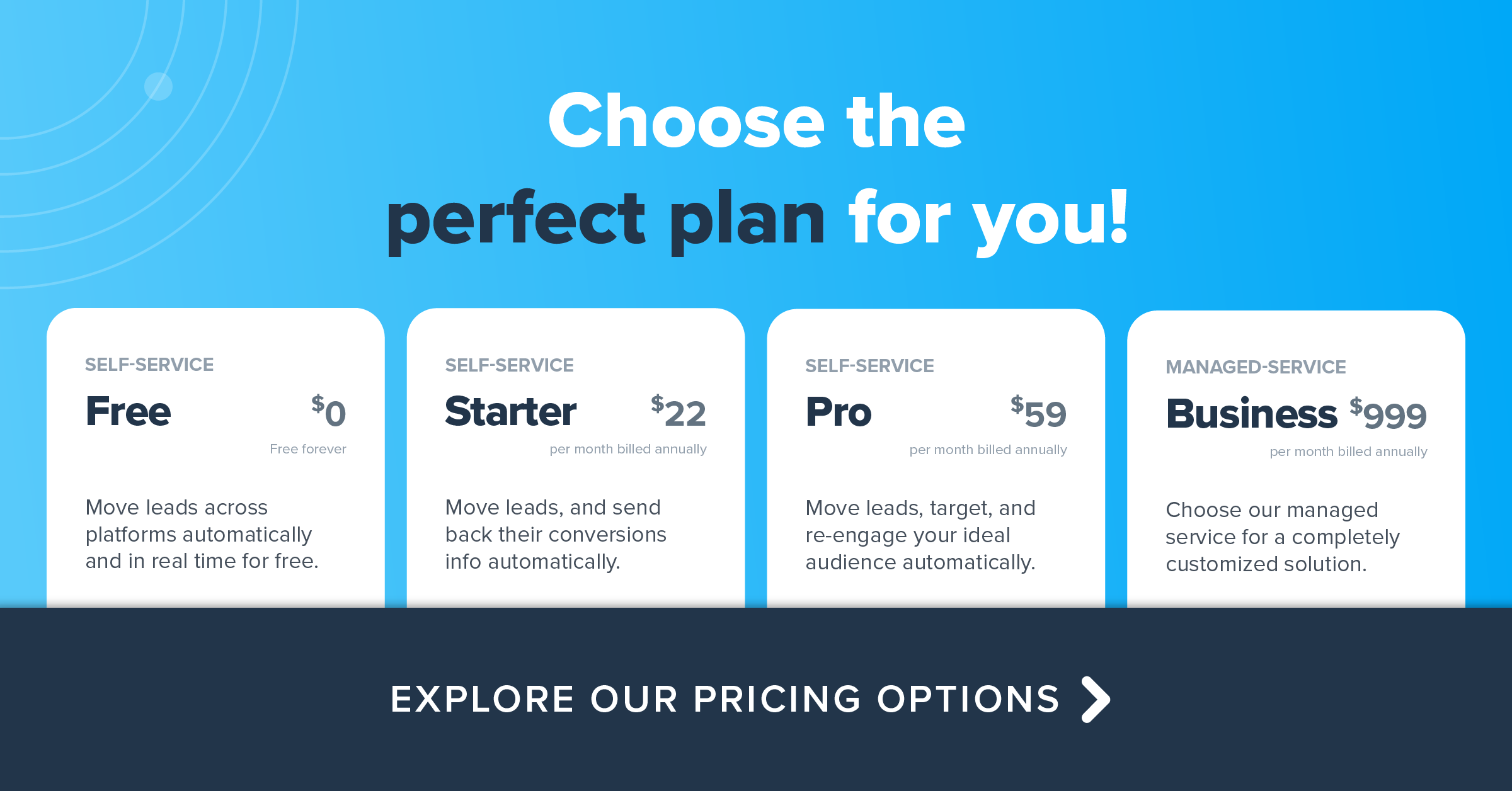 In the dynamic world of digital marketing, staying ahead of the curve often means automating your processes to maximize efficiency and results. This is where LeadsBridge comes into play, offering an array of pricing plans to cater to marketers of all stripes. We're excited to announce the newest addition to our lineup: the Starter Pricing Plan.
Automation on a budget with the Starter Plan
The Starter Plan fills a crucial gap in our lineup by catering to marketers who need more than the Free Plan offers but might have budget constraints. Here's why the Starter Plan is your gateway to efficient marketing automation:
Multiple bridges, affordable price: The Starter Plan starts with 3 bridges and allows you to run multiple automations simultaneously. This flexibility is perfect for marketers who need to manage several campaigns or initiatives at once.
800 leads per month: With a monthly lead capacity of 800, you'll be able to manage a significant volume of leads, making it ideal for small to medium-sized businesses looking to grow.
Sync up to 4 fields: Move beyond the basics by syncing up to 4 fields, giving you more data points to work with for effective targeting and engagement.
Email notifications: Stay in the loop with email notifications every time a lead interacts with your ad or web form. This real-time information keeps you informed and responsive.
Online-to-Offline tracking: Understand the complete customer journey by tracking online conversions and offline interactions, giving you a holistic view of your marketing efforts.
Try before you buy
We believe in empowering our users to make informed decisions. That's why we're offering a 14-day free trial for the Starter Plan. No credit card is required. Take it for a spin, explore its features, and see how it aligns with your marketing objectives.
Choosing the right LeadsBridge plan for you
Aside from the Starter Plan, LeadsBridge offers three other existing plans that have helped countless marketers streamline their workflows:
Free Plan: Perfect for those just dipping their toes into the advertising realm, our Free Plan allows you to connect top advertising platforms and webforms to your favorite marketing tools. With the ability to sync up to 2 fields and move 50 leads per month, it's a fantastic starting point.
Pro Plan: Geared towards seasoned marketers aiming to build an interconnected marketing ecosystem, the Pro Plan empowers you with 15 bridges, syncing up to 40 fields, and a monthly lead capacity of 2,000. This plan unlocks access to complex automotive CRMs, webhooks, and more.
Business Plan: For those with unique integration needs or specific CRM requirements, our Business Plan offers tailor-made solutions. Our team of dedicated developers will craft a custom integration to suit your business needs, ensuring a seamless flow of data.
Final thoughts
LeadsBridge's new Starter Pricing Plan bridges the gap between our Free and Pro Plans, offering marketers a budget-friendly way to automate their campaigns while enjoying increased capabilities. Whether you're just starting your marketing journey or seeking efficient automation within a tight budget, the Starter Plan has you covered.
Experience the benefits of streamlined marketing processes and explore the world of possibilities that LeadsBridge brings to the table. Ready to get started?
Sign up for the Starter Plan today and take your marketing to the next level!