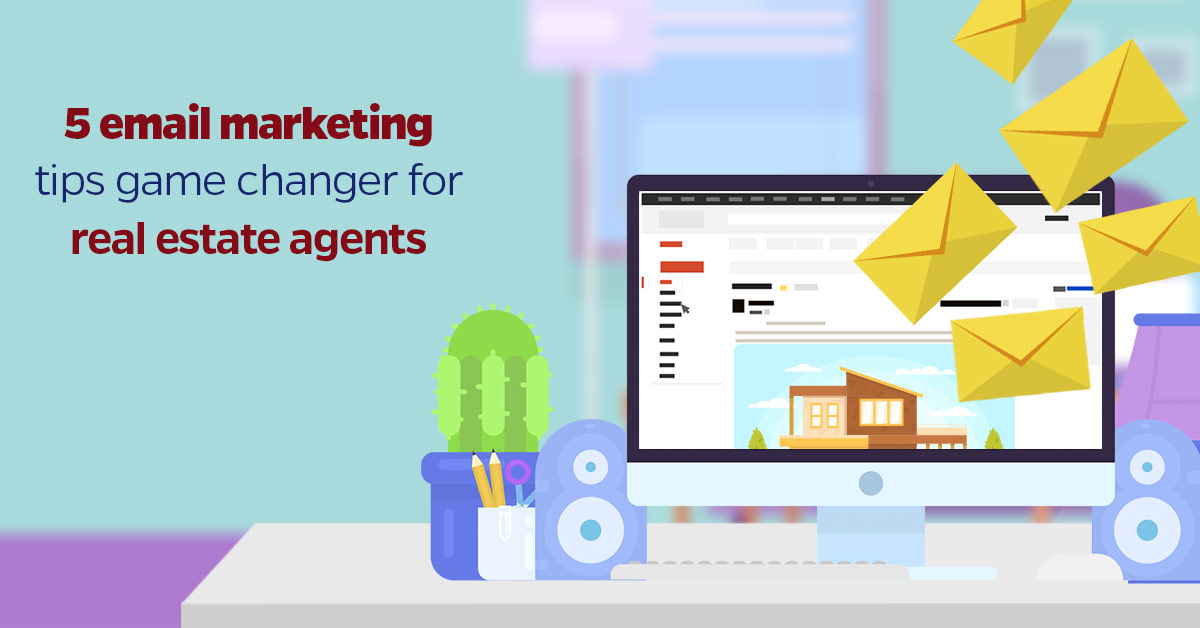 In this fierce world of trying to sell or let properties on behalf of the owners, building a successful brand that remains fresh in the mind is pivotal. As such, mastering the concept of real estate email marketing should be top of the agenda. Because with the right real estate email marketing strategy the business will consistently see a greater number of converted leads.
While successful real estate email marketing strategies can be one of your greatest assets, very few agencies actively see those benefits. In most cases, it's because they haven't gone the extra mile to ensure that their correspondences are the ones that readers accept.
Try embracing these real estate marketing tips, and you should see positive outcomes in no time.
#1. Target emails to the right demographics
If your business is genuine about its aspirations to enjoy productive online relations through clever real estate email marketing, getting to grips with your Customer Relationship Management (CRM) facilities will be vital. The modern systems can be used to encourage far greater efficiency, which should give your conversion rates a serious boost.
The right real estate email marketing strategy allows you to reach the right people at the right time, which is one of the most important real estate marketing tips you could ever learn. While it may be tempting to send details of every property to your entire contact list, the truth of the matter is that only certain demographics will be interested. Appreciating this fact is a crucial step en route to building a better real estate email marketing strategy.
Frankly, keeping sending properties that do not match the reader's criteria is a bad real estate email marketing strategy. In most cases your leads will soon unsubscribe from your communications. Whether it's promoting one-bed flats to a family of six, or showcasing details of properties that are 200 miles away from their desired location, you must find a way to prevent this from becoming an ongoing problem. Otherwise, you may miss out on the opportunities when suitable properties become available.
Separating your contact list into appropriate groups allows you to decide which demographics receive each email. Segmenting users by location is the most obvious solution, but there are various other ways to differentiate between clients. Either way, providing them with emails that feel personalised to their specific preferences will take your real estate email marketing endeavours to an entirely new level.
#2. Incorporate visual media at every opportunity
As with any other marketing venture, your emails need to excite and entice the consumer. It's the oldest cliché in the book, but a picture paints a thousand words. Therefore, embracing visual media can enable your real estate email marketing communications to create a far bigger impact. First impressions count for everything, and this is the perfect way to boost your conversions.
Digital media, such as email communications, allow you to do far more than insert images alone. Videos can provide far greater insight for the consumer as they browse potential properties, which will make the email more meaningful. Given the high-speed broadband that most people now enjoy, streaming and playback are unlikely to ever be an issue, especially as they can be integrated within the email.
There are plenty of templates and software packages that can help you draft attractive and effective messages with all the media presented in an engaging fashion. As far as real estate email marketing is concerned, this is arguably the greatest single upgrade you'll ever make. Once you've planted that seed of interest, the likelihood of users booking a viewing or seeking further information about the property in question will inevitably soar.
Visual media doesn't only provide greater insight and allow viewers to picture themselves in those properties. The data is additionally far easier to digest, making it more enjoyable than reading through huge amounts of text. Given that this should be an exciting and fun experience, getting this element right can only result in a greater number of converted leads. Moreover, those emails will be more likely to receive positive responses from those that have a genuine interest.
#3. Make all emails mobile friendly
The online environment has evolved at a rapid rate, not least in terms of how people access that data. Once upon a time, virtually all interactions were conducted via desktop browsers. Nowadays, though, the mobile arena of tablets and smartphones accounts for well over half of all browsing sessions while even completed purchases are now more likely to take place from a handheld device.

This growth can be attributed to many factors, including the iPhone generation, the availability of Wi-Fi, and contracts that include data. Either way, the situation is something you simply cannot exclude from your real estate email marketing strategies. After all, failure to acknowledge this element will instantly cut the potential audience in half. Even the companies that successfully embrace other real estate marketing tips can ill afford to let that happen.
When opening an email on their mobile devices, consumers will have various expectations. They'll need the email to look attractive, with all information presented in a clear manner. Meanwhile, navigation to external pages via hyperlinks should be easy to master. If the user has any issues with those elements, they will delete the email. On a separate note, images and eye-catching details should grab the attention within the first three seconds of opening the email.
Consider those factors while drafting your real estate email marketing materials and you'll have a far better chance of reaching a bigger audience and achieving greater success rates. Given that mobile users will come from both Android and iOS devices, it's vital that you test all emails on both types before sending them out to your subscribers. Keep doing this until your real estate email marketing campaigns can be completed without any mobile-related issues.
#4. Always use attention-grabbing headlines
Before worrying about the content of your real estate email marketing newsletters, you need to encourage recipients to actually open those communications. Therefore, when the email arrives in their inbox, it needs to give them a reason to click that button and actively look at what's inside. With this in mind, paying extra attention to the headlines is one of the best real estate marketing tips of all.
Failure to grab their attention with a catchy email headline will result in a large percentage of sent emails landing directly in the user's trash, never to be seen again. The perfect headline should provide a little information about what's inside while expressing the personality of the brand in a winning fashion. This guide from CopyMonk provides plenty of inspiration, although putting your unique spin on things is still highly advised.
On a similar note, you should use your CRM systems and email template facilities to make the emails more personal. This can be done by inserting their name, or town name within the headline or the beginning of the message. This helps real estate email marketing schemes evolve while also reducing the chances of readers assuming that the email should go straight to the trash.
In addition to mastering the concept of writing engaging headlines, it's worth ensuring that the recipients can see who is sending the email. For general newsletter and speculative emails, the company name is the best option. When you have an existing bond with the users, though, seeing that the email is from the "[name] @ [company name]" can be a very useful alternative.
#5. Analyse and respond
Even with the above real estate marketing tips at your disposal, it's almost certain that only a percentage of your material will gain the desired responses. There's nothing wrong with experiencing a little trial and error, but it's vital that you lose the ineffective ideas ASAP in order to focus on the items that actively work.
Analytics are your greatest friend that allow you to track which ideas are working, and which ones need tweaking or trashing. The numbers relating to follow-ups and conversions aren't down to luck, so respecting the results of this monitoring is a vital step towards perfecting your real estate email marketing streams. Learn to stick with the strategies that bring the best results, and your efficiency of time and costs will inevitably soar.
It's not all about analysing the success of those initial emails. Follow up communications are equally vital as you aim to get users booking viewings or finding out more information on the properties. On a similar note, it's imperative that you learn to make the most of CTAs (call-to-action) buttons to ensure that the desired responses occur. There's nothing worse than losing potential interest because people don't know what to do next.
Assuming that your real estate email marketing techniques are perfect from day one is a very naïve thing to do. Acknowledging the fact that there's always room for improvement should lead to far better outcomes, ultimately bringing increased conversion rates and greater revenue. Use those email streams alongside other real estate marketing tips to help the brand grow and establish its name with all demographics. Do this, and your company will become the 'go to' solution.
Watch our latest video and learn how to improve your email marketing strategy now!