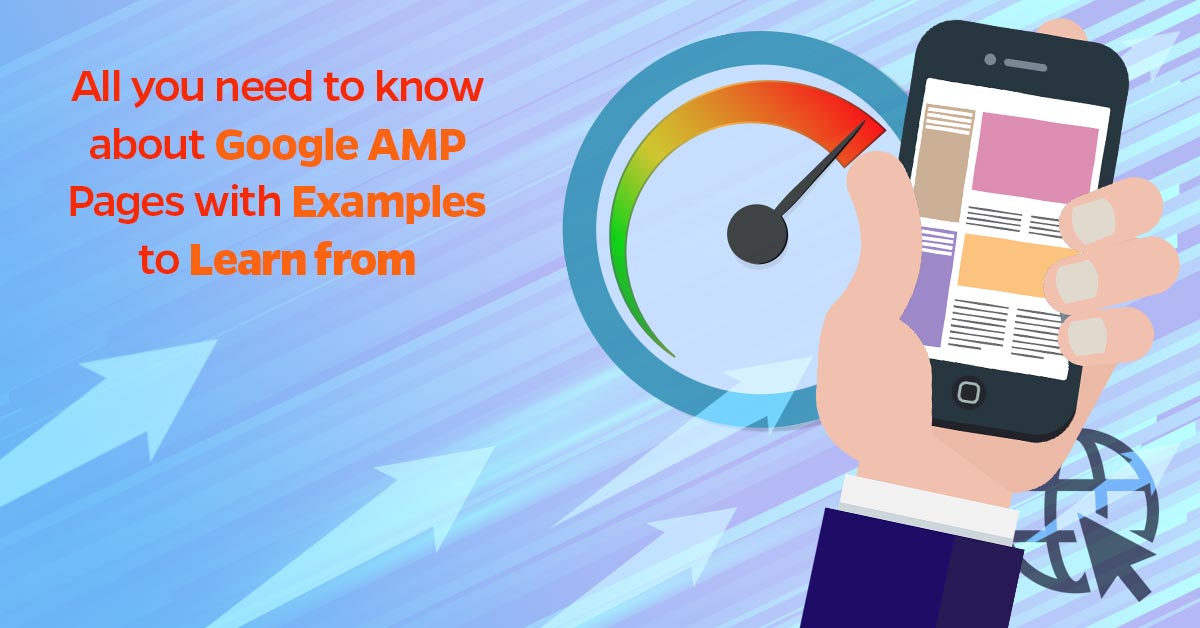 Optimizing your mobile page is non-negotiable. This is because 80% of shoppers use smartphones during physical shopping and a delay of one second in page response can reduce your conversions by 7%.
That's not all.
Do you know that 50% of the mobile users abandon a page if the load time is more than 10 seconds?
So, the question is:
How do you ensure that your mobile website pages load faster?
Simple!
Use the Google amp pages to optimize your mobile website pages.
The Google amp pages can reduce your mobile pages load time between 15% and 85%, according to Google. That is huge!
Using Google amp pages can help your mobile websites to rank higher on Google because it is rumored to be a ranking factor in Google's mobile-first index. This will help you convert more of your website visitors into customers.
Before we look in-depth into Google amp pages, it is good to know what it is all about.
What is Google amp pages?
Google amp pages are designed to help you create faster mobile pages. The Google amp pages plugin is an open source project created by Google and Twitter. The purpose of Google amp pages is to help businesses enhance their mobile websites speed so that users can find it easy to engage with mobile website content. Google is concerned about giving your mobile users a better experience, hence the creation of this tool.
According to a study, Google AMP pages load four times faster and use eight times less data than traditional mobile-optimized pages.
How does Google amp pages work?
Google AMP pages consist of three parts, the AMP Html (custom tags), AMP JS (JavaScript library) and the AMP CDN (Content delivery manager). The Google amp pages plugin reduces the HTML code tag manager and displays the appropriate ones for mobile viewers. It does not render JavaScript.
Google loads the content of your mobile website on its server and serves to users from its site. This makes it fast to load content for your mobile readers.
Since its launch in 2016, more than 31 million domains have adopted Google amp pages.
How to build Google amp Pages
Building Google amp pages is not rocket science. It is simple! All you need do is create an optimized version of your site according to the instructions of AMP project's standards. You can find the tutorial here. When you are done with it, it gives you an AMP site URL i.e. site.com/page/amp. This is compatible with Chrome, Firefox, Safari, and other popular web browsers.
For WordPress users, you can download the plugin at GitHub and install it through your WordPress dashboard. When you are done, append "/amp/" to your blog post pages.
Why is it necessary to use Google amp pages?
There are many reasons you should use Google amp pages for your mobile website. Five of them are enumerated below:
1.It improves your mobile website's speed
The first reason while you need to use Google amp pages for your mobile website is to improve its speed. Do you know that Google amp pages load twice as fast as a comparable mobile page? Oh Yes, it does. That is an enormous speed. When your speed increases, your website visitors will find it easy to consume and engage with your content quickly. This will spur them to purchase from you.
A study revealed that a 1-second delay in mobile browser load time can lower conversion rate by 3.50%, reduce page views by 9.40% and increase bounce rate by up to 8.30%.
This is the reason you must optimize your website with Google amp pages so it can load faster and more visitors can consume your content and become customers in no time.
2.It increases your mobile search engine rankings
The second reason you need Google amp pages is to help increase your mobile search engine rankings. Because AMP improves website speed, it has an effect on your ranking as load time is important for SEO. The truth is, it is easy to convert website visitors if your website loads fast. They are likely to make purchases or join your list of subscribers.
Google amp pages are rumored to be a ranking factor in Google's mobile-first index. Again, Google rewards mobile-friendly websites with higher rankings in mobile search engine results pages. Because of this, Google amp pages will rank higher than non-Google amp pages in mobile search engine result pages.
3.It reduces bounce rate
It is mentioned above that Google amp pages improve website loading speed. When that happens, your website visitors will view more pages and stay longer on your mobile website, thus reducing bounce rate. When you have a low bounce rate, Google will reward your website by ranking it higher on its search engine result pages. This is because it tells Google that your website is useful to its viewers.
Low bounce rate also increases conversions and profits. As more visitors stay longer on your website, they are bound to make purchases, thus increasing your conversions and profits.
4.It makes it easy to track users
With Google amp pages, tracking your website visitors and site performance is a breeze. It has great analytical tools in place for users. Google amp pages allow you to use tag manager analytics to track useful details such as visitor count, new vs. returning visitors, and clicks/conversions.
Tracking the activities of your website visitors will help you know how to improve your user experience to bring in more visitors.
5.It boosts your website's visibility
Google amp pages allow more people to see your website. Google displays AMP results in search engine listings. You will know AMP pages by their displayed green symbol. See an example from the Guardian below: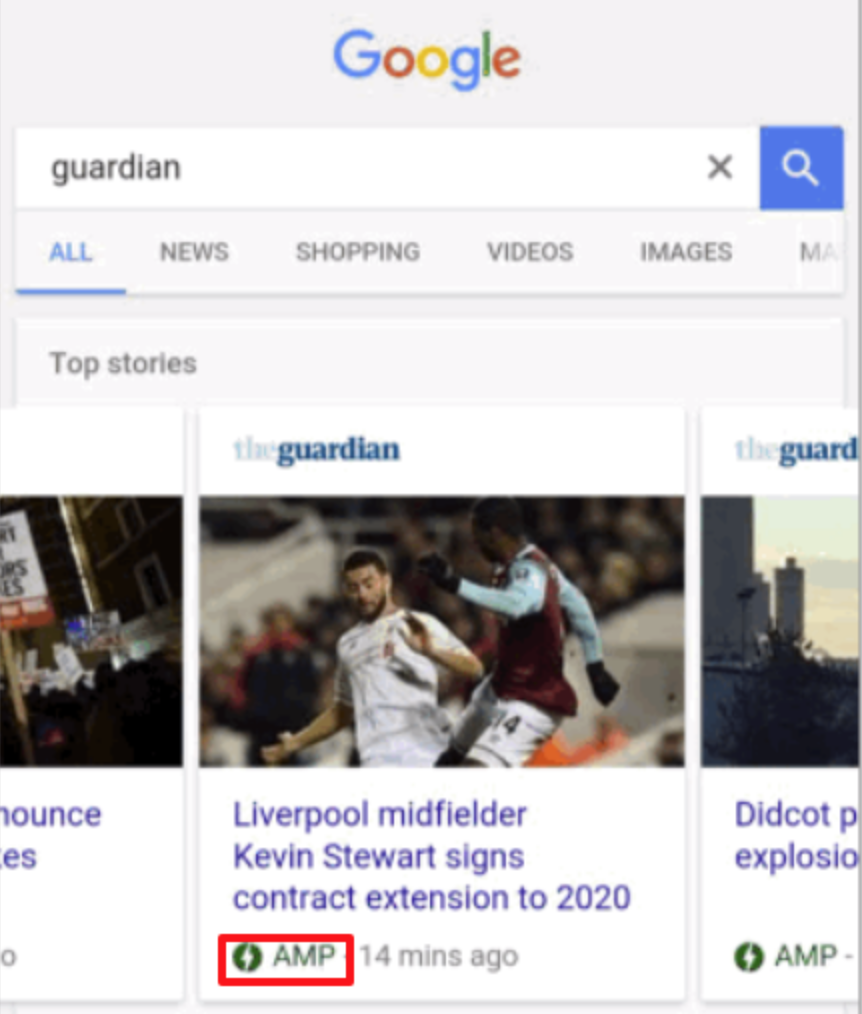 It displays your website in the top stories carousel that is shown above search results, making it visible to many eyeballs. This can significantly increase your website traffic as many people will click on your link. As many browsers realize the speed of Google amp pages, they will click more on them.
Below are examples of Google amp pages.
Google amp page examples
According to a report, about 31 million domains have adopted Google amp pages. That is a lot! Below are some of them.
Amp page examples of News website such as CNBC, the Guardian, Tribune and the Wired.

Amp page example of E-commerce websites like Wego, Millwood and TransUnion.
The future of Google amp pages
The truth is, many businesses are not taking advantage of the Google amp Pages. However, the rate of adoption is increasing as 31 million websites are now using it. It will not slow down soon.
Also, Google amp pages will have an influence on social media interactions in the future.
Google will continue to promote and develop the AMP project to ensure that more and more websites adopt it.
Conclusion
Google amp pages is gaining wider coverage. If there is a better time to adopt it, it is now. It provides a great user experience for your mobile website visitor, thus helping to increase your website traffic and conversion. If you've adopted Google amp page for one of your landing page to build your  brand feel free to check out our Landing Leads feature and syncronize all the leads that you collect trough it . Check it out!
The question is, are you using the Google amp pages to increase your mobile website speed and user experience?  Share your experience with us in the comment section below.