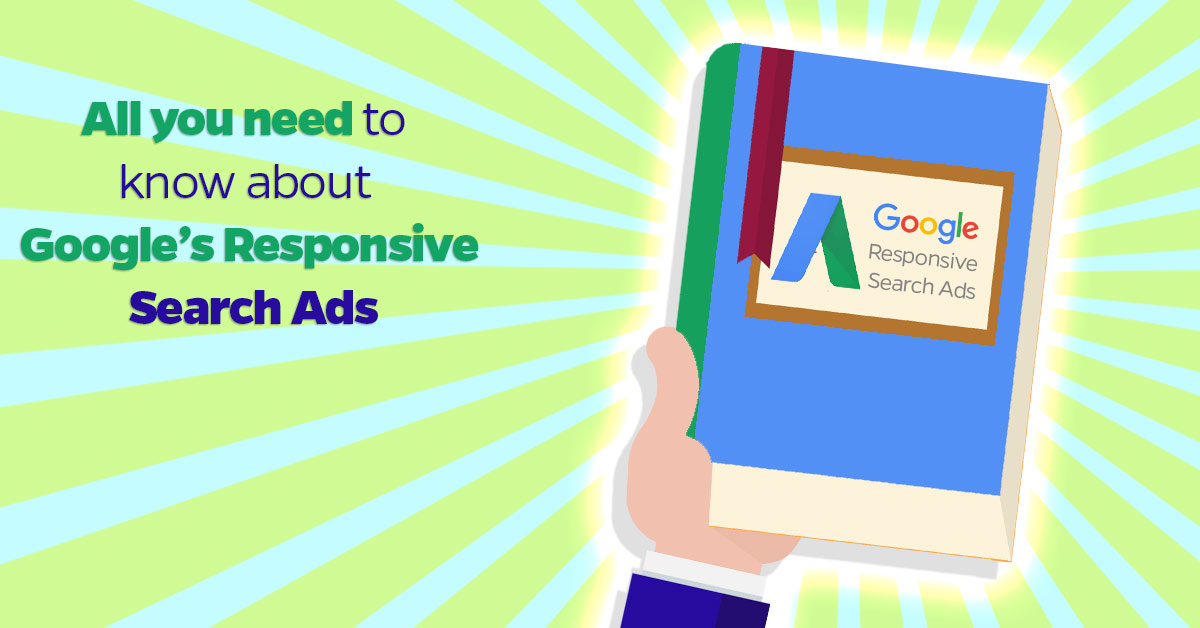 As part of their relentless quest for innovation, 2018 saw Google introduce a beta version of their latest ad unit for advertiser selection: responsive search ads. As with any new Google innovation, this release lead to equal parts panic and excitement, with marketers scrabbling to understand what this meant for their efforts.
With the dust now settled, we're going to look into what the release of responsive search ads actually means, the benefits that they offer, and how you may be able to use them to further your own efforts.
Responsive search ads in a nutshell
Responsive search ads allow for multiple combinations of headlines and descriptions.
Responsive search ads are also dynamic.
Google's "machine learning" then tests and optimizes these headlines to ascertain the best performing combination.
This allows advertisers to create adverts that are highly relevant to what their target demographic are searching for.
The higher the number of different combinations entered, the better the chance Google will be able to learn the best performing combination.
The adverts will look like expanded text ads on the page.
This option is found in the sections Expanded Text Ads in the Adwords interface, though this is currently only available to Adwords users who have received the beta rollout.
The benefits for advertisers
The driving force behind these changes, Google says, is improved performance in advertising campaigns.
This is achieved through the machine learning that Google performs on the multiple options that advertisers have submitted.
As a result, Google's learning can establish the best possible combination for the customers advertisers are trying to reach with their campaigns.
Responsive search ads are also able to display more relevant text to customers; we will discuss more on how this is possible below.
The complete removal of the necessity of manual A/B testing, helping to simplify the overall process of creating responsive search ads campaigns that will drive conversions.
Adverts will also appear in more searches than is currently deliverable by standards Adwords campaigns.
A newly streamlined setup process that makes life simpler for you. To create responsive search ads, you will only need to enter basics such as images, headlines, final URLs, and descriptions.
It is also worth noting that in the current beta phase, Google have chosen to incentivize advantages to try the feature. Campaigns that opt to inclusive responsive search ads will be given more total real estate in the SERP.
So if you have the option in your account, it may well be worth giving responsive search ads a try for this reason alone.
How responsive search ads work
Now you have an idea of what responsive search ads are, and the potential benefits they may offer, let's dive deeper into how they work and how they can be used.
First, some basic statistics. Responsive search ads will allow you to create the following number of options, per advert:
15 different headlines. 30 characters maximum per headline. This is the same as the length allowed with Expanded Text Ads.
4 different descriptions. 90 characters maximum per description. This is an improvement on the 80 characters allowed with Expanded Text Ads.
However, not all of these headlines and descriptions will be seen on the responsive search ads that users see. The advert created will utilize:
Up to two 90-character descriptions.
It is worth noting that this ability to mix-and-match, and the adaptability of the adverts, ultimately allows for more dynamic advertising. The same advert created by you in the Adwords backend will display in a number of different ways online. Each time it is shown, Google's AI will have calculated the absolute best version of the ad for the customers who will be viewing it.
This means that a single advert can effectively be many things. Think of it like Mary Poppins' "medicine" that always produces the perfect flavor for each person tasting it. With minimal effort on your behalf, your advert will always show exactly what suits the viewer of the advert the best. With one setup process, you can create dynamic text adverts, native banner adverts, and more besides— and you only have to do the foundation work once.
The possibilities for enhanced efficiency and performance these adverts offer are incredibly impressive. Essentially, Google's AI is doing much of the hard work of an advertising campaign on your behalf. With a single creative process, you have an advert that can be tailored to suit the specific preferences of your customers. This doesn't just free up more time for you to focus on other tasks. It will ultimately help to ensure that your campaigns are able to experience higher levels of success.
Best practices for responsive search ads
Now that you're ready to create your own responsive search ads, here's a few pointers from Google and other reputable sources that should allow you to use this new function to deliver the best possible results:
Google recommend providing eight to 10 headlines wherever possible. Ultimately, the more headlines you are able to provide, the better.
You need to use keywords very carefully. You should include keywords in at least two headlines. However, three headlines should be free of keywords.
It's also worth using this as an opportunity to be creative with your headlines. Vary the length between selections; some can be very long, some very short. As Google's AI is going to decide which is the most effective choice, you want to be sure that the machine learning as plenty of options.
You also need to add two descriptions for your adverts. Again, variety is important here; make sure these descriptions are significantly different from one another. There are two reasons for this. First and foremost, you want to ensure that Google's machine learning has plenty of options. Secondly, responsive search adverts may decide to show both descriptions at the same time, so you want to ensure these descriptions are very different from one another.
Vary the information you include. In some ways, responsive search ads allow you to experiment with ideas you've always been curious about but not had the time or inclination to try. With these responsive search ads, you can try out more unusual ideas, safe in the knowledge that if they don't work, Google won't show them.
While we have emphasized variety above, you should still obviously maintain relevance to the keywords you are targeting.
Remember… The tips above will certainly enhance the responsive search ads that you create. However, it's important to remember that, at the time of writing, responsive search ads are a new introduction to Google's stable. This means that it may take some time for the best possible practices to be ascertained, and you may need to edit and tweak your strategy as the potential of these adverts become more obvious. With that said, the above tips provide an excellent place to start, and should ensure that your campaigns are well-placed to begin to take advantage of this exciting new development.
Other need-to-knows about responsive search ads
According to this site, while responsive search ads are still in beta, they can only be added to ad groups that currently feature text ads.
When you create your responsive search ads, you will be shown previews for the way your responsive search ads may look. This gives you a chance to see the different 'types' of adverts created by the information you have input. Though this will not be an exhaustive list (the huge number of different combinations possible make it impossible for you to see a demonstration of each and every one), it will give you an idea of what the responsive search ads may look like to users. Of course, if you see something you dislike, then you can make changes and amend prior to pushing live.
You can specify the width of your completed responsive search ads to improve the visibility of your responsive search ads on mobile devices.
If you do not yet have the option for responsive search ads in your adwords account, then it is worth noting that the general expectation is that the feature will be fully rolled out by the end of the year.
As you would expect, all the usual rules apply with these adverts, and you will have to ensure you are in line with Google's advertising policies.
In conclusion
While Google updating their products and services always causes mild concern amongst those who rely on the company for their marketing efforts, it's fair to say that the introduction of responsive search ads is undoubtedly a positive one. These adverts allow a level of dynamism that no current campaign has been able to achieve, and help to provide the perfect adverts for the customers you are trying to target— without extra work and research on your behalf!
So if you have the option to begin experimenting with Google's responsive search ads, it's definitely worth a try. If not, then hang tight, and hope the beta rollout is expanded sooner rather than later.
Hey! Never lose a lead with our LandingLeads!