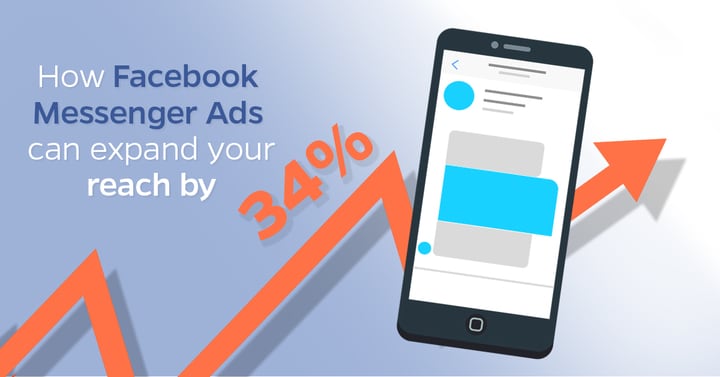 If you run Facebook Ads, you already know what it feels like when your most successful campaigns suddenly stop converting.
"Frustration" is probably the nicest word for describing this feeling 🙂
However, that's how it works. 
On one hand, Facebook allows you to get A LOT of clients with a very low marketing budget, in comparison to other marketing channels like Linkedin or Adwords.
But Marketers are constantly breaking head how to reach new potential clients through other channels and platforms.
In this article, you'll learn how to expand your reach using a brand-new marketing channel that most of us use every single day of our life.
Introducing Facebook Messenger Ads
As their company's page says (https://newsroom.fb.com/company-info/), Facebook counts 1,28B daily active users, while the monthly active users are 1,94B.
These stats say clearly that you can reach 34% more users when you run your ads out of the Facebook newsfeed/right sidebar and when you display them in a more friendly place like Facebook Messenger.
Although we can't be 100% confident on this exact percentage, there is a fact that we can't ignore.
You may know that many people don't update their Facebook profiles for many years, 'cause they use social networks just to keep in touch with their friends directly through the messenger platform.
These are users that you can't reach with traditional ads that run on Facebook's news feed or on the right side column.
That's why this brand-new type of ads thrills advertisers so much.
Before we start, let's make it clear that Facebook Messenger Ads are different than Messenger destination ads.
With Messenger destination ads, in fact, people diplay your ads on Facebook's newsfeed and right column, starting a chat with your brand.
Facebook Messenger Ads, instead, address your audience when they use Facebook Messenger, as shown in the image below.
That said, let's see some of the most interesting characteristics of this new ad type.
Facebook Messenger Ads are less intrusive than many people think.
First of all, consider that Messenger Ads don't interrupt the conversation between the users.
Facebook Messenger Ads will only be displayed on the Messenger's home page, when you login for chatting with friends.
Messenger native ads won't scrape private messaging to discover new interests.
The way you target an audience on Facebook remains the same (at least, right now).
You can define your audience based on interests, connections, gender, location and so on.
Facebook Messenger Ads can be displayed to Custom Audiences as well.
Messenger native ads let you have a higher frequency.
By placing Messenger Ads beside to other Facebook Ads placements, the frequency of your ads will probably be higher than ever.
Of course, this will have pros and contras for your business. Yet, it's important to understand it because it will probably have a huge impact on your Facebook Ads strategy.
You'll reach a new audience
This could be an enormous value for advertisers. Although we don't have enough data to demonstrate this, I strongly believe that Messenger Ads can bring a brand new audience to your campaigns.
The reason is simple.
As previously said, they allow you to reach people who don't really use Facebook as a social network, yet they use it as a messaging platform to communicate directly with their friends.
At this point, you may be curious to see which results you can achieve with Facebook Messenger Ads.
Here you are a few tips to get started immediately and see if they fit for your business.
1) Separate the placements
Normally, Facebook recommends running your ads across Facebook's family of apps and services without separating manually the placements.
By doing so, Facebook automatically distributes the ads within the news feed, right column, mobile devices etc., in order to increase the deliverability of your campaigns.
However, this is a brand new ad placement. If you want to see which results you can get, I strongly recommend you to run your messenger native ads in a separate placement.
By doing so, you may have more info about the performances and you'll be able to optimize the ads.
Gentle reminder: if you want more tips&tricks about optimizing your ads' performances, don't forget to grab your free copy of the Facebook Ads Insider's Hack
2) Be friendly
People use messenger to chat with their friends, and they don't really expect to buy stuff or subscribe to your mailing lists.
At the moment, users don't expect to see ads on their messenger platform. For this reason, don't be disruptive and try to deliver a friendly message.
Please don't forget that users can report your ads by simply with a click!
3) Use emoji and slang
In order to align your ads with this chatting platform, address your audience with a friendly communication using emojis and adopting the slang of your audience.
We already tested using emojis with our ads, and they dramatically improved their performances.
You can bet it that emojis won't annoy your audience and will increase the CTR on Facebook Messenger too!
4) Invest in exceptional images
Images are crucial for Facebook ads, and the messenger platform makes no exceptions.
Finding out the right image that grabs the attention of your audience may requires you to run some tests.
If you can't design the images by your own, try downloading some royalty-free photos using www.pexels.com or www.pixabay.com.
5) Make sure your site is mobile-friendly
Having a mobile friendly website is a MUST for today's marketers, but it becomes even more important when running ads on Messenger.
Facebook Messenger is widely used on mobile devices, and people tend to abandon your website if it doesn't load within the first 3 seconds.
For this reason, if you want to take the most out of this tool, be sure that your site is well optimized for mobile navigation.
Hey…want to take your Facebook Ads to the next level? Join the LeadsBridge University and learn Advanced Facebook Marketing…for free. 
Conclusion
In this article you learned some pros of running a Facebook ads campaign within the messenger platform.
I also gave you some tips for running your first campaign on Facebook messenger, in order to start some tests and discover the potentials of this type of advertising.
Now it's your turn.
Have you tried to run your Facebook Messenger Ads to discover what's working and what's not? Do you have any tips or ideas for running such type of campaign?
Please share your thoughts in the comments.