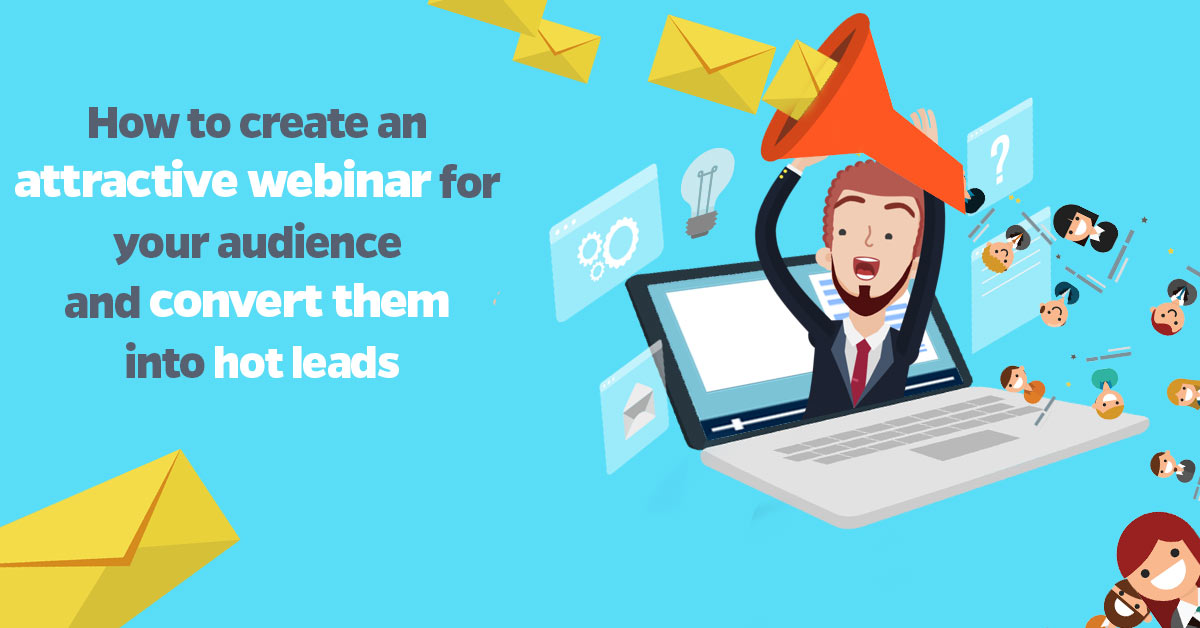 Are you looking for a solid strategy to generate high-quality leads for your business? If so, webinars are the way to go.
Webinars are known to be one of the best lead generation strategy out there. This is because people who take the time to register and watch a webinar are looking for meaningful information on a subject. Thus, the leads are more responsive and of higher quality. This is why 66% of marketers surveyed by the Content Marketing Institute revealed that Webinars is an effective marketing tactic for their business.
Not yet convinced?
Here are more statistics that show the benefits of using webinar marketing for your business.
Sure, you are getting excited now.
Before we move on, let's briefly explain what webinar marketing is all about.
Webinar marketing is the process of using a seminar to connect with your prospective customers to promote your product and services. A webinar is a great lead generation tool that will help you get quality leads, show your products and services to those who need it and showcase your expertise.
Below is a sample webinar from Search Engine Journal.
As good as webinar marketing sounds, it is not easy to generate leads without a solid strategy in place. You will have to ensure that many of your prospective customers enter the top of your funnel. You also need to create awareness for it to make the right people see it. Then you will need to get those who see it to register or watch the replay hoping they will turn into leads.
Sounds complicated?
Not to worry, in this article, you will learn how to use seven strategies to get your webinar up and running in no time.
Let's get started.
1.Find an interesting topic for the webinar
The first thing you need to consider when thinking of generating leads with webinars is the right topic for your audience. The topic will either attract or repel your audience from registering.
There are three tactics you can use to get a good topic for your webinar. The first one is to check your analytics data and search for the most viewed content on your blog. This shows that your audience is interested in the topic.
Second, you can check your social media profiles to see which of your post garner the most engagement (in terms of likes and comment).
Third, check what your competitors are doing. You can build on what they've done initially.
When you find a good topic, then create a great headline.  The title must be catchy.  Find examples of Leadsbridge's webinar titles below.
You will agree with me that these topics are the type that solves the audience problems. The truth is, no one cares about your products and services, all they care about is getting solutions to their pending problems. Instead of creating a webinar that shows them why they need to buy, they are busy showing their audience what to buy. So, let your webinar topics reflects the problem you solve with your product or service.
2.Create a valuable webinar content
Now, you have your topic in place; it is time to create the content for the webinar presentation. To create a valuable webinar content for your audience, use Aristotle's strategy. The strategy is to "tell them what you're going to tell them, tell them, tell them what you told them."
In a simple language, your content structure should have an introduction to the topic, the body, and the summary. In creating this content, ensure that you consider the problem your audience is going through and create a perfect solution for it.  You can make a low pitch in between the sections.
3.Create a webinar landing page
Now you have your presentation ready. The next thing to do is to set up your landing page.  When creating content for your landing page, ensure that it is targeted to your audience. Address your prospective customer's challenges, pain points, needs and wants.
Use a compelling headline to attract your audience and boost your SEO ranking. Use short sentences to make it easy for your audience to assimilate your message. Use social proof (i.e. social media comments, and testimonials) to reinforce your value proposition and add a brief bio of the speakers.  Below is a perfect example of a good webinar landing page.
4.Choose a useful webinar platform
Now you have your content ready, the next thing is to choose a valuable webinar platform to deliver your presentation.  There are so many webinar platforms out there. But one of the most useful ones is the BlueJeans.  BlueJeans is a cloud video conference platform that allows you to hold live video calls, webinars, conference calls, and online meetings. You can use it for your business whether it is small or big. It allows you to engage with an audience size into the tens of thousands of 0 attendees with video, Q&A and large meeting moderator controls.
The best thing about BlueJeans is its integration with Leadsbridge. With Leadsbridge, you can integrate BlueJeans with your favorite tools like Bizzabo (an event management system) and CRM solutions like Freshsales, Salesforce CRM, HubSpot CRM, Zoho CRM, Freshsales CRM, and Pipedrive. Integration improves your efficiency and boots productivity.
5.Promote your webinar
You are all set for the webinar now. It is time to promote it to the right audience. You don't just sit and wait for the audience to come and register. You search for them and bring them to your registration page. To do this, follow the steps below:
Start from your email lists. Send an email blast to notify your audience about the event
Use paid ads to further expand your reach. You can use Google AdWords to target people who are looking for solutions to their problems. You can share your webinar event information on LinkedIn through groups, updates, sponsored update, LinkedIn ads, and lead forms. Use Facebook's ads to target your website visitors and create custom and lookalike audience to reach more people.
6.Engage your audience before and during the webinar
Before the seminar send email reminders to people who registered for the event. During the webinar, give your attendees bonuses that relate to what they are interested in and use limited time offer to encourage them to act quickly out of the fear of missing out (FOMO).
7.Offer on-demand or webinar replay
Not all the people who register will attend the event. The best thing to do to get more leads after the webinar is to make it available for your audience to watch. Create a page where people can register and still watch it.  Check out this page on Leadsbridge. It contains a list of their webinars and a link to where you will register to view them.
When you click on any of the topics, it takes you to a landing page. See an example below:
To make this work well for you, send an email to those who register, but couldn't attend. Give them the link to the webinar replay page.
Webinar marketing case study
A good case study of webinar marketing done well is that of Kissmetrics. They created 77 webinars from inception to 2015. They got 518,399 visitors, 155,386 registered participant, 74,438 attendees, and 16,394 high-quality leads. Not a bad one!
Conclusion
There you have it! Seven webinar strategies you can implement to generate high quality leads in your business.  Have you tried using the above strategy before? What was the result?  Share with us in the comment section.
Pss.. If you want to become a lead generation webinar rockstar check this free guide out!