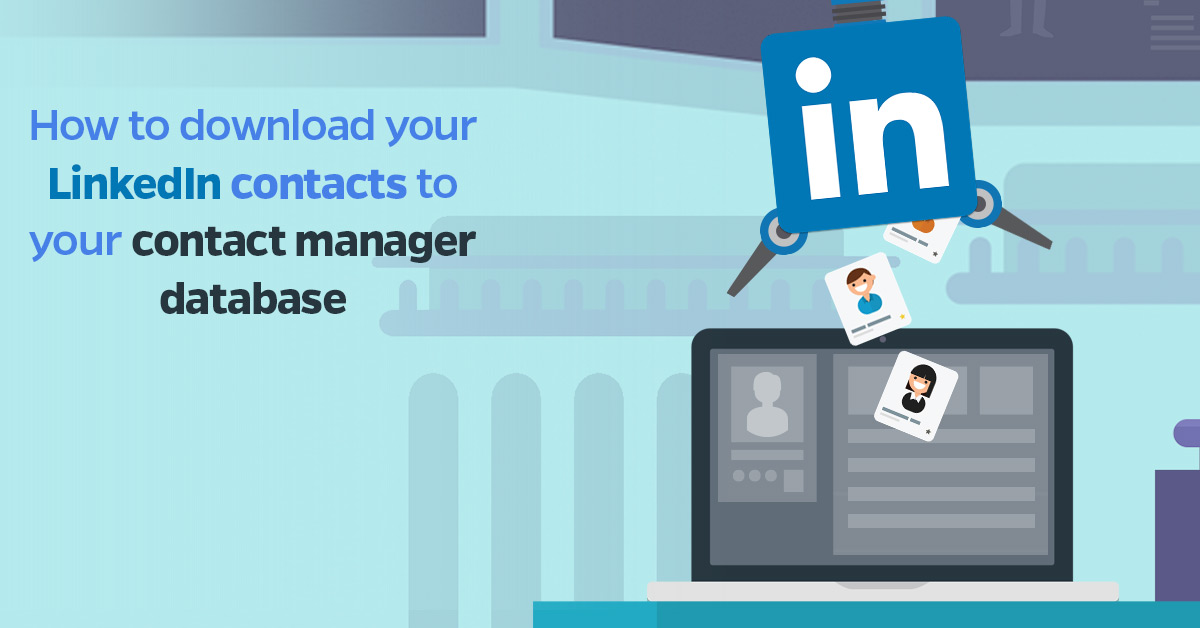 Networking is a crucial part of any professional's career, that's why LinkedIn has seen such a success in the social network world and knowing how to take advantage of this tool and how to download your LinkedIn contact list and importing them into your contact manager database will help you get your game to a whole new level.
The social network allows you to build and reinforce relationships with different people in your industry and others as well, these contacts are usually of high value, especially if you've accurately chosen the people in your network and if you work on B2B marketing.
The importance of LinkedIn is known by many marketers, as it ranks really high on effectiveness for B2B marketing strategies, the chart below, from eMarketer, shows how companies that invest in social media marketing have seen great effectiveness in using LinkedIn for their objectives.

As Neil Patel states, LinkedIn is the most effective platform for generating B2B leads, and it's responsible for more than 80% of a business's social media leads; just imagine the advantages these leads may give you if download your LinkedIn contacts and put them into your contact manager database.
How to download your LinkedIn contact list?
The first part of a process that will absolutely help you improve your lead generation game is to download your LinkedIn contact list, to do so you should head over to My Network by clicking on the dedicated button in the top bar, right next to the Home one:
On the next page you'll be able to see your LinkedIn contacts count, if you go and click on the See all button at the left of the screen, you'll be directed to a page where your entire LinkedIn contact list will show just for your eyes.
In this section, an option called Manage synced and imported contacts will show up on the right side of the page, by clicking on it you'll have access to the area dedicated to setting up contact syncs, imports and advanced options, such as contact export and syncing management.
Now LinkedIn will take you to the Manage contacts screen, in this area you'll be given the option to export your entire LinkedIn contact list; under your contact count, you'll see some Advanced actions available. The Advanced actions allow you to Export contacts and Manage contacts syncing.
Click on the Export contacts option to continue and request the download file containing the LinkedIn contacts' data.
At this point, LinkedIn shows you a dedicated page for data downloading. Here you'll be able to choose from the list the type of data that you're interested in downloading; you'll be able to get a lot of information from your account, but for this process, we'll select the Connections option.
Connections refer to the contacts you've added to your network, people you've some kind of professional connection with and that is related to your field of work.

After choosing the Connections option, you should go ahead and click on the Request archive button to continue with the process, once done LinkedIn will ask for your password as part of a security procedure. Then, the data requested will be processed by the platform, once everything has been processed and the LinkedIn contacts data is ready for download you'll receive an email containing a link for the download (Remember to check the Promotions tab if you're a Gmail user or other organizational folder your mailing system may use).

On the page, you'll be able to download a file containing all the data by clicking on Download archive to download the data file into your computer; please note that this data will be available for a maximum of 3 days.
Now that you have a CSV file containing the download of LinkedIn contacts, you may proceed and put it online for better management. You may use Google Drive, Google Sheets, or Dropbox, for example; so you'll have the possibility to create automated workflows and get your entire LinkedIn contact list to your contact manager database.
This is where LeadsBridge comes in! We have worked on a great set of integrations that are called Document Leads; these integrations allow you to use your online documents to automate and create specific workflows.
Get your downloaded LinkedIn contact list to your contact manager database using Document Leads
In this particular case, LeadsBridge will read your online file and automatically send the information to your contact manager database by using a bridge.
To set it up you should follow our step-by-step documentation, where you'll select the online file provider of your preference, such as Google Drive, Google Docs, Dropbox, Google Sheets, etc. and your contact manager database from the integrations list.
In the next steps, you'll tell LeadsBridge which file you're interested in using, and the platform will then be able to read and send that contact information from your LinkedIn contacts to your contact manager database.
In a bridge you also have the possibility to filter data so you may send specific LinkedIn contact's data to different segments on your contact manager, allowing you to perform even more personalized and targetted strategies to the LinkedIn contacts you've gathered.
On the destination step, you'll select the platform used as your contact manager database, where you'll be able to select where exactly inside that platform you'd like to see the information.
After it is all set up and the bridge goes live you'll start receiving the data from that file, and every time you add information to that file the data will automatically go to your contact manager database, allowing you to trigger sequences and create amazing workflows for your lead generation strategy.
The benefits of automating LinkedIn contact insertion into your contact manager database
Having an automated flow that gets your LinkedIn contacts to the right place at the right time is a game-changing move that will let you make the best out of your time.
Automation is here to improve our work and productivity, save us time and assure we give our best to our defined strategies.
Setting up this kind of workflow will not only allow you to easily send data about your LinkedIn contacts but also help you improve your B2B marketing efforts.
This workflow helps you collect high quality leads from your own personal selection and network, that will definitely get a better ROI, you may also work on some targeting and retargeting by uploading the data to other platforms and really improve your advertising.
Conclusion
Technology and automation are every marketer's best friend, allowing you to make the best out of every tool available while saving time.
It's quite important for any marketer to know how to create the most effective automation workflows to get the best out of well thought and executed strategies.
Have you started saving time and automating your work? What's the best automation you've found to date?
Never lose a lead with our DocumentLeads!
P.S.: Please use carefully, especially with EU contacts that are protected under the GDPR. Read more here.