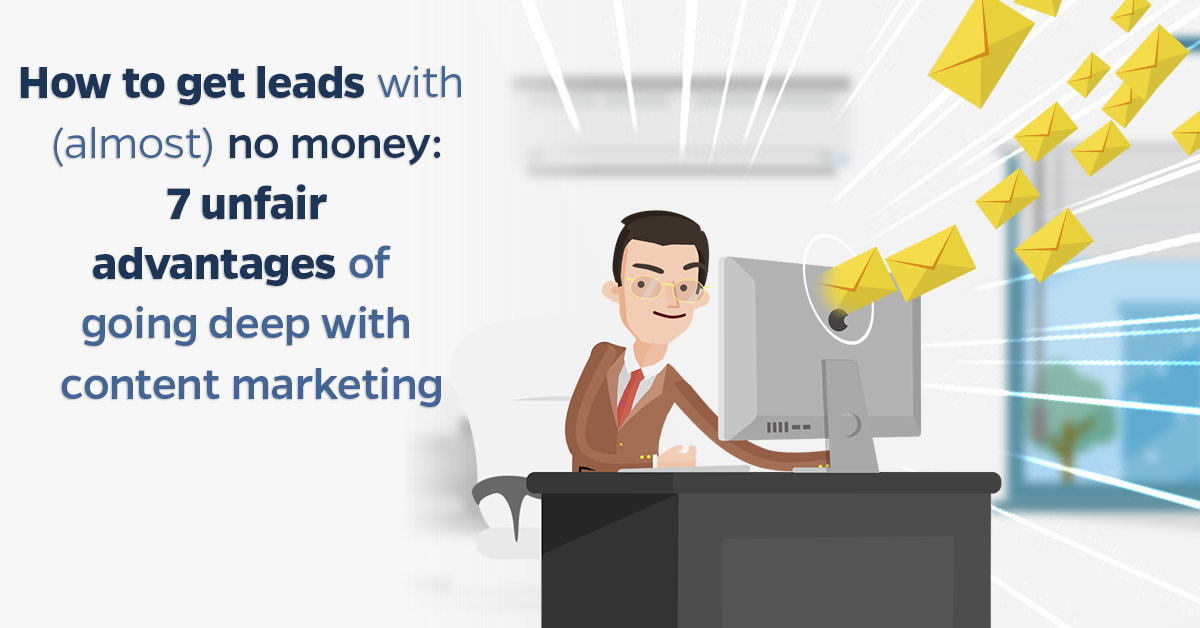 You know those moments when you are so grateful for the existence of Google because it saves your life in so many ways that you wonder how people could have ever lived before the Internet?
Well, that's exactly how we feel about content marketing when we think about how much it has saved the lead generation strategy for our business!
How could we ever grew a qualified list without content?
We think about the period of Lead Generation before Content Marketing as a dark time of high costs and slow progress.
When we started building our email list, the cost of each lead generated was really expensive. And we didn't have much money to invest. Plus, the leads we were gathering were rather cold because we were "forcing" them in, rather than naturally attract them.
So we drastically changed our approach in order to get cheaper and more qualified leads, and we implemented a content marketing strategy which in the long term gave us far greater results.
Today we have dedicated a team of five people exclusively to create content of many different kinds and for many different channels of distribution, and we are ready to invest even more in it.
Ok so..content marketing is the real deal. You got that.
But.. why??
How does content marketing exactly help your business?
You probably want to understand on a deeper level why you should invest so much in it, so in this article I'll tell you exactly that.
These are the 7 unfair advantages of going deep with content marketing with your business blog that really make the difference in scaling your lead generation to the next level.
Let's start!
Reduced CPA with retargeting
When people find your content online and consume it, it is a demonstration of interest in what you do. That's a valuable stone to build upon, that you wouldn't otherwise have.
In fact, by tracking your website visitors through the Facebook Pixel you can create custom audiences of people who visited a specific page of your website – for example the pricing page of your software – without finalize the purchase or subscribing to your list. Once you have those data, you can run a specific campaign to show them an ad on Facebook with more information and benefits about the product, that stimulates them to make the purchase or simply sign up for a free trial.
If tracking is still a blurred topic for you, I highly recommend to learn how some of the best companies use it for their advertising strategy.
Anyway, the advantage here is given by the fact that that specific audience is already familiar with your brand so it's much more likely that they can be converted into customers or subscribers, making you save money and time. If you combine retargeting with the effectiveness of native lead generation ads, this strategy gets even more effective. But remember, it all starts with the content!
Driving free traffic to your website
Bringing people on your website is the first key step to build your customer base, particularly for online businesses, and higher volumes of traffic generally results in higher volumes of leads.
One of the more significant advantages of doing content marketing is that you can drives traffic with it. When you create content and share it on different places, it's like sowing attraction to your business. What may, or may not grow out of it – depending on the quality of your seeding – it's usually free website traffic. If people get hooked by your knowledge and want to get more of it, they are likely to become new subscribers.
The thing about driving traffic by sharing content on the web, is that it's not a "one-lead stand" thing. The content remains available on the platform where it has been shared and it can grow organically over time.
If you can provide high quality content that stays relevant for a long time, it will keep driving traffic to your website long after you have published it. Evergreen content is usually created by providing useful "How to" guides, answering frequently asked questions in depth or by addressing a particular pain point for the audience of your niche market.
Think about a very informative answer on Quora, a successful blogpost or a particularly helpful YouTube video. They grow their views number in the long run, and the more they grow, the more traffic they generate.
Since this type of evergreen content is being clicked on over and over, also tends to rank high in the Google SERP, so that people searching for related queries will be sent to it for a long time without you moving a finger.
Overall, evergreen content is hard to produce, but it's what you want to aim for when sharing your knowledge because of the traffic AND leads it will generate.
Reaching new audiences
Content marketing is like a boat you can sail with, to reach new lands and audiences.
In fact, it's a good idea to strategically spread your content all around the web, for example on other businesses private blogs, social media publications, influencers profiles or on whatever "land" you think there might be a good audience for your product.
This activity pays off in many ways: you gain visibility for your brand, enhance your authority on the market and also generate traffic to your website through backlinks.
This process can be both an outward process, or a inward process. In fact, when you create valuable content people might want to mention it in their own content, use it as a case study or host it on their publication.
For example, few weeks ago we published a story that went viral among the tech and startup community on Medium. A few days later, Hackernoon – the 7th major publication on Medium that today accounts to +250.000 followers asked us to publish the story on their site. As a result, we were able to get the attention of a huge audience of people that we would have never been able to reach otherwise.
But it's not just that, the people with a stronger interest also clicked on the link to our homepage to learn more about LeadsBridge. This generated a decent amount of new traffic to it in the span of a few weeks but more importantly it brought new subscribers to our newsletter and even a few more free trial customers. This result would have been incredibly much harder and expensive to bring home through traditional advertising.
Boost engagement
One of the biggest challenges for marketers and businesses owner around the world today, is to compete in the overcrowded market of inputs and information to get their audience attention.
Where the traditional advertising efforts have fallen flat and become undesired by most people, content marketing has emerged as an alternative way to get around this obstacle and engage them back.
Depending on the nature of the different types of content you can produce, some of them can have an insane engagement power.
Live webinars are a brilliant example of it. Besides being an opportunity to speak to your current and potential customers about some aspects related to their life or business, and generate a lot of new leads with it, a live webinar allows you to create a space where they can ask questions, interact with experts or request for a product or service upgrade that they'd desire. This is invaluable opportunity today both for the customer – that has finally an opportunity to express her requests – and for the company that receives their feedback for free. And again, don't forget the part where you generate a lot of new leads!
Other types of content to boost engagement could be for example quizzes or contests, and they usually provide the same kind of advantages in generating new leads.
Raise the Lead-to-Customer ratio
If you keep sharing good content both on your blog or on other platforms, you will increase your authority in your niche market. This might look as an intangible advantage but it's not.
Many of your leads decided to join your list as an expression of interest in your knowledge and your services, but they are probably not ready to buy from you yet. Most of them, still do not trust you enough. They might still have doubts about the product, but also about the quality of your work.
Sharing quality content over and over helps build that trust. The consequence of becoming a leader of the conversation of your niche market translates into an increasing number of conversions of leads into customers. And trust me, that is very tangible!
Attract valuable partners
Another advantage of doing content marketing, is that you can leverage your audience to establish partnerships with other player of the market.
Similarly to the concept of taking your content to other people audiences, you can leverage your own platform and public to propose collaborations to other experts of related companies. This is going to be beneficial for both parties and of course it increases the value of the content you will be delivering.
Besides strengthening your authority, joining the forces with other partners usually provides double exposure and a much higher list of leads generated.
Make your potential customers happy in advance
There are some interesting statistic that EVERY business owner should write on a piece of paper, fold it and keep on their bedside table to read it every morning: 55% of consumer would pay more to have a better customer experience and "89% of consumers have stopped doing business with a company after experiencing poor customer service".
This number scream one thing: customers care about customer service.
A LOT.
Now what if you can take this information and turn it in your favour by helping potential customers as if they were already customers? Or even better, before they even know about who you are and what you do. There are plenty of forums, social media platforms and  communities online where people constantly ask for help. Quora for example is a community where people ask all sorts of questions. That's a blessing for marketers to serve them well, simply by providing useful answers and win their trust since the very beginning. With a few more tips on how to use the platform, you can leverage it to bring lots of leads home.
Conclusion
There is no doubt about it: content marketing is king. But before just going out and doing it for its own sake, it's important to truly understand the dynamics it sets off, and how they will come back in favour to you and your business.
Giving away your knowledge empowers your business, rather than diminish your competitive advantage. It helps to build value and relationships for the long-term, instead of providing fast short-term transactions.
Do you agree with it? How do you approach your content marketing strategy? Have you witnessed the same kind of advantages for your business?
Let us know in the comments!