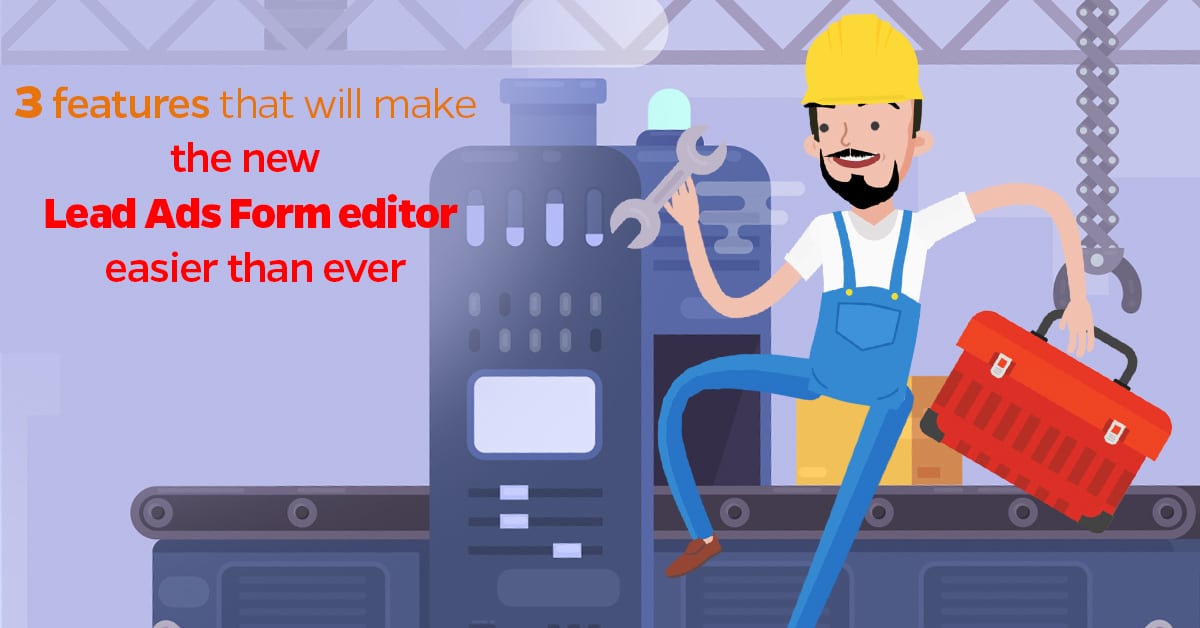 Facebook Lead Ads form editor has been updated, making some important changes into the Lead Ads editor. Let's check them out to see what developers have been up to 🙂
There are mainly three news you should notice:
The context card – that title that pops up after clicking on a lead ad, before getting to the form – has been replaced by the welcome screen.
Facebook Lead Ads editor (builder) is all in one window.  While the old signup creation tool required you to follow some steps, the new editor allows you to set up the subscription form and control the whole opt-in process in just one window.
You can instantly see the changes you are making in the form and scroll through the various stages to the opt-in process in real-time.
Inside the "create form" screen you can see now all the features you need to review and finish your Lead ads signup form.
Let's see the new editor in more detail.
Lead Ads Form name
First of all, by creating a new form you instantly visualize a window that contains all the features of the lead ad form, where you can easily select and change the form name by clicking on its title.
Lead Ads Welcome screen
As I previously mentioned, the welcome screen replaced the Lead Ads context card.
The context card is an important feature released by Facebook that supplied the fact that, due to the easy sign-in process of Facebook Lead Ads, advertisers needed to add a further qualifying step before users submit their data.
The welcome screen is still optional, of course, but it is crucial to run some tests with and without it, to see if it affects the quality the leads.
For example, you can use the welcome screen to aware the people about what they are getting by subscribing to your list.
The headline will help you catch user's attention. You can enter a text that tells people about your service or product, choosing between paragraph or bullets layouts.
Lead Ads Questions
Use this section to enter the information you want to ask for. Users' email, name and telephone number are taken directly from their personal profiles, so people don't have to fill the fields.
You can add custom questions in order to create surveys and market researches, while you are generating leads.
To create multiple choice questions, you need to type the possible answers. Otherwise, leave the answer field blank for open-ended questions.
The introduction of custom questions has been one of the major innovations of Facebook leads ads. LeadsBridge released a tool that was the world's first technology that creates unparalleled Questions Insights to give in-depth analytics of your Lead Ads Question responses, in order to:
validate your business idea before a launch

understand which product your customers want to buy next (by running a simple retargeting campaign that targets your customers)

where should your next event or meeting be?

Understand your customers and grow your company by discovering your

Net Promoted Score
Lead Ads Questions Insight extracts useful data and gives you in-depth insights on the responses. Here is a video that shows you how Questions Insights works.
[VIDEO Lead Ads Questions Insight]
Click on the link below if you want to learn more about Lead Ads Questions Insight.
https://leadsbridge.com/lead-ads-questions-insights/
Lead Ads Privacy Policy
The Privacy policy is mandatory, and the link you insert in this section will appear with Facebook's default privacy disclaimer.
However, you can also add a custom disclaimer and consent check-box, asking people the agreement to your disclaimer. In some countries, check-box may be required.
Lead Ads Thank you screen
The Thank you screen contains a message for your leads, which confirms that their subscription has been successfully processed. The message is pre-filled. It is impossible to customize it, but in this section, you can insert a link to your website.
You can use a website page in order to give further information or instructions to those who completed your forms, in addiction to the welcome mails that you can send through your Leadsbridge account.
Lead Ads Settings
By clicking on "Settings", you will display the form configuration editor, where you can choose the form language, allow retrieval of organic leads, and change field IDs (edit IDs only if your CRM configuration does not match the standard ones).
Real-time Lead Ads Form Preview
Unlike the previous version, the new Facebook Lead Ads form editor allows you to preview your form in real-time. While you make changes to the opt-in form, you can visualize the changes, in order to instantly understand how people will experience the subscription process.
Conclusion
The new Facebook Lead Ads editor is far easier and friendly than the old form creation procedure, so I consider these changes definitely a good news!
What do you think? Did you like this new method to control and create your Facebook Lead Ads forms? Which features, in your opinion, should be improved in the future?
Feel free to share your thoughts about it by leaving a comment below.