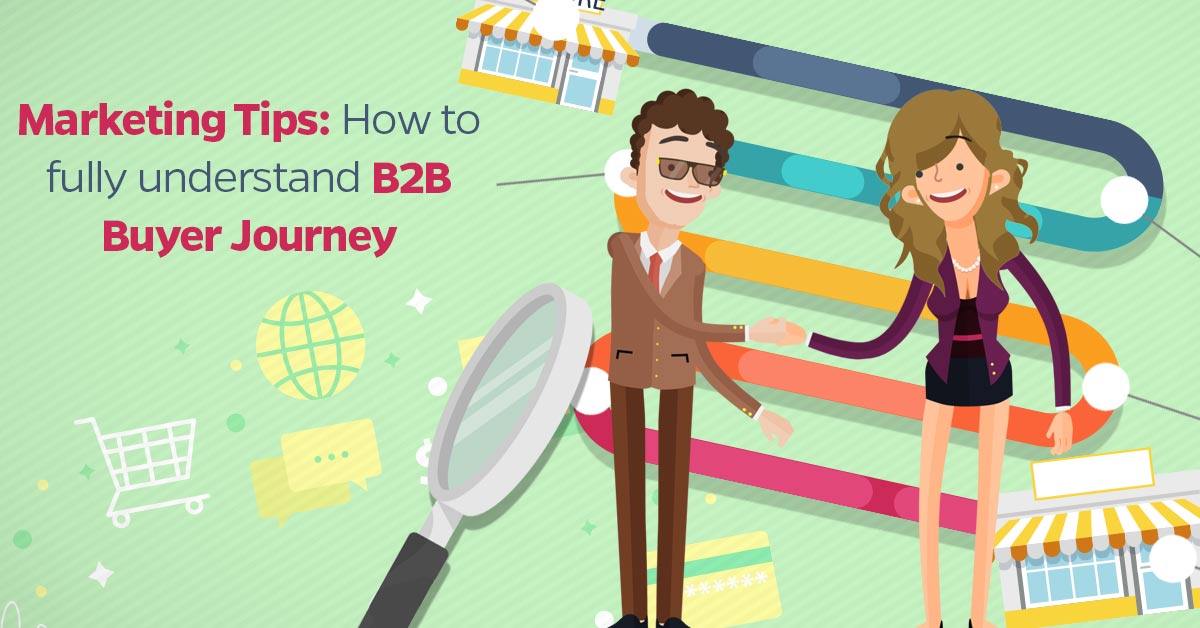 Every business has a unique model or blueprint. Various business models can be grouped into different categories such as "business-to-business" (B2B), "business-to-consumer" (B2C), "consumer-to-consumer" (C2C) and "business-to-Government" (B2G). "Just as B2C models can have online marketplaces, B2B models can have B2B open-source B2B eCommerce platforms.
In B2B, there are grey areas that are not clear even to B2B operators. Example of such grey areas is B2B buyer's point of view and B2B buyer's journey.
It is pertinent to understand the B2B buyer's journey. This is because B2B buyer's journey is one of the most important elements in marketing strategy. For a buyer marketing strategy to be successful, it must know and target the right audience with the right ad. In addition, B2B marketers will understand what their buyers are doing and will help them move from one stage of the B2B buyer's journey to the next.
In this article, you will learn about the path that a B2B buyer takes to make a purchase decision.
What is B2B buyer's journey?
The process of buying a new product or service varies with individuals. For instance, you can make an impulsive purchase if only a few bucks are involved. On the other hand, to make a bigger purchase requires that you make a conscious decision about the purchase.
Whether your purchase is impulsive or involves a conscious decision, you go through what is called a buyer's journey. It is the "path" that the buyer takes before making a purchase decision. The process is similar even when it is a business-to-business purchase. Hence, the term B2B buyers journey.
A B2B buyer's journey is unique in that, a B2B customer is often more than a single customer. In B2B, you are selling to an entire team or group of people all of whom might have input in the purchase decision. Hence, the decision-making process is longer and more tedious.
This is a clear contrast with B2C buyer's journey. In "business-to-consumer" (B2C), the buyer is often an individual and the purchase decision is faster. According to SiriusDecisions, 70% of the buyer's journey is complete before a buyer reaches out to sales. This statistics changes in correlation to changing consumer practices. Marketers, therefore, have to adjust their B2B's marketing strategy. The result of another research posits that 67% of the B2B buyer's journey is now done digitally.
Three (3) Core Stages of B2B Buyer's Journey
B2B buyer's journey is not a linear and simple transaction; it is more intricate and involves three (3) basic stages.
Awareness: The first B2B buyer's journey stage is the awareness stage where potential customers are researching products and services or looking for options that could potentially solve their problem or meet their needs.
The next stage of the B2B buyer's journey is the Consideration stage.
Consideration: This is the second B2B buyer's journey, and it's chiefly dedicated to considerations and comparison between products and services.
The last stage of the B2B buyer's journey is the Decision stage.
Decision: This is the final B2B buyer's journey stage where the potential buyer decides to purchase a product or service.
The B2B buyer's journey process is not always a linear equation, let's dig deeper into each stage, subdivisions, and useful marketing tips.
B2B Buyer's Journey Stage 1: Awareness
1) Identifying Need
The awareness stage of the B2B buyer's journey is further broken down into the stage where your potential customer acknowledges that there is a problem or challenge they face that must be solved. However, they may not know of the existence of your company. Your marketing strategy is to create awareness for your product or service.
2) Research
Your potential customer researches to find a solution to their problem. 72% of buyers will turn to Google at the research stage. Companies that know their buyers' persona present their information at this stage of the B2B buyer's journey. Though B2B customers want to know the value of your product or service, they are more interested in facts and stats, customer reviews, etc. Your content should concentrate on their pain point. This can be done through Search Engine Optimization (SEO), Google AdWords using relevant keywords. Businesses are more aware of their problems and are therefore more specific in their search.
3) Prioritize Criteria
Your customer carries out further research and eliminates vendors that do not meet their requirements. At this stage of B2B buyer's journey, you'll need more than a single advertisement or conversation to "move" them to the next stage in the B2B buyer's journey.
The B2B awareness stage is a good time to build customer trust in your brand and products.
B2B Buyer's Journey Stage 2: Consideration
The B2B buyer's journey moves from awareness to Consideration. This stage can be called the investigation stage. During the consideration stage, the potential customer has narrowed down their scope to one or two vendors. Often, they return to Google again. According to Pardot's State of Demand Generation report, 70% of buyers return to Google at least 2-3 times during the course of their research. The nature of the content presented on your interface strongly affects whether the customer will pursue your company or not.
There is a significant difference between the B2B consideration state and the B2C consideration stage. B2B customer often requires greater nurturing time. According to HubSpot, "67% of B2B marketers say they see at least a 10% increase in sales opportunities through lead nurturing, with 15% seeing opportunities increase by 30% or more."
At a stage in their research, your potential customer will make a comparison between your company and other competitors. It is at this stage of the B2B buyer's journey they reach out to sales reps for further clarification, product demos, and personalized services.
B2B Buyer's Journey Stage 3: Decision
The last basic stage of the B2B buyer's journey is the Decision stage. At this stage, the lead has completed all research process, gained the support of upper management and are ready to select a vendor and make a purchase. Lead nurturing has finally translated to lead conversion.
The decision stage of the B2b buyer's journey is an ongoing process for the B2B consumers; though they made a purchase, it does not automatically translate to satisfaction. The purchase is constantly in the review. Therefore, it is important to delight your B2B customers even long after the initial purchase.
A delighted customer can become a valuable marketing resource for your company – a customer evangelist. They can give positive reviews, recommendations about the product, service and your company.
Finally, it is important to be abreast with the following differences in the buying behaviors of B2B and B2C customers and how it may affect your marketing strategy.
Longer Decision-Making process and buying cycle
B2B buying cycle is usually longer than B2C. B2B customers usually identify pain points, investigate, and gain approval from upper management before a purchase is made. These results in a longer buying cycle and in contrast to B2C customer prone to buying on impulse. The average B2B buying cycle is 6-12 months.
Source: Powerpost
Emphasis on Research
As you may have noticed in the B2B buyer's journey; a B2B customer places more emphasis on research. They also provide an intelligent report of their findings. B2B buying behavior is a team decision centered on the research findings.
When next you are putting a together a marketing strategy for your business, be sure it addresses the basic stages in a B2B buyer's journey. You can also use the differences in the buying behavior of B2B and B2C Customers to your advantage.