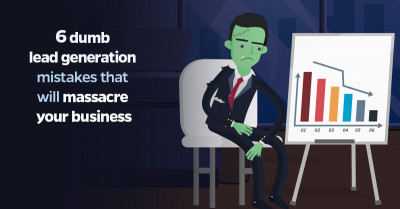 Facebook Lead Ads was announced in June by Facebook and since then marketers have gone crazy exploring the possibilities of this new ad type.
Collecting leads through mobile devices has always been hard. People are lazy, don't fill out your carefully-crafted opt-in pages, and drive the cost per lead too high to be profitable.
Now, Lead Ads has arrived and marketers have a new problem: managing this powerful new technology so it fits in their marketing strategy.
The fumbling beginnings were very funny. Lots of people had to ask Facebook where to download their collected leads (Facebook puts the downloadable file in a very weird spot).
In case you're already feeling panicked, keep calm and see the screenshot below!
Facebook released Facebook Lead Ads on October 7th but luckily, in my country (Italy) or because Facebook likes me 🙂 I had access to them 2 weeks early. Now I can share the results of my first month and a half with Lead Ads: my first tests collecting more than 5,000 leads.
I recognized 6 simple mistakes people could make while running a Lead Ads campaign. These mistakes aren't strictly related just to ads, but can happen throughout the entire funnel that a Lead Ad can be part of.
1) Not Warning Users About The Pop-0ut Form
This could be a problem, especially while Lead Ads are new to Facebook users. Most people browse Facebook every day and are very familiar with Facebook's look and feel. Clicking an ad and seeing a form covering the entire screen could scare or confuse users because it's not change that Facebook has publicized much. The Ads look exactly the same, nothing has changed about their appearance, but their behavior is different!
Clicking the ad, instead leading to a new page, like a normal link, instead displays a prefilled form.
So warning the users about what will happen after clicking the ad, could save you a few users feeling surprised or angry about this new "thing" :).
Remember that Facebook Lead Ads are just as new for your audience, as it is for you.
The solution is pretty simple. Add a warning at the end of the ad to let users know what will happen once they click the ad.
Here are 3 templates you can copy and paste into your Lead Ads campaigns:
-Click below and confirm the data that Facebook fills in for you.
-As soon as you click below, a form will ask you to confirm your data.
-Don't worry, Facebook fills in the form, just tap on the submit button.
Warning my audience about what will happen next doubled my conversion rate, so keep this tip in mind when building your next campaign!
2) Asking For Useless Information
To be honest, I didn't see a big difference between asking for a full name in addition to an email address, but asking for a phone number decreased the conversion rate from 30% to 12%.
Like a normal web form, only ask for the information you need to run your funnel. I'm sure that, depending on the market, an ad asking for a phone number will change a lot, but in a more general sense, having an ad with prefilled values doesn't mean users will simply close their eyes and send you everything you ask.
3) Not Requiring Double Opt-In
I'm quite sure that the double opt-in isn't mandatory in every country of the world, but this could be a great way to protect the deliverability of your newsletter and follow-up, and may decrease the number of subscribers with unused email addresses.
I think that the biggest risk of Lead Ads is collecting email addresses that people don't really use. I remember when Facebook went viral all over the world and people started registering on Facebook without even knowing what an email address is.
So, the double opt-in process is a method to keep the list clean and healthy. People shouldn't receive your emails just because the process is too easy.
Make sure they're really interested in what you're offering, and you'll be better off.
When Jon Loomer wrote this post, I saw lot of perplexed people in the comments. People were worried about the fact that subscribing through a Lead Ad is too easy and could compromise stats, mess up the real conversion rate but… isn't that part of the game?
Lead Ads requires you take more care than with a usual ad, this is clear, but the solution is available and is called double opt-in.
I also have some stats here but I don't think the test is very valid. Actually, I had an increase in opens and clicks. For example, the OR increased by 5%.
I'd like to investigate this further, maybe in a future post, so stay tuned!
4) Not Sending A Welcome Email
I have a web form on one of my websites where people can ask to become partners.
After submitting that (very long) form, the user receives an automatic email where I say to keep calm and wait for a reply from me.
This sounds like an old school tactic, but this simple email both increased engagement and helped users begin to develop a relationship with me.
This is the main role of the welcome email.
It doesn't matter which business model you have, doesn't matter if your first approach is a lead magnet delivery or an ice-breaking call, a welcome email is welcome every time.
If you collect a dozen leads through Lead Ads, then managing them manually could be possible, of course.
But what happens when you start collecting hundreds or even thousands of leads More?
Will you be able to manage them all manually?
If you can't keep up with them, then the risk of compromising the quality of your leads is huge.
Lead Ads shouldn't run alone. They should be integrated into your CRM tool or your autoresponder. People forget after a few minutes that they submitted an opt-in form that they filled out — can you imagine what will happen with a prefilled form like Lead Ads?
This is one of the main reasons we developed LeadsBridge.
LeadsBridge keeps the lead warm by syncing them in real time with your CRM tool or autoresponder and protecting your funnel flow without any manual intervention.
5) Not Keeping Old Leads Fresh
Have you already collected some leads through Lead Ads?
Awesome!
Did you keep in touch with them in the next 48 hours?
No?
You have a big problem.
There are so many variables to keep in mind but, as I said before, in this super-fast internet age people immediately forget about the subscription form they just filled out.
So, if you've collected some leads and not gotten in touch with them immediately, just write a reminder on your next email.
Remind them how they registered for your list and give them a quick link to unsubscribe. Think of the health of your list over everything.
I admit, I'm basically paranoid when it comes to email deliverability. But I think everyone should be.
6) Not Cleaning Your List
If you had problems collecting leads through mobile devices before Lead Ads, cleaning your list is really important for you and your business.
With Lead Ads you'll double your exposure instantly.
The other side of the coin is that with so much more exposure, you have even more risk of collecting garbage.
Using a double opt-in as in point 3 above isn't always enough. Try to keep people really engaged in your list. Even though I've had very good results so far with Lead Ads, it's still too soon to say that every email address I've gotten is a good one.
It's possible a good part of them are abandoned email addresses, or something similar. Hope I can get some time to write more about this problem soon.
As a result, a good practice is to run a list-cleaning campaign, where users are automatically deleted from your CRM tool or autoresponder once they are show to be unreachable.
I have an automatic campaign that runs every 3 months. I haven't customized it, it's just a pre-made campaign, you can find and run a similar campaign with every email marketing software out there.
Bonus Tip: How To Understand If Facebook Lead Ads Are Good For Your Business
I love Lead Ads, I really do. My opinion is that they are the most powerful ad type available right now.
But, as in everything, I'm sure they don't fit every market.
So here's a step-by-step guide to test whether Lead Ads will deliver results for your business.
Step 1
Run a Lead Ads campaign integrated with your marketing automation rules and collect as many leads as you usually need to close 10 conversions/sales.
Step 2
Complete the cycle and look at your conversions/sales. Are they good enough?
Step 3
Look at your Open Rate and CTR and see if there are any significant differences between those for Lead Ads and your typical average stats.
Step 4
Run a campaign to clean your list.
Step 5 (Conclusion)
If you are satisfied with your conversions, well, congratulations! Buy a pizza, take a photo and post it in the comments below!
If you notice a huge decrease in your OR and CTR but you still got conversions, consider re-testing them with a more specific target.
If you had an awesome OR and CTR but no conversions, then analyze your long-term goals like 3 or 6 month profits from your list. It's probable that these new leads are not ready to convert yet. Keep nurturing them and see if Lead Ads is a good investment for your business.
I hope this post helps you get good results with your Facebook Lead Ads campaigns.
Now, add your voice! Let me know what your doubts are about Lead Ads, what you've experimented with, and your results.
Lead Ads are still very new, sharing your experience will help us all grow together.