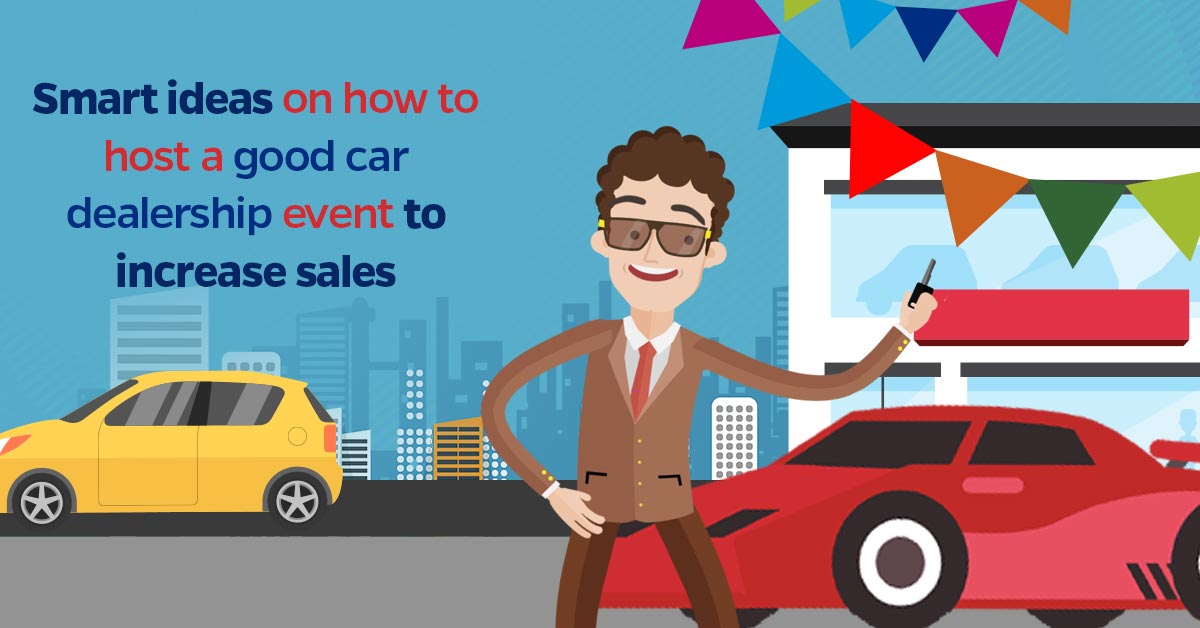 Hosting good car dealership sales events can be a challenge. There are a number of factors that you need to get right to attract the crowd that you need to increase sales. If you are experiencing a little bit of a dry patch with your car sales right now, you are in need of car dealership event ideas so that you can boost your business. Car dealership sales events need certain elements to make them worth the customers time. Ultimately, you have to entice them to actually, get involved, interact and engage. Only then will you see the fantastic increase in sale that you desire.
With car dealership sales events, you will see a number of positive impacts on your business. For instance, you'll find that an event can help generate constant and continuous foot traffic to your company through the year. It can also ensure that existing customers continue to buy and help bring new customers to your company. Further than this, with a great event you will be able to build up brand awareness and ensure that your brand is the name on every tongue. So, let's look at some of the best car dealership event ideas when building up your promotion.
Know Who Your Target Is
Planning car dealership sales events can be quite tough if you don't know who your target audience is. When you are in the planning stages of your event, it is important that you identify a target audience and stick with it. To be able to bring in the most amount of attendees as well as sponsors, you need to focus on drawing the right people to your car dealership sales events. It is no good having people turn up who have no interest in cars, or buying cars because they are not going to be any help to your business. However, you can't explicitly say this, instead you need to think of car dealership event ideas that only attract certain people.
For you to be able to focus your efforts on creating the right content, you need to know who you are targeting. Think about what they want to see, and why they should come to your car dealership sales events whenever you host one. Before you can target them with your content though, you need to know where they are. For example. You might find many people through online forums, or a specific trade journal that would be ideal to attend your event. It is all about knowing who you are looking for, and where they might be.
Keep in mind that this event is likely not going to be the only one that you hold. Car dealership sales events can be pretty popular, so you need to have some sort of registration process at the beginning of the event to collect some information on the people who have come. This way, you will be able to use this for any future events that you hold, and you will have a group of people that you can reach out to.
Remember Why You're There
When you host your event, you need to ensure that the day goes as planned. Make sure that you don't get caught up to in the little details of the event because people generally don't notice little mistakes in the same way that you do. Even if they do notice, it is likely not going to be something that they care about enough to make an issue of it. It is important to keep in mind that people attend car dealership sales events to have a good time, not to pick out every little detail. You probably went through a lot of stress combing through different car dealership event ideas in your head before you decided on this one, so don't worry about the smaller things.
Find Interesting Speakers
You want to have people speaking at your event who know what they are talking about. You can't just go and pick someone up who sounds like they have a vague idea about cars. So getting the right speaker is crucial. But you also have to find a topic that your audience is going to be interested in. Once you have the topic in mind, you are going to have a much easier time finding speakers for the event. You will be able to present them with an idea of the type of content you want them to bring.
Car dealership sales events are a good place to spread more knowledge about a certain topic that you believe people will find interesting. Getting people in the industry to speak about this topic will help you attract a bigger crowd. An example of this would be safety and the latest safety technology. This appeals to parents who are looking to buy vehicles that are going to keep their children protected on the road.
You can also ask other people that you know in the industry if they have any recommendations for you. Getting a personal introduction is going to be helpful when trying to secure a high profile speaker.
Pick The Perfect Event
Another of the best car dealership event ideas is to sponsor or host a local event. By doing this, you can engage with the local target audience. In doing so, you will be able to boost foot traffic and increase your visibility. These type of events are held throughout the year and are always looking for sponsors. For this reason, you should aim to sponsor as many as you can.
Remember, one of the best car dealership event ideas is to connect with an audience. For this reason, it's important to find the perfect event that matches your needs. You can do this by checking for local schedules on websites or blogs. Although this is one of the greatest car dealership event ideas, another possibility would be to hold a fun, free event at your actual location.
An example of these types of car dealership sales events include a fun family barbeque. There can be games, food, drink and it can give you a chance to show some skin in your company.
Use Virtual Reality
Don't fear technology, embrace it particularly when it comes to setting up car dealership sales events. One of the best car dealership event ideas is to give users a chance to drive a vehicle that they wouldn't or even couldn't own. This will still be enough to get them to start thinking about a car upgrade, a replacement or a modification. But how do you do this? You might think in terms of a test drive but you could go further than this with VR. Virtual reality is a whole new level of marketing and it should be part of your car dealership sales events.
With VR you can give your customers a taste of a range of different possibilities. For instance, you might be able to get your hands on VR software for a concept, futuristic car. This is one of the many car dealership event ideas that will ensure a high turnout. It guarantees that they will find something there that they can't experience anywhere else and it also ensures that it's something they are interested in. VR could be the perfect option for some of the best targeted, car dealership event ideas.
Be Creative
Car dealership sales events definitely provides the opportunity for you to get creative. You can do this by remembering who your customers are and what they are searching for. The key to great marketing is simple: give customers what they want. Make things easy for them and provide them with a reason to attend. That's why we think that one of the best car dealership sales events is a free car wash. Plenty of brands have already used this option. Here, you can provide a free car wash to every customer that brings their vehicle in for a service. This is guaranteed to get them coming back for more and will impress them due to the fact you'll be going the extra mile with your car dealership event ideas.
Or, why not consider the option of a test drive? With a test drive, you can promote a fun, fantastic event that is sure to get customers talking and excited about your brand as well as the products you're selling. You could even go further with car dealership event ideas and offer incentives. Providing incentives for test drives as part of your car dealership sales events is a great way to show customers why they should turn up.
Conclusion
After reading this article, you should have a few smart car dealership event ideas that you can use to increase your car sales. Remember, the trick here would bw to know who your target audience is, what they want and how you can give it to them. It's also about providing an offer they won't be able to refuse and understanding how to get their interest. With these car dealership event ideas, you should have no problem ticking off all these boxes. Have you already tried our EventLeads feature? With EventLeads  you can syncs all your leads collected from EventBrite and any other platform you use to sell and promote your events, into your CRM or Email software.