Video marketing is becoming a necessity for businesses in this 21st century. This is because it connects businesses with their audience, brings massive traffic to websites and helps you to sell more. A research study revealed that after watching a video, customers are 64-85% more likely to make a purchase.  To get all these benefits, you need to make your videos visible to more people. This is where YouTube Seo comes in.
YouTube is the second largest search engine after Google. It has 1.9 billion monthly active users. This is why many businesses are using it.
As good as YouTube sounds, uploading a video will not get you desired views unless you engage in YouTube Seo strategies. Engaging in YouTube seo strategies will help you know how to rank YouTube videos.
You need to know how to rank YouTube videos on Google and YouTube so you can get lots of views and traffic back to your website.
In this article, you will learn how to rank YouTube videos on Google and YouTube.
Let's get started.
1. How to rank YouTube videos: Carry out a Keyword research
Every SEO strategy starts with keyword research. The first thing you need to do to set the balls of your YouTube SEO rolling is the keyword research. You need to know the right keywords that can help to rank your videos high on Google and on YouTube.
There are two methods you can use to generate keywords for your videos.
The first is through YouTube's search suggest feature and the second is through Google search.
YouTube Seo: YouTube's search suggest feature
Do you remember Google search's search suggest feature?
YouTube also has a search suggest feature as shown below. All you need to start the YouTube seo keyword research is to type in keywords.  Then, YouTube will suggest a list of related keywords. Using the fat burning exercises example as above, below is the YouTube search suggest for the same keyword.
Let's move on to the second YouTube seo keyword research –
YouTube seo:  Google search
Do you know that Google also indexes videos from YouTube? If you can get your videos to rank on Google, you can increase your views by 2-5x. You will not only get traffic from YouTube but from Google to your video on YouTube. What you need to do here to increase the chances of your videos ranking on Google search is to optimize your videos around specific keywords that display video results on Google. The thing is, you cannot see videos for every search term you type on Google. There are specific keywords that bring video results.
The keywords that normally show results on Google are reviews, tutorials, fitness or sports, etc.
You will choose from the list of keywords you have in the search suggest to see if there is a video result for it on Google search.
So let's use a keyword from the YouTube search suggest – "fat burning exercises for women" as an example. After typing it into Google search, it came out with the videos results below.
Ensure that the keyword you use for the YouTube seo keyword research has a good number of monthly searches. At least it should be around 100-1k searches per month.
The second strategy you can use for the YouTube seo is by "optimizing the video tags".
2.  How to rank YouTube videos:    Optimize the video Tags
Optimizing your video tags is the second YouTube seo strategy you can use to rank your videos on YouTube and also feature your videos in the related video sidebar of YouTube. Tags help you get more views on your videos if you do it correctly. For your tags to be effective, it must be:
Relevant to your topic: There are specific and general keywords. Ensure you use your main keywords. For instance, in the fat burning exercise for women example above, the tags can be fat burning, fat burning exercises, women fat burning exercise.
Add the misspellings of your topics: Users can type in your keywords wrongly. For example, instead of typing in fat burning exercises, they can type fat burn exercices. You can check for these keywords in the YouTube analytics to see the way people misspell your keywords. Then, you add it to your list of tags.
Add the singular and plurals of your tags: For example, fat burning exercise for woman, fat burning exercise, etc.
Don't overuse the tags: Don't just add all the keywords you know in your niche. Make sure you add at least 10-12 relevant tags to your video.
The third YouTube seo strategy you can use to rank your video is the "Playlist".
3.  How to rank YouTube videos: Create a keyword-rich Playlist
Creating keyword-rich playlist is another YouTube seo strategy you can employ. It will bring you targeted search traffic, increase your view time and retention.
Find an example of our YouTube playlist below.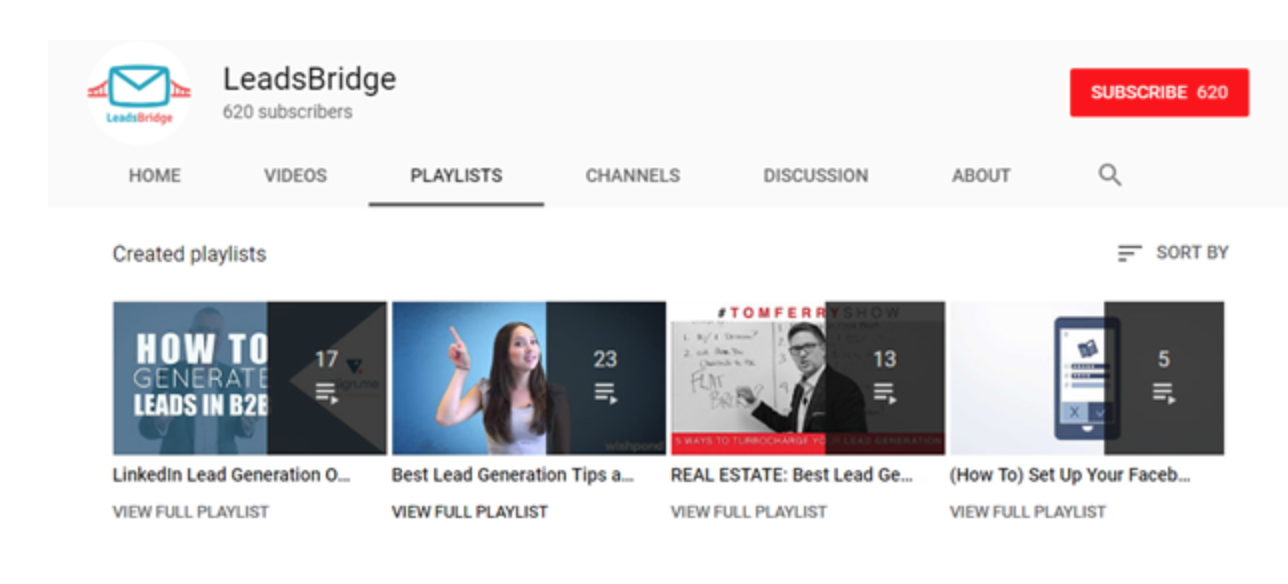 How to create a Keyword-rich playlist
Creating a keyword-rich playlist for your YouTube channel is not rocket science. All you need do is to go through your videos and search for videos with a common topic. For example, for our YouTube channel, we created a playlist on lead generation tips, how to set up Facebook leads ads, etc as seen in the image above.
When you find videos with a common topic, create a playlist for them.
Add the playlist to your channel page to make it easy for your audience to find videos on the same topic.
Peradventure you are just starting your video marketing and you don't have enough videos on different topics to create a playlist, it is still doable.  All you need is to search for quality videos of other people in your niche. Search for the topic and add it. For example, in the Leadsbridge playlist below, we added a video from Neil Patel's marketing channel and from other marketers to populate it.
The fourth YouTube seo strategy you can use to rank your videos is to "optimize your channel page".
4. How to rank YouTube videos: Optimize the channel page
The channel page on YouTube is like a landing page. When you thoroughly optimize it, it can rank in YouTube and also bring more views and subscribers. These can increase your rankings on YouTube tremendously. To optimize your channel page for YouTube seo, you want to make sure you have a professionally designed page.  Check out our YouTube channel page below:
The cover photo is great, showing the human face of the company. It is a clean and clear design that is inviting.
Second, you want to make sure that your main keywords are in the about section of your channel page.  See how we use our main keyword "lead generation" on our channel page below.  These are the keywords we would like to rank for on YouTube. This has really helped our YouTube seo.
The last YouTube seo strategy you can use to rank your videos is the "comment".
5. How to rank YouTube videos: Encourage users to Comment
Comment is another YouTube seo strategy that can help you rank your videos. When your videos garner lots of comments, it signals YouTube that your video is good and popular. YouTube like Google search, ranks videos that are popular.
One way you can encourage your viewers to leave comments on your videos is by asking them a question at the end of the video.  As they comment, make sure you reply to them. As you do that, the comment YouTube seo strategy will help to rank your videos on YouTube.
Conclusion
Now you know how to rank YouTube videos.  The YouTube seo strategies above will help you rank your videos on Google and YouTube. Thereby, increasing your views, traffic to your website and conversion.  Have you tried any of the YouTube seo strategies mentioned above? What was the result? Share with us in the comment section below.
10 Off-beat and Tested Techniques To Multiply Your Lead Gen Results
LeadsBridge already helped more then 10k SMB and enterprises in collecting over 25 million leads. Get your hands on the Black Book of Lead Generation and learn 10 astonishing strategies that we have successfully tested and implemented.
Insert below your name and email address to get access to the ebook