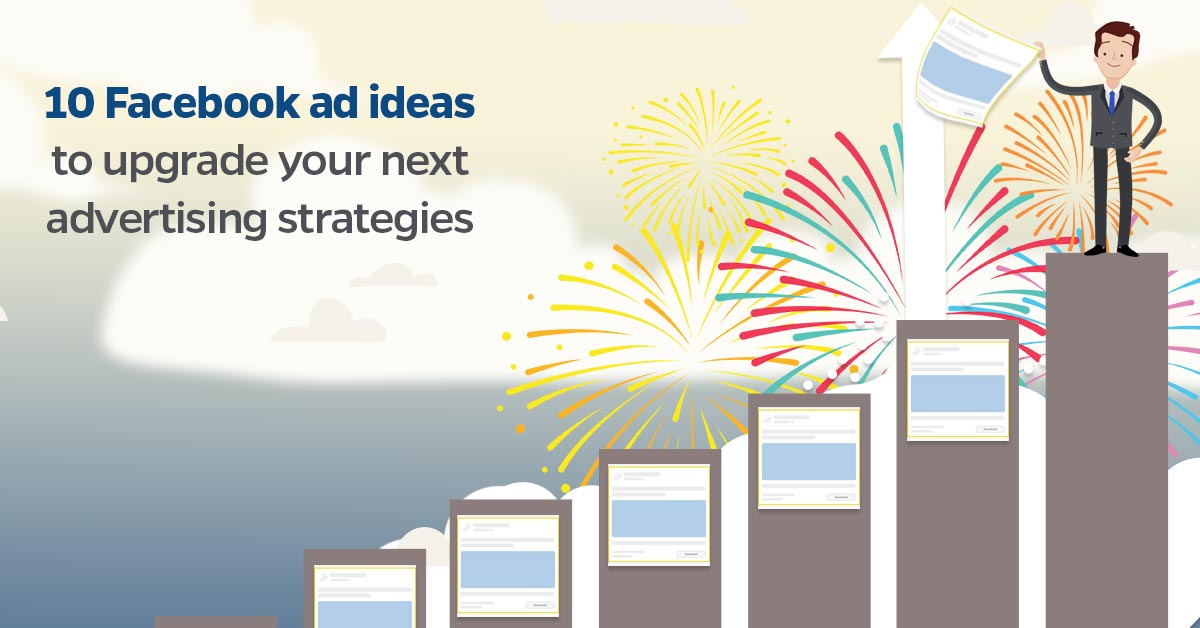 There's no doubt that Facebook has taken over the digital advertising world, covering almost 20% of the online ad market, as we may see in the following chart by Statista. Marketers work on their advertising strategies and ad ideas knowing that Facebook will play a big part in them.
Facebook's importance is second only to Google, but in the social world, they're the kings of digital advertisement!
Marketers have changed their advertising strategies towards the digital world, online ad ideas that flood our world, so having a clear idea of how to compete in the Facebook ad environment is a great deal for companies wanting to leave their mark in the market.
So what strategies and ideas make for a great Facebook ad?
Know who you sell to. And I'm not referring to product advertising only, but make sure that your ad ideas match with your target audience mindset and your company's values.
Put in the work with the visuals! Ads are now very focused on visual stimulation because people react well to them, so put in the effort and make and impact that will stick with your audience.
Be concise and precise. How? Keep your messages clear, make your message easily understandable and relatable for your audience.
Appeal to both reason and emotion, speaking with people sure needs both.
Follow some basic standards for ad quality, you may use Facebook's guides and tips for some extra help.
Keep on learning with videos, tutorials, e-books and lots of available materials that you may find online to improve your ad ideas and strategies.
10 Facebook advertising ideas for your next strategy plan
Now let's see some examples that put in the work and maybe get inspired for the next advertising strategy with some Facebook ad ideas that may take your business to the stars.
1.Use multimedia to take your Facebook ads to the next level
Wave's Facebook Ad shows that there's a well thought advertising strategy behind it. It is quite appealing, colorful and fun! This short video featuring a furry friend compels to both our emotions (who doesn't love a cute puppy?!) and our reason, appealing to our marketing needs by showcasing the product they offer while being concise with a minimal but effective message.
2. Facebook carousel ads
Amazon Italy, and worldwide, does a great work in showing the products available on the platform. Their carousels usually contain a very clear photograph of the product, a small but clear description with a summarized rating and call to action.
3. Gamifying the Facebook advertising experience
Gamification has become very popular because it allows the audience to get involved with what they're seeing, from movies to ads. Incorporating Gamification in your Facebook advertising strategy could lead to great results for your ad campaigns by making your message fun and interesting.
M&Ms did a fun and cost-effective gamified ad where the audience had to search for a little pretzel guy hiding in a sea of regular M&Ms, the advertisement had the objective to bring awareness and promote their pretzel-flavored products.
4. Interaction is key
Every marketer knows that an action on an ad is highly valuable, from views to purchases are measured to assess advertising strategies success. We've already talked about gamification, which is great and a personal favorite to include in your advertising strategies, but there are many ways to get your users involved and get them to actually interact with your Facebook ads.
Angry Birds took interaction to a whole new level by taking advantage of Facebook Playable Ads to showcase their game by allowing the audience to try it out before actually downloading the app. The Facebook ad is playful and grabs people's attention in a great way.
5. Minimalism gets your Facebook Ads far
A study published by Smart Insights shows that shorter messages work best in delivering your message when it comes to Facebook ads. This, of course, depends on your industry and advertising objectives but the more concise and clearer message you have the better it'll perform.
Asana does a great work using short and relatable messages combined with nice imagery that pops in colorfulness and simplicity.
6. Make an offer that insites curiosity
Lure your customers with great offers, make a offer so unique and appealing that they'll want to check it out.
Spotify's ad appeals to their audience's love of music while insiting them to listing to a curated list just for them. Talk about personalization and targetting!
7. Keep  your audience close and your assets closer
Your assets are very valuable for you, they allow you to actually put advertising strategies into place and create great ads.
Slack's example shows great team work because people in the working world definitely relate to unnecessary meetings, presenting with a solution for that, while delivering the message with a playful image and direct message. The colors present in this Facebook ad create quite an appeal, by cleverly using the psychology of colors to stimulate our brains and attract our attention.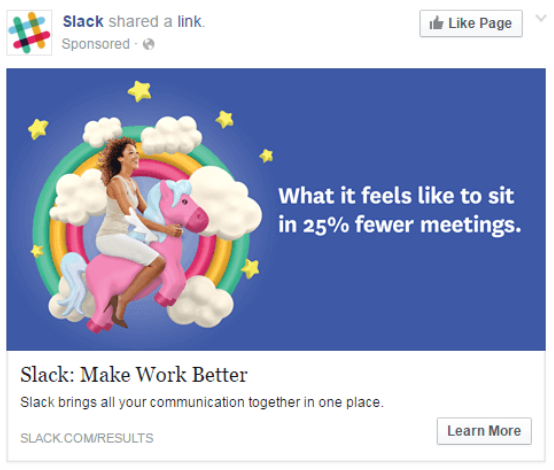 8. Show social proof!
Making great offers, and giving useful content are great advertising strategies but what's the cherry on top? Social proof. Letting your audience know they're getting something that actually works, that others have tested and they may also check out is a great way to validate your offerings and ignite trust in your brand.
Neil Patel is a great example of social proof, he often offers great content in his Facebook advertising that is validated by his experience in the field with known brands.
9. Big players, great value
When your brand is big and well known you still need to invest in advertising strategies and come up with ad ideas, maybe more than ever, but with a different approach and you may also play the expertise card.
Marketo is a company dedicated to marketing automation that has great knowledge in the area to share, offering their insight to potential and actual customers is a great way to interact and build trust through their Facebook ads.
10. The tribe vibe
Let's say you have a great thing to offer to your audience but are stuck and out of ad ideas to make your offer pop up on Facebook, what can you do?
The more relevant your offer and related to your audience it is, the more value it provides, especially when it is based in your same area of expertise.
In this example, Outgrow takes advantage of this by using the tribe vibe and making the audience know that many people in the industry is using their platform to make better performing ads and crushing the game. The message is clear, use our product and be part of the successful tribe.
Rock your ads and take them to the next level
I'm sure you've lots of ideas flowing in your head right now, ready to make the best strategy for your Facebook ads ever and you'd only need a way to simplify your workflow and take that effort to the next level.
LeadsBridge may help you get those high quality leads from your Facebook Ad Account to your CRM, email marketing tools or other platforms you'd like to get them. Simultaneously and automatically.
Conclusion
Planification and research are your friends when it comes to Facebook advertising strategies and crafting your ad ideas, giving you the knowledge to create kick ass combo's that may lead to great results. What do you think is the best Facebook ad idea ever? Share it with us!
Let me ask to you a final question: are you using Facebook Lead Ads feature for your advertising campaign? If so, don't miss our dedicated Facebook Leads Ads sync tool!