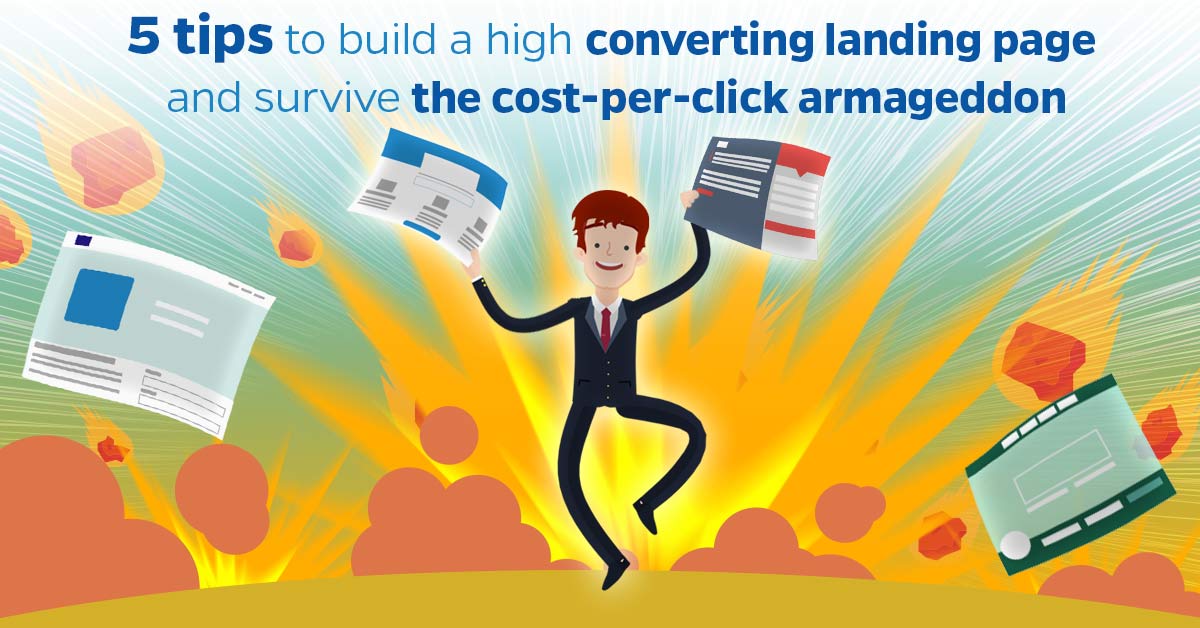 Let's be straight, you'd like to get as much leads as possible spending the least amount of money. How may you do that? Keep reading; we'll give you some strategies and tips below.
First of all, the easy part, you say let's get more traffic to the landing page and increase visitor to lead conversions… sure, but how could you do that without breaking the bank? As you've probably noticed, CPC and CPM in different platforms has increased, especially on Facebook.
As ADSTAGE points out, in Facebook's case, during 2017's first half there was a significant increase of more than 50% on CPC, even as CTR didn't change much.
This means that competition is getting fierce! More and more advertisers are jumping on board and increasing their budgets, and, as we all know, more demand equals higher prices.
It also highlights the constant battle to optimize ads and get better CPC.
Well this just means that we'll improve our efforts and get better ROI on that CPC! It goes without saying that Facebook and other platform's paid advertising will keep being part of our advertisement but we'll definitely keep finding ways to make the most of it and improve ROI.
With some great landing pages that can definitely be achieve, a strongly created landing page will definitely step up your lead generation game.
We know you put lots of effort on making and targeting ads to the right people and you should do the same with your landing pages, the more in-target your landing page is the more you'll convert.
Let's say you target a certain group for your ads, then you should also keep in mind their mindset, likes and dislikes, when creating the landing page, this way the Ad and landing page pairing will work wonderfully and you'll improve your lead generation efforts like a champion.
Here are some strategies that may help you pump that landing page traffic and increase your visitor to lead conversions:
1)   Be specific!
Use a specific headline, for a specific problem, talking to a specific target.
As the saying goes "Jack of all trades, master of none", if you try to take hold of everything you won't be able to actually grab what suits you best.
Being specific is great because it helps you actually reach those who are truly interested in your offering and have a much higher chance of converting.
This strategy will get you your dollar's worth, as each cent you'll spend on paid advertising will have a much higher ROI than if you'd try to go the other way.
2)   Try animated objects, such as video and gifs
The human brain retains information better when it's accompanied by pictures, as Doctor and Author John Medina puts it "We are incredible at remembering pictures. Hear a piece of information, and three days later you'll remember 10% of it. Add a picture and you'll remember 65%."
Take video for example, you usually combine images with audio, voice, text, and other elements, a combination that gives a full picture of the message you're sending.
Even a gif or animated images make content more chewable for people and they'll retain more information as a result.
3)   Less is more
Ask for less information, if you feel like you need more than just an email then you may put in a clever 2-step opt-in process. Get them hooked by asking just the fundamentals and then you may put in place that second step to gather the extra information you may need.
This way, people feel less invaded and are more prone to giving you more information. As Neil Patel says on his article, a two-step process helps you achieve better conversion as you only request the basic information in that first step, the information you absolutely need.
Then on a second step they'll probably give you the rest, as the people who already gave you their details are most probably very interested in your offering.
4)   Keep your CTA visible
Always show a call-to-action, and if it disappears when people scroll then add another one. This way a CTA will always be on hand for when the conversion bug bites your leads.
As I mentioned when analyzing one of our landing pages, this is very important and It's a way of being available, keep giving them a way to convert and they'll be keener to do so. Your CTA should be easy to understand and on point so potential clients will be prone to decide and go ahead with the conversion.
5)   Device optimization
Now this is a tricky one. Optimization does not only mean that your landing page should be visibly correct when being opened in different devices but it must accompanied the device experience.
People expect and behave differently when using a computer or a mobile device and your landing page should cater to them, always keep your target in mind and offer them a nice and cozy experience, this definitely shows visitors you invested time and effort and will most probably improve conversion rates.
A study from ConversionXL shows that good design helps give a great impression and helps visitors build trust. This not only includes the way it looks but also the experience they get when visiting your landing page.
BONUS TIP: Automation
I know you're probably already thinking on how to put this tips into action and incorporate them in your strategies, so I'm giving you one final and helpful tip so you may make the best out of your Facebook Ads – Landing Page strategy combo.
Doing all this is great, but the best part is when you set it up and leads just start pouring in automatically. The keyword being "automatically" and you may do just that using LeadsBridge's landing leads integrations.
In a blink of an eye you may connect your Landing page to any system where you may manage, store and contact your leads with so your flow will work automatically, leaving you to the best part of the funnel: actually managing sales and conversions, the human part of it all.
Conclusion
Differences are what makes us who we are and similarities let us relate with others, keeping this in mind and using the information wisely you may build very strong relationships with your visitors and get an even better ROI from your paid ads and landing page strategies.
So tell us, what strategies have you tried? Have you automate your lead generation flow yet?
Can't wait to hear from you.