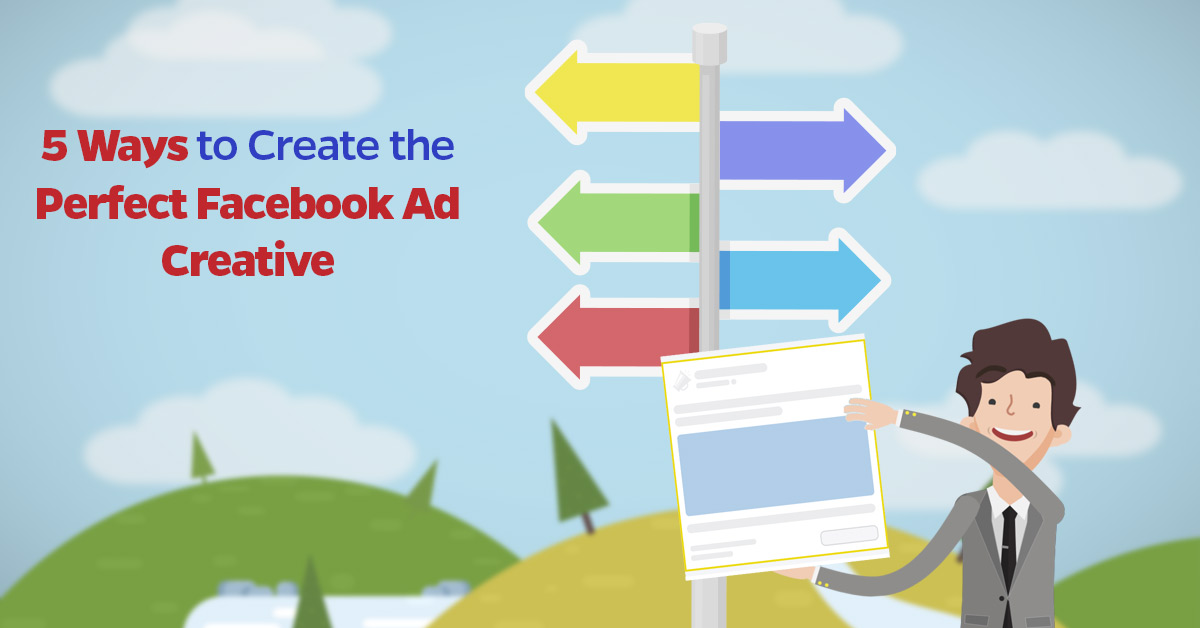 Nobody's perfect. But Facebook ad creatives should be. All it takes is one moment to capture the attention of a browsing Facebook user. If your ads aren't perfect, you risk losing a potential customer.
Yes, perfection takes work. But it's certainly not impossible when it comes to Facebook ads. There are only five main elements to focus on to achieve the perfect Facebook ad creative: text, image, video, headline, and call-to-actions (CTAs).
This article will explain what each of the aforementioned elements need to look like in order to make perfect ads for your campaign.
#1: Text
The text of your Facebook ad is located above the ad's main photo or visual. It's the post copy. Your text should reflect the tone of your brand. This tone should be consistent across all of your Facebook ads. The text should also communicate the point of your message clearly and concisely. It should feature social proof, call to action, or the benefits of buying from your brand. For example, if you're advertising makeup products, your ad's text should highlight the benefits your products offer when customers buy from you. Low price? Fast delivery? Unique colors? Natural ingredients? Don't be shy. Make those benefits known, using clear and concise language.
Additionally, your ad's text should adhere to Facebook's Advertising Policies. These policies outline prohibited content. Examples of prohibited content includes content that discriminates, promotes adult products or services, or uses profanity. The policies also stress relevance, accuracy, and honest landing pages (i.e. as promoted in the ad). Clickbait ads (i.e. misleading ads that manipulate users into clicking your ad) are unacceptable.
This ad by Arlington Club is an excellent example of a brand that establishes its tone and key message in its text. The text uses a combination of short and clear sentences to establish the tone of its brand and communicate its message while also telling customers the benefit: a "lip-smacking" plate of barbeque after a long work week.
Image Courtesy of Facebook Business
A few best practices for writing text for your Facebook ads:
Keep it short (both the length of the sentence and the number of sentences you use).
Don't shy away from mentioning price (but only when appropriate).
Be relatable. (No one responds to a robotic or superficial tone of voice.)
#2: Image
The image of your ad appears below the text. It's the element users will notice first, so it needs to accomplish what you want it to. Your image should be high-quality and must adhere to Facebook's image requirements. You can use either real time images or vector graphics based on your brand aesthetic and ad performance.
If you want your image to contain text, it must adhere to Facebook's 20 percent text rule. According to this rule, images can contain text, but it must constitute only 20 percent of the image. Fail to comply with this rule results in reduced delivery of your ad.
Text within your image is useful if it's appealing visually and helps reinforce your message. It may be even more effective than the text above your ad, as users respond highly to visuals, even if they are essentially text. But too much text in your visual defeats the purpose of appealing to the eye because it requires too much reading and deciphering time. Facebook's 20 percent rule reminds you to not go overboard.
Additionally, the image of your ad must adhere to Facebook's ad specs. Facebook Business specifies the following ad specs required:
File type: JPG or PNG
Image ratio: 9:16 to 16:9
Image resolution: The highest resolution possible (at least 1,200 x 628px with a link)
Minimum Image Width in Pixels: 600
Minimum Image Height in Pixels: 600
Aspect Ratio Tolerance: 3%
One of the most important things to remember when it comes to images for your Facebook ad creative is this: your product is your star. It should be clearly the focus of your image. Your ad's image should match the message of your text. In other words, if the message of your text is about a new product release, the new product should be the main highlight in your image. To emphasize the greatness of your product, your image should be high-quality, creative, and professional. A pixelated or low-resolution image tells your audience that you have a low-quality product and hurts your credibility.
In this ad by Shopify, which meets Facebook's ad specs and requirements, the photo is colorful and high-quality. The text, which is about selling your craft, matches the subject of the photo, which is a person's hands working their craft. There's no questioning that the image is about craft, and not much thinking is required to get the main point of the image.
Image Courtesy of WordStream
Another creative way is to have a QR code as the image. A catchy title will make the audience scan the QR code.
#3: Video
Video is an excellent ad format, should you choose to use it. When done well, it's engaging and drives action. As with images, there are a few things to keep in mind when making perfect video creative.
A video ad should be short, to-the-point, and created for sound off. The total length of the video should land between 5 and 30 seconds; it will vary, depending on the message. Within the first few seconds, viewers should know the main point of your ad. You never know how long they're willing to sit through your video, so drive the point home right away. If you're telling the origin story of your brand, for example, viewers should know that's what your video is doing immediately. Your video should also have captions or titles from beginning to end that match up with any sound in your video. This ensures that viewers watching without sound still get the message. Video ads should account for both sound and soundless experiences.
Another factor that plays into making perfect video creative is making it in vertical format and optimized for small screens. Nowadays, users rarely rotate their mobile devices to watch videos horizontally. Their lives are always on the move, so any videos they watch, they watch quickly and on-the-go. Optimize your video for vertical format and small screens to make a seamless and memorable viewing experience.
Your video creative must also adhere to Facebook's ad specs. The video requirements, as outlined by Facebook Business, are as follows:
Video Ratio: 9:16 to 16:9
Recommended Resolution: The highest resolution video possible within file size and ratio limits.
Video File Size: 4GB Max
Video Length Minimum: 1 second
Video Length Maximum: 240 Minutes
Text: 125 characters
Thumbnail images must follow the 20 percent text rule
Aspect Ratio Tolerance: 3%
Facebook provides a great example of perfect video creative that's to-the-point and formatted vertically. The video, which comes from the network's "Vertical Shorts" series, uses a vertical splitscreen and captions to communicate its message both with and without sound.
Image Courtesy of Facebook Business
#4: Headline
The headline of your ad appears just under the main visual in large text and should succinctly indicate exactly what your audience can expect upon clicking the ad. A perfect headline is less than 25 characters in length. Anything longer becomes too wordy. Essentially, the headline "concludes" the ad's message, gives an offer, or has a call-to-action (CTA) button.
International Rescue Committee uses an effective headline in this ad example: "Gift a Year of School: Order By Dec 14." It's short and sweet, summarizes the ad's text, and is followed by a Donate Now" CTA. It also creates a sense of urgency by including an "Order By" date.
Image Courtesy of Facebook Business
#5: CTA Button
The perfect Facebook ad creative includes a CTA that's relevant to the desired action. For example, if you want to drive traffic to your website, you would use a CTA that says "Learn More." If you want shoppers to buy from your online store, use a "Shop Now" CTA. For subscriptions, use a "Sign Up" CTA. your CTA should say something like "Shop Now." The CTA should be clearly displayed on your ad and easy to see.
Intelligent Blends uses a simple "Shop Now" CTA in this ad example. Located at the bottom-right of the ad, the CTA clearly indicates the action the ad wants the audience to take.
Image Courtesy of Facebook Business
Conclusion
Now that you have all the building blocks to make the perfect Facebook ad creative, there are just a few more things needed to knock it out of the park. You should refresh your creatives every two weeks. This practice ensures that your audience won't lose interest and will continue to find your ads useful or appealing. You should also A/B test frequently. Experiment with different combinations of elements and formats to see which performs best. Some brands, for instance, may discover that video ads are more effective than static images. And last but not least, stick with ads that perform the best. Don't settle for creatives that could be better. Always aim high, and once you reach that standard, run with it.
Perfection is well within your reach. Even more so now that you have the essential guidelines for achieving that standard with your Facebook ad creative.