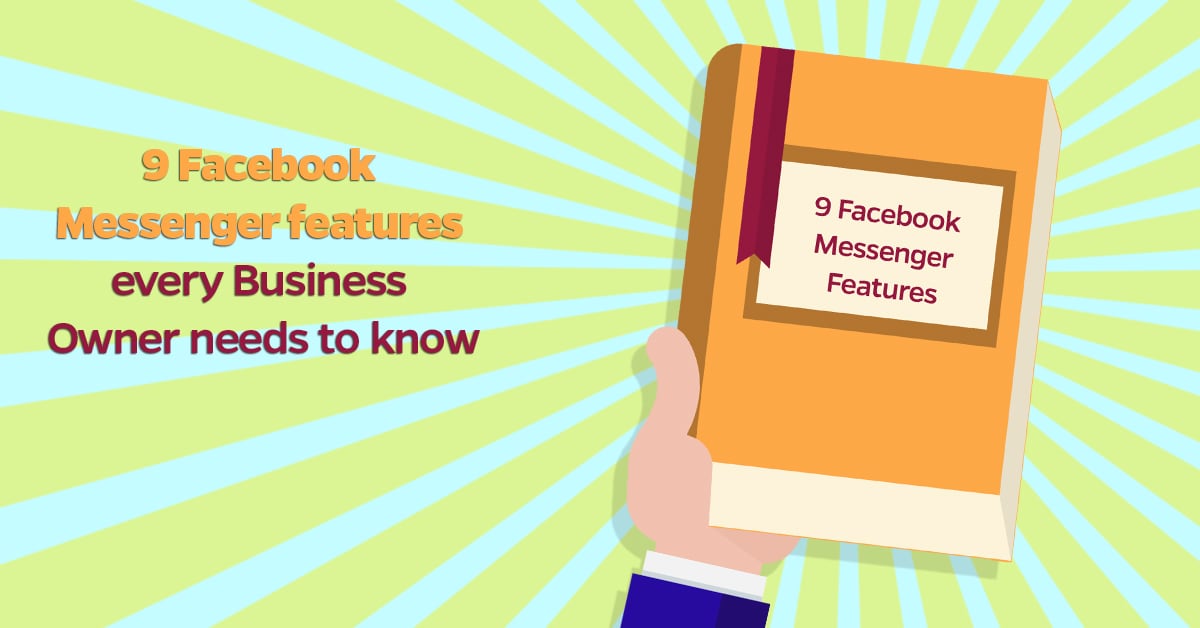 Facebook has been investing a lot in its flagship messaging app in the last months, rolling out features designed to help businesses efficiently manage their communications. Below a list of the most important Messenger features which can boost your communication with leads and customers interacting with your Facebook page.
1) Embed messenger directly on your website
People who needs help or support from businesses are by now used to do it on social media, where the tone is friendly and you can expect a very quick answer. To make it easier for customers to interact with you directly from your website the Facebook Messenger Box is a great tool.
People googling a business are more likely to visit the website than the Facebook page and the website is usually where the interesting stuff happens, so a customer will have the opportunity to quickly ask questions about the order they're making for example or even send in a feedback?without having to leave the website and loose time finding a way to contact you.
2) Install the messenger box in a tab
The messenger box actually lives inside the Facebook page plugin. On the Facebook developers site there are all the info you need to set it up. As you can see in the image below you might even keep inside the same box up to three different tabs: the timeline, the messenger interface and a tab with all your events.
For the less tech savvy there are already no coding required solutions like the Quick Facebook Chat app, which will help you install the messenger box easily and in a nice looking way.
3) The QR code that actually works
We can admit it, communication departments can still try to think about themselves as innovative just putting QR codes everywhere, but how many times have you actually used them? If you're a Snapchat user instead, you've certainly used a lot of times the "Snapcode" to connect yourself to other users, which is nothing else than a sort of proprietary QR code with a logo. As you might have noticed many people in the last months have changed their profile picture on Twitter and Facebook to their snapcode. Now Messenger has its own codes as well.
Clicking on the People icon at the bottom of the messenger app, you'll get as first option at the top "Scan code". Now you just have to point your phone camera to a "Messenger code" and you'll instantly be able to start a chat with that contact. Similarly to Snapchat you can scan codes that are in your photos library as well.
Messenger is becoming the place where you chat not only with your friends, but with companies and soon enough bots as well. Messenger codes will be very helpful to business owners to help people get in contact fast and easily, without the friction of figuring out how to do it.
4) Saved replies
This one is a simple feature, but can really make a difference in the life of a business owner or a customer support representative who finds himself having to asnwer to a lot of similar messages every day. Clicking on the dialog bubble next to the reply space you'll access to the saved replies window, where you will be able to instantly send out one of your saved messages, making your business look professional and efficient.
In the same window there is the access to the "create new reply" form. You can also add an image to your reply, such as your company logo, and personalize the message with for example the person's first name.
?
5) The Facebook green light: the response rate public badge
You don't want to miss on this one. A customer that finds on your page the "Very responsive to messages" badge will be really encouraged to contact you, because he can expect a very quick reply and therefore a business who cares about its customers.
This green light icon can really encourage new likes and help you stand out against your competitors.
So how can you get the green badge show on your page?
Facebook asks you to have a response rate of 90% and a response time under 15 minutes. Saved replies will certainly help you a lot here!
Another helpful tool is the away button. Turn it on and for 12 hours whoever writes to you will get a default answer, which you can choose in the settings menu under the messaging tab. This way you will keep your responsiveness rating. The key here is not to be ready to answer 24/24, 7/7… but to let the user know what to expect from you, and to fullfill that expectation.
6) Messenger short link
Similarly to Messenger codes, Messenger links are a fast and easy way to let people connect with you. Every page now has this link to share: m.me/username
The username is nothing else that the vanity url you probably have already chosen for your page.?So just try this link and say hello! m.me/leadsbridgeapp
7) Greetings!
In the settings page you can set up a greeting message as well. This is a new feature that shows a note in the message thread before any messages are sent, where a business can welcome his customer, set the tone of the conversation and pass along important informations.
8) Reply to a comment with a private message
Once upon a time in the Facebook galaxy a page didn?t have the opportunity to write a direct private message to anyone.
Not anymore. In the comment section of every post now you have just to the right of the reply option the link to send a direct message to that user.
This is very useful for example when you are addressing some sort of angry customer crisis, moving the conversation in private is of course a nice opportunity.
Once this is done, it will also publicly note that the business responded to the initial public comment.
9) Message us button
As an alternative to the messenger box, you can choose to implement in your website just the simple ?message us? button, which will directly launch the Facebook Messenger app on the users? mobile phones or the messenger.com website if they are on the desktop.
At this link you?ll find the code to copy to your website for implementing these buttons. The only fields to modify here are the ?app id? and the ?page id?.
You can find the page id at the bottom of the about section of your page. To get an app id you simply have to connect to the facebook developer page and click on the ?add a new app? button in the top right of your screen. Don?t worry, your app doesn?t have to do anything, we just need the keys. After you have put a random name for your app and provided an email address you?ll find the app id at the top of your screen.

Facebook Messenger is going to play an increasingly important role in how we communicate online and businesses have an increasing need to meet the user where they spend most of their time. That?s exactly the aim of all these Messenger updates: to make it easier for people and enterprises to connect with one another.
So if you have any question about how LeadsBridge can help your Facebook advertising efforts, just talk to us! 😉