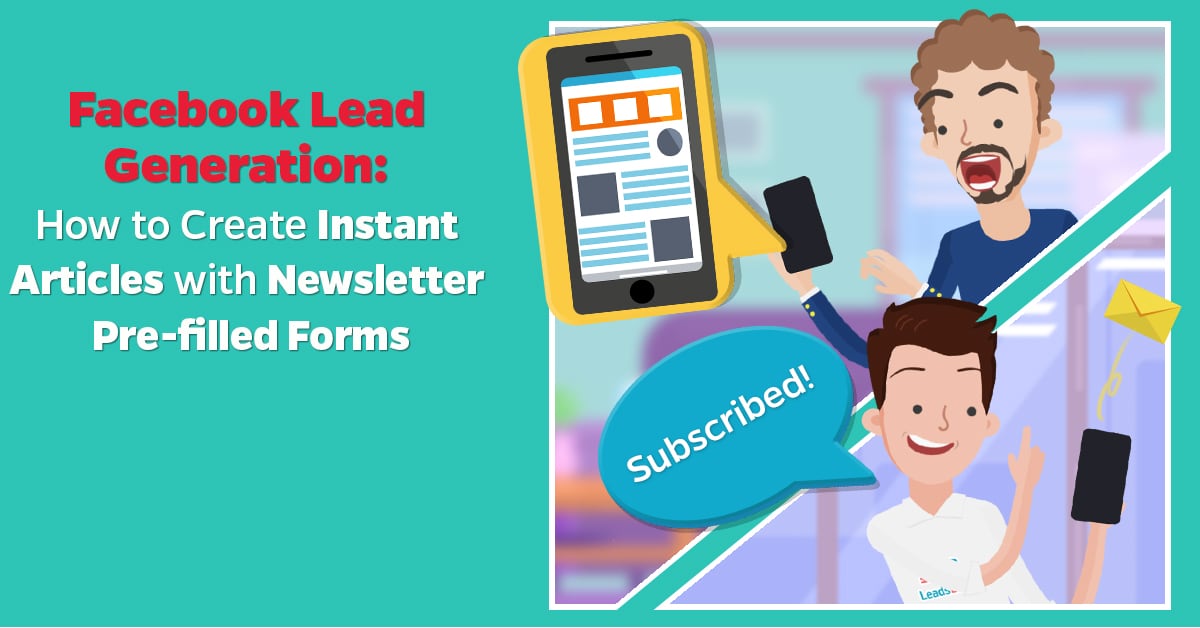 Wondering how to collect more leads with content marketing in the first-mobile era?
Let me share how to solve the problem by using Facebook Instant Articles and the newsletter prefilled forms.
In one of my previous articles, I already spoke about how you can use content marketing to raise you brand, without using a website.
But why having a content marketing strategy is so important to grow your businesses?
Most marketers and influences say that writing contents that rock is the best way to:
raise your brand
reach more users
acquire new leads
Content builds relationships. Relationships are built on trust. Trust drives revenue. ~ Andrew Davis
Is it true?
Well, obviously content marketing allows you to generate traffic to your blog, and an interesting report from demandgenreport.com shows some data and researches: did you know that the 47% of B2B buyers consume 3-5 pieces of content prior to engaging with a salesperson?
Great content can establish you as an authority, which means that you can stand out from the crowd of your competitors and attract other influencers and publications.
Moreover, through content marketing you can build trust with your company's online audience.
And if your blog is not getting enough organic traffic, you "just" need to push it with paid traffic.
However, the question you may ask yourself is…
Can content marketing increase conversions in a measurable, scalable and predictable way?
And this is a good question…
Because PAID TRAFFIC means INVESTMENTS. If you don't want to waste your money in paid advertising to push contents in vain, you need an alternative strategy to spread your stuff online.
Apparently, the same question kept raging in Facebook developers' heads, because they decided to fill the gap between a content marketing strategy (writing stuff, promoting videos, etc.) and the traditional lead generation methods.
So they created Instant Articles with integrated newsletter pre-populated forms.
That's awesome, isn't it? But how do they work?
Well, let's start from the very beginning by looking at how businesses generate leads online today.
The smartest businesses who generate leads online are using a simple "marketing funnel strategy" that consists in acquiring the leads in 2 steps.
They create valuable contents, which allows them to build engagement and trust with their audience and let the people know the brand.
They ask those who engaged with the business (through remarketing or Call To Action buttons) to subscribe to their list.
The step n.1 requires you to provide a good piece of content, but you also need to promote it online in order to send traffic to your website – where you share articles, reports, videos, infographics and more.
The step n.2 requires you a website landing page with sign-up forms.
This system worked like a charme 🙂
For a long time I could pay a ridiculous cost per click (0.0657 $) to drive cold traffic to my website and let the people subscribe to my lists.
That's a BIG bargain, isn't it? But there's a problem.
The problem is that the vast majority of Facebook users today browse through the social network with mobile devices.
Recent stats show that there are 1.15 billion mobile daily active users on Facebook, which represents the 90% of total Facebook's daily active users.
Moreover, according to adage.com, almost 80% of Facebook Advertising's total income already comes from mobile advertising.
So, if you still want to drive traffic to your websites from Facebook and increase conversions, you will face some SERIOUS problems.
Let's take a look at them.
First of all, a non-optimized website for mobile devices determines a bad user experience for mobile users – especially when they land to a squeeze page.
Moreover, a slow loading time determines a high bounce rate (the percentage of visitors who enter the site and then leave)
Here's how Kissmetrics.com explains the reason why:
"According to surveys done by Akamai and Gomez.com, nearly half of web users expect a site to load in 2 seconds or less, and they tend to abandon a site that isn't loaded within 3 seconds."
Here's why you should consider using instant Facebook articles!
What's an Instant Article?
Instant Articles is a mobile publishing format that enables you to distribute contents and news to Facebook's app.
In other words, instead of promoting a blog post or a website page, "Instant Articles provides a faster, Facebook-native way to distribute the content publishers already produce for their own websites."
By doing so, your contents will load – Facebook says – as much as 10 times faster than the standard website's pages displayed on mobile devices.
But (yes, there's a BUT!)
If you use content marketing to generate leads, you always need a further call to action within the instant article to drive people to a website landing page for acquiring their data…right?
No, you don't 🙂
You can use instant articles to acquire your reader's data without being redirected to a landing page, simply by creating opt-in forms within the instant articles.
Moreover…
Your readers don't need to fill any field, because such types of opt-in form pre-populates users' data taking them directly from the users' personal profiles.
Do you want to learn how to use Instant Articles? Watch the video below.
Now the question is…
What happens to your leads after subscribing?
As Stefan explained in the video above, you have two possibilities:
N.1 – you download the CSV file that contains subscribers' data, and you can upload it into your email marketing software.
The problem is that your subscribers expect you to immediately follow up with an email or a call, once they opt-in.
Otherwise, you break the funnel and miss the "momentum".
N.2 – you can use a third party tool like LeadsBridge that syncs your CRM/autoresponder to your Facebook instant articles' leads, in order to send welcome mails and follow ups right when the leads come in.
No stress. No loss of time. No pain!
Conclusion
In this article you learned the benefits of using the new Facebook Instant Articles with newsletter pre-filled forms.
What do you think of Facebook's new Instant Articles with integrated opt-in forms? Have you ever used this tool to collect leads for your business? Please share your comments below.