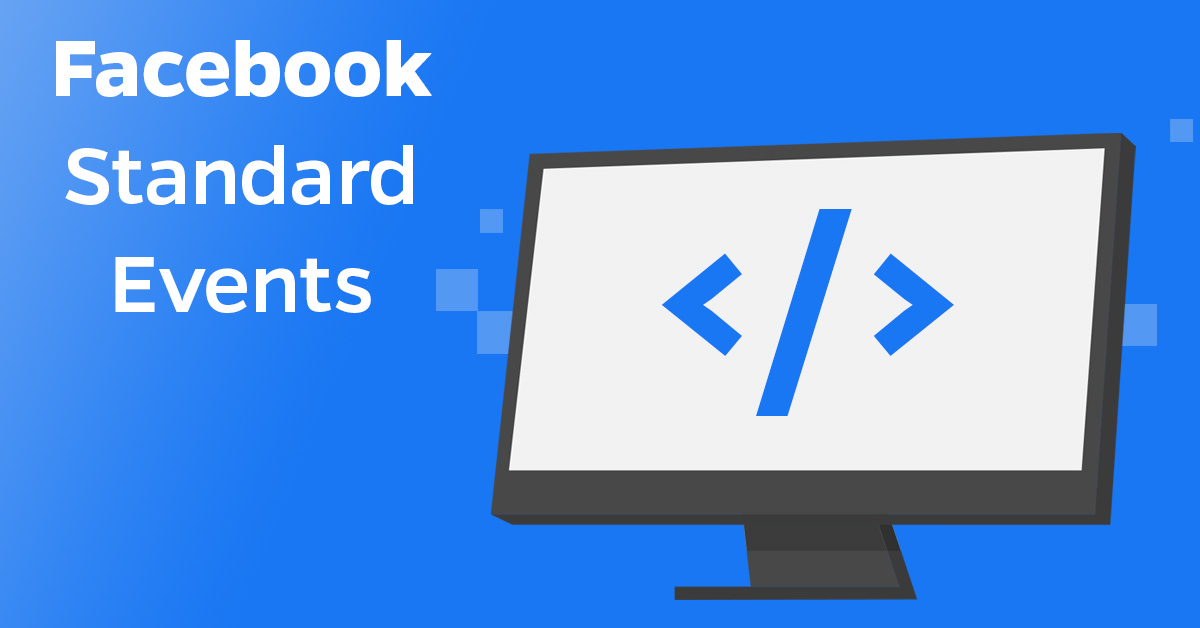 Facebook Standard Events are a set of codes that are placed on specific pages on a website. The feature allows users to track visitors' behavior on specified website pages, such as the product and the landing pages. For instance, If you place a Facebook Standard Event code snippet on a product page on a website, it will record the actions visitors take on the page. Thereafter, you can target visitors with relevant product ads on Facebook by creating a Custom Audience based on the event. The Facebook Standard Events is useful for logging and optimizing conversions, and building Custom Audiences.
The Facebook Standard Event started as a flat tool, then it gave an overview of some standard events.  There are two different types of events on Facebook  – The Standard Event and the Custom events. Many people often confuse the two terms together. Below are notable differences between Standard Events and Custom Events.
The Differences between Facebook Standard Events and Facebook Custom Events
The Facebook Standard Events are actions that are added to the pixel code. These actions can be logged, optimized for conversions and used to build audiences. The Facebook Custom Events, on the other hand, are actions that are not covered by standard events. You can add a specific name to identify the action.
With the Facebook custom events, you can segment your event according to your own rules. Although the Standard Events have robust features, the custom events are easier to set up.
Facebook Tracking Pixel 
The Facebook tracking pixel is a set of code that is placed on a website to measure conversion across different devices, optimize ad delivery to ensure that the ads are shown to people who have indicated an interest in the brand and build relevant audiences from website visitors for Facebook ads.
How Facebook Tracking Pixel works 
When you place the piece of code on your website and a visitor comes to a page and takes an action (e.g. sign up to your newsletter), the Facebook Tracking Pixel is triggered and the action reported. This will show the action a customer, or visitor carried out on your website after seeing your ads.
There are different Facebook Standard Events as shown below.
Types of Facebook Standard Events
1.           ViewContent
The ViewContent event shows a visit to a specific web page URL such as the product or landing page. However, it doesn't display what visitors do on the page. 
2.           AddPaymentInfo
It is an event that is fired when payment information is added to the checkout page. For example, a customer that visits a webpage to fill the payment details to make purchases. Once they fill the checkout form and click the save button, the event is fired.
3.           AddToCart
The AddToCart Event is fired when a customer or prospect adds a product to the shopping cart. 
4.           AddToWishlist
It is not all the time that a visitor comes to a product page that they make purchases. Sometimes, they add the product to the wishlist. This event is fired when a visitor clicks on an "add to wishlist button".
5.           CompleteRegistration
The event is fired when a visitor completes a registration form on a website. For example, when a visitor completes a subscription or sign-up form.
6.           Contact
The "Contact" event is fired when a prospect initiates contact with a business through the telephone, text messages, email or chat. For example, if a prospect submits a question through a chat about a product.
 7.           CustomiseProduct
Some ecommerce websites allow customers and prospects to customize a product the way they want. The "CustomizeProduct" event is fired when product customization happens. For instance, a visitor can select the desired color of a handbag. 
8.           Donate
The "Donate" Event is fired when someone donates funds to a business or an organization or a cause. For example, if someone adds a donation to a charity organization to their cart.
9.           FindLocation
The event "Findlocation" is fired when a visitor searches for the location of a store through the website or an app to visit the physical location. For example, a visitor wants to purchase a specific product in a local store and search for the location on the website.
 10.         InitiateCheckout
The "InitiateCheckout" Event is fired when a visitor or customer visits the checkout page before completing the form.
11.         Lead
A person or visitor becomes a lead when they fill a form, or carry out other specified actions. The event "Lead" is fired when such happens. For example, when a visitor fills a sign up form or registration form on a website or app.
12.         PageView
PageView is the default pixel for tracking page visits on a website. It fires when someone visits a website page.
13.         Purchase
The "Purchase" Event is fired when a visitor or customer makes a purchase through the checkout page. For example, if a visitor has filled the checkout form and made payment and lands on the confirmation or thank you page.
14.         Schedule
The "Schedule" Event is fired when someone books an appointment to visit a business location. For example, if a visitor selects a date and time for a test ride.
15.         Search
Most e-commerce or product websites have a search feature where visitors can type the name of the product they want to find on the website. The Event 'Search' is fired when a search is made.
16.         StartTrial
Most software vendors offer trials to new visitors to encourage them to try out a product. The event "StartTrial' is fired when a visitor starts a free trial of a product or service.
17.         SubmitApplication
The Event "SubmitApplication" is fired when someone applies for a job, service or program on offer. For instance, a visitor can apply for a credit card or a job.
18.         Subscribe
Subscribe is an Event that is fired when a person applies to start a paid subscription for a product or service on offer. For instance, if a visitor subscribes to a podcast.
Facebook Standard Events Goals 
The Facebook Standard Events are beneficial to all businesses. Below are the main goals.
Facebook Conversion Tracking 
Without the Facebook Standard Events, you can only track cost per click, click-through rate, and engagement rate. This makes it difficult for Facebook to track conversions. However, if you use the Facebook Standard Events, you can track the conversion of different metrics on your website after users have seen your Facebook Ad. This includes add to cart and view Content, Leads, and Cost per lead as shown below.
The Facebook Standard Events also allow you to track customers with their varying devices such as mobile and desktop. This will help to fine-tune your Facebook ad strategy. 
Campaign Optimization
The Facebook Standard Events allows you to optimize your ads for conversion events on your website that align with your business goals such as purchases and sign-ups. The Facebook algorithm helps you reach your ideal audience by optimizing your ads to show to people who are likely to convert or take specific conversion actions. 
Audience Creation 
The Facebook Standard Events helps you to create  Custom Audiences of people who have carried out a specific action on your website. This includes view content, add items to cart, make purchases, etc. Using the Custom Audiences of those who fired specific events on your website, you can create a Lookalike Audience of people who have similar interests and demographics to people who have converted on your website. 
This way, you expand your customer base. Also, Facebook can help create a Value-Based Lookalike Audiences. These are audiences that are likely to make high purchases on your website. This implies that your ads will automatically be displayed to audiences that are likely to make high-value purchases. Creating these Audiences saves money and increases conversion rates.
Conversion Optimization 
The Facebook Standard Events enable you to optimize for conversions. For example, AdEspresso carried out an experiment to determine the best campaign optimization method that works best.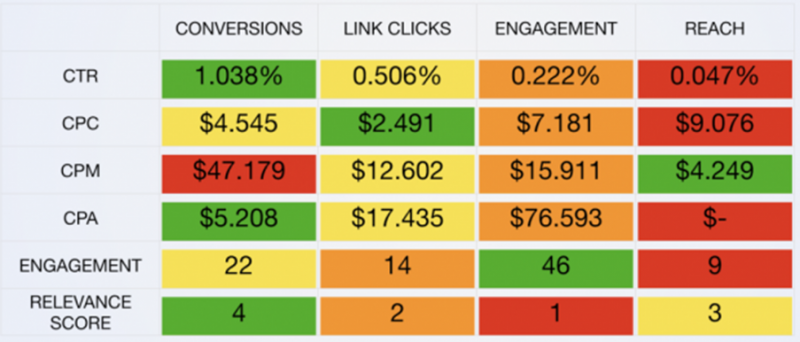 The result of the experiment showed that the cost per lead was over 3.4 times higher for link clicks optimization for conversion optimization.
The Benefits of Facebook Standard Events
Full visibility and full-funnel tracking
With the help of the Facebook Standard Events, you can create funnels to show the percentage of the top funnel that converts. It is possible to track customer lifetime value, break down the age, gender, and country by purchase value.
When every stage of the funnel is tracked with an event, it is easy to analyze the sales funnel. For example, if you run an e-commerce store, you can analyze the number of products website visitors viewed and compare it to the number of products they add to carts, the number of checkouts started and the number of purchases they made. If there is a lower conversion rate at any stage of the funnel, you can focus your efforts on refining the sales funnel.
Revenue reporting
The Facebook Standard Events allows you to pass actual order value back to Facebook. This helps to measure return on ad spend (ROAS) which is more valuable than the cost per sale.
Create highly effective retargeting campaigns 

Expand your reach through Lookalike Audiences
Dynamic Product Ads and Facebook Standard Events
The Facebook Dynamic Ads allow you to show ads to people based on their engagement with a product in the past. This is achieved through the use of ad templates and catalogs from Facebook. Dynamic ads are useful for e-commerce stores with hundreds or thousands of products. You can target users who have expressed interest in products with relevant ads. 
For Dynamic Ads to work properly, you need to send website visitors actions from your website to Facebook. This will help Facebook know whether or not to display an ad to them and what the content of the ad should be. The website visitors' actions are sent using the Facebook Standard Events. For example, the ViewContent is the event that logs every product page a visitor views on your website. You can use this data to create Custom Audiences and track custom conversions on your website.
To effectively run the Dynamic ads, you need to add about 3 standard events that go along with the three types of website visitors' actions. They are ViewContent, AddtoCard, and Purchase events. Each of these events is required to be sent with more dynamic parameters to enable Facebook to acquire more detail about any action users complete. Parameters offer more detail about the action your website visitors take, such as which product did your visitor purchased.
Beyond website events 
The Events tracked by Facebook are not only related to the Facebook tracking pixel. Some Facebook custom events are off-site events and are grouped independently. Such types of events can be tracked by pushing data back to Facebook once the conversions are registered through a 1st data party, for example, the CRM of the company or the email marketing software used by the advertisers. 
This helps go beyond website events and cookies, giving the ability to reach your audience through multiple platforms without encountering obstacles in tracking such as ad blockers and anonymous visitors. 
Standard Events are going to be revolutionized very soon since browsers are protecting users, browser tracking is dying as a result of the numerous restrictions that, since 2018, have made it increasingly difficult to use the Facebook tracking pixel as a tracking tool. 
Conclusion
Facebook Standard Events help you track campaign results using different metrics based on actions carried out by your website visitors. Although the use of the Facebook tracking pixel as a retargeting tool is still widely used today, the various regulations that tend to protect user privacy are making this tool less and less effective. 
In the coming years, we will move towards an ever-increasing definition of events that are tracked by exploiting 1st party data – CRMs, email software, business management tools – thus allowing advertisers to continue retargeting, going beyond the concept of website-tracking which is now slowly, but inexorably going into decline.