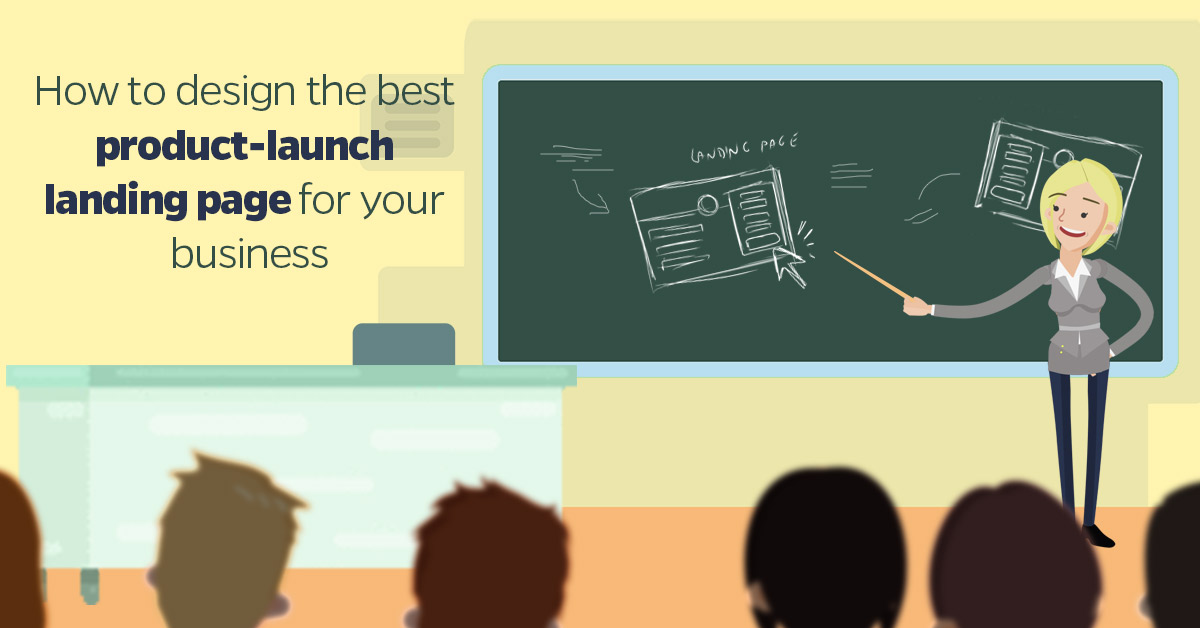 Product launch time is always a special moment. It is usually preceded by some level of preparation. Most businesses journey to product launch is predictable: Ideation – Design – Test and Product Launch. This is a major reason some product launch is not as successful as expected aside bad design.
How can you have a successful product launch? The answers are diverse but one important thing that must be done before you launch your product is to generate a buzz in your niche market. This can be done by designing a product launch landing page. You can build excitement among your customers and influencers through your product launch landing page.
A landing page is a standalone distinct page on your website, it is also referred to as a squeeze page. A product launch landing page is a powerful marketing tool, it is useful in the launch of a new business or a new product.
A product launch landing page builds anticipation and can generate leads from your potential customers. Product launch landing page can also be built to increase customer engagement.
What are the elements of a good product launch landing page? This is what this article is about. In the article, you will learn the best product landing page design tactics using different case studies and templates.
Best Product Landing Page Design Tips # 1: Keep it Simple, Sleek and Intriguing
A good example of a product launch landing page that fits perfectly into this best product landing page design tactics is that of Taasky. Taasky is a tech start-up, they make task managing apps for iPhone. Their product launch landing page generated a buzz, and it was a huge success.
On a general note, this is a good product launch landing page. Email lead generation is incorporated into the landing page. Let's look at other reasons this was a successful product launch landing page and a good example of best product landing page design that can be adapted.
a.) Simple Design: The simplicity of the design is great. The design is void of too many distractions. The visuals tell what the product does and did not overwhelm visitors with too many texts. The header uses contrasting colours and yet did not overshadow the prominently displayed "send" button. The take-home secret is this – You don't have to use a complex product launch landing page design before you generate a buzz in online marketing.
b.) Clear, Contrasting Call-to-Action (CTA) – Though the design is simple, yet it contains the most important element in the best product landing page designs – the Call-to-Action.
The Call-to-Action in the design is the "Send" button. It is distinct in color from other items in the design. It is also strategically positioned and visible to all.
c.) Consumer Focused CTA – The call to action of Taasky is also focused on the customer. These words are written within the white space: "Email me when it is ready". The word "ME" is a personal pronoun focused on the customer. It creates a connection with the customer.
d.) Powerful Image that Connects – An image in a product launch landing page is worth more than a million texts. Visitors are more attracted to and affected by images than texts. You can use Freepik's stock photos to make your product launch landing page more visually appealing. You can also use images from your own brand or related products.
The image used is an iPhone showing how the product will work. The will create great desires within iPhone users – the target market.
Taasky took this concept further in the post- product launch landing page. The image is bigger, clearer and visibly displayed scheduled tasks.
e.) Link to Press Kit – At the upper right corner is 'press kit'. It has an unobtrusive link. When clicked it provides the customer with an exclusive preview of the app. The customers can also get more information without having a clustered product landing page.
f.) Clear and Visible Branding – Keeping your logo simple and visible is a must. Simple logos are often more memorable and versatile, making them effective tools for brand recognition. In this example you see the all white version of the Taasky logo design in the top left corner. It does not distract from the page's content and works seamlessly with the rest of the page. Tools like GraphicSprings allow you to design and download logo formats specifically made for landing pages. You can make a logo for free before signing up.
What to improve or test in this product launch landing page design:
Every best product landing page design needs A/B Testing. A/B testing is no longer an option in product landing page design. Taasky could use A/B testing to reduce bounce rates and improve conversion.
A/B testing involves making little adjustments to texts, images, colours or having complete new designs. With A/B testing, you can determine the variant of product launch landing page designs that best appeal to customers and generate greater buzz.
Best Product Landing Page Design Tips # 2: Strong and Powerful Visuals / Images
The human brain processes image 60,000 times faster than texts. Hence, you must incorporate powerful visuals in your product launch landing page design. Images personalize landing page and create a buzz of user engagement.
Adenbrookhomes – a real estate development company in Australia created a pre-product launch landing page to market their homes. The product launch landing page created a buzz and Adenbrookhomes generate immediate sales.
Adenbrookhomes used the concept of pre-marketing and pre-sales as is common in real estate marketing. What is not common however is the marketing mix – the regular marketing cum product launch landing page.
Let's explore the design concept of Adenbrookhomes' product launch landing page:
Visually Appealing Product Launch Landing Page – At a glance, any visitor to the page can see and understand the purpose of the page. The page displays the exterior of the new house. The picture is also supported by the texts "Brand New Display" and "Opening soon".
Contrasting Colours – The colour of the text "opening soon at Augustine Heights" contrast the background colour.
Prominent Navigation Bar – The navigation bar is conspicuously positioned at the top of the page and easy to navigate. Page visitors can easily check through the page to get more information, connect with the brand and develop trust.
What this Product launch landing page design is missing:
Lead Generation – In addition to creating a buzz, a major purpose of product launch landing page is lead generation. Buying a house is a major purchase by all standards for customers. Such purchases require nurturing, trust building and a lot of effective and informative communication.
With the inclusion of a lead generation form, Adenbrook Homes could have generated tons of email leads that could nurture the visitors.
A short lead generation form would be more appropriate in this case for the following reasons.
Short lead generation forms take less time to fill
Short forms are statistically proven to perform better – generate more leads than long forms
Make the customer feel safe they are not divulging too much information about themselves.
Essentially, the short lead form is to capture interested buyer's name and email. The text of the CTA could be something like "Be the first in line".
Here is a good example of a Car dealership landing page with a short lead form.
List of Benefits
Though Adenbrookhomes' product launch landing page indicates that the house is an "Orion" design. That is highly ambiguous. 'Orion Design' could have been translated to potential homebuyers as 'list of benefits' – award-winning designs, a large outdoor space, open kitchen, etc.
Location – Location is a big deal in real estate. Real estate product landing page should give location or locations of the product. More information like close to school, growing suburbs etc. could lead to more lead generation and sales.
So far, we have looked at elements of best product launch landing page designs that could generate a buzz for your business and lead to greater sales when the product is finally launched. In your design, you can combine the pros and change or improve on the cons to have a new product launch landing page design that suits your business.
In conclusion, it can never be too early to create a product launch landing page. It is one of the first things that must be done. With your product launch landing page you can build your email list and create a buzz and build social media following.
In your product launch landing page, you must provide as much details as possible; the information provided must be useful, must be valuable and must connect with your customers.
Finally, these apps could be of great help in your quest to create your product launch landing page: LaunchRock for launching strategies, KickoffLabs for developing landing page, Unbounce for optimized landing pages. You can use a landing page to build your brand, grow email list,and syncronize all the leads that you collect trough our Landing Leads feature. Check it out!