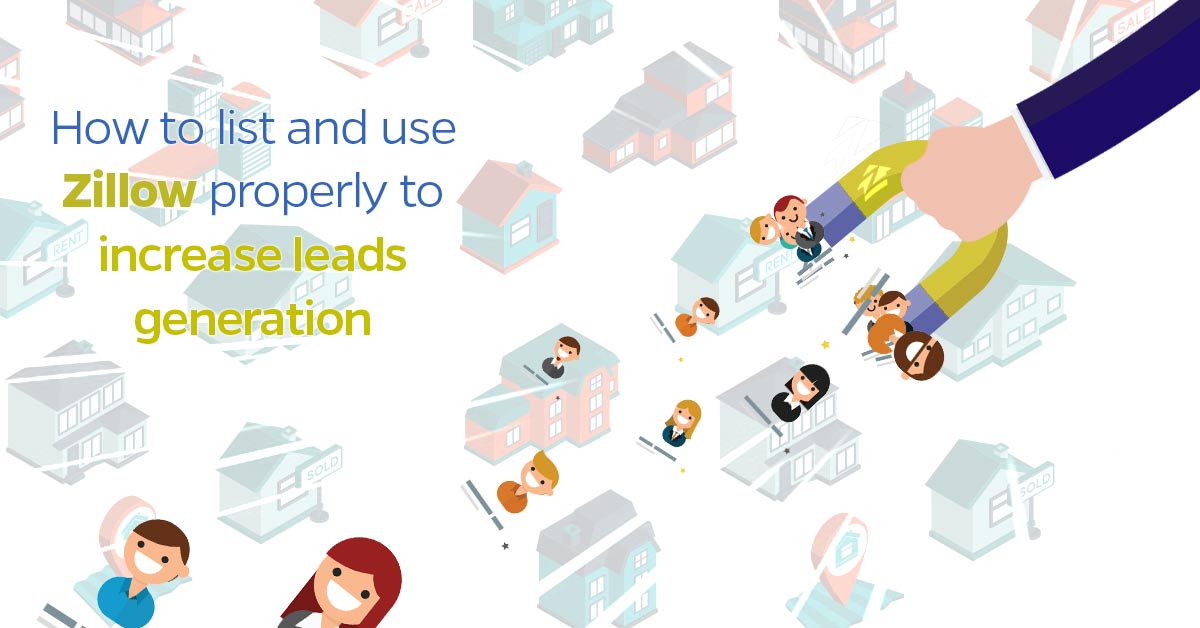 Zillow is a real estate and rental marketplace that provides data, inspiration and knowledge to consumers while also allowing them to get in touch with local professionals who may help them in their research for a new home. Real estate agents could get a lot of great results by learning how to use and list properly on Zillow.
The platform has a database of more than 110 million homes available for buying, selling, renting, financing, remodelling, and more. It even has a tool call Zestimate that gives home values and other important information for home buyers and renters.
According to Statista, Zillow is the number one real estate website based on monthly visits with a great advantage over its competitors meaning that it is in every realtor's best interest to be active and take part in the platform.
Zillow seems like a great option to help real estate agents get more done with all the services it offers, but the truth is not everyone thinks the platform is that great and others seem to think it might even be damaging to the real estate market.
What do real estate agents think about Zillow?
A lot of realtors arent interested in learning how to use or list on Zillow as they see the platform with disdain, especially because they have their doubts about data handling and misinformation of potential buyers.
Some might even say that theres some aversion towards technology but others think that Zillow provides a great tool to have more informed buyers, avoid losing precious time with informational interactions while also giving access to a vast quantity of possibilities.
How to use Zillow: Competitor or tool?
As many agents feel like Zillow is competing against them, offering a low-cost alternative to an actual real estate agent they see the portal as a competitor for their work.
Instead, knowing how to use and list on Zillow properly work as a great tool if you know how to use it and list properly on the platform to actually get the most out of it and upgrade your real estate lead generation game.
The nature of Zillows platform allows its users to optimize their profiles and listings so they get lots of hits and are seen by the right people. My best advice would be to learn how to use and list on Zillow, to use it as an extra helping hand, an ally, and get the most out of it so it may help you and your business flourish.
How to use Zillow: The best way to make Zillow your accomplice
As mentioned above, optimization and personalization. Sticking out from the crowd and offering valuable things to your audience will really help your business grow.
It is in Zillows best interest that youre successful, thats why they also have lots of great tips and resources to help you succeed as a realtor.
There are many things that you may do in a platform like Zillow that will improve your value, like being available and providing useful information of the areas that you know better, giving feedback, share your listings, reviews and other data that may help potential buyers, engage with the community and thrive.
How to list properly on Zillow
The best way to get started and learn how to use and list on Zillow is to begin by wathcing what others do, also find some helpful information online to get your started.
Here are some tips for you to keep on mind to use and list on Zillow:
First impressions matter, make sure you create a listing with great photos that showcase the houses potential. Investing in a good photographer and using the adequate equipment is crucial to achieve a great look and have the desired impacto on your potential buyers when using Zillow.
Get everything clean and tidy before starting a photo shoot, its important that your potential buyers can picture themselves in a happy place, if they see something nice that they like and where they see their life taking place then youre already half way there.
Quality over quantity: its better to have fewer pictures with a great quality that really lets people see the place than having lots of pictures that might actually be blurred or dark and wont give the person any concrete idea of how the place actually is.
Include a video tourof the place to give potential buyers an even better experience, in these cases the more information you provide in your Zillow listings the better.
Take advantage of all the available tools: upload lots of data, photographs, floor plans, and videos. All these allow you to give lots of information to people that might be interested and will allow you to qualify leads before they reach out to you, avoiding time and energy lost.
A good amount of photos may make a great impact on a customer, use and list on Zillow thinking about best way to show as much of the house as possble to allow your potential buyers to picture the house and see how it may fit their needs.
One great tip that you should follow is to comply to Zillows policy when making a listing on the platform, this way youll be able to use and list on Zillow without any headaches or hassles regarding policy violation.
Take advantage of features and updates so your listings stay on top and gain views constantly.
Conclusion
Learning how to use and list on Zillow is a very usefull and important strategy for any real estate agent, keeping in mind what your potential buyers are looking for. Zillow is a great tool, but keep in mind that the important part relays in your marketing and sales strategy, everything else is only a tool that you may either disregard or take the most out of to boost your business and grow as a real estate agent.
So, tell us, have you been using and listing on Zillow? What are the tips that have worked best for you?
Discover our Integration with Zillow!