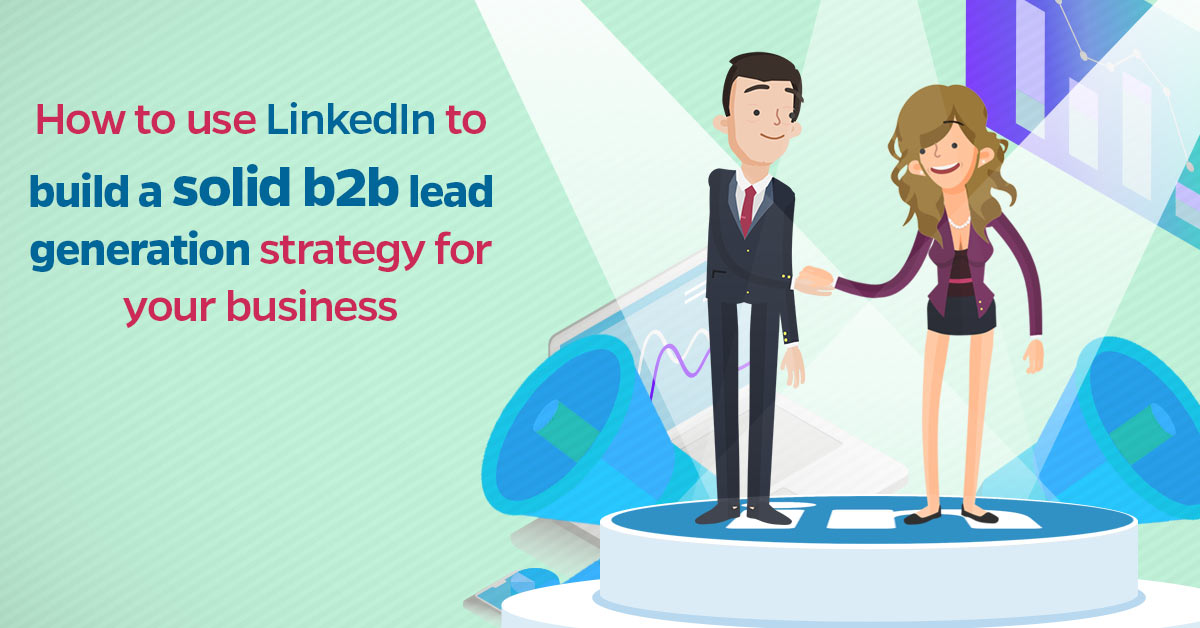 Over the years, LinkedIn has transitioned from a small social networking site to a world force. LinkedIn publishing platform and career focused social networking made it a foremost place for B2B businesses, brands, and professionals to share content. LinkedIn is an effective tool that drives over 80% of B2B social media leads.
In addition, most chief executive officers preferred LinkedIn as a social network.
LinkedIn has over 500 Million business professionals and 100 million active daily users.
Thus, there is a huge potential for LinkedIn b2b lead generation. That as it may, it is pertinent for businesses to come up with an effective LinkedIn b2b lead generation Strategy as part of their overall marketing plan.In this article, you will learn how you can incorporate LinkedIn b2b lead generation into your marketing strategy.
1.LinkedIn B2B lead generation Strategy # 1: Generate leads with your Company Page
LinkedIn is still the most effective of all the social media for lead generation. However, be intentional about your LinkedIn lead generation strategy.
The best approach is to turn your company page into a lead generation tool. You can use your business or company page on LinkedIn to lead visitors to your website. You can achieve this by using:
(i)Attention-grabbing images
A prominent header image is a leading way to attract interest. You can use your header image to prospect for new leads.
(ii)Compelling company pitch description
Use your pitch to speak to your target audience. The most important part is the first two lines. Use them well. HubSpot used an image in their LinkedIn b2b lead generation strategy.
To get maximum LinkedIn b2b lead generation from your company page; you must complete your company profile. A company with a complete profile received twice more visitors than companies with incomplete profiles.
So be sure that the following information about your company is provided – Logo, Company description, Website URL, Company size, Industry, Company type, Location, etc.
The second LinkedIn b2b lead generation strategy is generate leads by creating a showcase page
2.LinkedIn B2B lead generation Strategy # 2: ?Generate Leads by creating a Showcase Page
Source: – LinkedIn
Showcase pages?are specialized pages through which companies can showcase different aspects of their business and simultaneously build relationships with the right audience.
Showcase pages are a perfect tool to segment your LinkedIn traffic. They are customized LinkedIn b2b lead generation strategy page.
For your company showcase pages to be effective, they must target a unique customer segment. You must also insert on the page a link back to your company website.
To make your company showcase page as powerful as possible, here are a few more tips:
? ?Optimize the page for conversion similar to your company page.
? ?Keep your page name short for it to be fully displayed
? ?Use a name for your showcase page that your audience will understand
The third LinkedIn b2b lead generation strategy is to generate leads by publishing great content
3.LinkedIn B2B lead generation Strategy # 3: Generate leads by publishing great Content
Another LinkedIn lead generation strategy is to create and publish great content. LinkedIn members with publishing access reported success with content publishing on LinkedIn.
A lot of competition exists among blogs on LinkedIn – 100,000 new articles are published on LinkedIn weekly. Thus, you must do all you can to make your blog stand out.
For your blog to stand out, your headline must be?brief, clear and accurate. This is because there is a limit to what a news feed can display. An intriguing headline has a higher potential for a click through. The entire post should not be over 300 words, except it is exceptionally good. Your audience is busy executives.
How often your post content is key in LinkedIn lead generation strategy. Your posts can be spread throughout the day to reach the highest number of readers.
The fourth LinkedIn b2b lead generation strategy is to generate leads by through LinkedIn lead generation form
4.LinkedIn B2B lead generation Strategy # 4: Generate Leads through LinkedIn Lead Gen Forms
As the name implies, LinkedIn lead generation form is purposely designed by LinkedIn so that advertisers can generate quality leads seamlessly from adverts on LinkedIn with a pre-filled form.
LinkedIn lead generation form is compatible with the various form of adverts available on LinkedIn. Whether your ad type is a sponsored content or an InMail, you can use a lead gen form to capture leads.
LinkedIn lead gen forms come with a pre-filled, formed containing users LinkedIn profile information. LinkedIn lead gen form will enable you to capture information such as the place of work, position, location, and the field of study with a few clicks.
With the click of a button, the user information is sent to the advertiser
This makes LinkedIn lead generation form an effective b2b lead generation strategy for your business.
With LinkedIn lead gen form, you can track your ad campaign?s cost per lead.
Bynder – a software company used lead gen forms to increase leads from sponsored Content by 400% and achieved a 20% conversion rate.
In other to get the best from LinkedIn lead gen form as a b2b Lead generation strategy, ensure that:
? ?Lead gen forms are concise
? ?You exclude fields that require manual input
? ?There is no disparity between your messages and call-to-action (CTA)
The fifth LinkedIn b2b lead generation strategy is to generate leads through LinkedIn groups
5.LinkedIn B2B lead generation Strategy # 5: Generate Leads through LinkedIn Groups
LinkedIn groups are vital tools for LinkedIn b2b lead generation. It can be used as a form of inbound marketing.
Groups are strategic to LinkedIn b2b lead Generation because people in groups communicate and share ideas with each other. A group is like a continuous networking event online. You can watch out for trends and be a part of important discussions.
For your LinkedIn b2b lead generation to be successful, your company must participate actively in group activities. Never take a side-line position.
Finding and joining the right group
There are over 1.5 million groups on LinkedIn to choose from. There is no point joining a group that will not serve your purpose of lead generation. The question to ask is ?who is my target audience?? and be equipped with the answer. This will give you a clue to potential groups that your company can join.
Use keywords to search for the right group. From a list of groups, dig deeper using group statistics – the number of people in a group, the number of active conversation, and group demographics etc. until you come up with the most probable group to join.
Respect the rules of the group. If you contribute meaningfully to conversations, company executives will naturally want to connect with you.
Other ways through which you can generate leads through LinkedIn group are:
? ?Polls
? Messaging group members
? Answering questions and
? Interfacing with other group members
The sixth LinkedIn b2b lead generation strategy is to generate leads through LinkedIn ads
6.LinkedIn B2B lead generation Strategy # 6: Generate Leads through LinkedIn Ads
Another effective LinkedIn lead generation strategy is to use LinkedIn Ads. There is a limit to leads that can be generated through organic company updates, hence a better alternative for LinkedIn b2b lead generation is to advertise your product and services. Through advertising, you choose your audience instead of waiting for the audience to choose your company.
To get more out of the paid LinkedIn ad, your company page profile must be optimized. If you haven?t, remember to create showcase page for the product or service you want to promote. Take all available steps that will allow for easy conversion when traffic rolls in.
With LinkedIn?s self-service solution you can create a targeted ad campaign in minutes, work within a budget, and choose impressions or clicks. You can automate your campaign with LinkedIn campaign manager within the advertising platform.
Different ad formats are supported in the campaign manager, they are:
Sponsored Content: – This form of advertising is a paid boost for increased visibility for your content. Your sponsored content show up in the feed of your followers. If you are thinking of expanding the people reading your posts, then sponsored content is the way to go. Choose the articles that are already popular with your followers.
For you to generate leads through sponsored content, your post must have a strong call-to-action (CTA) for a newsletter, catalogue, sign up for webinar,?etc.

Sponsored InMail:
This is an e-mail marketing campaign on LinkedIn. It can be used to send a personalized message, Invitations to a webinar or other events.? There is no limit on word count.
These are the stages involved in creating a LinkedIn ad campaign.
? ? Get started with campaign manager
? ? Choose your ad format
? ? Create your ads
? ? Target your ads
? ? Set your budget
? ? Measure and optimize your campaigns
Conclusion
LinkedIn is responsible for over 80% of a business?s social media leads! Thus it is a huge platform for b2b lead generation. This can be done through a company page, showcase page, publishing great content, LinkedIn lead gen form, and LinkedIn group, and LinkedIn ads.