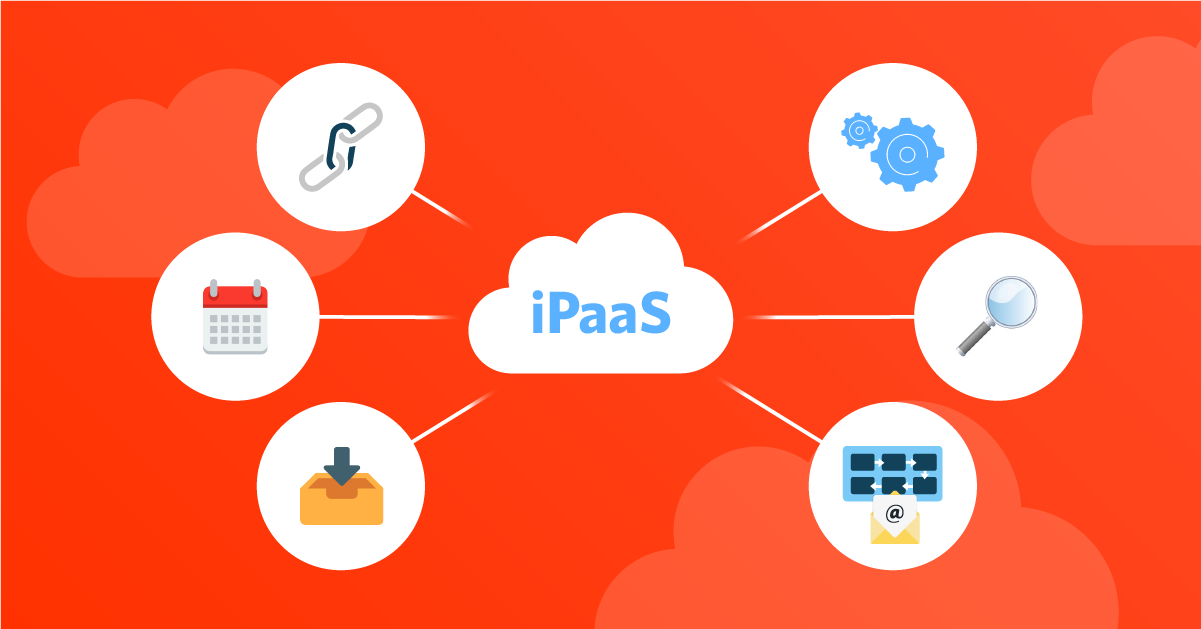 Over the years, as tools become more and more refined to be industry or application-specific, more online tools are created or defined.
For example, most people in the marketing industry have heard of a SaaS, which stands for Software as a Service. This is a common name for a tool or software that is provided online for consumer usage.
More recently, however, a new, related online service has emerged, and people are calling it iPaas. In today's lesson, we're going to go over everything you need to know about iPaas, give some examples, and much more.
What is iPaas?
iPaaS stands for Integration Platform as a service. This is very much related to a SaaS, but instead of generically referencing the service as software, it is instead defined as being integration specific.
Both a SaaS and an iPaaS are very similar to what's called an IFTTT platform. IFTTT stands for If this, then that. These types of platforms rely on web-based services to connect and string your applications, devices, and services together online.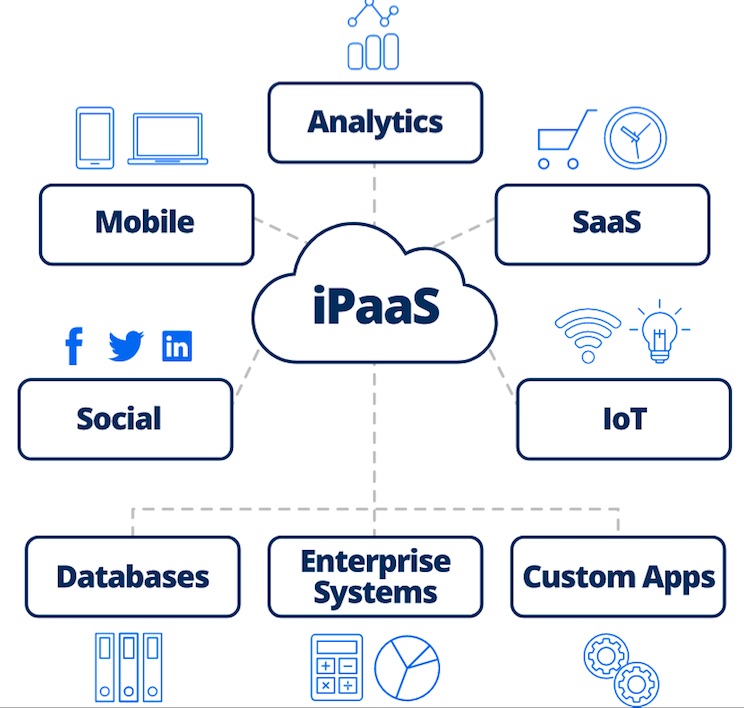 Source: Cazoomi
Many IFTTT, SaaS, and even iPaaS do not have a major focus. Instead, they allow users to integrate with some of the major online tools and platforms, and that's it. Instead, with a tool like LeadsBridge, you get a highly focused marketing integration platform that offers more marketing-related integrations than any other platform of its kind.
But we'll get into the specifics later on. For now, just keep the following definition of iPaaS in mind:
iPaas definition
The exact definition of iPaaS is as follows:
iPaas (Integration Platform as a service) is a cloud service that allows users to integrate various tools and platforms, connecting them in order to better develop, execute, and manage data and workflows across multiple channels and organizations.
Essentially, iPaas allows you to connect your platforms together in order to better manage data across both channels.
Alternatives to iPaaS solutions
Just like everything else online today, there are a few alternatives to using an iPaaS solution. But, they each come with their own pros and cons. Here are some of the alternatives to keep in mind when searching for an iPaaS solution:
Native integrations
A native integration is a simple term used to describe a tool that utilizes data to improve the performance of another tool. A good example of this would be integrating your CRM with Facebook Lead Ads. Data from Facebook is used to directly enhance your CRM, and vice versa.
Pros: Native integrations are great because they're typically free if you're already an existing user. As a good example, Clickfunnels can integrate with Aweber for free. If you're already a user, the integration doesn't cost you anything.
Cons: Although native integrations are typically free, you don't really have a large variety to choose from.
Manual data management
Manual data management is something that can take up a lot of time. The time that can most certainly be used elsewhere. A good example of manual data management is the use of CSV files. If you've ever dealt with CSV files manually, then you'll know that dealing with them is nothing but a headache.
Pros: Let's be honest here, although manually managing your data across multiple platforms is considered to be an alternative to an iPaaS, it's not a very good one. For this reason, there really aren't any pros to list here.
Cons: Again, there aren't any pros to manual data management, which is the biggest con. It costs you time and even money in the long run.
Hiring developers
Hiring developers can be a very good thing for a lot of companies. Especially if that company is already growing.
Pros: For a lot of companies, developers are a must anyways. But, if you have to hire developers to specifically work on an iPaaS alternative, then it's not worth it.
Cons: Anytime you work on an in-house solution yourself, especially if it requires hiring new developers to create, you run many risks. Data leaks and privacy issues are just a few to be concerned about.
Paas vs iPaas
Paas stands for "Platform as a Service" while iPaas means "Integration Platform as a Service".
Paas is a platform that has numerous features that developers can use to create their applications. As defined above "iPaas (Integration Platform as a service) is a cloud service that allows users to integrate various tools and platforms, connecting them in order to better develop, execute, and manage data and workflows across multiple channels and organizations.".
Paas is based on a portion of a development project than the entire project while iPaas offers integration solutions that allow users to connect between websites, data sources, applications, and interfaces.
Paas needs skilled developers that know how to code before it can be used while anyone can use iPaas to create integration without knowing how to code.
Paas features are used to build applications while iPaas features are for creating integrations.
Applications created by Paas are in the same environment and do not need integrations while small businesses will need iPaas to connect together applications created by different developers.
Examples of Paas applications include SAP cloud, Microsoft Azure, Heroku, Dokku, and Google App Engine. While examples of iPaas applications are Windows Azure, Google App Engine, Openshift, IBM App Connect, and Dell Boomi.
Saas vs iPaas
SaaS stands for software as a service while iPaas means Integration Platform as a Service.
SaaS is hosted by vendors while iPaas is cloud-based. SaaS offers ready-to-use applications for the company's needs. iPaas on the other hand provides cloud-to-cloud integration services.
SaaS uses the internet to deliver applications that are managed by third-party vendors. While iPaas is delivered through the web so that developers can be free to focus on building software without worrying about software updates or infrastructures.
SaaS is great for applications that are not required often. An example is tax software. While iPass is great for building customized applications.
SaaS is also suitable for companies that need a quick setup while iPaas is suitable for applications that need deployment.
Examples of iPaas applications include LeadsBridge, IBM App Connect, Dell Boomi, and Jitterbit. While examples of SaaS applications include Dropbox, Google Apps, WebEx, GoToMeeting, and Salesforce.
Ipaas Benefits: Why you need integration as a service
With everything said just above, it's easy to see how finding a good alternative for an iPaaS can be difficult. For that reason, we also comprised a shortlist of iPaas benefits that shows why you should consider using an Integration as a Service platform. Below are some of the iPaas benefits.
Easier to maintain very high-quality standards
High-quality standards are great for a company to base its foundations on, but they aren't so easy to maintain. Although an integration as a service platform like LeadsBridge can't help maintain high-quality standards across the board at your company, it certainly can when it comes to data management.
Maintaining a GDPR-proof structure
Data privacy laws are changing all the time, and they aren't easy to keep track of. On top of that, they defer depending on whether or not you're in the United States, or in the EU with GDPR. It can even depend on what state you're in. For example, California goes by CCPA laws, which is their own, unique set of data privacy regulations.
With an iPaaS, you can rest assured that the privacy of data is maintained, and all laws are honored. With any sort of alternative like we mentioned above, there aren't any guarantees.
Quick support
With an iPaaS like LeadsBridge, no question will ever go unanswered. When it comes to creating your own solution, you also have to maintain the integrity of the software, schedule, or procedure that you've come up with, which is a major task in itself.
Instead, we have a team of experts ready at any time to answer any questions, fix any issues, or provide any helpful insight that you may need.
No need to frequently update the integrations
With LeadsBridge, once your integration is connected, you don't need to maintain, upload, or update anything. This, as you can imagine, saves loads of time, and provides you with the instant insight that you need to make better and faster marketing-driven decisions.
What you can do with an integration platform: Some examples
With LeadsBridge, there are quite a few helpful uses that you just simply won't get anywhere else, making it easier to run a marketing team, and again, make decisions based on real and always updated data. Here are a few:
a. Audience sync
Audience Sync is a tool created by LeadsBridge for retargeting audiences from your CRM/platform on Facebook, LinkedIn, and Google. It gathers data such as email address, phone number, and Lifetime Value and keeps them synchronized with your advertising platform so that you can retarget accurately.
b. Online-to-offline
Online-to-Offline tracking provides companies such as retailers, enterprises, and in some cases even call centers, with an easy way to track conversions that could not be tracked online and combine those signals with their online marketing data.
c. Lead Sync
LeadsBridge Lead Sync is a feature that allows you to synchronize your lead data from platforms like Facebook, Linked In, and Google with your other marketing tools. By doing so, you can stay on top of your lead generation campaigns, and make valuable and data-driven decisions.
These are just a few reasons why marketers all over the world use LeadsBridge every day, but don't just take our word for it, check out these incredible success stories:
Mercedes-Benz Vans Turkey
Mercedes-Benz Vans Turkey had a very lengthy response rate of their leads due to the manual importation of lead data. Their goal was to decrease that response time and by doing so, ultimately increase their conversion rate and overall sales.
Once Mercedes-Benz Vans Turkey started to use LeadsBridge to integrate Facebook Lead Ads with their CRM, their results were remarkable. In the end, they saw an increase of sales by 18%, and their overall lead generation results went up by 48%.
Our aim was to create the best user experiences for our digital sources. LeadsBridge accelerated our customer experience journey by providing us with the fastest way to reach our customers at the first point of contact. As a result, we achieved more qualified leads and sales.
-Nergis Sevin, Digital Marketing Lead, Mercedes-Benz Trk
R&R Sales
R&R Sales needed to develop a clear strategy for their auto sales to collect high-quality in-market leads consistently, and integrate those leads into their CRM with ease. By doing so, they wanted to create more appointments with potential clients and of course, close more deals.
Once R&R Sales used LeadsBridge to integrate their lead data directly into their CRM, they saw some impressive results. They saw 60+ new leads per month (which is a lot in the auto industry). They also managed to reduce their website traffic costs by 93%, and their average cost per lead went down to only $23.99.
The auto industry as a whole had incorrectly assumed Facebook was just an engagement platform. The venture has helped my dealership leverage the increased usage of Facebook to reach more in-market shoppers and produce lower-cost, better-targeted leads. The CRM integration and accuracy of the leads has allowed my BDC team to create more appointments and close more deals.
-Gary Campbell Dealer Principle R&R Sales Inc
Piggo
Piggo had a massive need to optimize its individual marketing campaigns. Their biggest goal was to build a Facebook Lead Ads strategy so that they could lower their customer acquisition costs and reach more people that would install their app and purchase from them.
Piggo used LeadsBridge to connect Facebook Ads with their CRM and saw a decrease of 300% in their customer acquisition costs, and their ROI went up by a staggering 150%.

We optimized the campaigns and lowered the Customer Acquisition Cost by 3 times. The company has never seen such results.
-Leonardo Couti
Conclusions and takeaways
With iPaaS technology, managing marketing data and avoiding data silos becomes much easier. Although there are many alternatives out there to choose from, none of them quite measure up to the intuitiveness and the success of a true iPaaS.
LeadsBridge provides easy marketing integrations so that you, too, can make the most of incoming marketing data, and make more data-driven marketing decisions.
iPaaS technology is fairly new to the marketing world, but it is a lifesaver. Not only are you able to jump on incoming marketing data as soon as it hits, but you're able to do so without wasting time and inevitably money.
If you really want to take advantage of a powerful iPaaS, then try LeadsBridge for free today.