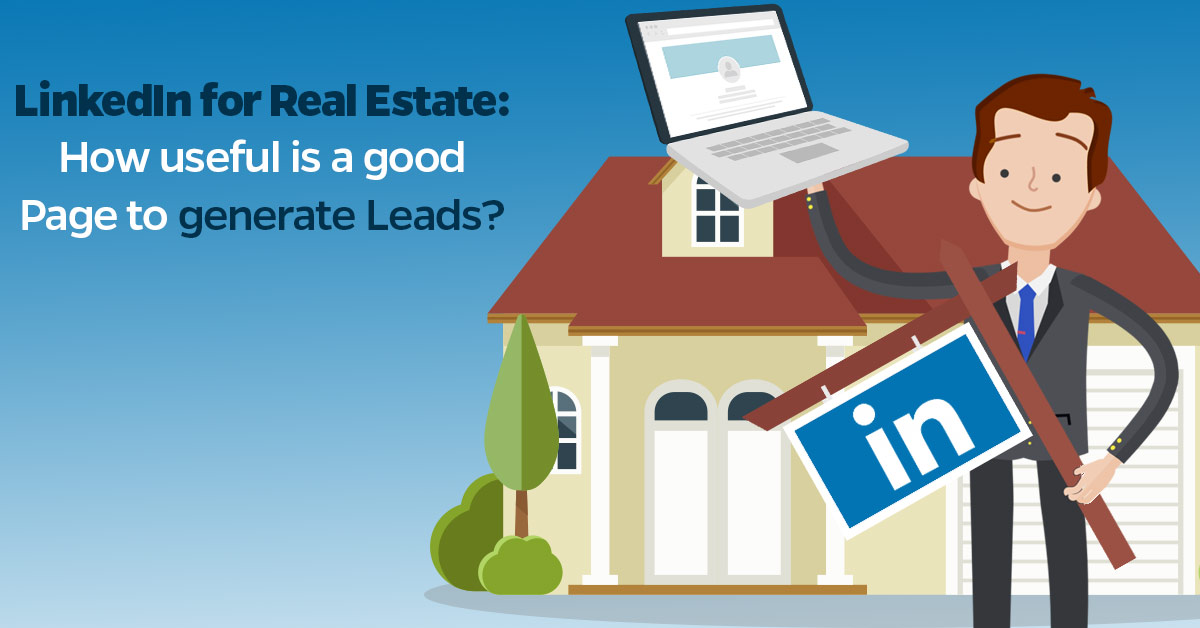 LinkedIn is a professional social media network. It's designed for use by all types of professionals and businesses, with features that allow you to join in with conversations, post articles and advertise jobs or look for work. Real estate agencies can get a lot of use out of LinkedIn, both when looking for buyer and seller leads and promoting their business for recruitment too. If you want to generate leads on LinkedIn, there are many techniques that  you can use to be a big name in LinkedIn real estate. The big questions are how useful is LinkedIn for real estate businesses, and how can you make the most of it.
Table of contents
-Fill Out Your Page Thoroughly
–Really Focus on the Summary
-Post Content Regularly
-Post Different Content Types
-Use Calls to Action
-Showcase Properties
-Make a Showcase Page
-Directly Search for and Connect with People
How Useful Is LinkedIn for Real Estate Agencies?
LinkedIn is a super useful tool for all real estate agencies. If you're looking for a way to bring in new leads, social media is essential to use. It's a great way to connect with real people, offer personal advice and find the right audience. LinkedIn is the ideal social network for estate agents, whether you sell domestic or commercial property. Not only can you find business owners who might be looking for the right property but you can also discover people who might be looking for a new home. Because LinkedIn is for professionals, you can guarantee there will be many people on there who are currently house hunting or soon will be. With the right LinkedIn real estate tips, you can make the most of the platform.
LinkedIn is more fitting for real estate over any other social media platform because of the professional network and overall professional atmosphere that it produces. Sure, creating other social media accounts can and inevitably will make an impact, but LinkedIn has proven itself to be an incredible opportunity for real estate agencies around the world.
Why Use LinkedIn for Real Estate Leads?
There are some excellent reasons to choose LinkedIn to promote your real estate agency. In fact, if you want to choose one social media platform to focus on for generating leads, LinkedIn could be your best choice. Hubspot says that LinkedIn is 277% more effective for generating leads compared to Facebook and Twitter. This is probably because, although you can advertise on both platforms, they're not designed to be professional networks like LinkedIn. So the sooner you start generating LinkedIn real estate leads the better. You'll soon discover how useful LinkedIn is.
But how do people use LinkedIn to find the right real estate agent? Understanding this is one of the ways you'll discover how useful LinkedIn is. People use LinkedIn to find out more about agents they have found elsewhere, vet their skills, experience and qualifications, and network with other professionals. People originally come on LinkedIn to network with other professionals in their own field, but they can soon discover that LinkedIn real estate resources are extremely helpful. When people are networking, they can be interested in your professional services, even if they're not currently looking to buy or sell a property.
Moreover, LinkedIn Lead Gen forms are a great way to turn leads into conversions. With these forms, real estate agencies can ask more impactful questions, therefore having more accurate information about their audience.
With LinkedIn Lead Gen forms, designing the right experience is key. Since the forms are customizable, you want to make sure that the right questions are being asked. Depending on the market, location, and so forth, these questions can vary.
With these forms, you have double conversion potential. When the user signs up for emails or follows through with your CTA, and when they click the link on your website, you receive their email. Now, you can target them specifically with more offers and give them more choices.
If you'd like to know more about how this can help your real estate agency, be sure to check out our article on Everything you need to know about LinkedIn Lead Gen Forms. We've gone into extreme detail, and left no stone unturned.
Building an Optimized LinkedIn Page
To make the most of LinkedIn real estate possibilities, you need to build pages for your agency and for you and your staff that will impress. LinkedIn gives you the opportunity to create a page for your brand, but also individual profiles for anyone who works there. You should encourage everyone you work with get involved and engage not just as individual professionals but as representatives for your brand too. They might be asking how useful is LinkedIn if they don't already use it, but you can easily show them the merits for them both at work and in their wider career.
If you want to optimize your presence on LinkedIn, you have to know the difference between your personal profile and your company page. Your personal profile can be used to demonstrate your experience, list your education and post content that represents both your personal brand and your company. Your company LinkedIn Page is for your business. You can use it to see how useful LinkedIn is by posting content that attracts buyers and sellers, as well as filling out your page to provide plenty of useful information and build your reputation. You can link your personal profile and that of your employees and colleagues to your company page.
Fill Out Your Page Thoroughly
When you create a new page for your LinkedIn real estate profile, you should provide as much information as you can. If you don't already have a page, start by clicking the Work icon and then selecting Create a Company Page. You can choose from small business, medium to large business, showcase page or educational institution. You will be asked to put in some basic information before you can create your page. Once it's created, there are many things that you can change to see how useful LinkedIn is and can be for your company.
There are lots of elements that you can change on your page. You can start with the name and overview, which you can edit by selecting the "Me" icon and choosing your Company Page under Manage. There are also sections for About Us, Locations, Specialties, and more. As well as filling out all of the text options with as much information as possible, remember that visuals are important for your LinkedIn real estate Page too. As you begin to add images and information, you'll see how useful LinkedIn is for building your online business presence and bringing in new leads.
It is important to give viewers as much detail about your real estate company as possible. Remember, this is how a lot of potential buyers will get to know you. This is a good place to add all your credentials, happy buyers, customer engagement stats, and more. Whatever you can think of should be added. The customers who are potentially spending hundreds of thousands of dollars with you will appreciate it.
Really Focus on the Summary
One of the first things that anyone sees when they click on a profile is the summary. This is a very important aspect of a LinkedIn page, so it gets its own section. First impressions matter a lot to people willing to spend thousands upon thousands of dollars. 
A good summary should include everything that you want potential clients to know about you from the get-go. This could include job/company history, customer success stories, helpful statistics, and so on. You only have 2,000 characters, so make it really count!
If you're still stumped, check out these LinkedIn summary examples for some inspiration.
Post Content Regularly
Social media is an amazing tool for sharing content. Content marketing is vital for modern companies, and real estate agencies need to make sure they make use of it. To make your LinkedIn real estate Company Page look amazing and attract new buyer and seller leads, you should be posting content regularly. Some of the content can be yours, while some could be interesting content from elsewhere that's relevant to your audience. When buyers and sellers look at your page, they want to see that you keep it updated. They know how useful LinkedIn is when they're looking for an estate agent, but you have to hold up your end of the bargain.
A good idea here is to take pictures and use them every time a customer buys or sells a home. This will do 2 things: Show how much you care for your customers, plus increase engagement on your LinkedIn real estate page. Plus, you'll keep it constantly up-to-date and attractive for page viewers.
Post Different Content Types
It's also important to post different types of content to your LinkedIn real estate Page. Different content types can attract people in different ways, so mixing things up should keep people interested. For example, you might link to blog posts, and you can also post articles directly on LinkedIn. But you can also share information images and infographics, as well as videos. You might post a video explaining an important part of the home buying process, for example. You could even talk about how useful LinkedIn is for finding the right estate agent. Good use of content on your page can help to improve SEO for your site and show buyers and sellers that you're informed and trustworthy.
Use Calls to Action
To collect leads for your real estate agency, you need to use calls to action. When you post content, suggest that people perform actions to interact with your company. This includes prompting them to get in touch with you, take a look at more of your content, or interact with you right there on your Company Page. Your LinkedIn real estate page can lead people to your website or prompt them to get in touch with you directly. You can experiment with different calls to action to work out how useful LinkedIn is as a tool to get buyers and sellers to engage with you.
Showcase Properties
One of the best things about promoting a real estate agency is that your properties make perfect products to showcase. When you have new properties on your books, there are many ways to show them off. Post links to your listings, upload high quality photos, and even create walkthrough and tour videos that you can post right on your LinkedIn real estate Company Page. But how useful is LinkedIn for visual content like photos and videos? It's a pretty good platform for both of these things, making it easy to share what you want. You can use images to make your page look amazing, and videos provide informative content too.
Make a Showcase Page
In fact, the perfect place to post all of your most important content is a Showcase Page. These serve as somewhere to put your listings or to share blog posts, special offers and more. Your Company Page is like a second website while your LinkedIn real estate Showcase Page is like a flashy landing page that demonstrates more about you. You might wonder how useful a LinkedIn Showcase Page is if you already have a Company Page. But it adds to your existing Company Page to make it more appealing.
Directly Search for and Connect with People
Don't wait for leads to come to you to make the most of LinkedIn real estate benefits. You can go looking for them and connect with them. Connect with old contacts, others in the real estate industry and related areas, old colleagues or clients, and even people you want to school with. They might not realize how useful LinkedIn is for finding real estate services yet, but you can show the.
Make the most of your LinkedIn real estate presence by building a killer page and learning just how useful LinkedIn is for all real estate professionals.
If you aren't already using LinkedIn for Real estate, you definitely should. LinkedIn is a great way to network with potential buyers, and give them the chance to know more about you. Using the many tools that LinkedIn already provides, it's easy to maximize your presence on the platform, and make more buyers happy. 
Once your page is set up, you can use LinkedIn analytics to see what sort of content is and isn't working well for you. Using LinkedIn analytics, you can track clicks, impressions, and interactions. After some testing, you can determine what sort of content gains followers, and focus on that.
All-in-all, LinkedIn is an outstanding platform for real estate agencies and agents alike. It's quick, easy to set up, and can make a massive impact for either a single agent or an entire agency in an area.