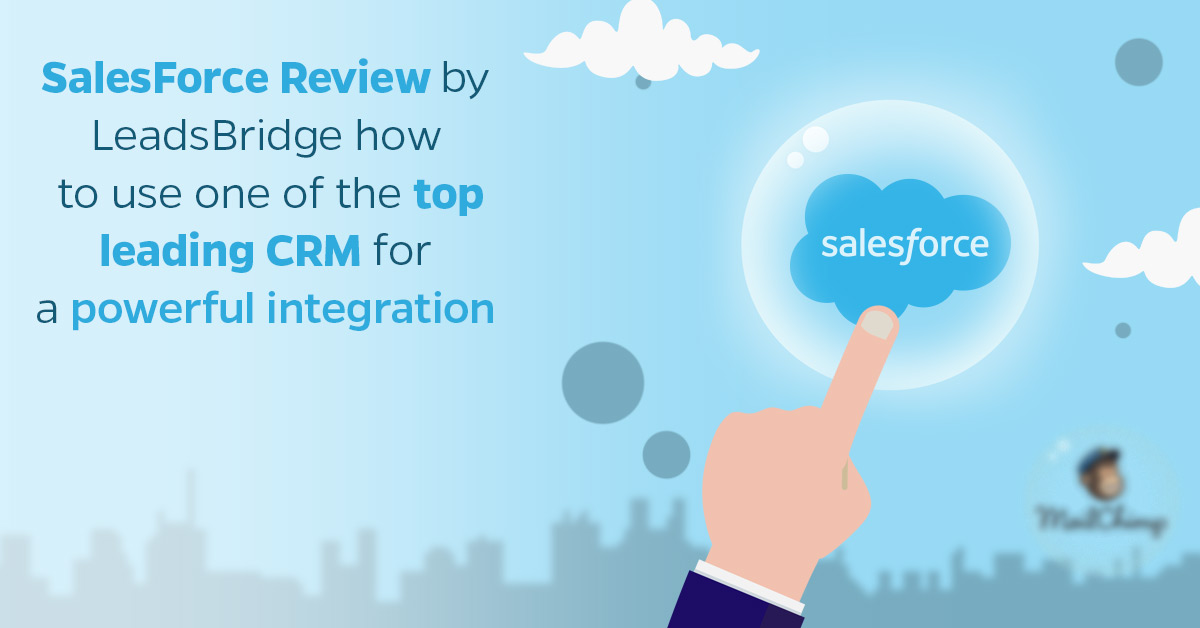 Salesforce is a Customer Relationship Management (CRM) application for small, medium and large businesses and organizations. The crm software of Salesforce makes it easy to connect businesses and organizations with their customers, employees, partners and products. The Salesforce crm software started the cloud CRM trend.
Salesforce was established in 1999 by Marc Benioff, Parker Harris, Dave Moellenhoff and Frank Dominguez in San Francisco. Their goal was to recreate the Cloud CRM model. Today, Salesforce crm software is the standard for all CRM solutions and it still remains a leading brand after years of being in the market.
The crm software of Salesforce has different features, third-party integrations and add-ons that boost its functionality.
In this Salesforce review, we will look at the features of Salesforce crm software and the third-party integrations. But before that, let's see the reasons for a crm software Salesforce for businesses.
Why do you need crm software Salesforce for your business? Below are 5 reasons why you need Salesforce crm software for your business:
1.Salesforce crm software enhances customer service
Customers are very important to your business. This is why you need to treat them well. According to Omnicore 74% of consumers spent more due to good customer service. This means providing a positive customer experience will boost your sales. With the crm software of Salesforce, you can easily access your customers history so that you can provide support whenever they need it.
2.Salesforce crm software helps you to automate your daily tasks
Closing sales is not an easy task. You need to fill forms, send reports, consider legal issues, etc. These tasks can easily be automated by Salesforce crm software. With this CRM, you can pay more attention to other business details that will enable you to quickly close more deals and make sales.
3.Salesforce crm software helps you to communicate better
Salesforce crm software makes it easy for any employee to access customers data, including their communication history. This will make it easy for any employee to attend to any customers and help them if the need arises. Salesforce crm software is easy to use because it is cloud-based and you can access it from any device with an internet connection.
4.Salesforce crm software have enhanced analytical data and reporting
Data is very important to businesses. When analyzed correctly, it will show you your progress in business (i.e. profit and loss) and you can easily make forecasts based on it. However, if you miscalculate it, it may impede your success in business.
Salesforce crm software keeps your data in one place. You can easily analyze and generate up to date report from it. You can also integrate other tools like Leadsbridge into it, to keep all your leads details in one place. With your data in one place, you can make better decisions for your business.
5.Salesforce crm software increase the efficiency of your teams
Salesforce crm software automatically stores customers details. This will enable your sales, marketing and customer service teams to access the same information anywhere they are. Your teams will be able to collaborate to funnel leads further in the sales pipeline in order to close deals easily.
Now that you know the benefits of crm software of Salesforce, Let's look at Salesforce review. Here, we will start by looking at the features.
Let's started.
Salesforce Review: The features of Salesforce CRM software
Salesforce CRM Software feature 1: Contact Management
The contact management feature helps you to quickly access your customers data to know their communication history and how to engage with them. You can collect data from your customers social content feed to know their perception about your business. You can transfer the contact details to other people in your company and access it from anywhere so that you can easily close sales when it is hot.
Salesforce CRM Software feature 2: Lead Management 
The crm software of Salesforce allows you to track all the necessary information about your leads. It shows you where a lead is coming from and other details you can use to make informed decisions. You can also write and track emails from the Salesforce crm software. You can create automatic lead scoring and assigns leads to the right employee in order to avoid cracks in the funnel. It gives you the opportunity to easily and quickly track marketing campaigns so that you can convert more leads.
Salesforce CRM Software feature 3: Enhance your productivity
The Salesforce crm software has productivity tools that will enhance your workflow. The crm software of Salesforce can transform your mobile device into a sales office. You can use it to record calls, answer your prospective customer's questions, and check your dashboards on your mobile phones and tablet anywhere you want.
You can use workflow and approvals to design and automate business processes easily. This will help you to easily approve processes for deal discounts, expenses, etc. You can also share and sync your files across your organization. You can search for content and share it whenever you want.
Salesforce CRM Software feature 4: Make informed decisions with reports and sales forecasting
Salesforce crm software transforms your data into insights that you can use to make informed decisions for your organization. The dashboards give you a preview of your business. You can create reports and access it anywhere you like. You can also get real data on your business with forecasts.
Salesforce CRM Software feature 5: Salesforce crm software integration with Leadsbridge
One advantage of using salesforce crm software for your business is that it can integrate with different third-party apps such as Leadsbridge, Jira, Zapier, Outlook and other data and development tools. The most important aspect of this integration is with Leadsbridge.
Leadsbridge is a complete suite of lead generation tools created to connect user's lead generation with more than 45 crm and other software. With Leadsbridge, you can connect your Facebook lead ads with Salesforce crm software.
Leadsbridge helps you to save time to grow your clients base. Instead of logging in to Facebook to get the leads and start sending them emails, Leadsbridge takes care of that for you. You can easily send your leads from the Facebook leads ad to Salesforce crm software through Leadsbridge integration. You can also integrate Facebook audience and Facebook offline conversions with Salesforce crm software.
The integration between Leadsbridge and Salesforce crm software gives you control over mapping. For example, if you have a custom field in your Facebook lead ads forms you can select how to map the field to Salesforce. This integration is particularly beneficial to car dealership businesses. You can easily close deals and sell your vehicles through Leadbridge by collecting leads from Facebook instead of directing them to your website and hoping to convert them. You can quickly add new leads from your Facebook lead ads to your email sequence so that you can automatically follow them up without any delay in communication.
Conclusion
The Salesforce review above shows the benefits of Salesforce crm software to small, big and large businesses. To further enjoy the functionalities of Salesforce crm software, integrate it with Leadsbridge to get access to your leads as they signed up. This will enable to quickly nurture them and turn them into customers in no time. The best thing about Leadsbridge and Salesforce crm software integration is that it saves you time. Everything is setup to work automatically once you do the integration. All you need do is to set up your email sequence and watch your leads increase.
Discover LeadsBridge's Salesforce integrations!