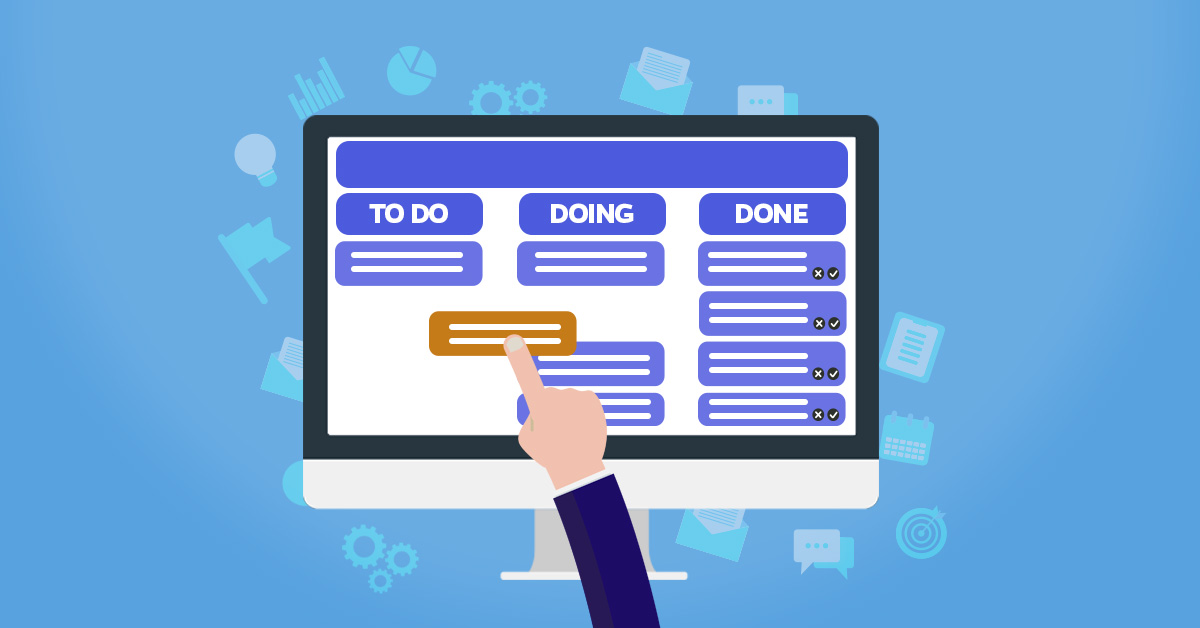 Index of content:
Nowadays, finding the right Task Management software and Document collection software for a company's needs has become a real challenge.
This is because the quantity of existing tools is really high and the needs are different from company to company.
As can be seen from Statista's data, the business of this category of software is growing quickly and this is thanks to the great contribution that Task Management software makes to companies.
In this article, I will talk about what a Task Management software is, why to use it, and what are the benefits of using it. We will also see a list of the best Task Management Software and Task Management App of 2020.
What is a Task Management Software?
Task Management software is a tool that helps companies to manage projects/tasks efficiently, and according to actual planning within the process of its life cycle.
The main features of this type of tool are:
Monitoring the progress of the task
Delegate work to team members
Set deadlines
Adjustment of working schedule
However, Task Management software not only helps in resource planning, project estimation, milestones, and so one.
It also takes part in identifying the problem and changing the priority of methods and resources based on available circumstances.
For this reason, Task Management software is often integrated or used together with Project Management software because they allow optimal project management thanks to their ability to assign tasks to different resources.
Task Management software has beneficial features for a project manager, such as time tracking, time budgeting, deadline assignment, and task lists creation.
Besides, Task Management tools include budget management, email synchronization, task timer, task reminder, and collaborative interfaces. Suppose some Task Management software does not have some features.
In that case, they can be easily integrated with software for idea management, software for automating processes, software for managing time and expenses, and software for workflows offering a high level of customization.
Why companies need Task Management Software?
The use of a Task Management software can bring numerous benefits, both in communication and internal team management.
In detail, we can speak about these four main benefits of why companies need Task Management software :
Improves the company's internal communication
Helps companies to organize the work better
Helps peoples to prioritize tasks
Helps teams to collaborate effectively
A Task Management Software improves the company's internal communication
The internal corporate communication is a fundamental point for sharing the corporate mission and aligning the entire staff.
Good internal communication on the performance of the tasks allows teams to be all focused on the same goal of the company.
Furthermore, the use of tools such as Task Management software helps increase the spread of communications thanks to two benefits, efficiency/speed in data transmission and capillarity.
Task Management Software helps companies organize the work better
Like most companies, teams face numerous tasks every day.
Let's take the Marketing team as an example; the staff of this team will have to deal with creating different tasks such as:
the creation of content for the blog and landing pages
the creation of content for social media marketing
hosting new webinar
market research and much more
Without a Task Management software, keeping an orderly track of all these activities would become very complicated and time-consuming.
And don't forget the difficulty with the task deadlines, insane.
Fortunately, the task management tools were designed for this.
Task Management software is a dedicated space for monitoring the progress of activities, assigning tasks, and managing schedules.
In this way, it will be more challenging to lose track of leading tasks and secondary activities, thus respecting the deadlines.
Task Management Software makes it easier for teams to prioritize tasks and collaborate effectively
All the tasks that are assigned are not the same. Some are more urgent than others; for this reason, it is necessary that the teams have the ability and the skills to manage priorities.
Task Management software offers a complete task management system to solve this problem, thus helping to prioritize tasks to work on what is most necessary immediately.
Since each task has a dedicated space, it will be easier for the team to consolidate information and work on things together, thus allowing the sharing ideas, files, and feedback on activities and completing tasks quickly.
The best 10 Task Management Software
Pleexy is an integration software specially designed for task management. It provides its users with a platform to optimize productivity by synchronizing the tools they use to manage their tasks.
Using this software, companies can save their time thanks to bringing emails, Trello data, Jira, and meeting notes into the user's preferred task manager.
Pleexy allows its users to set priorities and adjust them as per requirement, thus keeping the user always aware of the main task in the list based on preferences and due dates regardless of where the task is coming from.
With Pleexy, teams will forget about the chaos and manual design of multiple workflows using dozens of recipes. Once connected with your various favorite tools, Pleexy automatically keeps all activities in sync, so teams don't have to waste time switching between apps.
2. RingCentral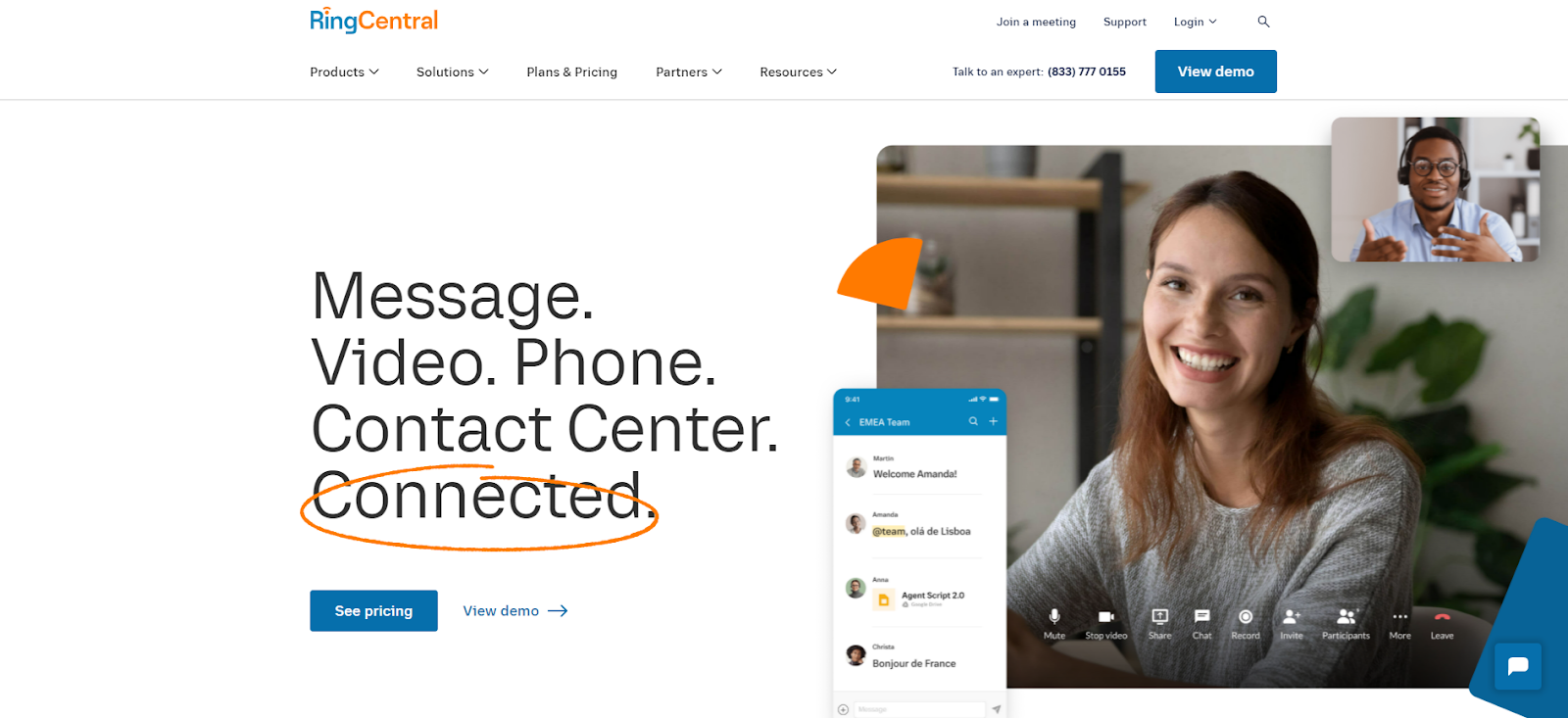 Whether you choose to work remotely or inside the office, RingCentral's cloud-based communications and collaboration solution can help you collaborate with your team from ideation, planning, execution, and even follow-up. 
What sets RingCentral apart is its seamless combination of team messaging, secured file sharing, and task management in a single platform. From quick chats to video conferences, every feature is designed to facilitate communication among the team to help ensure that tasks are done, and deadlines are met. 
For added efficiency and reliability, you can integrate RingCentral with other tools essential for your tasks, such as Salesforce, Jira, Trello, and Zapier. You can also use its reporting and analytics feature to get insights on how to increase team productivity and drive better business results.
In terms of flexibility, you can access RingCentral across different devices including your phone, tablet, laptop, or computer. It lets you and your team collaborate anytime, anywhere. You can even enjoy these perks for free, just download our RingCentral Video Pro, with the option to upgrade to a paid plan anytime.
Asana is a task management software that allows teams to manage their projects and tasks. This software is a collaborative application that promotes visibility and transparency and will enable companies and users to focus on their business goals and objectives. The productivity tool includes an easy-to-use interface and smart features, so people can share plans, communicate in real-time, track progress, and get insights from views and reports.
Asana allows teams to organize work through a highly visual platform, where team members know who is doing what and when. Users can easily create new tasks with a simple interface, duplicate an existing task, merge two tasks, print, or delete it. Although activities are the basic unit of action, projects allow teams to organize all activities related to a specific initiative or goal. Other features include a centralized file view, task dependencies, and a timeline view.
Asana's collaboration tool allows team members to post comments or questions directly into activities for immediate clarification. The real-time communication feature minimizes the need for time-consuming meetings but instead allows for a quick response.
Conversations allow teams to discuss the progress of a project and even create a task directly from exchanges. It also has team management features like team pages to chat with the entire team and see all their projects. Users can also follow up to be updated on specific activities and projects and collaborate with external suppliers, contractors, and partners.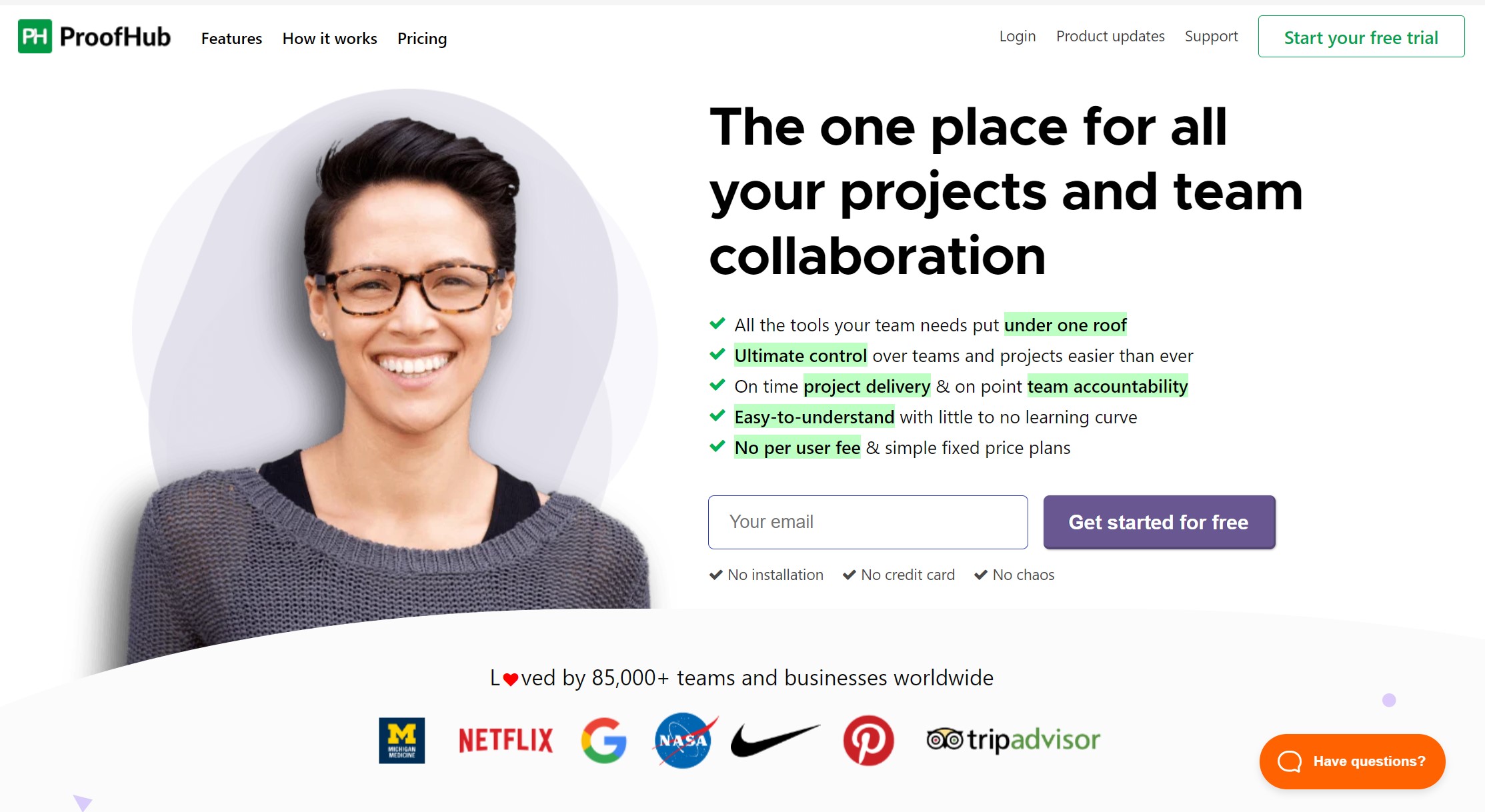 ProofHub is an all-in-one task management and team collaboration software that connects work across the organization and provides teams with constructive ways to get work done faster and smarter. 
It simplifies task management by providing you the flexibility to switch between Table view, Kanban view, robust Gantt charts(timeline), and calendar view as per the requirements. With in-built features like a chat application, real-time discussions, online proofing tool, file sharing, note-taking, time tracking, reporting, and more, teams can focus more on accomplishing their tasks and less on just managing or planning stuff.
It helps you create an environment of transparency to always know who's working on what and what has been accomplished. You can set priorities, keep track of your team's work, and stay updated with the overall progress of tasks or projects. ProofHub gives you everything you need to keep in sync, hit deadlines, and reach your goals.
This cloud-based task management software comes with a 14-day free trial and two flat pricing plans – the basic plan, priced at $45 per month, and the highly recommended Ultimate Control plan with all the core features, priced at $89 per month.
Trello is a task management software that uses Kanban boards representing projects, assignments, and lists that can be used to track the status of different plans, all for moving tasks or organizing materials of resources in real-time.
The tab system allows team members to interact and collaborate on projects: users can add comments, links, files, and photos to project cards.
Trello makes its installation a straightforward process that only takes a few minutes. It is unnecessary to enter too much information to start: name, email address, and password will be enough to start.
Trello offers its users a clean and easy to use and navigate interface; the main screen shows recently viewed boards and personal boards, where it?s possible to create a work team and access other boards from the left side of the screen.
Teams can create boards from the main dashboard or Boards tab, and each board can be named according to the project. You can then add "To Do", "In Progress", and "Finished" tasks. These can be scheduled for specific dates and times. In this way, it will be much easier to respect the tasks' deadlines and follow their progress.
Trello's default setting offers a blue background. However, this setting can be customized from the right side of the Scoreboards screen. Cards can be filtered with colored labels and set for specific periods, e.g. "Due next week". It?s also possible to set privacy filters to public, private, or team only.
Trello Power-Ups add extra functionality to cards, giving you the ability to add buttons to boards, show attachment previews on Trello cards, etc. Some power-ups add a calendar view, time tracking, voting, Google Drive, and Notejoy.
Monday.com is a task management app designed to offer its users a flexible and transparent way to organize their work. With a highly visual planning interface and customizable workflows, this app perfectly fits the unique way team members approach their projects.
This app is a complete productivity suite that includes all the features that companies need to break down teamwork, track project progress, and ensure individual tasks are completed on schedule.
Once you have chosen a workflow design to use, it?s possible to adapt it to the company's specific needs. For example, add a star system to show the priority of different activities. Also, there are numerous viewing options, such as maps and calendar views.
One way Monday.com simplifies project management is by streamlining the assignment of individual tasks to different team members to access a full "Timeline" view of various projects.
Monday.com is the ideal task management app for anyone looking for an accessible system that their team will use. Unfortunately, some essential features, such as calendar views, are only available with the more expensive subscriptions. However, Monday.com stands out with its sleek design and adaptable third-party integrations.
Nifty is a cloud-based task management app that aligns project teams, accelerates project cycles, and automates progress reporting. It is designed to cater to all business types and sizes, giving them all the benefits of a powerful project management tool and more.
Nifty's project management functionality is anchored to core features that include project monitoring, collaboration support, and centralized workspace. The app effectively improves teamwork as it keeps all team members on the same page. Improve decision making by fostering collaboration, allowing team members to gather feedback, communicate, and share ideas, all in real-time.
Nifty facilitates integration with Trello, Asana, and Basecamp, automating collaboration, and project management. A mobile application is also offered on smartphones and tablets for Android and iOS devices, allowing users to manage corporate activities remotely. Nifty is available for free and paid monthly subscriptions.
Any.do is a web-based to-do list and task management app. This app is available in both free and premium paid and business editions with increased feature sets. Any.do users can create to-do lists and view upcoming and completed tasks in one place.
Any.do allows users to manage personal goals and the team's projects in a single interface. Users can create tasks, assign them to other team members, use the calendar tool to track tasks, and more.
Projects can be divided into activities and sub-activities delegated to individual team members for completion. Teams can collaborate by adding notes and commenting on activities directly. Any.do also allows users to attach most file types to their activities, including videos, audio recordings, photos, PDFs, and much more.
One-time and recurring tasks can be created in Any.do, and users can set task reminders triggered by date and time or location. Users can choose from expected frequencies with a recurring task, including daily, weekly, and monthly, or set up their custom recurrence instances. Any.do offers integration with third-party calendar tools such as Google Calendar and Outlook.
Additionally, Any.do has apps for almost every platform: Android, iOS, macOS, web, Apple Watch, Wear OS, Amazon Alexa, Siri, Google Chrome, plus an add-on for Gmail and Slack integration.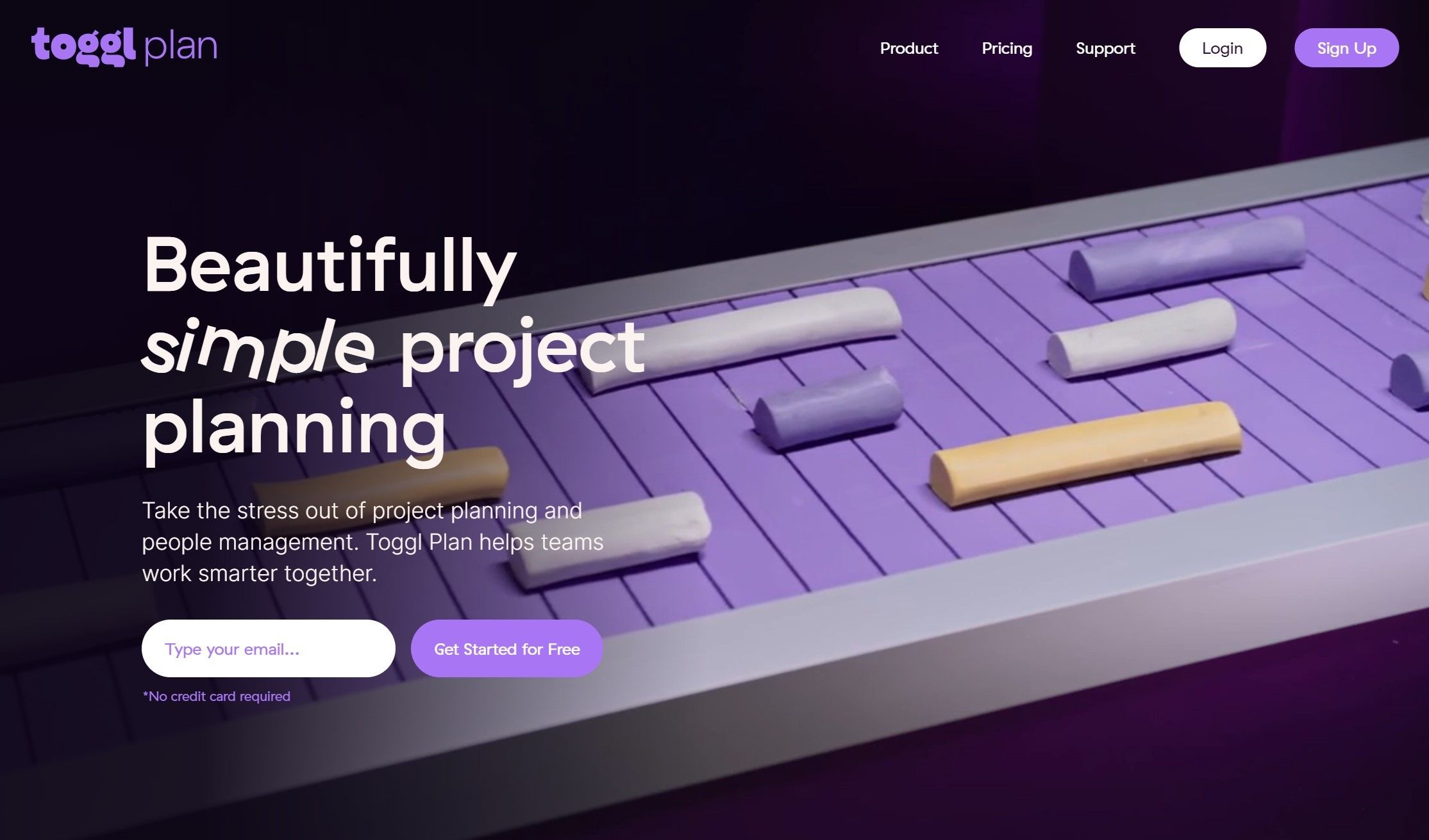 Toggl Plan (formerly Teamweek) is a web-based solution for task management, project planning, and team management. With Toggl Plan users create and schedule tasks using a drag-and-drop interface, producing a color-coded timeline of the job to complete. Viewing boards are perfect for prioritizing or tracking activity statuses. Marking tasks as completed helps with progress monitoring and increases accountability within a team.
Toggl Plan allows users and administrators to share project roadmaps with customers and divide projects into segments to simplify operations. Features include configurable project details, text email notifications, data import and export, customizable color codes, deadline tracking, mobile applications, etc. Additionally, the collaboration functionality helps users share project timelines, member schedules, and goals with team members in real-time.
Moreover, users can set different access rights for team members, determining whether they can edit or only view events and schedules. Furthermore, Toggl Plan's programs are easy to share with a simple generated URL. Toggl Plan also has a calendar integration for exporting tasks to iCal, Google Calendar, and Outlook 360. Toggl Plan also offers an excellent app for smartphones and tablets on Android and iOS devices.
MeisterTask is a cloud-based platform for managing tasks and projects. It was created to give project administrators to complete command and control over their projects' phases and details. Provides project monitoring capabilities for managers and collaboration capabilities for team members to increase productivity and accelerate project completion.
MeisterTask offers several project management tools such as Kanban dashboard, reporting, automation, and integration. It works and connects with third-party apps like Dropbox, Google Drive, and BitBucket, among others, to provide users with an extended and flexible platform. MeisterTask's app is intuitive and easy to use, allowing for quick deployment from any connected device.
A feature of MeisterTask consists of creating vertical columns to which custom names can be assigned based on the topic of the project. This feature will make it easier for users to give a more structured and typical configuration, such as columns indicating a workflow such as: To Do, Working on it, and Done.
Conclusions
When it comes to Task Management Software and Task Management App, there are many tools available on the web. However, all companies should use one to monitor their projects.
This is because there are many benefits for those who choose to use this software category. This article talked about how these tools help companies to:
Improves the company's internal communication
Helps companies to organize the work better
Helps peoples to prioritize tasks
Helps teams to Collaborate Effectively
Some software Task management tools have been listed:
Pleexy
Todoist
Asana
ProofHub
Trello
Monday.com
Nifty
Any.do
Toggl Plan
MeisterTask
LeadsBridge offers numerous integrations available to connect, Automate and Sync leads & contacts with over 370 tools, thus providing reliable support to all those companies that need this service.