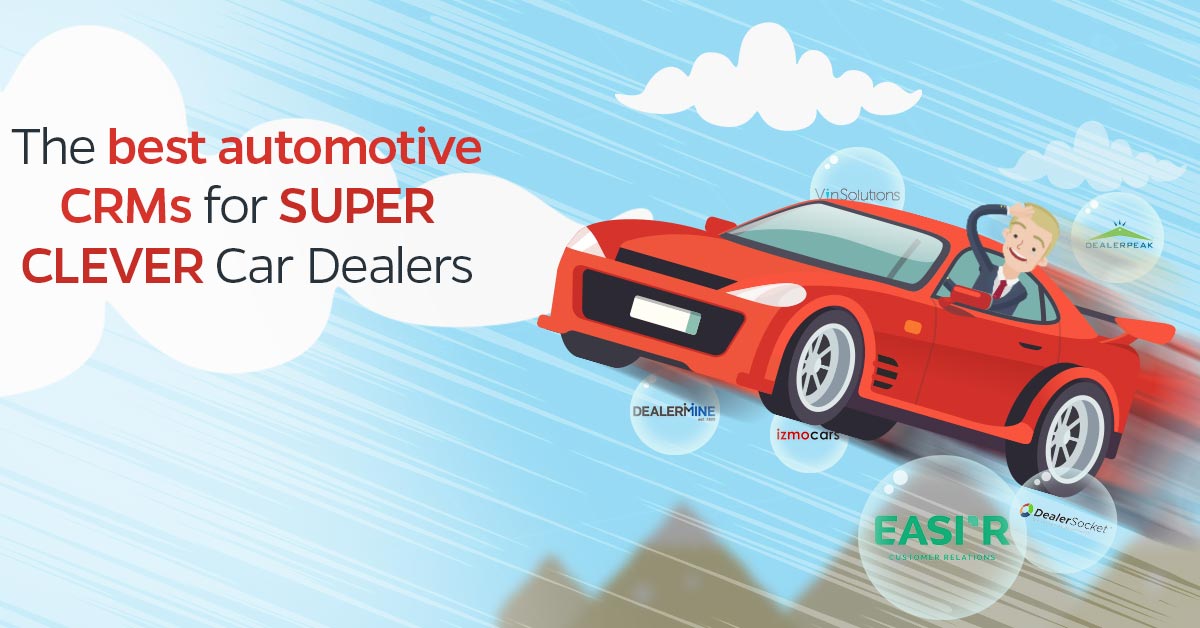 Back in the days, before the invention of automotive CRM, salespeople use the phone and newspaper advertising to get qualified buyers. They use desk calendar, sticky notes, and a pen to stay organized. However, the internet has given car dealerships the opportunity to sell more cars and get more organized through automotive CRM.
A study revealed that 87% of the people surveyed said they use the internet to find out the price, ratings, and reviews of the car they want to buy, while 63% of car buyers were likely to buy a car online in the future. In the car buyers journey, 48% of buyer starts with online research.
Now, what is an automotive CRM?
CRM is an acronym for Customer Relationship Management. It is a software for managing an organization's relationships and interactions with customers and prospects.
Therefore, automotive CRM is automotive customer relationship management software that enables you to build relationship with your buyers and prospects. This is the CRM that is specifically designed for automotive car dealers. There are general CRM for different businesses, but automotive CRM is designed differently.
But the question is why must you choose an automotive CRM over general CRM for your car dealership business?
The automotive CRM is designed in such a way it helps to store customer data and manage relationships with your prospects. It helps your dealership to have a designated place for customers records, leads, and opportunities.
Most general CRMs does not have the feature you need to make your car dealership function effectively. They may also have features you will never use for your car dealership.
So, what is the benefit of investing in an automotive CRM use for your business?
Investing in automotive CRM brings advantages to your business, such as:
Automotive CRM helps you to reduce missed deals
Automotive CRM gives you a better customer insights
Automotive CRM helps you to personalize the sales experience
Automotive CRM helps you to simplify the test drive phase
Automotive CRM helps to increase conversions
Now, that you know you need an automotive CRM for your business, how do you know the best automotive CRM to buy?
There are many of them online, but in this article, we will look at top best 7 automotive CRMs you can use for your dealership business.
1. Best Automotive CRM: Dominion Sales Center CRM
Dominion sales center CRM, previously known as Autobase is one of the best automotive CRM out there. It is an award-winning Windows-based CRM system. It is developed by Dominion, a top-level software design to auto dealers that have existed for the past 20 years. It helps auto dealers to forge a solid customer relationship. With it, you can import sales and leads from sources like the internet, phone and showroom in one location. It offers a detail solution for dealer marketing and following up leads. It is an automotive CRM that helps car dealers to attract, keep and nurture customers for life with different technology solutions. Below are its pros and cons:
Pros:
It has an easy-to-use interface
It is accessible from anywhere with the internet connection
It is a secure dealership CRM
It can be easily integrated with 50 third-party applications
It is a cost-effective automotive CRM
Cons:
Price: Contact the company for pricing details.
2. Best automotive CRM: DealerSocket
DealerSocket is also one of the best automotive CRM on the internet. It allows you to manage fresh ups, phone ups and internet leads all in one place. It helps you to manage dealership performance and track staff efficiencies. The automotive CRM helps you to contact customers and automate your lead follow up system on the internet. Your sales staff can manage all their task on their mobile device with the aid of an app. The automotive CRM has over 10,000 dealerships as customers and 300,000 active users.
Pros:
It helps you to manage your tasks on one screen
It helps with appointments and quick ups
It is easy to use
It is great for automatic follow up
Cons:
Ineffective customer service
Takes a lot of time to do simple tasks
It is costly
Price: $750/month
3. Best Automotive CRM: DealerPeak CRM Center
DealerPeak is another great automotive CRM for car dealers. It is an automotive CRM specifically designed with the goal of offering automotive dealerships better technology solutions at an affordable price while delivering excellent results. It is easy to use and you can easily integrate it with your current platforms. It offers integrated analytics, lead management from different sources, printable forms and documents.
Pros:
It is easy to use
It helps dealers to reduce their vendor contracts
It reduces business cost and increases profits
It is cost effective
Cons:
Lack of intuitive features
Additional cost for phone tracking
No customer service on Sundays
Price: Contact DealerPeak for pricing information
4. Best automotive CRM: VinSolutions MotoSnap Automotive CRM
VinSolutions Motosnap automotive CRM offers a powerful insight into how prospective customers shops. This automotive CRM tool enables you to know, communicate and close more customers than you can handle. It is easy to integrate with other systems or software you use so you can be in touch with every customer on their journey.
The customizable automated follow up makes it flexible and smart for targeting purposes.
Pros
It is user-friendly and easy to navigate
It is intuitive and easy to train on
It has retroactive workflows and fantastic support
It makes it easy to keep organized
Cons
Price: Contact Vinsolutions for pricing details.
5. Best automotive CRM: DealerMine
DealerMine is another excellent automotive CRM you can use for your car dealership business. With their sales CRM, you can track your leads, enforce sales processes and measure the efficiency of your sales team. You can integrate it with other software you use for your business. It has great functionalities such as scheduling, marketing campaigns, follow up via email, social media, and telephone. These features enable you to easily follow up your leads and close sales fast. DealerMine believes in building a one-on-one relationship with customers and helps dealers to add value and extract value from the relationships as time goes on.
Pros
It helps you to manage all your leads in an easy-to-use interface
It is accessible through the desktop, phone or tablet
It is easy to mine the data to control the selling
It is a simple and straightforward CRM, making it easy to use
Cons
It sometimes loads slowly when busy
Price: Contact the company for pricing details.
6. Best automotive CRM: Easi'r
Easi'r is a popular automotive CRM used by over 2600 automotive dealers and 16,000 users across Europe. It helps you to track leads and sales opportunities. You can easily map out relationship building paths to create an efficient workflow and customer patterns. This will help you close more deals and build long-lasting customer relationships. Easi'r also helps you to analyze customer interaction patterns to help your sales team stay on top of their game.
Pros
It helps to build a long-lasting relationship
It is easy to integrate it with other software in your organization
It makes it easy to interact with your customers
It helps to keep customers at every stage of the buyer journey
Cons
Price: Contact Easir for pricing details
7. Best automotive CRM: Izmocars
Izmocars CRM is also a great automotive CRM. Izmocars CRM helps you to remember the preferences of your past customers to build long-term customer engagements with them. The CRM enables you to connect with leads in marketing, sales, service, email and even in your DMs daily. It sends a reminder to you when your lead is ready to receive a sales call. It tracks every conversation with all your leads. This automotive CRM has integrated web analytics to help you know what works and what does not.
Pros
It is cost effective
It helps to increase sales through efficient lead follow up
It helps to see cross-sell opportunities
It is easy to communicate with customers through phone, texting, email, chat and social.
Cons
Price: Contact Izmocars for pricing details
Conclusion
Above are top 7 automotive CRM you can use to convert more leads to sales for your business. Are you using a different automotive CRM other than the seven mentioned above? Tell us about it in the comment section below.
Wanna make the most of your automotive crm? Discover LeadsBridge car dealers integrations now!