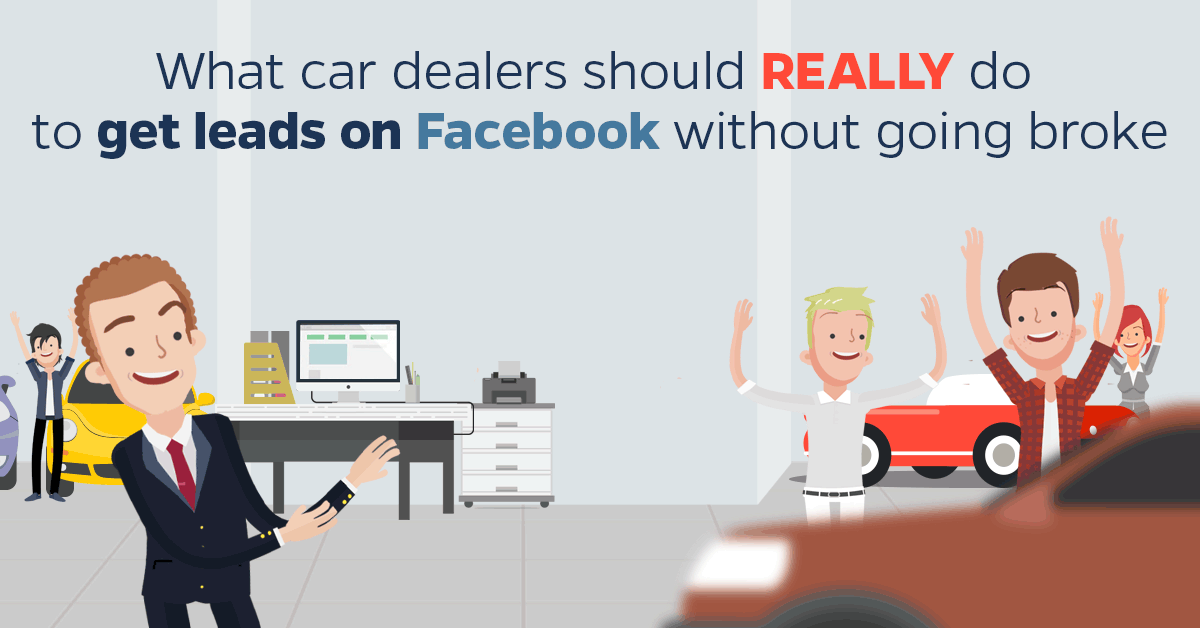 The usual strategy of promoting cars has been through television advertisements, Newspaper & Magazine advertisements, etc.  But things are changing. Car dealers are now promoting their brands through the social media networks. The recent social media trends study by Digital Air strike revealed that 75% of car buyers and 68% of service customers say internet research, including the social media networks and review sites, were the most helpful medium when selecting a car dealership.
According to the 2017 Car buyer journey report, 56 percent of car buyers used smartphones to access automotive information on the internet before making purchases decision.
People searching for cars to buy are actively looking for information on cars on Facebook and this is why car dealers are using it to collect leads.

Why Facebook?
As at the fourth quarter of 2017, Facebook had 2.2 billion monthly active users. According to Pew Internet research, 79% of Americans use Facebook. This makes it the most popular and important social media platform for marketers.
As a car dealer if you are not using Facebook to collect leads that will eventually transform to sales, you are missing out.
But not to worry, in this post, you will learn about 4 Facebook strategies you can use to collect leads for your automotive brand.
Before jumping to the article don't forget to check our post on how to increase your website traffic through 5 dedicated marketing strategies tailored made for the car dealer industry. 
1) Facebook Marketplace
The Facebook marketplace is a platform where you can list your automotive brands and other products for free. The products are displayed by location and category so that your prospective client can find all the vehicles for sale. They can also filter the results easily to see cars based on mileage, price, location, category etc.
You can manage your current and past transactions in the marketplace in the items section. You will see the saved items and products you've posted for sale and your messages with prospects.
One good thing about this marketplace is that you can list your vehicles and get interested prospects to chat with you through the Facebook Messenger as shown below:
From there, you can work with the prospects on payment and delivery issues.
Facebook has also expanded the marketplace to contain used inventory from sites like Cars.com and Edmunds.
Listing your vehicles for sale on Facebook marketplace makes it easy for your prospective buyers to share it with their friends on their pages. This will help you to get more eyeballs on your brand.
The marketplace also includes location.  This helps to display your vehicles in locations where your buyers are, making it easy for them to buy it.
With Facebook marketplace, you don't need to pay for your prospects attention, Facebook already did that for you. They have the most popular platform where most of your prospects come daily, giving you the opportunity to display your products directly to buyers. The most important thing is that you don't have to spend a dime, unlike promoting your products through AutoTrader, Cars.com, etc.
The above reasons are why you need to integrate a Facebook marketplace into your marketing strategies.
The Facebook marketplace is available in 46 countries including US, UK, Australia, New Zealand, etc.
2) Facebook Lead Ads
Generating quality leads from your dealer website takes enormous time, efforts and money. What if I tell you that you could generate lots of cheap leads with little effort and within a short time using Facebook lead ad for auto.
Facebook leads ads allows you to get leads for your automotive business cheaply. It uses prefilled forms that make it easier for users to fill their details, such as their email addresses, name, phone number, etc. This information is retrieved from users Facebook profile. Users can then submit the forms to you directly through Facebook.
As a car dealer, you can use this information to send offers and quotes to them.
It reduces bounce rate as users do not need to leave Facebook to your website to fill in their information. The less people have to fill, the easier it is to get their details. This enables lead ads to convert more for your automotive business.
With Facebook leads ads, you can target the users you want to reach using criteria such as the place, demographics, interests, and behaviors.
The Facebook leads ads for autos have important features such as the "locate your dealer" feature that helps users to identify auto dealers near them. The "click to call message" feature makes it easy for prospects to call or message you after submitting their information. The "appointment preference" feature helps people to communicate with you to indicate when to meet up and test drive. Other features include the thank you screens, personalized creative and full-screen experience.
A case study of a brand who found success using this tool is Renault-UK.  The brand promoted a new car in the UK with Facebook leads ads.
They used it to drive sales to their latest SUV, the KADJAR. This resulted in a 7.9x lower cost per lead than ads that directs consumers to a lead form on their website.
3) Facebook Groups
Facebook groups are one of the best places for car dealers to easily connect with prospects and sell their vehicles.  This is because your target audience is already on Facebook, all you need is to join relevant groups to sell your product.
There are thousands of Facebook groups where you can post your cars for sale.  All you need is to conduct a search on your page for "car sale Facebook groups".  You will see a lot of them that you can join.  Once you join them, you need to take the pics of your automobile, write text descriptions and post it in the group for members to see.
You can use Facebook groups to create conversations and invite people to private sales.
Below is a sample Facebook group for car dealers. The name is cars and stuff for sale public group.  You can see a lot of cars displayed for sale with their prices.
Apart from joining groups to sell, you can also create your own Facebook group.  Booby Howard created one of the biggest Facebook groups on car sales known as Facebook Vehicles for sale, he sold 50 cars in February 2015 in Louisiana, a small town. People patronized him from as far as 500 miles away.
4) Facebook CRM retargeting
According to Custora, email is known to be the number 3 sources of customer acquisition. It surpassed organic search with 15.8% and CPC with 10% acquisition.
The study also revealed that email customers are 11% more valuable than an average customer.
The statistics above shows that email marketing is a profitable strategy for your automotive business.  To take make your email convert better, you can use Facebook CRM retargeting.
CRM retargeting is a strategy whereby you upload the email addresses of your mailing lists on Facebook in order to reinforce your email marketing. However, you can also use CRM retargeting to build lookalike audiences of your customers, in order to reach groups of people similar to your clients.
In other words, you can use the power of Facebook audience building not only to convert more leads into customers, but also to boost your lead gen, showing your ads to the right people.
If you are still struggling in choosing the best CRM for your business don't miss our article on this topic. We've carefully selected the best CRM software for a car dealer. (Go to the article)
Conclusion
Facebook may be your best pal to collect more leads for your car dealership business. However, your lead gen could be even more effective if you know how to automate your Lead Generation using LeadsBridge, in order to connect your car dealership CRM to Facebook Lead Ads, Custom Audiences and much more.
See for yourself!
Click here to start a 7 days trial or schedule a free consultation with our Automotive Lead Gen experts!