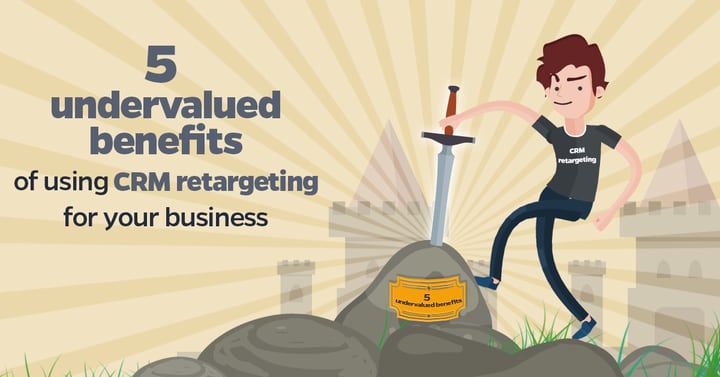 RM retargeting is one of, if not the most effective way that advertisers have found to use their offline data to drive real ROI. Other than that, there are quite a few benefits of using CRM retargeting that many people may not think of right away.
It all boils down to targeting your audience by leveraging the data you already have on viewership and interactions with your site in order to increase engagement with ads and increase sales.
To top it all off, there's a way of using Facebook along with your favorite CRM  to create highly customized audiences and automate your campaigns — all in one tool.
But let's start from the beginning…
CRM retargeting definition
CRM (Customer relationship management) is a software that collects and manages data associated with your business contacts.
For example, a CRM like Hubspot doesn't just work as an email database, it also stores useful contact information such as phone calls, meeting dates, and communication that you have already had with your leads and customers.
With that said, CRM retargeting is a sort of system that allows you to create detailed custom audiences for advertising campaigns. All of this is possible thanks to the information that you already have in your CRM. 
What is the main purpose of using a CRM?
CRM can be used for a variety of purposes such as managing the sales process, following up individual pipelines, and giving weighted sales projections.
Another important role of CRM consists of the ability to develop effective email marketing. The CRM, in fact, allows you to create different segments of your list. Such segments allow you to personalize your emails on a massive scale with minimum effort.
The main strength of a CRM: CRM Retargeting
With website retargeting, you miss important user data that only a CRM can provide. CRM retargeting provides data to bring your advertising to the next level.
A good CRM software will allow you to surface data on your audiences' interests and behavior, which you can then leverage to create compelling ads on Facebook.
The only issue with CRM retargeting
The only problem with this technique is that with a retargeting automation tool that does a "dirty work" for you, you need to constantly upload segmented data with CSV files to build your target audiences.
Many companies drive more than 30% of their sales by using CRM Retargeting. If you can achieve the same results for your business, you will likely put CRM retargeting on your to-do list.
Since CRM retargeting is a relatively new strategy that marketers are exploring in-depth right now, I have collected here 5 benefits that could help you understand how CRM Retargeting can help you grow your business.
If you'd like to learn more about how to connect and automate your Hubspot Smart lists to Facebook Custom Audiences, please refer to our doc here.
1.  Better audiences on Facebook
The smallest (but still huge) benefit you will get by using CRM retargeting is the automatic exclusion of your edged custom audiences on Facebook.
As soon as your customer base grows, you should exclude these customers when it comes to acquiring more clients with Facebook Ads.
Using CRM retargeting, Facebook enables you to avoid unappealing offers displayed to your customers.
If you're familiar with Facebook Custom Audiences, then you know how powerful it can be as a targeting tool. Using it, you can accurately hone in on audiences and potential customers that are likely to convert. 
If you're interested, check out this Step-by-step guide to Facebook Custom Audiences. To summarize, your ads will perform better by excluding people who are probably not inclined to click your ad.
2.  Interests segmentation
Another CRM retargeting benefit is something that can have an even greater impact on your business.
You may know that today's best CRM on the market allows you to create automatic segments (named "Smart Lists", for Hubspot users).
Most CRMs nowadays allow the user to divide users into groups based on their specifications. Anything from age and gender to location and buying habits can all be recorded in a CRM.
This means that you can classify your subscribers and send them more specific offers via email, depending on how they react to your messages (which email they open, which links they click on, etc).
Through CRM tracking, you can understand if your subscribers have an interest in a certain type of product, i.e. their preferences, simply depending on their interaction with the emails you send, without necessarily having a blog that leaves cookies in their browsers.
By connecting your CRM to Facebook Ads, you can create more specific custom audiences to show the right offers for each segment of your list.
For example, if you have an e-commerce website for sports shoes, and you know that some subscribers like soccer, you can build a specific custom audience to use on Facebook for your best soccer shoe deal of the month through CRM retargeting.
Facebook will continue to improve performance by identifying people's interests. But still, Facebook will never have the information your CRM can provide about your leads and customers.
3.  Behavioral Ads segmentation
The benefits I have just shown you represent a different way to advertise on Facebook, but the very significant and revolutionary characteristic of CRM retargeting is the possibility to run a retargeting campaign on Facebook based on the behavior of your leads and customers.
Even if you have a business in a niche market, people in your funnel probably have different personalities: they can be procrastinators, hesitant, sophisticated, etc.
There can be people on your list who buy your products at the first offer, and others who need more touches or tend to buy at discounts.
That information is crucial for your retargeting campaigns, and a CRM gives you a detailed buyer persona that other platforms will never reveal. Unlike the classic online retargeting strategy, CRM retargeting allows you to be more persuasive, depending on the type of customer you are relating with.
Behavioral marketing is nothing new, but it is highly effective. Thanks to CRM retargeting and its implications through Facebook, it's a lot easier to understand what your customers want based on how they behave. Once you figure that out, delivering the right ad at the right time becomes a lot easier, too.
4.  Lookalike Optimization
If you want to reach new customers on Facebook, one of the most effective strategies consists of creating campaigns that promote your brand to a lookalike audience.
Lookalike Audiences are groups of people with similar interests, based on data Facebook has.
Facebook, in fact, can create lookalike audiences from a customer file in your existing database that will automatically update every 3-7 days.
If the source audience changes, lookalike changes too! For this reason, if the source audience is constantly updated, your campaigns are always up-to-date, and every time new prospects come into a list segmentation, the Custom Audience will reflect this new profile to reach a similar target of people.
Facebook Lookalike Audiences are best utilized when paired with details from your CRM. In fact, the more information you can import, the better the results will be. Here's a quick rundown on the information that Lookalike Audiences will benefit from:
First/last name

Email addresses

Gender

City / State / province

Zip / postal code

Country

Birthday

Age

Phone number
Using this information, Lookalike Audiences from Facebook will find the best match for your ads based on information from your past customers.
5.  Retargeting automation at scale
The biggest benefit of using CRM retargeting is the possibility to put your entire Facebook Ads campaigns on autopilot.
The main problem with Facebook Ads is that, once you create a campaign, you need to constantly work on it.
With CRM Retargeting this is not going to happen because your Custom Audiences are constantly up-to-date. Your target audiences are built automatically on evergreen segments that add and remove people depending on the CRM data.
Every time a lead enters a specific segment of your list, he or she can be placed in a certain audience on Facebook, that corresponds to a retargeting campaign that offers a particular product or service with a specific message.
Of course, such retargeting automation requires software that bridges your CRM and Facebook.
However, by doing so, every marketer's dream to create a "set & forget" campaign becomes reality, and it will be possible, for you, to scale your Facebook Ads and carry your leads and clients along every step of your marketing funnel, to the next purchase.
All you need is to connect your Facebook Ads account to software like LeadsBridge, in order to let it build the Custom Audiences (which takes your leads' data from your CRM's account, like in the example below).
Using LeadsBridge's Custom Audience Sync tool, you can sync your CRM of choice with Facebook and create a custom audience from your customer list. Once it's synced up, the list will update automatically, fully automating the process. You will no longer need to upload manually, and potentially get some information mismatched.
The summary
CRM retargeting is a game-changing technique for your business, and in this article, we have analyzed the main 5 benefits of developing a CRM retargeting strategy for your business. Let's recap them:
 Better audiences on Facebook
By directing your ads towards customers with Facebook Custom Audiences, you essentially avoid showing irrelevant ads to people who were never interested in your product in the first place.
Since CRMs already allow list segmentation, using that information for CRM retargeting means that the right ads are being sent to the right people (AKA, people who are interested in your product).
 Behavioral Ads segmentation
Behavioral Ads segmentation means that you send ads that work well with certain customers to other potential customers with similar behaviors.
Using information that you've already gathered in your CRM, Facebook Lookalike Audiences will pinpoint potential customers with similar characteristics.
You can put your entire CRM retargeting campaign on autopilot with ease. All you need is a tool that bridges your CRM with Facebook.
CRM retargeting represents a huge opportunity to increase customer lifetime value by using the data you already have in your email marketing software.
If you'd like to learn more about retargeting automation, and how you can keep synced your CRM/email software with your Custom Audiences on Facebook, click below.
Now it's your time: have you already used CRM retargeting to increase your customers' value?
Are you going to develop a CRM retargeting strategy for your business?
Feel free to share your thoughts in the comments!