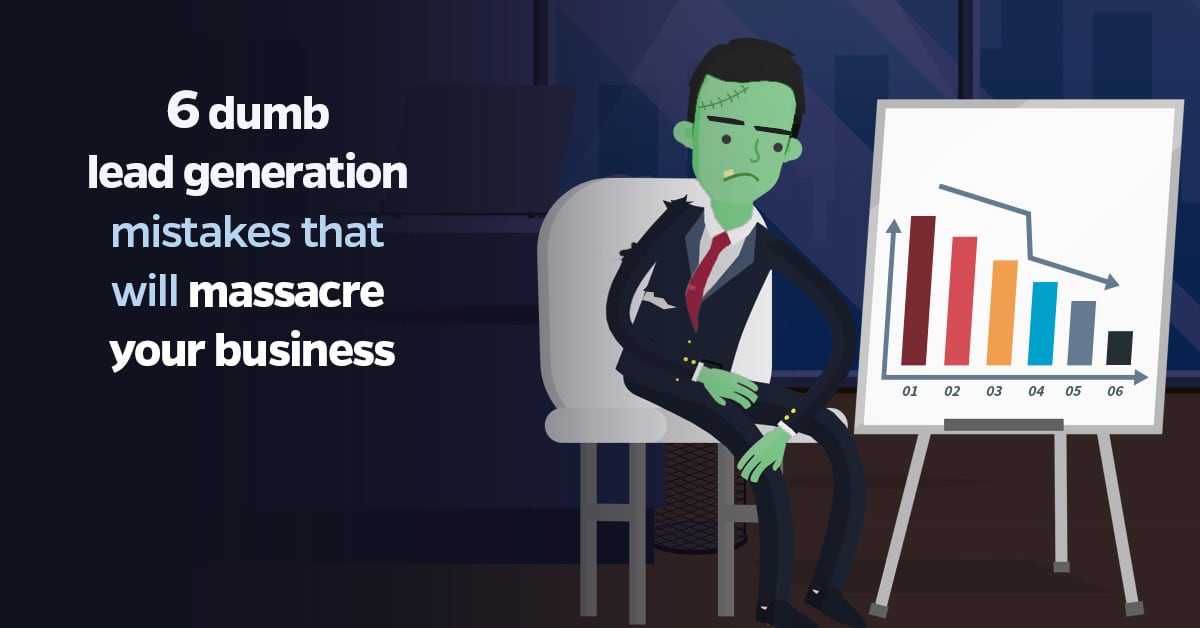 Generating leads for your business it's key to the health of your business as much as exercising is key to the health of your body.
It's not something you want to overlook.
But simply having a lead generation strategy is not enough.
Exactly how practicing the wrong way over time can lead to more harm than good, having a poor lead generation strategy can kill your business in the medium-long term.
The best way to design a solid lead generation strategy, is to start by spotting the weak points of your current one and work on them.
In this article, I'll describe 6 common lead generation mistakes that many businesses make, underestimating the consequences that they can have in the long run.
Let's see them together:
#1  Having only one source of leads
Many business owners only gather leads from one source, and that's the first mistake. Regardless of how good of a source you generate leads from, that's a highly risky strategy for a few reasons.
The first reason is that you can't trust any source to be reliable and sustainable over time. What if a platform privacy policy changes and you can no longer ask for certain information? What if the business model of a social media platform changes and you can't advertise on it anymore?
You've got to be flexible and mine your leads from different sources.
The other reason is that your ideal client might find your product and service through a different channel than the one you use to generate leads. Let's assume you only use Facebook to grow your email list. What about the potential customers that do not use Facebook? They might be on Quora or on Medium, Twitter and so on. You need to be present on multiple platforms and allow them to find you, or else they'll rely on someone else to solve their problems.
#2 Not taking advantage of new technologies
As you probably noticed yourself, new technologies pop-out everyday on the market. The pace of innovation is so disruptive that it can feel overwhelming. Nevertheless, new technologies enable new business strategies that, if applied correctly, can significantly impact your results.
Let's see some some of the new technologies that are changing the game of lead generation.
The first one is definitely doing live webinars, with the goal of educating your customer around some aspect related to their life or business and share some insights from your experience. It is a powerful tool to attract qualified leads in large numbers, and we highly recommend to implement it in your strategy.
Another important new technology to leverage is chatbots.
Their goal is to make your visitors comfortable on your website and give them an opportunity to engage with you in an easy and friendly way.
Once they get in touch with you you can schedule calls or book demos to show them your product and services. For us, this was a game-changer throughout 2017 and it increased the lead we generated by +85%.
One more "new" technology to exploit to its full potential is your email inbox. Email is increasingly used as a communication tool for business purposes, but as a result many potential leads get lost every day in the endless stream of daily inbox. To reverse that, you can synchronize your email address to your CRM and put it in BCC when you reply to the contact whose information you want to save. This simple tool will dramatically increase the number of leads stored in your CRM.
Overall, it's important to test different technologies as they become available on the market to keep your business growing.
#3 Not doing content marketing
Does the saying  "Content marketing is king" sound familiar?
It might be an overused statement now, but the power of content marketing is still largely supported by numbers. A resounding 45% of marketers refers to content marketing as the most effective online lead generation strategy. That's easy to understand, considering that it costs 62% less than traditional marketing and it generates approximately 3 times as many leads.
Not having a structured and well-thought content marketing strategy is detrimental to your business.
It's key then to create valuable, up-to-date content for your target audience and constantly share it on several channels of distribution, such as email marketing, advertising, social media and so on. Also, it's important to test different types of content, from blog posts, to lead magnet, to videos, webinars, podcasts and so forth.
Some type of content performs better than other, depending on its engagement level or, even more importantly, on its quality. Quality content production drives quality lead generation.
#4  Not using marketing automation
Are you one of those people complaining about how email marketing is dead simply because their open rate and click-through-rate is too low?
Because I've got news for you: email marketing is not dead. But things have changed and you need to work smarter to get people's attention. That's why it's key to leverage the perks of marketing automation.
Marketing automation allows you to tailor specific marketing campaigns for specific audiences, and it helps you improve not only your open-rate and click-through-rate metrics, but also the quality of your leads. In fact, generating leads is completely useless if you can't manage to engage them over time.
Before setting up any kind of automation, it's important to segment your leads by source (e.g. advertising, organic traffic, live events, webinars) and then by their main interests and what are they expecting from you.
A great example of email list segmentation is provided by Pat Flynn.
This is key to set up specific automation rules that will send to each segment of your list useful content and eventually a relevant offer. The more specific the segmentation, the more powerful the marketing message. Plus, setting up automated rules in your email marketing messages can also help you to bring back to life the stale leads in your list.
#5 Not testing different landing pages
The first word that I think of, when someone talks about "testing", it's definitely "boring".
I mean, who likes to spend his time testing different landing pages, CTA's buttons and copywriting techniques? Wouldn't it be easier to just create one and that's it?
It would. But it would also be a terrible shortcoming.
Too many marketers do not test their landing pages, which is a key activity to understand which one performs better.
Getting people's attention today is an art: it's very important to test your landing pages layout, copywriting and CTA's buttons. The smallest change, often times, completely transforms your results. In any case, many techniques about building a highly converting landing page have already been proven successfully.
If you don't have time to wait to know which one of your landing pages performs better, create two different pages and invest a few bucks to send a lot of traffic to them and get the result faster.
#6 Not having a mobile optimized website
Let's do a simple test. Click here and insert your domain to check if it's optimized for mobile navigation.
What does the result say?
Unfortunately for still too many people the feedback is negative. If that is your case too, just be aware that it is simply killing your business, as nowadays mobile traffic accounts to more than 50% of online traffic and 47% of consumers expect a web page to load in 2 seconds or less.
To put it plain and simple: if your webpages are not optimized for mobile navigation, you lose leads.
Lots of them.
And since mobile navigation on the Internet is growing, you have to better batten down the hatches!
Creating a responsive landing pages today is quite easy and accessible: there are thousands of themes and tools to do it. Besides that, my advice is to use landing page builders (such as Leadpages, Unbounce, etc.) to create your landing pages.
These tools are super easy to use thanks to its drag-and-drop form design that adjust to any device size. Moreover, by using LeadsBridge LandingLeads you can easily integrate these tools with your favorite CRM / email software, in order to follow up your leads without any sort of lead gen interruption.
Conclusion
How did it go for you? Are you making some of these six mistakes, or are you already on top of the game?
Even if you are making some of these mistakes, don't feel bad about it, I get it. The lead generation game is a tough one. Everyone makes mistakes. We make them too. The important thing is to adapt and adjust. The market changes fast and it's not really easy to understand which is the right direction to take, but.. many strategies have been tested over the years and they have shown the best results so far.
Regardless of the features, circumstances and ambitions of your business, the time to push your lead generation a step forward is now!