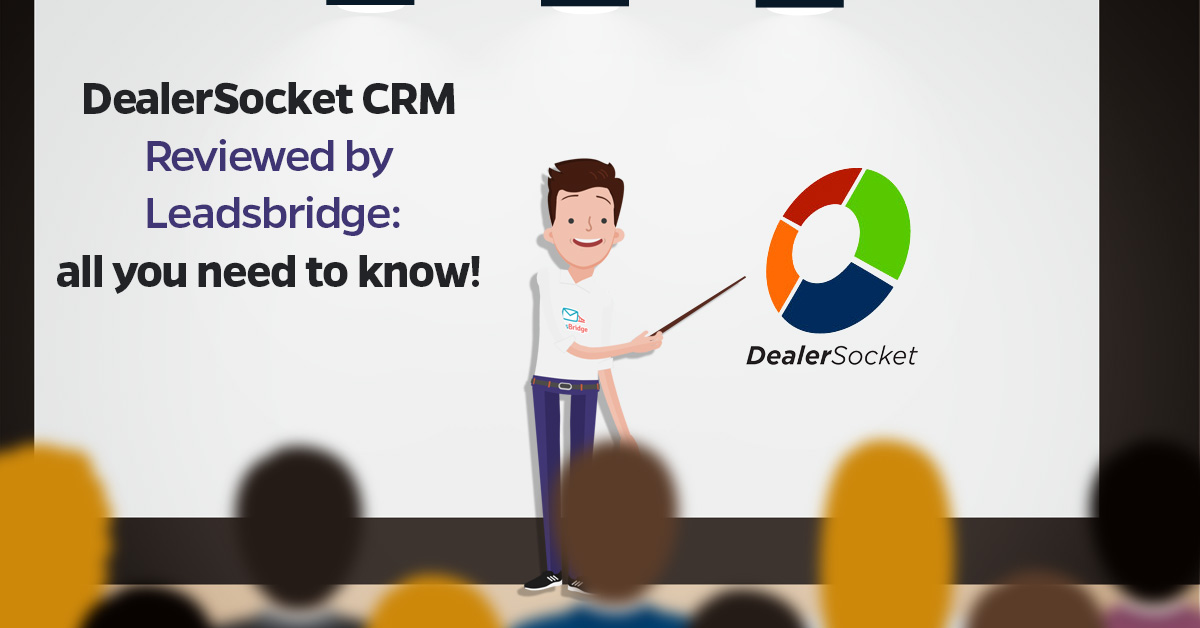 Dealersocket crm is a suite of software solutions created for the automotive industry such as franchise, independent, Buy Here Pay Here (BHPH) car dealers to help boost revenue, improve marketing and sales process and provide a better experience for customers. Dealersocket crm helps car dealers to launch marketing campaigns that will enable them to reach the right customer with the right message and at the right time.
Dealersocket crm offers a complete and all-round CRM solution that helps car dealers to save money and time and also increase their staff efficiency.
Dealersocket crm have over 100,000 users at more than 2800 auto dealerships stores across the U.S, Canada, and Australia.
It will interest you to know that dealersocket crm is a popular software that has won many awards and industry recognition such as Best Overall Company globally in 2008 International Business awards.
Now, lets look at the dealersocket crm software features.
Dealersocket Review
The dealersocket crm is a robust software that combines marketing, sales, service, customer experience, DMS and equity to give you a solution that will help you to optimize and take charge of your marketing campaigns, sales processes, customer satisfaction, and retention.
Dealersocket Review: Marketing
The dealersocket crm marketing feature is a simple to use solution that enables you toeffectively communicate with your leads and customers. Dealersocketcrmmarketing featureis made up ofthe following:
Website and digital marketing: It provides a beautifully designed and responsive website that provides excellent customer experience. Custom content to boost your car dealership marketing efforts and social media campaigns to help you build your brand and convert more leads to customers.
Automation: Dealersocket crm offers an automation tool to help you create follow up messages for each customer and stay connected with them throughout the sales cycle.
Datarecharge: With the dealersocket crm datarecharge feature, you can create a robust customer contact information and reduce unsent emails.
Marketplace email: Dealersocket crm has a library of 1000+ templates that match each car dealerships brand. It tracks open and click-through rates.
Socket talk: Dealersocket crm socket talk is a texting and messaging tool that allows you to send messages to your car dealership staffs.
Dealersocket Review: Sales
The Dealersocket crm helps you to get connected with your customers through technologies such as mobile and desktop. This will enable you to develop personal and human experience with your customers to boost sales.
The sales feature of the Dealersocket crm includes:
Analytics: This dealersocket crm tool enables you to use big data to measure your car dealership activities and processes against other top stores in your group and throughout the nation by their brand, region, and size.
Call Management and web analyzer: With this dealersocket crm feature, you can manage your incoming and outgoing calls, assign a keyword to a phone call on your website and book service appointments on the phone.
Desking: Desking allows you to give your customers professional presentations such as trade evaluation and payment matrix.
ILM: This dealersocket crm enables you to contact customers and automate your lead follow-up messages using a lead routing strategy.
Mobile sales: This feature allows you to carry out all your car dealership duties from your mobile device.
Sales management: This provides a centralized dashboard view of all the metrics that leads to sales.
Dealersocket Review: Service
The Dealersocket crm service feature enables you to provide a customized experience for your customers through service. With it, you can communicate with your present customers and past customers to re-establish communication with them and bring them back to your dealership.
The service feature comprises:
Mobile check-in: The mobile check-in Dealersocket crm feature enables you to enhance your customer experience, control the check-in process, view video and photo content and send messages to your customers from your tablet device.
Service management: An important feature that enables you to manage key car dealership report from a dashboard view showing all metrics that lead to more revenue and customer satisfaction.
Service scheduler: It enables your customers to schedule service appointments whenever they want. This can be through phone calls or through your website.
Service marketing: Enables you to promote your services to customers, prospects using offers, reminders, recommended services, etc.
Dealersocket Review: Customer experience
The customer experience dealersocket crm feature is important because customers are the backbone of every business. It helps you to deliver an unforgettable customer experience.
Below are the components of the customer experience feature of the Dealersocket crm :
Marketplace loyalty: This is a car dealership pre-paid maintenance product available in F&I. It boosts your productivity and customer loyalty. With it, you can execute your marketing strategies using email, phone, and direct mail campaigns directly from dealersocket crm.
Martketplace social: The Dealersocket crm marketplace social is a feature that helps you to connect with your customers through social media networks. This enables you to grow your business and build brand awareness. The truth is, one out of four – car buyers use social media to discuss and communicate a recent purchase experience. This makes it a good platform to connect with customers.
The marketplace social feature also has an e-survey tool that is integrated into your CSI follow-up processes for service, sold and unsold customers. With this, you can invite customers that arehappy with your services to post online reviews. Those that are not happy can be directed to a place where their complaint will be resolved.
Dealersocket Review: DMS
The Dealersocket crm iDMS empowers your team to perform effectively. With this feature, you can:
Use iDMSevaluation feature to analyze auctions
Use all the tools available for financing in-house or third-party lenders to structure your deals
Use the dealersocket crm iDMS tool as a collection powerhouse to boost your productivity
Use it to automate tasks that need employee involvement.
Use it to understand actionable data you can act on
Use iDMS flexible account tool
Dealersocket Review: Equity Mining
TheDealersocket crm equity mining tool, RevenueRader makes it easy for you to understand your customer data, helping you to turn them into simple insights your sales and marketing teams can act on.
With the Dealersocket crm RevenueRader, you can:
Target your past customers in 11 different ways
Automate omni-channel marketing
Pros and Cons of Dealersocket CRM
Pros of Dealersocket crm
Ithelps you to deliver the right message to the right customers and at the right time
Itenables sales reps to carry out specific tasks from their mobile devices
Itenables car dealerships to present different offers to customers
Ithelps you to manage your calls and track your website activities.
Itimproves customer loyalty and experience through service.
Cons of Dealersocket crm
There are too many outbound call reminders
Unresponsive customer support
It is expensive
Ituses out-of-date email templates
Conclusion
Dealersocket crm software is one of the best and popular used crm for car dealerships. It has robust features that make it easy for you to increase your customer base and boost sales. Now youlast step will be connectDealersocket CRMto an automation platform like Leadsbridge, to have all your leads synchronised in one place. Check out our dedicated integration here!