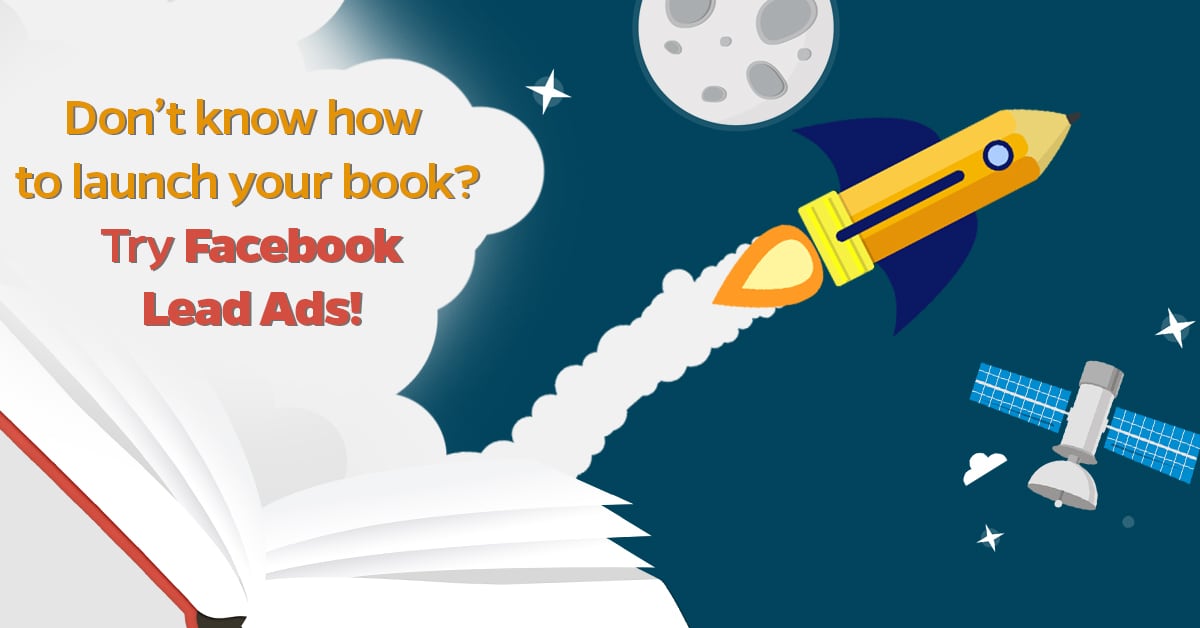 Let's face it, launching a book is frustrating in particular for beginners. This is because it requires a detailed step-by-step action plan in order to create an awesome experience for your audience.
As a writer, you need to focus on what you are writing, but it is also crucial to think about how to launch your book and how to plan everything concerns your new project.
One of the most common issue for the launch of your book is that you might not know who you want to reach. The reason could be the fact that you haven't pre-established your goals yet, or maybe you don't know your market, or you are so confused that the sense of urgency gets you down.
By the way, if you just relax and take your time, I'm sure you will understand, basing on the topic of your book, the target of people you want to reach, just like your goals and sub-goals you want to achieve.
In terms of reaching people nowadays there is no better place than Facebook, which actually is a real marketer dream. Facebook has 1.4 billion users, you can bet that even if your market is really a niche, your readers are there. Thanks to all the data Facebook gathered about them and their interests you'll be able to target your ads really accurately. Just to make things clear, lets say just to have a crazy example – your book is inspired by Pillars of the earth with a fantasy twist… you might set an ad that will be showed to everyone who likes both Ken Follet and fantasy books, saying something like In this epic novel you'll find the intrigue, fast-paced action and passionate romance of a book like Pillars of the earth plus dragons. You can certainly catch the attention of a user who is really appassionate about those both themes.
This is just an example, but keep in mind that the most important tactic in online marketing is A/B testing. As Eric Z points out in his post on Kindlepreneur about A/B testing: Did you know that a simple change of a word can make the difference between profitable and costly? One picture could be the difference between a bestseller and a hopeless book. Luckily working online we can track everything, so just keep testing and you'll find that killing copy which will boost your sales don't give nothing for granted, let the numbers talk!
Then if you are serious about your long-term author efforts, you'll need to face another obstacle considered hard to overcome: the mailing list.
How to build a mailing list…
The challenge you, as a writer, will have to deal with.
It is fundamental to reach a large number of people to build your audience. This way, you'll be able to connect and engage consistently with people around you and with your fans who will subscribe to your mailing list.
And remember: the bigger the list is, the more chances your books have to become popular.
The first thing you need to think about is the fact that people don't want to subscribe to a generic form, so you have to focus on creating something different, something that will stick out like a sore thumb!
A tip to do this is subscribing to successful authors, marketing gurus and popular people just to have a look on their pages and learn some rules that will help you in your process.
The next step is to focus on the emails you'll receive. Does the object catch your attention? Do you want to open that email? Then look at the copy and analyze the tone and the call to action.
That said, if your subscribers think it's worth to be in your mailing list, you will have hit the jackpot or a part of it. Did I mention the social media already?
Thanks to social like Facebook you can get contact data of a lot of people with a simple trick: the Facebook Lead Ads! How to use it? Let's have a look.
Facebook Lead Ads: how to increase subscribers and sales
Lead Ads is an awesome way to collect your leads, also on mobile phones. Now it's easier to reach all those people you want to be in your audience and the leads interested in your product through the Facebook targeting options.
Thanks to Lead Ads, you can gather every kind of information the user has already given on Facebook. This way, collecting their phone number and their email address (just to give an example) becomes really easy because you'll be able to show your audience a pre-filled form which gather automatically the info from the users profiles.
It goes without saying that the Facebook Lead Ads is a great tool that lets you stay on the same site without skipping on other web pages, giving to the user a really fast way to share his contact info with you.
Using this trick you can increase your subscribers and therefore your sales because in this step you're not a writer anymore: you are a marketer. And as a marketer you need to know how to use this tool in order to make your book the best seller of the moment.
So, defining the place of your target people, their demographics, their interests and their behavior you'll reach all of the users interested in the subject of your book .
Showing your ad to your audience, they can easily click on the call to action to open the prefilled form Lead Ads created with the info they typed on Facebook. Of course the user will be able to edit and review the information before clicking on Submit.
The more you make it easy for your users, the more they will follow you!
But dont't worry! If you are new to the Facebook lead ads world, and you want get an in depth explanation on this topic along with some tips to improve your performance with this Facebook's feature, don't miss out our step by step guide here.
Welcome your new readers and promote your book
Next to Lead Ads I highly recommend you to use LeadsBridge Welcome Email to set up your Lead Ads campaigns.
Just like the name says, LeadsBridge is a bridge between you and your audience as it shortens the process, connecting your Lead Ads campaigns to your CRM without managing any CSV file: this way, you can easily import your leads right away and maintain their quality.
Thanks to LeadsBridge you can send a Welcome Email, whose importance is very crucial, to give a coupon, a gift, a lead magnet or a welcome message to your audience.
As a marketer-writer you know that in launching your book you'll have to start with a promotion. Amazon gives you the possibility to offer your book free for 5 days once every 3 months. This works best if you have more than one title, so if your readers like your freebie they'll probably check on you and boost the sales of your other titles. Even if this is not your case, the promotion will help in many ways, like giving your book the first Amazon verified purchase reviews, going up in the amazon chart positions and build up your also bought section.
If you have a series of book, offering the first one permanently free might be a good tactic. Let's say you wrote a fantasy saga, the first book ends with a nice cliffhanger. Then a hooked up reader will be really likely to go buy the next chapter. This is called the permafree strategy. Amazon doesn't give you the opportunity to set your book permanently free, but you can achieve this by setting the price as free on other platforms like Smashwords. Amazon will eventually match the price automatically, and you can anyway contact them and ask to price match it.
Integration with an email marketing software
It is very important to integrate your Facebook Lead Ads with an email marketing software through your LeadsBridge app. You can use Mailchimp (just to give an example) and with few steps you can sync your ads with your Mailchimp list. Here a video on how we sync Lead Ads with Mailchimp.
Through the integration of a software like this, you can easily manage your Lead Ads campaigns and you can also send a notification that will help you keep your new leads fresh.
Remember that a Welcome Email is fundamental because this way you can let your target customers feel valuable and unique.
Coupon delivery
Depending on your strategy and the publishing platform you're working with, you might need to deal with coupons in order to reduce the price of your book or to give it for free, paying only the shipping costs. With this sort of discount, you will encourage you leads to purchase your book.
Ok, but how does it work with LeadsBridge? you may ask.
Well, it's very easy, nothing out of the ordinary.
Of course, the use of your coupons needs to go with your email marketing software, and you can also benefit from the use of the single-use coupon which is a coupon delivered to only one person.
Here is a video of how you can manage them on LeadsBridge:
Remember that LeadsBridge doesn't create your coupon, so you'll have to generate it yourself, after that, entering the coupon in the body of the email, LeadsBridge will send it.
You can also insert a link to complete the purchase of your book and to offer additional products.
Final step: the follow up campaign for your personal branding
Now you have to set up a follow up campaign that lets you keep in touch with your leads, so that you can continue to offer your book or other related products.
Now it's time to put aside your fear of being pushy and to focus on increasing your personal branding. The first thing to do is to plan your follow up campaign, for example you can select:
The frequency once a week and
The time an idea could be contacting your leads at lunch time
Then the newsletter with your email marketing software.
Conclusion
So, let's sum it up:
in writing your book, think to your final goals
think to the audience you want to reach
take advantage of social media like Facebook
learn how to use Lead Ads
connect Lead Ads with LeadsBridge
use LeadsBridge to create your Welcome Email
integrate it with an email marketing software
deliver your coupons
set up follow up campaigns
Don't be shy! Your leads can't wait to read your book! 🙂