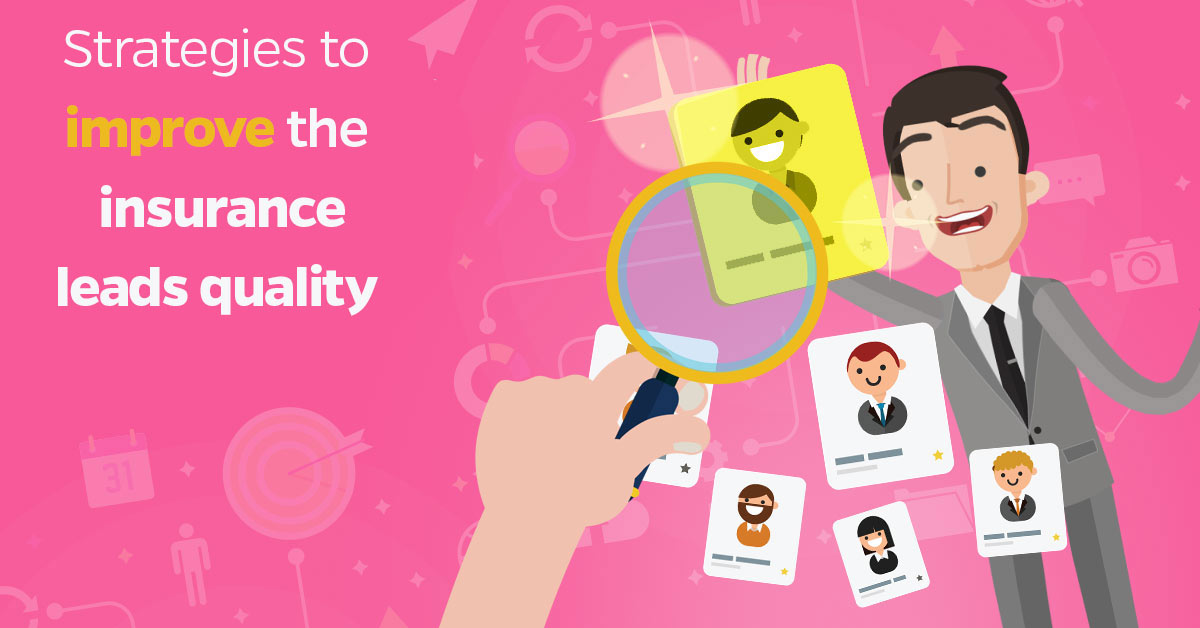 The 2018 Insurance Barometer study revealed that 60% of all people in the United States were covered by some type of life insurance in 2018.  However, among those with life insurance, 1 in 5 says they do not have enough.  Also, half of all adults visited a life insurance company website and/or sought life insurance information online in 2018. Almost 1 in 3 purchased or attempted to purchase life insurance online — about the same as in 2017. 
The above statistics revealed that there are enough leads online if you know the right strategies to use.
However, most insurance businesses have leads but struggle to transform leads into customers. It is proven that 40% of your leads convert in the long term, 50% of the insurance leads are only called one time according to the infographic from Insurance Leads Guide below. 
Embedded from Insurance Leads Guide
This demonstrates the importance of getting a comprehensive guide to insurance lead generation that provides information not only on how to collect leads but also some ideas on how to properly manage them, to attract and maintain policyholders.
This article gives you the nuts and bolts of accumulating high-quality insurance leads and managing them to yield the best ROI. 
7 strategies to better manage insurance leads
1. Be the first to contact a prospect – 78% of prospects convert with the first party to make contact.
The first contact with the prospect is key. It can be a phone call, an email message or a text message. What matters here is the urgency. The faster you follow up with an insurance lead, the better your conversion. 
When you have a prospect that looks like a good fit for your insurance policy, the next step to take is to be the first to contact the prospect. The truth is, contacting the prospect is not easy. No matter how experienced you are as an insurance agent, it still feels awkward and anxious. You are worried about how the prospect will respond after the first contact. But not to worry, we have you covered.
Below are things you need to consider when thinking of making the first contact:
a. Prepare for the first contact:
According to Zig Ziglar – "Success occurs when opportunity meets preparation". Invest in research to know more about your prospect before you contact them. This will help you develop the command, confidence, and capability to get past your prospect objections. The prospect will also know that you understand their needs, making it easy to close the deal.
b. Be friendly with the prospect
Whether you are contacting them through email or phone call, ensure that your tone is friendly. Don't let it sound as if you are interviewing the prospect. 
c. Prepare to engage with the prospect:
The problem most insurance software provider agents have is to treat prospects like a task they need to check off. Don't act like that. Ensure you create engagement. If you don't engage with the prospect, you may not achieve much. Before you make the first contact, ensure you prepare your greeting to start the conversation. Have a direction for your conversation and determine where you want it to end. Develop words to add energy into the conversation if it is dragging.
2. Follow- up with your leads – 50% of leads are only called one time
As soon as you have a lead, follow them up quickly. Call them up and also send automated emails to them. The reason you need to do this is that insurance leads are expecting to hear from you immediately they contact your company. Create a call logs to document all of the important details of the conversation so you can easily check exactly what was discussed and other salient information. Follow the steps below to achieve the utmost success:
a. Create a follow-up schedule
Following up on a lead should be a planned activity. It shouldn't be left to chance. Create a schedule that shows when to call the prospects or send email messages. You can create two schedules for active leads and the other for passive leads. Active leads are hot leads ready to convert while passive leads take time to convert. Design a long term follow up schedule that will allow you to keep the line of communication open.
b. Use different mediums to follow up
There are several ways you can follow up with your insurance leads. Make use of them. These include email, phone, text, social media, etc. Each of these mediums has its level of success. Mix them together to get better response rates. 
c. Follow up with leads at the right time
Timing is the difference between success and failure. Not all days or time is convenient for leads to receive calls or respond to you. You get better results in some days of the week and times of the day. Below is a chart showing the best day to call and email from MailChimp and MIT study.

3. Persistently follow up with leads –  40% of leads convert with long follow up.
One thing that can set you apart from the competition is to persistently follow up with leads. A study revealed that most agents give up calling too soon. Making contact a few more times can lead to 40% of leads converting to clients. 
The steps below will help you get the best result.
a. Don't follow up to touch base with leads
Touching base with leads does not offer much value and it can annoy your leads. Ensure the follow-up activities are packed with value. Your leads may need more valuable information to decide. Your call or email should be channeled towards a particular goal. Always pick up from where you last stop. This is why you should always log your calls. You can do this by integrating your phone calls with your CRM through Leadsbridge. If you are still choosing the best CRM for your needs, check out this in depth comparison between the most popular CRM in the market right now.
b. Be repetitive
This may sound odd, but it is a good practice to let your leads know what you have discussed before. Let them know the benefit of doing business with you. You will be surprised that people remember little because of the volume of work they handle. Reminding them how your services can solve their problem will boost your conversion.
c. Use different channels to reach out to leads
As an insurance agent, you must use different channels to reach out to your leads. This includes phone calls, email messages, chat, SMS, etc. Leads are different and so may prefer different channels to communicate. 
d. Prepare for the next call
Don't end the call or message without setting the next appointment. This could be a phone call, on-site visit, text message, etc. 
4. Use Leadsbridge lead distribution and an email notification to know when leads come in – Leads convert more often when contact is made within 5 minutes or less. 
How do you determine the response time? The response time is the time between when prospective leads carry out the desired action such as sign up or fill a form and the time you respond to the lead. Agents who called within five minutes of the lead coming in got 900% more interest than those who waited for 10-15 minutes.
A study carried out by Harvard business reviews revealed that out of 2,241 U.S companies they surveyed, 24% took over 24 hours to respond to lead initiated contact, with 23% of the companies never responding at all.
This is what you should avoid. MIT professor James Oldroyd et al. learned that the opportunity to qualify a lead reduces to 10% after the first hour. It is difficult to qualify a lead when it is past 10 hours. This implies that when you did not follow up a lead till the next day, it will go cold.
With Leadsbridge email notification integration, you can receive an email with the details of the leads directly in your inbox as soon as the lead signs up on your forms, landing pages, or any source you connect with Leadsbridge. With that, you can quickly send a welcome email or SMS, which you can also automate. This will ensure that you never miss a lead or allow them to go cold.
5. Respond to your insurance leads within 1 minute at least with a welcome email or SMS 
Responding quickly to leads as soon as they come in is very important. It is like extending a handshake to welcome them to your business. First impressions email marketing study carried out by Ciceron revealed that 39% of brands send a welcome email, while 41% of brands don't send a welcome email within the first 48 hours. 27% sent zero emails in the first three weeks. This is why few of them experience success.
Therefore, welcome email or SMS is the best way to say hello to your leads and the beginning of a relationship with them. 
A good way to quickly respond to leads with a welcome or SMS is by integrating your sign up form or landing page with Leadsbridge welcome SMS integration tool. With this, it will be set on automation. As soon as a lead signs up, they will receive the text message you set up through Leadsbridge.
6. Close follow up with a call to action
Each time you follow up with leads, always let them know what to expect next from you. It can be to watch out for the email message you are sending next or instructing them to visit your website to download a white paper on topic X, so they can be familiar with a plan before your next call. This will give them something to look forward to.
This way, you are gradually moving them through the sales journey.
7. Track and measure results
Whatever can be measured, can be improved. You need to track the number of deals you close through different channels. i.e. Phone, emails, text messages, etc. There are different tools you can use to track your data. The data you need to track are your average call times, lead response times, email open, click-through and response rates, etc. Tracking these numbers will help you to further streamline them to get better results.
Insurance lead generation and management Takeaways
Having read through the 7 strategies above, below are the takeaways:
Be the first to contact a prospect 

Follow up with your leads 

Persistently follow up with leads 

Use Leadsbridge lead distribution and an email notification to know when leads come in  

Respond leads within 1 minute at least with a welcome email or SMS 

Close follow up with a call to action

Track and measure results
There is a need for patience and persistence when following up insurance leads. Ensure you value your leads and build a trust-filled relationship with them. Only then, will you be able to convert more prospects to leads and leads to paying clients.