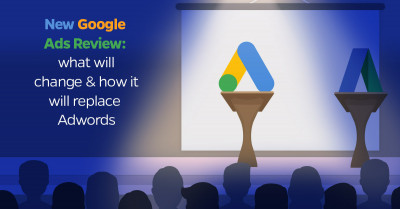 Google recently re-branded its ads platform. They grouped the ad products into three categories – Google Ads, Google Marketing platform, and Google Ads Manager. The Google AdWords is now the new Google Ads. The Google Analytics 360 Suite is merged with DoubleClick to create the new Google Marketing Platform. The Google ads manager is a product of DoubleClick for Publishers (DFP) and DoubleClick Ad Exchange (AdX).
According to Google, the need to re-brand arises from the fact that " marketers have more opportunities to reach consumers across channels, screens, and formats.
Advertising on Google has evolved toofrom helping marketers connect with people on Google Search, to helping them connect at every step of the consumer journey.
As the opportunity to engage consumers has grown and become more complex, we are simplifying our products for advertisers and publishers of all sizes so they can more easily reach consumers anywhere, at any moment and on any channel."
This implies that the new Google ads is no more about keywords or words, it about intent, persona and the audience. This provides a greater opportunity to reach more people across the different channels and platforms.
In this article, we will look at Google Ads review. You will know the changes and the imrovement with this new implementation, including Smart Campaigns and implication for Agencies.
But before we move, in case you are new to Google ads, lets define it to create a better understanding.
What is Google Ads?
Google Ads is an online advertising platform created by Google where advertisers pay to show their products and services on the Google Ad network to people who use Google search engine, YouTube, Google Maps, Google Play and other websites through the Display network and Google's Adsense program.
Although there is a name change, the re-branding does not signify that the Google Ads differs from Google AdWords. According to top AdWords agencies, it is still the same. The new platform still contains all the Search, YouTube, Gmail, Display, App campaigns, Google Maps and more.
According to Sridhar Ramaswamy, Senior VP of Google's ad efforts, "This is primarily a name change, but it is indicative of where we have been directing the product".
Now that Google AdWords has been rebranded to Google Ads, is it useful for your business?
Is Google Ads beneficial to your business?
Lets look at some benefits of Google Ads.
It has great features such as the call bid adjustments and new shopping campaigns that is goal optimized.
It is easy to create and enhance campaigns based on your specific business goals
It saves time and helps you toget more done with easier access to the features you need most.
It gives you actionable insights with new graphs and powerful reporting tools
It performs the same way as Google AdWords thatyou are already familiar with. There is no much learning curve.
Google Ads review: New features.
Here, we will review Google Ads by looking at the new or changed features embedded in it.
Google Ads review: The Ad gallery feature
The ad gallery is a standalone tool in the Google AdWords. But it isdifferent in the new Google Ads. However, you can create responsive ads, Lightbox ads, and Gmail ads during display campaign set up.
Google Ads review: The Auction insights feature
The position of the auction insight feature is changed in the new Google Ads. You can find the auction insight at the top of the "Campaigns", "Ad Groups" and "Keywords" pages.
Google Ads review: The Audience lists feature
The audience list can be accessed during the search campaign creation. When you are creating a new search campaign, choose audiences as you select your campaign settings.
Google Ads review: The Audience targeting feature
In the previous Google AdWords, the audience targeting feature is called target and bid.It is now referredto as "targeting" in the new Google ads. Likewise, the "bid only"is now termed"observations".
Google Ads reviews: The dimensions tab reports feature
The dimension tab report in the Google AdWords is now called "pre-defined reports". You can access it from the reporting icon at the top right of your account.
Google Ads review: The Display Banner feature
The display banner is no longer available as a standalone tool as it is in Google AdWords. In the new Google Ads, you can view your reach and performance estimates during display campaign creation.
Google Ads review: Gear Icon features, Shared library, bulk operations, features under the "Tools" drop-down menu.
These tools have been moved from their original position in Google AdWords to under the tools icon in the right side of your account.
Google Ads review: The Gmail ads feature
Gmail Ads can now be accessed during display campaign creation. When you create a new display campaign, select the "Gmail campaign" subtype.
Google Ads review: The Google Analytics in conversion tracking feature
In the new Google Ads, there is no dedicated "Google Analytics" page. You can see your Google Analytics when you create a new conversions action and import analytics goals as conversions.
Google Ads review: The Search network with display select campaigns feature
The search network with display select campaigns is now accessible through the search campaign creation. When you create a new search campaign, choose "Add display network".
Google Ads review: The Total conversion value feature
The total conversion value is now referred to as the "conversion value" in the new Google Ads.
Google Ads review: The web pages in the conversion tracking feature
You can access the web pages where conversions took place under the "conversion actions" table. Click on a website conversion action, then click web pages along the top of the page.
Apart from the features above, the new Google Ads now use the smart campaigns. The smart campaigns is an innovation tailored to the small business owners. It enables you to quickly create ads in minutes and drive great results such as getting calls from leads, sending leads to your website or bringing prospects to your store.
Smart campaigns help you toget the result you desire. Google will help you tofine-tune your ads to get the result you want. When you use the Google smart campaign platform, your ads will be shown to customers who are interested in your product or service. Google discovered that the smart campaigns are 3 times better at getting ads in front of the right audience.
What are the implications of the new Google Ads for agencies?
If you are an agency, that's been using Google AdWords for your advertisement, you may need to make someadjustments. The first thing to do is to adjust your AdWords advert that was created based on Keywords. You have toensure that it is audience driven. This does not imply that campaigns that have been created based on keywords will not work. It will still work, but you need to keep tweaking it according to the new updates.
Conclusion
From the Google Ad review above, you can see that the new platform will help you tosave time and help you toimprove your advertising efforts ROI. Have you tried the Google Ads yet? Share your experience with us in the comment section.
P.s. Did you know that there's atool specifically designed to connect your Google Ads landing pages to your CRM/Email software? It's called "Landing Leads" and you can learn more about it by clicking the link below!