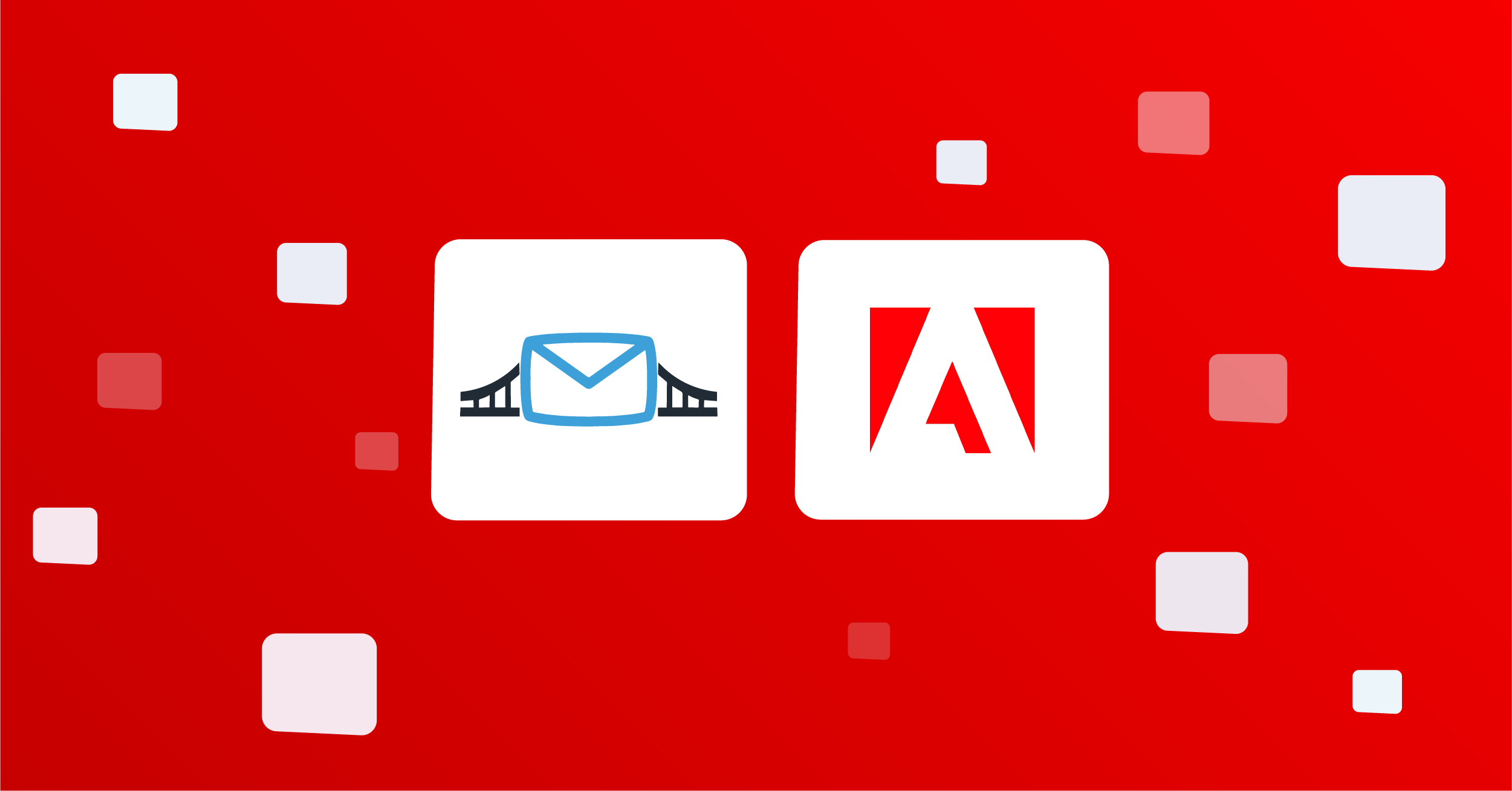 As a company, we've worked with some amazing brands and people over the years, many of whom we're proud to be partners with. Today, that list is extended even further as we're excited to announce that we're officially an Adobe Innovate Partner.

This much-anticipated partnership will bring all kinds of benefits to both us as a company, and you, our incredible users. After all, this sort of partnership wouldn't be possible without the support of the amazing individuals and companies that use our platform.
Today, our goal is to look over some of these new benefits and go over how they will affect our integrations (don't worry, it's all good news). With that said, let's start with what everyone wants to know.
What are the benefits of being an Adobe Partner?
Being an Adobe Innovate Partner comes with a lot of obvious benefits, but also some that might go a little unnoticed. To start, being an Adobe partner means that we have the full support of the Adobe team which means our users do, too.
Our team has full access to all the training and information that we need to make sure that your Adobe integrations are seamless and give you the full support you need to make your experience flawless. Each and every Adobe integration that we provide is now fully supported by the best that Adobe has to offer.
For us, this is another massive step forward. We constantly strive to bring you the best in iPaaS technology, and this Adobe partnership is a token of the achievements that we've all made (including you, our user) to make LeadsBridge the best it can be. For that, we have to thank you.
We'd like to really highlight our excitement for this Adobe partnership by going over some of the incredible integrations that our platform offers and showcase some of the benefits that they boast. Let's dig in.
Adobe Analytics Salesforce integration
As part of Adobe's business tools, Adobe Analytics was designed to allow you to analyze data that comes from anywhere in the customer journey. The tool itself boasts many helpful features to help the user get a good grasp of their data.
Our Adobe Analytics Salesforce integration allows you to create new Adobe Analytics leads with Salesforce and keep said leads updated constantly. Give it a try today.
We offer a large variety of integrations between Adobe Analytics and many other marketing tools. Whether you need a CRM, email software, or a custom integration, we can make it happen!
Adobe Campaign Salesforce integration
Our platform provides for a quick and seamless integration between Adobe Campaign and Salesforce. As one of the more popular CRMs out there, the need to integrate Salesforce with a high-level platform that gives you control over your marketing in both an online and offline setting is more prominent than you might think.
Using the power of Leadsbridge, you can connect your offline marketing data to the rest of your campaign with a few clicks, giving you the most accurate conversion data and allowing you to make more data-driven marketing decisions.
If you're looking for a specific integration for Adobe Campaign, then look no further. Our platform offers over 380 different integrations with some of the most popular marketing tools on the market. And again, if we don't offer it directly, it's always possible to make a custom solution, tailor-made to your needs.
Adobe Campaign Facebook integration
Facebook offers loads of helpful solutions to help businesses reach new heights in their marketing campaigns. As a proud Facebook Marketing Partner, we offer integrations between Adobe Campaign and many of the major Facebook marketing tools like Facebook Lead Ads, Facebook Custom Audiences, Facebook Conversions API, and more.
Connecting Adobe Campaign and the power of the Facebook suite of marketing tools through Leadsbridge truly gives you the upper hand in your marketing strategies. With our integrations, you will be able to save time, effort, and money.
Marketo acquisition
Adobe acquired Marketo – the topmost cloud-based marketing automation software for B2B businesses in 2018. The addition of Marketo CRM to Adobe enables Adobe to provide different kinds of solutions for improved customer experiences in various industries and businesses of all sizes.
Marketo CRM has a lot of features like marketing automation, email marketing, lead management and revenue attribution that helps business to create enhanced customer experience, engagement, and loyalty. With these features, users can identify, engage and speed up customer experience, attract customers by communicating with them, nurture and deliver ready leads to sales and get insight into performance.
According to Adobe "the acquisition brings together the richness of Adobe Experience Cloud analytics, content, personalization, advertising and commerce capabilities with Marketo's lead management and account-based marketing technology to provide B2B companies with the ability to create, manage and execute marketing engagement at scale."
Why use Marketo?
Marketo is one of the most popular marketing automation software available. Its marketing automation capabilities enable users to track customers' behavior and use it to engage them. It provides easy to build and scale automated marketing campaigns.
Marketo CRM email marketing feature provides a 360 -degree view of customers on the web, email, social and mobile. Communicate with your customers based on their behavior in real-time and you can get insight and in-depth reporting on the dashboard.
Marketo CRM lead management feature enables you to attract users through inbound and outbound campaigns, qualify potential leads, pass them unto the sales reps and nurture them to become customers.
The revenue attribution feature of the CRM gives you an insight into what's working and what's not. This information will help you to look for ways to improve what works.
Adobe Marketo integration
Leadsbridge Offers a seamless integration between Marketo and other third-party apps. This helps you to send data quickly to your favorite CRMs and Autoresponders, saving you the time and effort you would have spent doing it manually. Using Leadsbridge, you can connect Adobe Marketo to popular CRMs and Autoresponders as shown below. Also, check out other Adobe Marketo integrations here.
a. Marketo Microsoft Dynamics CRM integration
The Marketo Microsoft Dynamic CRM integration helps you to streamline your data management process. With this integration, you can send leads from Marketo to Microfot Dynamic CRM. This will save you time to manually enter the data into the CRM. The integration is on the waiting list. Sign up here to know when it becomes available.
b. Marketo Linkedin Matched Audiences integration

The Marketo LinkedIn Matched Audiences integration helps you to automatically send your leads from LinkedIn Matched Audiences to Marketo so you can trigger marketing automation such as sending welcome emails, qualifying leads, and distributing them to sales reps that will nurture them to convert to paying customers.
c. Marketo Netsuite integration
Connecting Marketo with Netsuite helps you to streamline your data management process between the two software. This saves you time and resources. With this integration, you can easily add data to Marketo and automatically update it on Netsuite. With this, you can automate lead nurturing and shorten the sales process.
The future ahead
We can't express how excited we are to be an Adobe Innovate Partner and the possibilities it contains for the future ahead. As time goes on, our integrations with the Adobe suite of marketing tools will only get stronger and stronger as we're able to constantly strive to perfect your experience as a LeadsBridge user.
For now, we hope you enjoy all of our many integrations. If you'd like to see our platform in action or to learn more about Leadsbridge's integrations with Adobe, then feel free to request a demo.