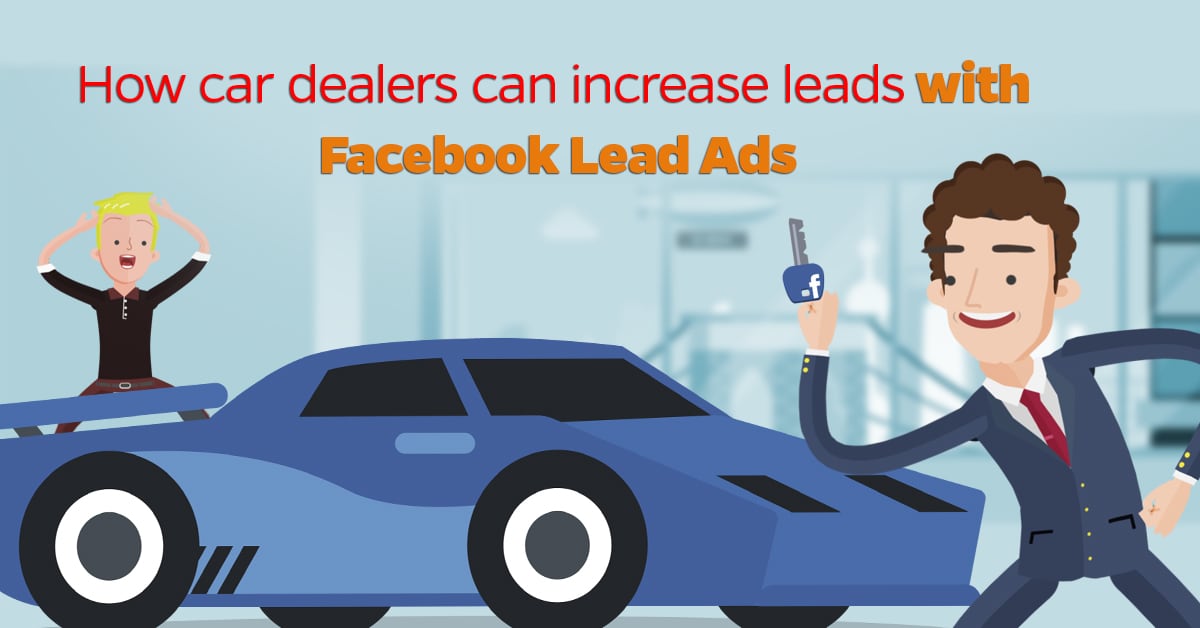 Why have car dealers problems in gathering more leads with a competitive price?
We all know that is very hard to find leads at a competitive price, in particular for today's car-dealership business.
Almost every car dealer has a website to generate the most organic leads online; obviously, companies that provide informative content on their sites can establish their leadership and generate leads, but this require time and efforts, not to mention the marketing team or marketing tools that need money.
And if you could reach leads with a competitive price, getting a lot of bang for the least amount of force? The answer is Lead Ads!
Lead Ads: the new Facebook Ad Type that makes life easier to car dealers gathering new leads
Lead Ads is the new Facebook Ad type that lets you easily gather new more leads… How? With their pre-filled forms. In fact, many LeadsBridge customers gain very good results with a lead campaign for test drives.
But let's go through some details of this tool.
Thanks to the Facebook targeting options you can reach those people who would be interested in your industry. In fact, the Facebook Lead Ads gather all the information the user has already given on Facebook, like his/her email address, phone number and so on.
But don't worry! If you are new to the Facebook lead ads world, and you want get an in depth explanation on this topic along with some tips to improve your performance with this Facebook's feature, don't miss out our step by step guide here.
Facebook lead ads it's a very simple way to collect leads as the forms are automatically pre-filled with the info the user provides on the profile. As you can see, it is an excellent tool that lets people stay on the social media without bouncing from it to another external site.
As a result, you accurately define the users you want to reach with Facebook Ads in the light of:
Place: identify your target people basing on where they live or where they will get into business with you.
Demographics: choose the public you want to show your ads basing on age, gender and interests.
Interests: if people are interested in your industry, you'll have more chances to increase your sales.
Behavior: basing on their behavior, you can quickly reach target people who want to buy a new – or used – car.
With that in mind, you can show your ad to users who will click on the call to action to open a pre-filled form with their personal information they used on Facebook. The user will be able to review the info, edit it if necessary, and click Submit.
This way, the process is as easy as possible, because remember: the less people have to do things and fill in forms, the more they will convert!
Especially on mobile devices which will be hard to collect leads with a classic long form.
The problem with Lead Ads and the solution with LeadsBridge
Lead Ads is a fantastic tool, but it has a little issue: you can't store leads except through a simple CSV file you can download from Facebook.
I call this "issue" as with the CSV the process is very slow compared to what LeadsBridge does. It connects your Lead Ads campaigns to your CRM, letting you import them instantly with no need to manage any CSV file.
With LeadsBridge you can sync your leads with over 40 CRMs and with your Inbox, filling the gap between lead ads and the CRM, between businesses and customers with the goal of call back your leads with the perfect timing!
LeadsBridge avoids manual management with hundreds of CSV files, to maintain the quality of your leads, and reach them at the right time.
The ADF/XML Car Dealers standard advantage
An ADF (Auto-lead Data Format) format is an international format where a lead is transferred on the CRM. It is an open XML (Extensible Markup Language) which communicates consumer purchase requests to the automotive dealership.
The XML sets the rules for encoding documents in a format both human and machine readable. It is baseline is friendliness, and it is a simplified version of the SGML (Standard Generalized Markup Language) that lets you define new markup languages.
The ADF format will send any type of lead for vehicles to the CRM of automotive dealers, and the good news is that 99% of Car Dealers CRMs support the ADF standard.
With the ADF format, LeadsBridge can integrate any CRM of a car dealer
We have already integrated the CRM of some car dealer just like e-Dealer, ProMax and others.
We did this thanks to the native ADF/XML integration, an integration specifically created for the automotive market, with which you can control the fields you want to sync with your CRM/Autoresponder. And to simplify the process, we have divided the custom fields into four categories:
Basic fields
Advanced fields
Question fields
Conversion Tracking fields
Once you define the bridge, you can match all pieces of data you want and receive them directly in your CRM.
We use the Facebook Real-Time Updates to sync your leads with your CRM so that you'll have your leads synced in real time. This way the process will be composed of three steps in which there will be a user who registers through your Lead Ad, then the lead will be stored in you CRM and finally, your salesperson can reach the lead after just a few seconds of the request… amazing huh??
LeadsBridge also integrates other email software and CRMs, for example, Mailchimp, Hubspot, Salesforce, and send an email notification as well, so you have your new leads inside your inbox as well.
Why is it important to send a Welcome Email?
A Welcome Email is a sort of a business card for your target customers whose primary purpose is to make people feel important and unique and to encourage new members to engage with your business.
You can decide to write something like "Thank you for contacting me! I will call you asap!", but there's no right or wrong way to welcome new customers.
Another tip is to emphasize the benefits of your business and as a car dealer: you can highlight the power of your offers, your discounts and your test drives.
Then you can offer a sort of gift, create a clear CTA without exaggerating or you'll get the opposite effect.
How to send a Welcome Email with LeadsBridge
On LeadsBridge, you can send a "Welcome Email" to give a lead magnet or a gift, even a single-use coupon or only to send a welcome message to your leads.
Below a video on how our Welcome Email works.
Remember that in the Welcome Email you can use all the information the leads gave you, like their name, email, phone, city and so on.
Try it!
LeadsBridge can help you solving the problem of collecting high-quality leads. Thanks to Lead Ads you can gather target people through the Facebook pre-filled forms to store leads into your CRM and send them a Welcome Email, by which you can let the customer knows that you received his/her data with something like "Thank you! All your information has been received. I'll call you back in six hours".
If you haven't tried Facebook Lead Ads yet, you really should. LeadsBridge counts a cost per lead of about 8 times less of other online advertising channels.
They can help you reach the right people, and you can easily manage them through LeadsBridge, which is the best choice for this sophisticated and incredibly powerful ad as it is already helping thousands of car dealers around the world generating more leads and sales without spending a fortune.
So what you're thinking about? Create a free LeadsBridge account and give it a try!