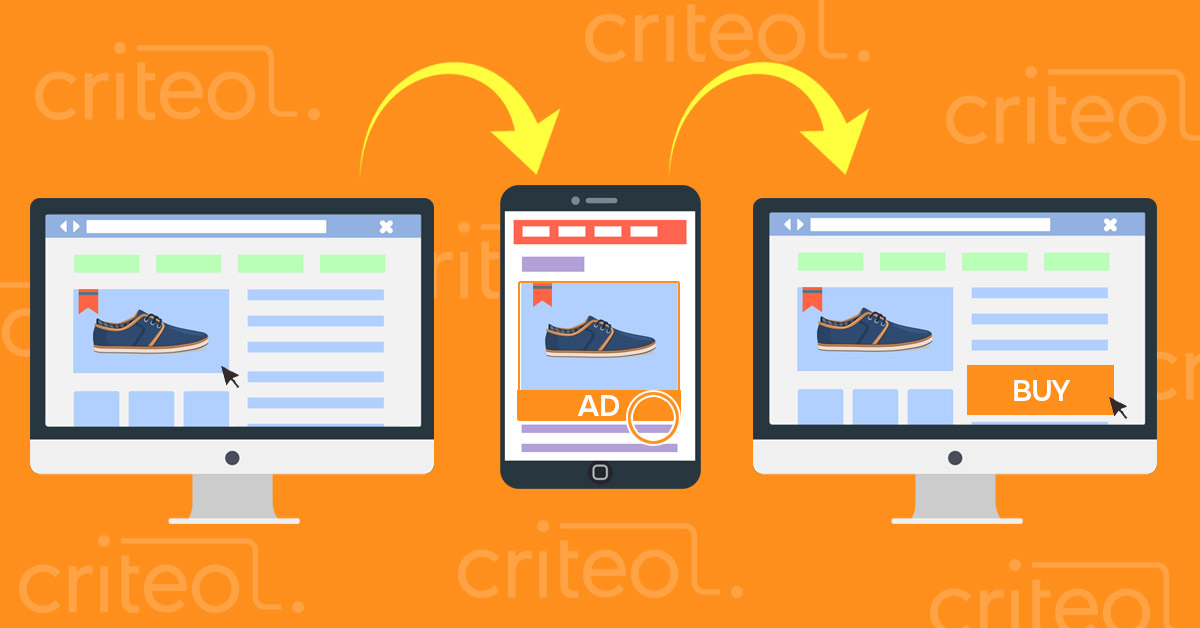 As a business, retargeting is pretty vital to the success of your marketing strategy. After all, according to a study done by Criteo, consumers who are retargeted are 43% more likely to convert. That being said, it's a little more complicated than simply going after users/customers that are already familiar with brands. 
There are plenty of tools and strategies out there to help us. Criteo, for example, is a wonderful example of a company that helps other companies with dynamic retargeting. Criteo is also the focus for today. 
In this article, you will learn all about Criteo dynamic retargeting.
What is Criteo?
Criteo is a dynamic retargeting company that works closely with internet service providers to create personalized ads for consumers. 
Basically, Criteo works with ISP's to create online ads based on your internet history. If you've clicked on a certain ad, visited a certain website, or viewed a certain product, odds are that you will see an ad related to what you saw.
Criteo helps businesses re-engage their targeted audience by helping create the perfect ad for the right people at the right time. Using machine learning, Criteo creates relevant ads in real-time using what they call Criteo Audience Match.
As Criteo explains it, Criteo Audience Match is designed to perfectly compliment Criteo Dynamic Retargeting, allowing the perfect audience to be matched with the perfect custom ad.
Criteo also allows you to retarget through Facebook and Instagram. In fact, Criteo Facebook retargeting is one of the main features of the tool. 
So, what is Criteo? Simply put, it's a tool that helps you reach your targeted audience in a more efficient and direct way.
The main features of Criteo
Criteo itself contains a lot of features to help you get the job done. As a marketer/advertiser, you'll appreciate these:
1.   Real-time campaign performance tracking
Criteo does more than just come up with the perfect ad. They also help you track the performance of your ad campaigns in real-time, so you can always be sure that the data you're receiving is accurate.
2.   Prediction algorithms
Staying relevant in the advertising world can be hard to do. In order to combat that difficulty, Criteo created a very impressive prediction algorithm to help you stay ahead of the game.
3.   Personalized retargeting
Personalized retargeting is another term used for dynamic retargeting. We mentioned this briefly above, but we should also list it here with the features since it's what Criteo is most well known for.
4.  CPC pricing
Whether you're running multiple ad campaigns or just one, cost-per-click pricing is an important tool. Criteo has an intuitive pricing feature that allows you to get a better handle on your ad budget.
5.   Ads across mobile, desktop, email, and social 
Criteo's ads work on both mobile and desktop, across any social media platform (like we discussed above with Criteo Facebook retargeting), and even in email format.
Of course, there are quite a few notable features built into the Criteo platform, all of which are designed to help you with dynamic retargeting. 
Audience and conversions
When it comes to any ad, the more eyes on it, the better. That being said, there are lots of ways to measure success when it comes to your ad campaigns, all of which rely completely on your goal.
That's pretty vague, and it doesn't answer any questions. That being said, let's discuss the difference between audiences and conversions, and why each one brings something different to the table, instead.
Since Criteo and dynamic ads focused on certain audiences were mentioned first, audiences will be the first topic.
Audiences and Criteo audience match
As stated just above, ads are designed (or at least should be) to draw in some attention to your brand. With that in mind, the bigger the audience, the better. The more people that you can get to see your ad, statistically, the more conversions you'll make. 
For something like a blog, this can work just fine. But, since you're paying for your ads depending on the audience you're trying to reach, it's not the most cost-effective strategy if you're focusing solely on conversions. 
The beauty of dynamic retargeting is that your ads are tailored specifically for an audience that's already at least slightly interested in your brand. That's why using tools like Criteo Audience Match is incredibly important; because they allow you to find the right people for conversion. 
Which brings us to the topic.
Conversions and Criteo customer acquisition
You can have the biggest audience in the world with millions and millions of views per ad, but if they aren't converting, then it's going to do nothing but empty your pockets.
Converting a new "customer" doesn't always mean money in your pocket. It simply means that they follow through with an action that you placed on the ad.
For example, it could simply be lead generation by having them sign up to an email list, have them sign up for a free webinar, or dynamic retargeting.
Regardless of what it is, it's important that you structure your campaign in such a way that it appeals to the audience that is viewing it. So much so, that they continue on with the conversion funnel and follow through with the given action you placed on the ad.
Criteo customer acquisition is perfect for this scenario because it identifies new potential customers based on their purchase habits and history. Thanks to the prediction algorithm, these customers are more likely to convert.
Using CSV files with Criteo
As wonderful as Criteo is for dynamic retargeting, one might be led to think that it's a complicated process to use. In reality, the exact opposite is true. 
With Criteo, all you truly need to do to get started is upload your customer list, and to do that, you just need to upload your CSV. Once that is done, it's a fairly simple and easy process to create a dynamic ad campaign focused on your custom audience.
As you can imagine, this is a great advantage. Especially if you're automating lead generation by bridging your CRM with Criteo. Let's talk about why.
LeadsBridge Custom Audience Sync 
LeadBridge Custom Audience Sync is a tool specially made for retargeting audiences between your CRM and Facebook. Essentially, it gathers information such as phone numbers and emails and keeps them updated.
In addition, Custom Audience Sync from LeadsBridge gathers basic information such as first and last names, zip codes, states, cities, countries, birthdays, and gender. 
Having a detailed customer list and keeping it updated is vital for tools like Criteo, as it allows the tool to create even more accurate and relevant ads for your specific audience. With Custom Audience Sync from LeadsBridge, your dynamic retargeting campaigns can be a lot more effective by automating the whole process.
Criteo Facebook retargeting and offline conversion tracking
Typically, conversion tracking relies completely on one thing: online status. After all, how are you meant to track any sort of conversions that don't occur online?
Well, there's a simple solution to that, and it's called Online to Offline Sync by LeadsBridge. 
Although the conversion may happen offline, the customer's journey begins online. Whether it's a visited website, email sign-up, or a downloaded form, it all starts with a simple step. 
Next, the future customer turns into a lead. This can happen in a number of different ways, but the most common ways are through phone calls or form submissions.
This is typically the point where conversions go offline. This usually manifests as an in-person sale.
This can be kind of difficult to track in most cases, but not if you use LeadsBridge. Here's how Online to Offline Sync by LeadsBridge works:
In the simplest of terms, Facebook ads generate CRM leads and then those leads continue into customers. That data is then pushed back to Facebook Ads.
LeadsBridge comes into play by bridging your CRM/POS/inventory with Facebook. This all takes place after the customer watches or clicks on your Criteo Facebook retargeting ad, and continues with an offline purchase.
Facebook will then match your purchase data with your advertising data and send reports to your dashboards that are influenced by offline sales. With this tool, you truly can bridge the gap between online and offline sales with ease.
Wrapping it up
After just a little research, it's very easy to see how much of an asset Criteo can be to your marketing and dynamic retargeting strategy. Paired with Offline to Online Sync by LeadsBridge, you can gather more accurate lead data with very little effort on your part. See how Criteo automated their technical screening to increase productivity.
Because of the automation of LeadsBridge in bridging your CRM/POS/inventory with Facebook, and the incredible custom dynamic retargeting ads from Criteo, converting has never been easier. 
If you're looking to update your retargeting strategy, then take a look at Criteo, and try using LeadsBridge to further automate your dynamic retargeting campaign.