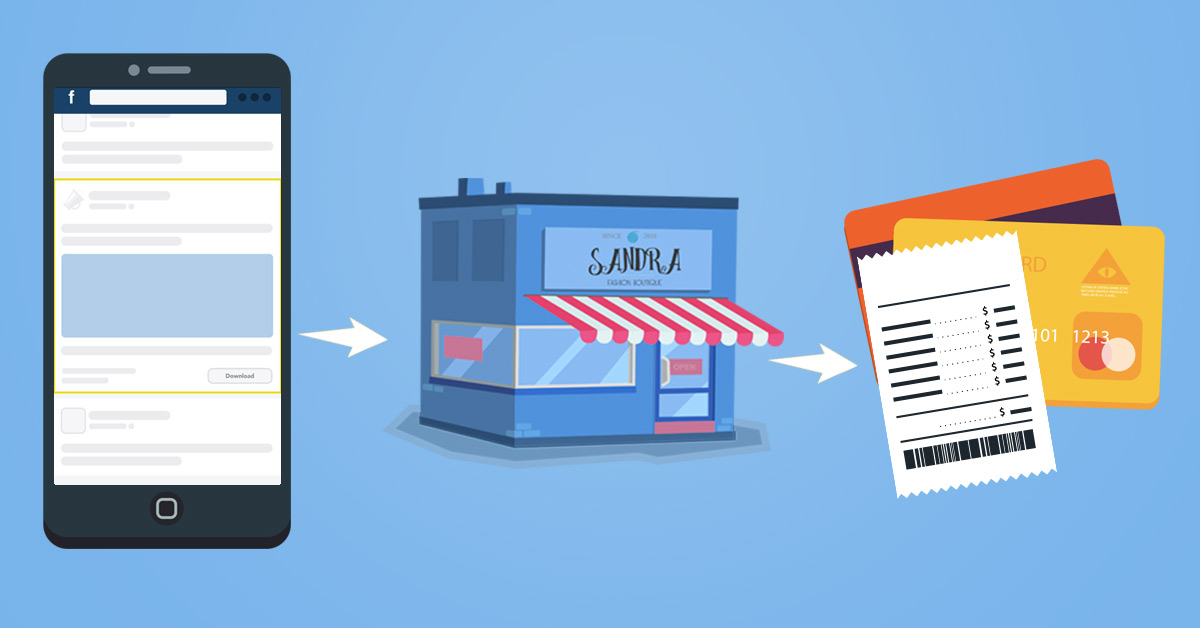 One popular challenge common to brick and mortar stores is the inability to measure the impact of online campaigns in their in-store purchases. However, Facebook created a tool that can conveniently solve this problem. It is called the Facebook Offline Conversion tool. The tool practically enables you to tie in-store purchases or offline conversions to online campaigns.
According to Facebook "With offline conversion measurement on Facebook, you can track when transactions occur in your physical retail store and other offline channels (ex: orders made over the phone) after people see or engage with your Facebook ad."
Facebook Offline Conversion tool is a useful tool for businesses that have an offline presence such as brick mortar stores. Given that 90% of transactions happen in-store, you need to do all you can to optimize conversion. To get the best measurable results from the Offline Conversion tool, you need to engage Facebook Offline Conversion best practices.
In this article, you will learn how to use six Facebook Offline Conversion best practices to increase the ROI of your business.
1.   Create Lead Ads ID to track conversions
Facebook allows you to add tracking parameters such as Leads ads ID to your instant form to pass additional information with the submission. This is useful to track the conversion generated from FB Lead ads. You will see the Leads ADs ID when you download your leads from the ads manager or sent directly to your integrated CRM system. With this, you can identify the leads that converted for a specific ad campaign.
2.   Check Data Hygiene
Offline Event data businesses provide insight into how online ads are driving offline conversions. This information is useful for optimizing your ad campaigns. Below are tips that will help you to get the best set of data for your business.
a.  Upload data using actual time and transaction values
Using the actual time (in minutes and seconds) when uploading your data ensures that each event that happened offline is added. This includes the number of times a particular customer decides to make purchases in a day and the transaction value of each purchase. The transaction value shows the event values in your report. This helps you to know your return on ad spend.
b.  Upload data regularly
It is recommended that you upload your event data every day so it will be easy to match it with any ad performances you are currently running. Regular uploads help to reduce gaps in your reporting. You can also automate the data uploads by connecting the company's CRM to Facebook using Leadsbridge.
c.   Provide an event set before you set up your ad campaign
An event set will help you track an account from the time it is created. Ensure to enable the auto-tracking feature when setting up the event set so that ad campaigns in the account will be automatically associated with it.
3.    Create Loyalty programs
Loyalty programs are strategies that reward customers that are loyal to a business. When you reward customer's loyalty, it increases continuous engagement and growth for your business. Having a loyalty program for your business helps to keep track of your customer's purchase history and behavior. This gives you a large database that can help you to design personalized offers for your customers and improve overall customer experience to make them buy from you again and again. For this, you can create a campaign on Facebook and add your promo codes or discount codes to it that is redeemable in-store. With this, you can track the number of people that were sent to your store through your Facebook ad campaign.
To get the best out of your loyalty programs, create memorable codes for people who find it on your ad campaign. Keep track of your codes, specifically, keep them in a spreadsheet. This will help you to remember not to use it somewhere else.
4.   Track Micro-conversions
Most business owners think macro conversions such as sales of products or services are the major metric to track from a Facebook Lead Ads. Although Macro conversions are important, much more important is the Micro conversions. Micro conversions are the steps a lead takes on their journey to become a customer (macro conversion). These include small engagements such as sign-ups, email, phone calls, meetings, etc. Micro conversions are great because they help to identify friction points in the funnel, especially where leads are dropping off before completing the sales funnel. They help to measure the effectiveness of Facebook Ads. Without the micro-conversion metrics, you will be spending much more on ads without really get much out of it.
The truth is, you can't expect prospects to convert at the first sight of your ads. For example, if you own an auto dealership business and you put up a Facebook Lead Ads to invite people to your offline showroom. The micro conversions for a prospect will be clicking on your ads, agreeing to come to the showroom, and if they like what they see, they can book for a test drive of the car they want and have a chat with the sales team. The macro conversion happens when they eventually come to make a purchase.  All the micro-conversions steps they took are important in the sales funnel. They help you create a funnel that will assist prospects to overcome any and every objection they may have about your product or services. This is the reason why you need to pay attention to micro-conversions and start optimizing them for Macro conversions.
5.    Use Facebook Offline Conversions integrations
The last Facebook Offline Conversion best practice that can help you succeed in using integrations with Facebook partners. Facebook built partnerships with companies to help you use the point of sale (POS) and customer relationship management (CRM) directly with the Offline Conversion tool. This makes it easy to upload your offline data through these partners.
With the Facebook Offline Conversions integration, you can reduce the manual tasks and errors generated during the process. One of Facebook's partner is Leadsbridge. Leadsbridge has an integration layer to help you connect your CRM and email marketing software to the Facebook Offline Conversions tool.
Leadsbridge's conversion sync is an automated tool you can use to track offline transactions and know the performance of your Facebook ads. This tool helps you to automatically upload your offline customer data to Facebook. It removes the possibility of errors when matching your customer data on Facebook. It also ensures you have up-to-date lists on your Facebook account. It is a much better way to track your offline conversions.
How Facebook Offline Conversions integration work with Leadsbridge
Leadsbridge works simply as shown in the image above. The first step shows when users view or click on your Facebook ads, which can lead to purchasing offline. Then Leadsbridge automatically bridges your CRM and point of sale inventory with Facebook. Facebook then matches your ads data with your purchase data and gives you the reports in your dashboard showing all the offline sales that happen as a result of your Facebook ads. Very simple!
This is the easiest way to use Facebook Offline Conversions integrations.
Now that you have learned about the different Facebook Offline Conversion best practices, the question is how do they help with Facebook Offline Conversions optimization?
Facebook offline conversions optimization
The Facebook Offline Conversions best practices mentioned above helps businesses to optimize ad campaign and align Facebook ads budgets towards the metrics that are driving the best ROI. Because you have leads ID in place and are tracking micro-conversions, engaging in data hygiene, and using integrations, you have the best customer data to create the best campaigns that will drive better ROI for your business.
Conclusion
The Facebook Offline Conversions tool is a must-use for all online businesses with an offline presence. Engaging in Facebook Offline Conversions best practices mentioned above will help you to optimize your ad campaign to drive better ROI for your business.  It furnishes you with detailed customer data that will enable you to place the right ad, targeting the best audience, and getting the best conversions. With Facebook Offline Conversions integrations, you don't have to do all the manual work, Leadsbridge helps to connect your CRM or POS to Facebook to upload customer's data and keep them updated. If you have not been using the tool, it is time to start.