An estimated 81% of shoppers carry out online research before making purchases and 90% of retail purchases in the U.S. happen offline. However, only 10% of shoppers finalizes the purchase online after researching a product.  To corroborate this fact, The ROBO economy (Research Online, Buy Offline) revealed that 82% of smartphone users consult their phones on purchases they are about to make in-store. It further revealed that almost $5 is spent in-store for every dollar spent online following online research.
This means that advertisers must be able to match their offline conversions such as in-store visits, phone calls, and consultations with their online marketing efforts. But it is hard to do it. However, in recent years, advertising platforms have been rolling out new tracking tools, such as Facebook Offline Conversions tool to track your offline conversions influenced by people viewing your Facebook ads. 
Without this tool, it is difficult to measure offline conversions. For example, consider a retail business that invests heavily in Facebook ads. How would they know when it drives foot traffic to their brick and mortar store?  How would they know the number of sales that occur as a result of the ad? This is where a tool such as Facebook Offline Conversions can help.
What is Facebook Offline Conversions and how does it work?
Facebook Offline Conversions enable you to upload your sales data to Facebook and match the transactions that take place offline with people who have seen or clicked on your Facebook ads. If there is a match, Facebook attributes the sale to your Facebook ads. 
According to Facebook "With offline conversion measurement on Facebook, you can track when transactions occur in your physical retail store and other offline channels (ex: orders made over the phone) after people see or engage with your Facebook ad."
There are many reasons why Facebook Offline Conversions can benefit businesses. 
For example, a car dealership business can set up Facebook Offline Conversions to know the number of people who bought or serviced their cars as a result of seeing or clicking on a Facebook ad. 
This is possible by uploading customers' information such as the names, email addresses and phone numbers from company CRM, POS or payment system to Facebook. Facebook will match the information with the data of users who saw or clicked on the ads.  If there is a match, Facebook attributes the sale to an ad. This tool allows advertisers to shine a light on whether or not their marketing efforts are having an impact. 
Likewise, if you are a retailer, you can use the Facebook offline conversion tool to know the number of people that bought or sold something as a result of your Facebook ads. 
With this information, you can create better ads that will convert more and be able to show how many offline sales your Facebook ads generate.
However, it's worth noting that Facebook has a recommended period of 28 days between ad interaction and offline conversion. Facebook requires advertisers to upload customers' data within 90 days from the day the user engaged with the ad.
Why tracking offline conversions in Facebook matters?
There are three major reasons why you need to track your offline conversions on Facebook, which we also discussed in the video below.
In Summary, below are the reasons why you need to track offline conversions on Facebook 
It helps you to measure the effectiveness of your campaigns

It enables Facebook to optimize the campaigns for you.

It helps you to understand your advertising strategy better.
How to set up Facebook Offline Conversions
There are different ways you can set up your Facebook Offline Conversions. You can set it up through the offline event manager, use a Facebook partner such as Leadsbridge integrations or use the Facebook API. But before we proceed, there are things you need to set up Facebook Offline Conversions. Check them out below. 
What you need to set it up 
1.   Offline event customer data sets
Before you can use the offline event tool, you need your customers' details such as the customer's name, email, and conversion data (i.e. purchases, appointments, and phone calls) for Facebook to see. To get this information, you need to export the transaction history from your CRM, text or CSV file. If you don't have those file formats, you can copy and paste the data. If you use a POS, you could also export the details.
Your file must contain four specific handlers such as
The event time:

This is the time the offline conversion took place.

Event name:

This is the name you choose that matches your Facebook event such as Purchase, registration, consultation, and lead.

Value:

The value of the offline conversion

The currency:

The currency you receive from the value such as USD for U.S Dollars
Facebook allows you to add up to 17 identifiers in your set of converters. This includes the name, surname, email address, phone number, postcode, city, state, country, etc.
2.   A Facebook ad account
You need a Facebook ad account before you can set up the offline conversion tracking tool. If you don't have one, you can create it here. 
3.   A Facebook business manager account
Once you opened a Facebook ad account, you also need a Facebook business account to enable you to share and control access to the Facebook ad accounts and pages. 
Now that you have the above-mentioned details, let's move on.
1. Set up Facebook Offline Conversions with offline event manager
The first way you can set up Facebook Offline Conversions is by using the offline event manager. Below are the steps you need to follow.
1.  Create an offline event set
The first step you need to take is to create an offline event set. To do this, go to the events manager and choose the business you want to use. 
2.  Click on the add data source, then click on offline event set.
3.  Provide a name for your offline event set and add a description, then click on create.
4.  Select the ad accounts you want to assign your event set.  Choose the people you want to grant permissions for access to the event set in your business and click continue.
You have finished creating the offline event set. It is now time to upload your offline event data. 
Upload customer offline event data
1.  Go to the event manager and click on the Offline event.
2.  Choose the name of the offline event set you want to upload your offline event data to.
3.  Click on upload offline events. 
4.  It is time to select the file from your desktop and add it to Facebook. Click on "Select file" to pick the file from your computer. Choose next: map data to enable Facebook to map your data attributes to column data types.
5.  Preview the data table and check for errors. If there are errors, ensure you resolve them. This can be missing data, incorrectly mapped or formatted data.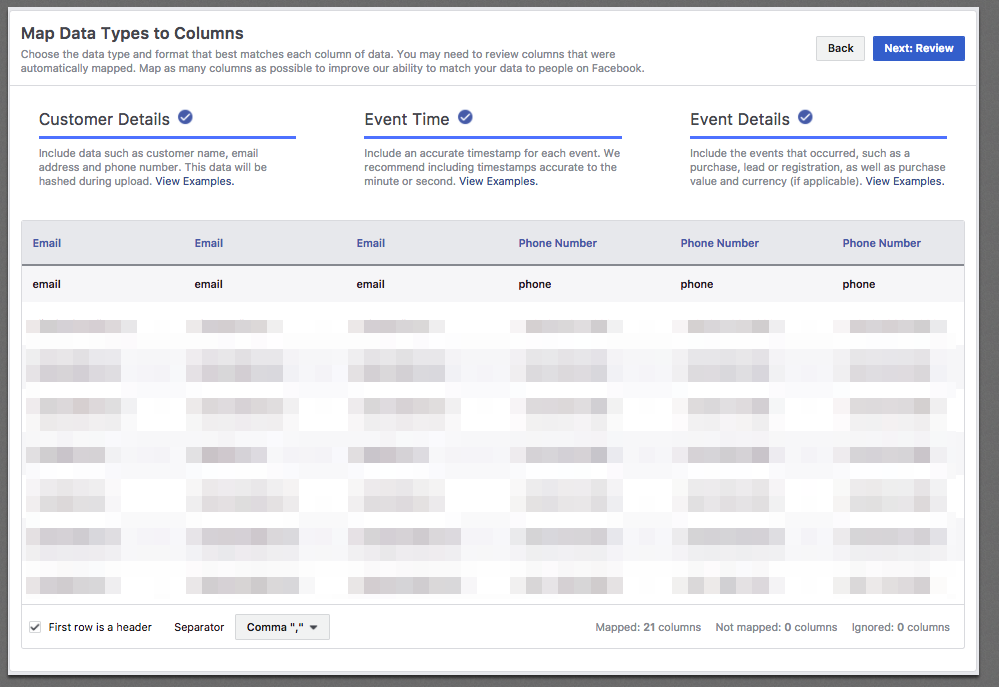 6.  Select next: review to see how many rows have been uploaded to Facebook and the warnings. Each warning has a recommendation you can follow to fix it. So check them out. Facebook will also let you know the estimated match rate of your data. This depends on the quality of your offline events data. But overall aim for at least 80%.
7.  When you are done, click on "start upload" and that is it.
8.  View your results: Now that you've finished uploading your events, you would want to see the outcome. However, it takes 15 minutes for Facebook to populate the data. After that, you will see the leads that are attributed to your Facebook ads. To see the results, go to ads manager, select campaigns, ad sets, choose a column and choose offline conversions and you will see the reports.
Now, the second method you can use to set up Facebook Offline Conversions is through Facebook Partner integrations.
2. Set up offline conversions through Facebook partner integrations
The second way you can set up offline conversion is by using a partner integration. Facebook built partnerships with companies to help you use the point of sale (POS) and customer relationship management (CRM) directly with the offline conversion tool. This makes it easy to upload your offline data through these partners. 
By uploading your data automatically, you can reduce the manual tasks and errors that might occur during the process. We are one of Facebook's partners. We developed an integration layer to help you connect your CRM and email marketing software to Facebook Offline Conversions. The tool is called – Conversion Sync. It is an automated tool you can use to track offline transactions and know the performance of your ads. This tool helps you to automatically upload your offline customer data to Facebook. It removes the possibility of errors when matching your customer data on Facebook. It also ensures you have up-to-date lists on your Facebook account. It is a much better way to track your offline conversions. 
How offline conversions work with Leadsbridge
Leadsbridge works in a simple way as shown in the image above. The first step shows when users view or click on your Facebook ads, which can lead to purchasing offline. Then Leadsbridge automatically bridges your CRM and point of sale inventory with Facebook. Facebook matches your ads data with your purchase data and gives you the reports in your dashboard showing all the offline sales that happen as a result of your Facebook ads. Very simple!
This is the easiest way to use Facebook Offline Conversions.
The third way to set up Facebook Offline Conversions is through the Facebook API.
3) Set up Facebook Offline Conversions with API
The third way you can set up Facebook Offline Conversions is with the API. The API allows you to send your offline conversion events such as sales, consultations, and phone calls data to Facebook using the offline conversions API or through partner integration. You need to have a Facebook business manager, a Facebook app, a business manager system user, an access token from the system user and an offline event set to use the offline conversions API.
The three methods enumerated above are the ways you can set up Facebook Offline Conversions for your business.
The truth is, offline events cannot be used to totally measure the conversions you get. It is an estimation of how many people saw your Facebook ads online. The success of the tracking depends on a lot of factors such as the match rate, the time allotted for conversion, and other factors. The thing is, you may have much higher conversions than specified by Facebook. However, offline events is a great way to know your conversions.
Are there companies already improving their sales with Facebook Offline Conversions?
Netatmo is a company that designs and sells outdoor cameras, smart thermostats, and air quality monitors to homes through its webstore and a network of resellers. The company wanted to scale its Facebook campaigns in order to drive sales. They decided to measure the online and offline conversions of their Facebook ad campaigns. They used the Offline Conversion API to connect and match customers' data with Facebook ad activity. 
The results?
They identified a 91% match rate between the Facebook ad campaign and the offline sales, 75% of total attributable sales were made offline and 80% of total attributable sales in Nordic region were made offline.
Conclusion
The offline conversion tracking tool is a powerful tool for companies to increase their ROAS. With it, you can know what Facebook ads are driving offline purchases, store visits, phone communication, consultation, etc. You can use these details to further enhance your marketing campaigns to generate more return on investment for you.