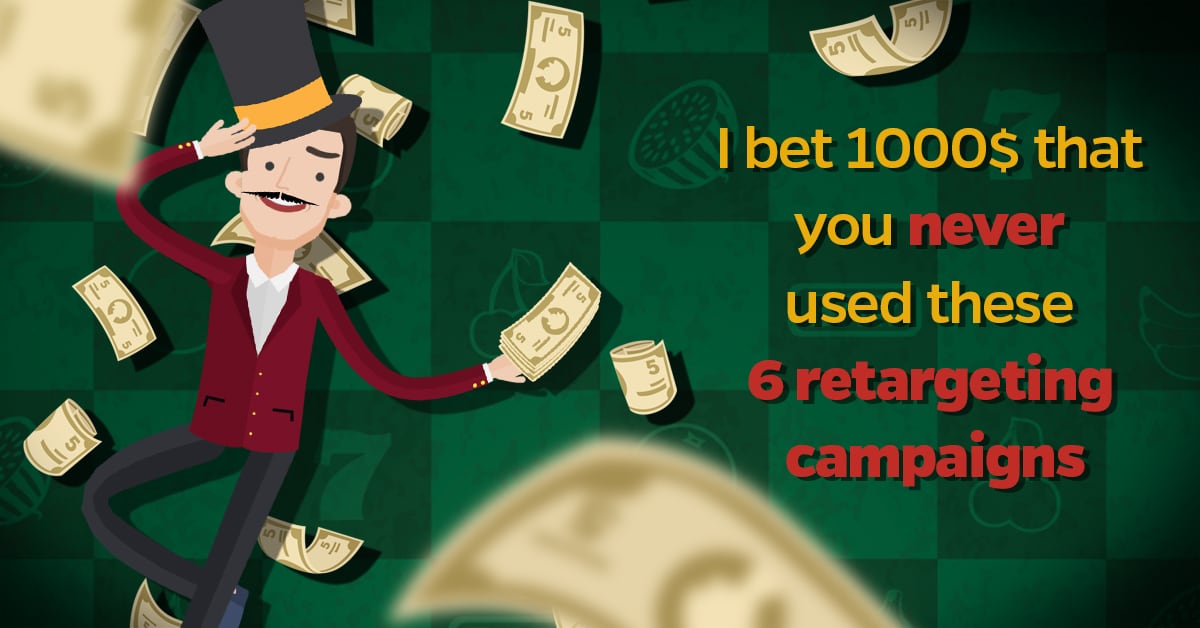 Retargeting campaigns are the go-to strategy for every marketer who's investing in Facebook ads. Sure, Facebook targeting options are fantastic and can be powerful to find new leads, but having your ads being showed to someone who already knows your brand and has declared in some way his interest is your best bet to have high converting rates.
The Facebook Custom Audience is the tool you're going to use for retargeting campaigns, along with the Facebook pixel installed on your website. You should really experiment a lot with them because they're really powerful, and you can get inventive! In your ads manager you can find them here:
1) Custom audience sync
Load the email addresses of your database on Facebook and if that person is registered on the social network, he/she will become the target of your ads. This is commonly called CRM Retargeting because usually advertisers upload their customer list or the entire email database with both leads and clients.
This is a powerful way to create creative retargeting campaigns and you can use them to retarget your mailing list and show them an ad during your product launch or just increase engagement.
The standard procedure is to upload a CSV file, but if you are registered to LeadsBridge, you can keep your database synced in real time with Facebook.
Let's see a real life example of how this might work. If you organize an event, you can have attendees register with their email address. Some email marketing software already has a dedicated app that you can use on tablets to have people fill a registration form and automatically get that data in your database. If the database is synced with Facebook, those people will see your ad as soon as they get out of the event and open their Facebook app. That's a pretty hot lead, isn't it?
Advanced CRM retargeting
You can go depth with your retargeting campaigns just dividing these audiences in micro-targets.
The old way of using CRMs was to split leads and customers into two separates lists. With the advent of Marketing Automation, things definitely changed.
In fact, you know a lot of things about your leads and customers.
Thanks to the marketing automation you know:
Who complete your email sequences
Who are your best leads because of their high engagement with your emails (opens and clicks)
Who are your best customers because they bought high-dollar product or multiple products
And this is just the beginning
Each particular behavior is tracked on your CRM (and if you don't track these, you should definitely do!). Each segment can be tracked with a tag, a list, a smart list, depending on the system you are using, can be called in lots of different ways.
With LeadsBridge, you can sync these segment and keep them perpetually updated so you can easily create evergreen retargeting campaigns which promote your product and services business based on how people interact with your business.
Check the Custom Audience Sync presentation here; it takes just 3 minutes to be up and running.
2) Website custom audiences
The easiest one. These are the people who visited your site. You just need to install the Facebook pixel, and you're ready to go. Go in your Facebook ads manager, create a new custom audience and choose website traffic.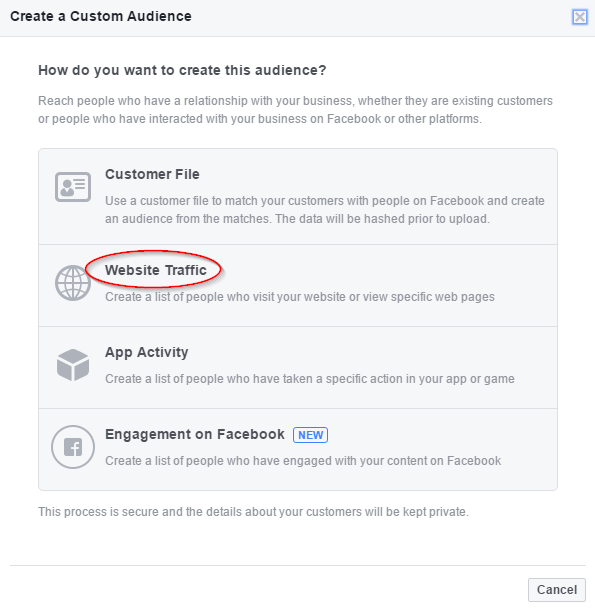 You'll have a few options here. You can decide to target all the visitors of your website (max for the last 180 days), just those who visited some specific pages or who haven't visited in a certain amount of time. You can create a custom combination of all these conditions as well. It's pretty basic, these users have made nothing special to declare how much they're interested in you, but for some reason, they were there… so maybe something is going on! 😉
Targeting only those who visited a particular page can give better results and allow you to make some product based personalization.
Anyway, even a general targeting to all those who visited the website is better than an ad shown to someone who probably doesn't even know who you are.
Advanced Facebook Pixel Standard Events
Facebook Pixel has evolved in the last year and now you can also target how people behave and interact with your website. This is pretty new to advertisers and still not used a lot because it's more complicated than putting a single pixel on your website.
Facebook allows advertisers to pass advanced information with Standard Events. Here a quick guide on what they are and how can be helpful for your business.
3) Add to cart
We're going a little bit on the advanced here: people who added something to their cart.
They were close to buying, but at the end, they didn't. Just a little reminder through your Facebook ad may be the last push they need to complete the buying process. This is one of the nine Facebook Standard events, which can be a little bit tricky to manage. You need to make some changes to the pixel code on the specific pages you want that event to be fired and eventually put some values inside it. That's why at LeadsBridge we've developed the Pixel Enhancer, to help all marketers out there manage the Facebook pixel efficiently and get the best out of it.
You can find it inside your LeadsBridge console:
With just a single line of code, you'll be able to manage all the events you need on your website and control them from here. No more coding required.
So, back to our AddtoCart event, with the Pixel Enhancer you'll be able to set the event to be fired exactly when a user clicks on the Add to Cart button. When configuring your pixel inside LeadsBridge just click on the "Recognize from URL" button, and you'll launch the Event Picker directly on your website, allowing you to select with a visual editor the actual button.
Here a video on how to do it
To create the custom audience of just people who added something to the cart but didn't buy, you'll have to exclude those who actually made the checkout. So you can create another Standard Event, the purchase one, which will be handy anyway, and when you set up the custom audience put it in the exclude category.
Back to Facebook, you'll have to:
Choose Custom combination instead of "Anyone who visits your website"
Change from URL to Event, and choose the "Add to cart" one
Click on "Add exclusions", and do the same as point 2 but choosing the "Purchase" one
Choose an audience name and create it. Boom! Now it'll start populating with real data from the actions people take on your website.
4) Search
Another compelling event is the one that allows you to target people who used the internal search engine on your site. These are gold informations! Your users are telling you what they are interested in, and those who use the search inside of a website usually have pretty clear ideas on what they want.
Here you can choose the keywords you're interested in. So for example, if you have a website with cooking recipes, and you wrote a book about vegan food you might target an ad to all those people who searched "vegan".
5) Add to wishlist
Another strong statement from your users! They wish to have something from you, and they are declaring it. If you have a wishlist feature on your website, this is another Facebook event that can create a superb retargeting audience!
With the Pixel Enhancer, you just need to launch the Event Picker and then click on the "star icon" of your website that add the product to the wishlist. Here an example:
6) Upsell
In marketing there is this thing called the consistency effect: you are more likely to get a large commitment if you get to obtain a small one first.
You can set up this as a strategy right from the start. Begin by obtaining a subscription or selling something for a few bucks, fire a "complete registration" or "purchase" event on the thank you page and then retarget that audience promoting something bigger.
This could also be included in your funnel strategy, letting talk you email marketing software with your website and your Ads.
Conclusion
With the new Facebook Ads capabilities and the new Facebook pixel with the nine Standard Events, you can build up a set of really differentiated audiences to personalize at your best Facebook Ads. Better segmentation means a better return on investment, so you really should experiment a lot with Facebook custom audiences. After all, you're paying for these ads, so they'd better convert well, also if you still getting amazing results, you can exploit them better.
Have you tried some crazy custom audience experiment that turned out to perform really well? Drop a line down below in the comments and share it with us!