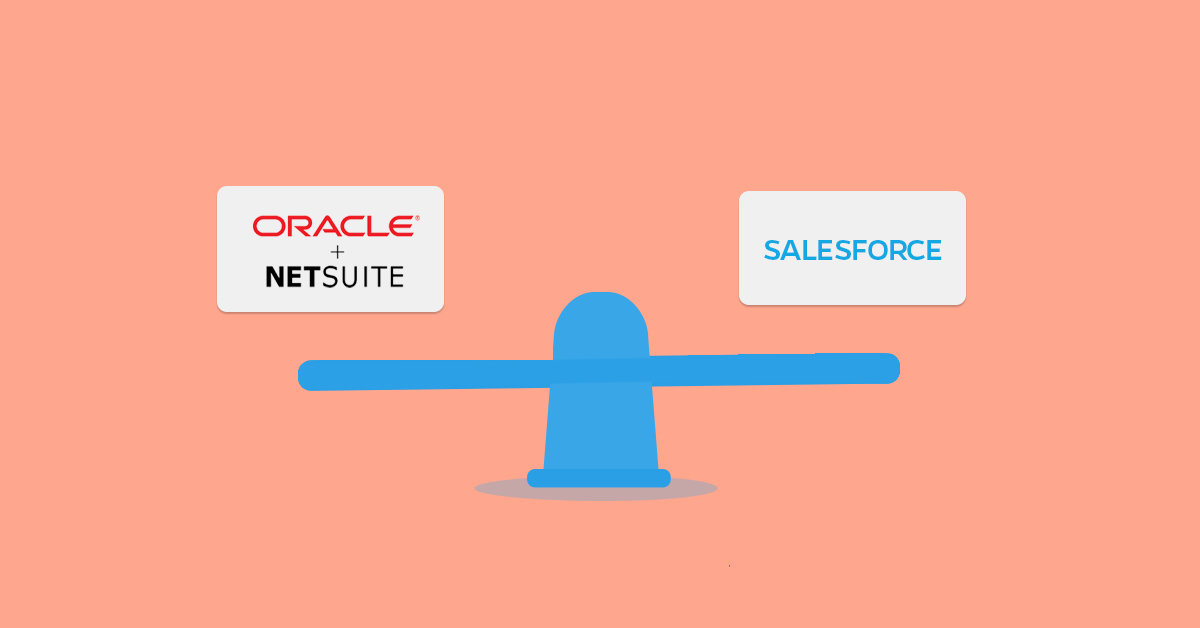 NetSuite and Salesforce are some of the most popular providers of cloud-based software today. Salesforce dominates the CRM market worldwide with a 30.27% market share in 2019. NetSuite is one of the top 10 ERP systems and its CRM has a market share of 0.94%. Therefore, when marketers are searching for new ERP or CRM solution, NetSuite and Salesforce come top of mind. Although, they are similar; they are different.
This comprehensive NetSuite vs Salesforce comparison guide is meant to help you choose the best solution that fits your business.
General Overview
NetSuite
NetSuite, formerly known as NetLedger, was founded by Evan Goldberg in San Mateo in 1998. The company has 5,000 employees. NetSuite grew its range of products around the enterprise resource planning system. This has culminated in a complete suite ("NetSuite") of different software solutions.
Therefore, NetSuite majorly offers online ERP solutions to enterprise clients. They also provide CRM and E-commerce solutions to small and medium-sized businesses. NetSuite has been investing heavily in growing its set of suite all focused on ERP and CRM offering. As of 2018, NetSuite has 40,000 customers.
Salesforce
Marc Beinhoff found Salesforce in the late 1990s in the heart of Silicon Valley. Salesforce is a customer relationship management software that helps to connect companies and customers together. Their core client has been small business owners based on sales automation. They later expanded their CRM to make it useful for enterprise-level businesses. Salesforce is investing in sales and marketing to grow its market share in the cloud-based CRM market. Salesforce has over 150,000 customers, both big and small businesses.
Netsuite vs Salesforce: The features
NetSuite's CRM is divided into five modules, each with its features as shown below:
NetSuites Modules
Features

Customer service management

Customer portal

Case management

Knowledge management

Time tracking

Marketing automation

Campaign and email management

Lead reporting and analytics

Website search engine optimization

Landing page and forms

Mobile

NetSuite for iPhone

NetSuite for Android

SuitePhone Browser Access

Partnership relationship management

Lead management

Joint selling

Joint demand generation

Knowledge management and sharing

Salesforce automation:

Opportunity management

Sales forecasting

Quote and order management

Incentive compensation management.
Below is NetSuites ERP Features.
ERP
Features

Financial management

Finance & Accounting

Billing

Revenue Recognition

Planning and Budgeting

Financial reporting

Global Account & consolidation

Governance

Risk and Compliance.

Financial planning

Order Management

Pricing & Promotions

Sales Order Management

Returns Management.

Procurement

Production Management

Product Data Management

Planning & Scheduling

Work order management

Quality Assurance

Manufacturing Execution System

Supply Chain Management

Planning

Execution

Collaboration

Support

Warehouse & Fulfillment

Inbound Logistics

Outbound Logistics

Inventory Management

WMS
Salesforce CRM features
Salesforce CRM feature is divided into three major parts i.e. Sales cloud, Marketing cloud, and Service cloud. Others include Analytics cloud, Data cloud, Community Cloud, App Cloud, and IoT.
Cloud
Features

Sales cloud

Account and contact management

Opportunity management

Lead management

Sales data

Mobile

Workflow and approvals

Files sync and share

Reports and Dashboards

Sales forecasting

Service cloud

Lightning service console

Agent workplace

Case management

Knowledge management

Service process automation

Omni-channel routing

service analytics

Telephony integration

Automation with macros

Asset and order management

AI-powered chatbots

Social customer service

Workflow and approvals

Custom reports and dashboards

Account and contact management

Marketing cloud

Marketing automation

Mobile messaging

Digital advertising

Email marketing

Social media marketing

B2C journey management

B2B marketing automation

Data management platform

Data sharing platform
The focus:
Salesforce is a popular CRM vendor with different customer-oriented applications such as:
Sales Cloud

Marketing cloud

Service cloud

Wave analytics

Integration from SMB to Enterprise

Good market cap

Smaller debt to income ratio
NetSuite is an integrated solution vendor which is majorly focused on ERP, CRM and E-Commerce functions such as:
ERP

CRM

E-commerce

For small business

Smaller market cap

Greater debt to income ratio
CRM software comparison
NetSuite's CRM is not a standalone CRM option. It is a total package of ERP, CRM, and E-commerce solutions combined in one place. Therefore, NetSuite CRM is suitable for companies that want to run their business solely on a single business application in the cloud.
Salesforce is suitable for businesses that need a total CRM package with a good ecosystem of service providers and third-party applications.
Netsuite vs Salesforce: the Pricing Model
NetSuite offers different pricing models based on the industry, business model of deployment and company size. However, the pricing plan starts from $999 per month with user access at $99 per month.
Salesforce offers different pricing plans for its customers on different plans such as the small business, sales cloud, service cloud, marketing cloud, commerce cloud. etc. For example, the pricing plan for Small business solutions, Sales cloud, and Service cloud are as shown below.
For Sales cloud, the pricing is as shown below:
Below is the Service cloud pricing:
As seen from the pricing above, NetSuite is more expensive, subscription-based and does not offer a trial. Salesforce is more affordable for small businesses. It is subscription-based, and it provides a free trial.
Netsuiteand Salesforce: pros & cons
NetSuite – The pros
NetSuite provides streamlined information across the customer life cycle

It has optimized sales performances through advanced forecasting capabilities

It has customization and integration abilities

NetSuite ERP is one of the best cloud solution available online

It integrates ERP, CRM and, e-commerce in one product, saving lots of integration costs.
NetSuite The Cons
Non-intuitive user interface

High customer support fees
Salesforce – The pros
It is the most popular CRM online

It is an intuitive User interface

It has an excellent analytics and reporting tool

It has good customer service

It has an enhanced CRM functionality and a robust development community

It provides a database useful in digitizing and organizing company sale records

It updates automatically

It integrates with other apps to enhance Salesforce experience.
Salesforce – The cons
It functions only as a CRM

Its integration with ERP software is costly
Platforms supported
It is very important to be able to access cloud-based CRMs from anywhere and at any time from devices such as the desktop, phone, and tablet. Both NetSuite and sales provide access to mobile and desktop devices.
Customer support
NetSuite and Salesforce both provide phone support, Email, live support, Tickets, knowledge base, and video tutorials.
Suitable clients
Both NetSuite and Salesforce supports small and medium businesses and large enterprises.
Integrations
NetSuite integrations:
The most important integration of NetSuite is with Leadsbridge. LeadsBridge connects the main advertising platforms with over 370 CRMs. For example, one of the most popular Netsuites integration is Facebook Lead ads, a specific type of ads that enable advertisers to create ads with a pre-filled form containing the users details such as the name and the email address. This makes it easy to generate leads on the Social Network.
Other popular NetSuite integrations offered by Leadsbridge are Facebook custom audiences, Google Customer Match, Facebook Offline Conversions.
Salesforce integrations:
Salesforce can be integrated with the most popular advertising tools and CRM software, thanks to Leadsbridge. Not only does Leadsbridge help you to integrate lead generation ads with your Salesforce CRM (like FB lead Ads, LinkedIn Lead Gen Forms, and more), through LeadsBridge, users can also integrate business tools such as Google Sheets, Calendars and Email marketing platforms seamlessly and securely.
Moreover, Leadsbridge also enables you to integrate your Salesforce CRM with Facebook Custom Audiences, Facebook Offline Conversions, Google Customer Match, and LinkedIn Matched Audiences for retargeting your CRM segments with your ads.
Languages supported
Salesforce supports English, Spanish, Dutch, Italian, Portuguese, French and Swedish.
NetSuite only supports only the English language.
Conclusion aboutNetsuite vs Salesforce
Above is a comprehensive comparison between NetSuitevs Salesforce. The two software works, based on company needs, budget and business model. Both of them offer the opportunity to upgrade business operations for the 21st century. They also help to improve customer relationships and sales. Therefore, diligently compare the features and pricing to determine the best to adopt for your business.