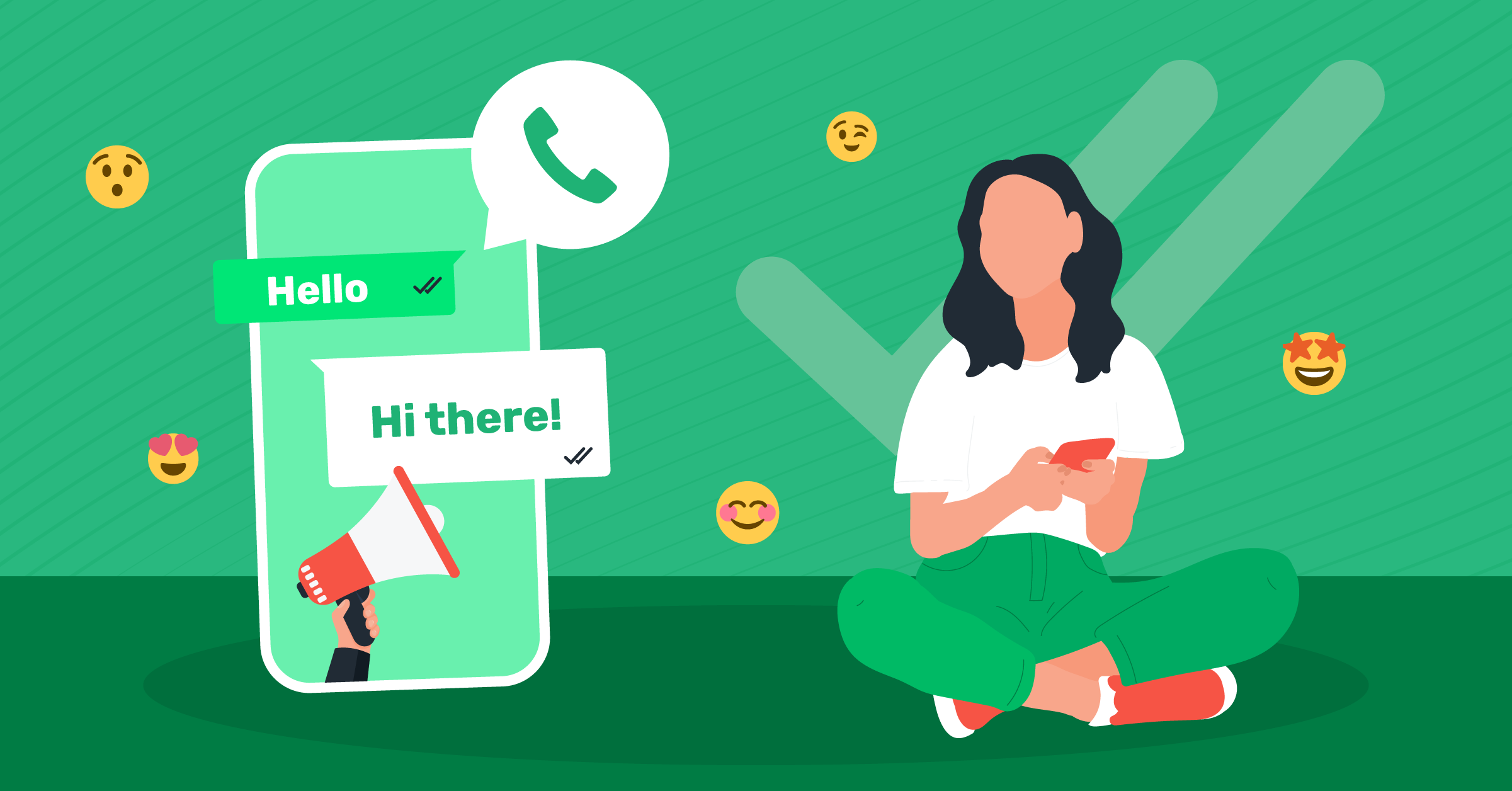 A long-time favorite for messaging, WhatsApp is the go-to app for just about everyone. And while advertising on social media platforms like Facebook or LinkedIn is more prevalent among marketers, WhatsApp can be equally advantageous as a marketing tool.
However, it's essential to understand how to use this text-based social media to get the most out of your WhatsApp marketing campaigns.
In this guide, you'll learn all you need to know about this app as a marketing channel, and how to use WhatsApp marketing tools and integrations.

Request a demo to see how to automate your WhatsApp advertising workflows.
How does WhatsApp marketing work?
With over 2 billion active users, WhatsApp is the most popular messaging app worldwide. While it offers great potential, it's often overlooked as a marketing medium. Mostly because the advertising features of the app are relatively limited. Nevertheless, running campaigns on this app can yield a high ROI.
How it started
It all started when WhatsApp launched its API product to allow businesses to run engagement campaigns effectively. Yet, the app always focused on keeping its ecosystem completely spam-free. So to prevent spammy marketing messages, WhatsApp staff members had to approve each business-related message manually before it was sent out to their users.
The practice was enforced through the app's template message feature; this meant that marketers could only use SMS as the only applicable mode for marketing on the app.
But everything changed when WhatsApp introduced its outbound marketing messages.
Since its launch in 2021, marketers can reach users on their phone numbers, share branded media with them, track their interactions, maintain a dialogue with their customers, and much more. To keep up with its previous policies however, WhatsApp established a set of rules for marketers to ensure its user experience remains unaffected.
What is WhatsApp for Business API?
WhatsApp for Business is an accessory app from WhatsApp and is available in Android and iOS versions. You can also consider WhatsApp for Business API as just another version of this app with diverse functions.
WhatsApp API allows businesses of all sizes to use four messaging limit levels in a rolling 24-hour period. Depending on the subscription, you can send up to 1000, 10,000, 100,000, or an unlimited number of unique messages to users per day. These limits can be increased or decreased automatically based on your phone number status, quality rating, and conversation intervals/rates with unique customers.

Source: WhatsApp

Remember that you cannot have both WhatsApp and WhatsApp for Business on the same phone and from the same contact number. But to keep matters professional, maintaining separate personal and professional contact numbers is not such a bad thing after all.
Benefits of WhatsApp marketing
Since numbers show that WhatsApp Business API messages have a 99% open rate, most top brands are switching to this platform as their primary marketing channel.
So if you have not considered leveraging WhatsApp as a marketing tool yet, here are a few more reasons why you should do it:
It's a quick and safe way to reach your customers while marketing on a budget.
It offers an expansive demographic reach as well as a large audience base due to its widespread popularity.
It allows you to deliver engaging and personalized messaging communication. Moreover, the two-way communication feature enables your customers to reach out to you effortlessly.
It helps collect valuable customer insights and track your campaigns.
It can be integrated with automation providers to create intuitive workflows around your campaigns and send automated messages.
It's fully GRPR-compliant, where only legitimate marketers can continue advertising, which also contributes to your brand's reputation.
Designing effective WhatsApp marketing strategies
To use WhatsApp for Business effectively, here are some practical and approach-oriented tips:
Build a WhatsApp customer support
Besides offering an affordable medium to create a customer support channel, this app also provides a direct medium for your customers to communicate their needs. Statistically speaking, it can streamline your customer service by 225%.
Additionally, you can create a WhatsApp for Business API and CRM integration to respond to your customers using various media to boost customer satisfaction. ‍

Use it to conduct market research
Most people tend to skip leaving a review if the process is lengthy. However, this app can help you collect reviews, feedback, and ratings effortlessly. Effective market research provides reliable insights into your customers' opinions, which can be used to optimize your product or marketing strategy.
Discover how to create customer surveys here.
Get the most out of WhatsApp with the right integrations
Integrating WhatsApp with communication and marketing apps helps you manage your customer chats through automation. This way, you can keep your systems up to date by syncing all necessary data between these apps.
Using a robust labeling system, segmenting your contacts also becomes more efficient. These tools can help reduce the manual handling of data, save time and give you a better view of workflows by keeping everything accessible on your dashboard.
Automate your communication
You might already have a successful conversational marketing strategy and access to WhatsApp business API, but you'll need the right automation tools to make the most out of your WhatsApp marketing campaign.
With LeadsBridge integrations for example, you can handle multiple clients' inquiries at once, send triggered messages in real-time, offer outstanding customer support, and much more.
Join the waiting list to be the first to get notified about our free WhatsApp integrations.
Find out how exactly these integrations work by requesting a demo here.
Using WhatsApp to generate leads
Lead generation is about determining and connecting with potential buyers. With exceptionally high open rates, this platform can help generate a significant number of leads and even convert them into paying customers. Once you set up your WhatsApp for Business, use these lead generation strategies to offer your prospects the solutions they are looking for.
Use your existing marketing emails: If you already have an email list with your prospects' contact details, use it to start conversations with them via WhatsApp. You may also add a WhatsApp Business Bot link to your email signature to grab your prospects' attention.
Combine it with your social media campaigns: Share your WhatsApp link on different social media profiles, posts, and ads. The most suitable one is Facebook since WhatsApp Business API lets you connect WhatsApp and Facebook Business, so you can leverage your Facebook Lead Ads more efficiently.
WhatsApp QR Code: As technology advances, users are looking for more convenience. WhatsApp QR Codes are a great way to promote your campaigns. After scanning the QR code, users will be taken to your targeted landing page, where you can present your offer or even finalize a sale.
Offering content: Good old content marketing is almost fail proof on any platform, if done well. Create WhatsApp posts to tell your brand story, ask engaging questions, and, in short, generate and convert high-quality leads easily.
Automated triggers: Sending frequent triggers to prospects through automation can help in running re-engagement campaigns. For example, you can remind them about the latest information, complete a task, or restart a conversation. This practice helps generate new leads and move the existing ones down the sales funnel. 
How to use WhatsApp as a marketing channel
You'll need to follow several steps in the process of onboarding a WhatsApp Business API, such as creating a WhatsApp business account, verifying your account, obtaining a green tick, and finally, accessing API providers. Once completed, you'll have unlimited integration between your WhatsApp Business API and communication tools.
To learn more on how to access the WhatsApp API, check out the official WhatsApp Business Service page here.
Creating a robust SMS campaign on WhatsApp
WhatsApp is a great marketing tool for reminding, asking, and notifying customers about different topics. This could range from in-depth consultations to news, offers, and product recommendations. That's all great news, but where to start?

Source: WhatsApp
Step 1: Plan and specify
Before anything, you'll need to determine who your audiences are. Accordingly, craft a conversational marketing plan to solve the frequently occurring problems without reverting users back to your website; that's the whole purpose of creating a WhatsApp campaign.
Keep your strategy aligned with your business goals by optimizing your approach and keeping your brand persona and tone of voice consistent. However, WhatsApp is a friendly space, and you can make your conversations a bit more personalized and light-hearted.
Step 2. Access the WhatsApp API through an official partner
When creating your WhatsApp Business API account, you'll need a developer team to set up and manage your subscription. Alternatively, you can use an intuitive, no-code platform offered by an official WhatsApp Business API solution provider.
This is a much easier solution; you can rely on your provider for data protection compliance and support. In addition, these platforms often deliver different features and CRMs. You can also use automation integrations with these tools through platforms like LeadsBridge to sync data and track your WhatsApp campaigns in real-time.
Before reaching out to your solution provider, make sure to:
Access your Facebook Business Manager ID. Follow this guide here to create one.
Obtain a mobile number that is not connected to an active WhatsApp account.
Have a display name that represents your Business.
How to connect WhatsApp to your Facebook?
You can link your Page to a WhatsApp Business account to run ads that click on WhatsApp, transfer your business contact info between the two platforms and become more reachable to your customers.
To connect WhatsApp to your Facebook page, follow these steps:
Log in to your Facebook account.
Click your profile photo.
Click See all profiles and click on the designated Page.
Again, click your profile picture.
Select Settings & privacy, then click Settings.
[screenshot]
Find and select "Linked accounts".
Click "WhatsApp".
Enter your WhatsApp Business number using the right country code.
Select "Send WhatsApp code!.
Follow the instructions to complete connecting your accounts.
Please note that these instructions are for new experiences using a screen. For more information about iOS or Android interfaces or classic pages, please refer to this page.
Step 3. Build a strategy for your customer service
Since 93% of customers are likely to make repeat purchases after receiving excellent customer service, providing a satisfactory user experience through communication is a must-have. Choose the best WhatsApp API solution provider to send personalized automated messages through both AI and real agents.
Chatbots can solve most customer queries. However, you'll still need to give them the option of talking to actual agents. Additionally, constantly monitor the entire process, anything from conversation and performance to your customer reviews, to find out how you can improve it.
Step 4. Start getting contacts
You can choose between business-initiated and user-initiated conversations from your selected platform. This enables your users to interact with your Business through the WhatsApp Business API, using an opt-in service. However, privacy laws require you to request their express consent for receiving messages on their phone. You can create an engaging copy to ask for their express consent. This may be a click-to-chat link in your emails, a checkbox at check-out for getting notifications via WhatsApp, or offering a discount for a subscription.
Learn all about GDPR and Facebook here.
Step 5. Stay compliant
If you want to use WhatsApp for sales and marketing, compliance with the app's policies and guidelines is crucial to passing the verification process successfully. The app's privacy features, from end-to-end encryption to 'Your privacy, more protected' campaigns, show their commitment to a secure user experience. These relentless efforts to maintain client privacy have also raised the bar across all digital platforms. While they are seemingly obstacles, you might be surprised to find out these limitations are actually working in your favor.
For one, you can stay compliant with the current customer privacy rules and regulations by simply following their advertising regulations. Additionally, this contributes to your brand authenticity because the app filters out nearly all fraudulent or non-compliant marketers. This customer-oriented environment naturally creates a space of trust and credibility, of which you can be a part.
Besides the guidelines, there are also some general practices you can follow:
Make sure to share 3G downloadable files when sending pdf files, videos, etc. It's highly recommended to avoid large files.
The best WhatsApp post image size is 800×800 px, and the optimal size for a profile image is 500×500 px. Choose your image sizes accordingly.
WhatsApp marketing tools and software
As an advanced social media platform, running basic WhatsApp campaigns isn't enough. You need to understand what type of tools work best to achieve your business goals through text-based marketing efforts.
The app itself also offers the advanced marketing tool, the WhatsApp Business API, which gives you enterprise-level options to grow your Business. But you'll still need much more than that.
Platforms
In practice, a good WhatsApp marketing tool allows you to send bulk messages to your customers without requiring you to save their contact information. Additionally, these tools often deliver features that help you send engaging messages that contain text, images, documents, and videos.
Automation is another feature you need to look for. Triggered communication helps you send timely messages to create a valuable customer experience that keeps them engaged. Some tools also offer internal segmentations to help keep your team well-connected and informed about the workflows.
Here are some instances of these platforms:
WappBlaster
WappBlaster is one of the top WhatsApp marketing tools for sending unlimited bulk messages.
It offers several features for effective marketing, such as no character limit, an anti-blocking algorithm for smooth bulk messaging, supporting several media formats, automatic workflows and scheduled messaging, and so much more.
MessageBird
MessageBird is another notable WhatsApp Business tool that helps connect to your customers. It works with an API and offers an intuitive Flow Builder.
This solution has multiple features that enable you to communicate with your existing and potential customers. With the help of Zendesk integrations, it allows you to send and receive WhatsApp messages for customer support, alerts, and notifications.
Spoki
Spoki is a unique WhatsApp marketing tool that helps you automate your communication and marketing.
This multi-platform messaging app allows you to interact with your customers through a few innovative buttons on your pre-approved template messages. This solution also helps create LeadGen forms and sync your leads.
Integrations
Connecting your WhatsApp marketing software with your other CRMs and apps gives you an omnichannel approach. You can achieve this by using a third-party integration provider like LeadsBridge and taking the manual data handling out of the equation.
Mailchimp & WhatsApp integration
You can expand your email marketing contact base with Mailchimp and WhatsApp integration. This way, your leads receive the right message automatically, based on the lead lifecycle and the triggers you define. Other benefits include sending updates and content, offering personalized customer communication, segmenting your leads, and boosting your email marketing campaigns. 
ActiveCampaign & WhatsApp integration
This integration helps you to send triggered messages to your leads, track your conversations and keep your sales organized. Connect ActiveCampaign with WhatsApp to streamline the data transfer between the two.
Salesforce® & WhatsApp integration
WhatsApp integration with Salesforce® enhances both your customer satisfaction and your brand's reputation. Following an enterprise-level agreement, Meta, WhatsApp's parent company, has agreed to enable Salesforce® to use this communication app as their official Customer Service Channel. However, you'd still need a third-party integrator to create automated workflows between the two and also to connect them with your everyday marketing apps.  

Facebook & WhatsApp integration 
To send your Facebook Leads to WhatsApp in real-time, you need a Facebook Lead Ads integration. With the lead sync feature, you can choose what data to transfer between these platforms, and leave it on auto-update to streamline the entire data management process.
Click here to join the waiting list and discover all the possible integrations with WhatsApp:
WhatsApp campaign examples for direct marketing
When relying on direct communication or distribution to individual consumers, WhatsApp can help you convey your message and drive action. Of course, just like any other social media campaign, the content is important and must be appealing to drive conversions. To understand how to use them, check out these examples of WhatsApp campaigns below:

Introducing your new product: If you have an existing customer, present them with a new product similar to what they have already purchased.
Activity-related offerings: Track and record your customer's interactions and purchase behavior using the right tools. Then, use these metrics to send them relevant product recommendations, offers, and deals.
Send price alerts: Everyone loves a bargain. Send price alerts to your customers. Automation tools enable you to send these notifications based on the products/services they are following, such as house rental price tracking.
Running post-sales campaigns: This app is perfect for running upsell campaigns asking your customers to upgrade or create cross-sell campaigns to recommend relevant products.
Sending automated confirmations or reminders: Genuinely interested customers could occasionally miss their renewal periods and would appreciate an easy-to-notice reminder. Likewise, getting notifications when finishing a registration or purchase through WhatsApp is highly convenient from a customer's perspective. You can also let them know what comes next.
Sending abandoned cart notifications: Using behavioral marketing, send reminders about repeat purchases or abandoned carts to your customers. However, remember that overdoing it may lead to getting reported by them. To prevent that, you can inform them when collecting their data. For instance, Ask whether they like to be reminded about an event or receive news through Facebook Lead Ads or website registration forms.
WhatsApp vs. SMS & email marketing
Convenience stands at the core of creating an engaging experience for your customers. This rule also applies to your communications with them. So reaching out on their mobile phone is a highly effective marketing practice.
It's true that SMS marketing and, to some extent, email marketing also help you reach your customers on their mobiles. That's why they have been the preferred communication channels for most companies. However, WhatsApp has some advantages over both:
With 98% open rates, WhatsApp is far superior to email marketing which has relatively lower open rates and click-through rates.
The open rates for SMS marketing are more or less the same. But WhatsApp marketing campaigns can have other qualities that make them tough to compete with. These features include encrypted messaging, the ability to share rich multimedia, an intuitive user experience, and its integration with other social media platforms.
Discover more about SMS mobile marketing best practices here.
Final thoughts
WhatsApp marketing is considered a type of conversational marketing that focuses on converting leads via dialog-driven activities. This app helps businesses reach a large audience conveniently on their mobile phones and build strong relationships with them. With the right WhatsApp marketing tools and integrations, you can convert more leads into customers through diverse practices such as customer support, lead generation, follow-ups, etc.
With over 380 integrations, LeadsBridge offers automation bridges to connect communication platforms to your favorite marketing tools. Join the waiting list to be the first to get notified about WhatsApp integrations.